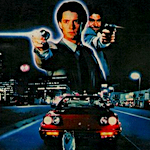 Many of you have been trying to tell me this for years, and it has finally gotten through to me: THE HIDDEN is incredible. It's kind of a sci-fi/horror/action hybrid, and it hits hard on all counts. Makes sense that it's director Jack Sholder's bridge between the horror of A NIGHTMARE ON ELM STREET 2: FREDDY'S REVENGE and the action of RENEGADES, but I'd argue it's more cinematic than either of those. It opens with a thrilling, Friedkin-esque car chase after a buttoned-up looking guy in wire rimmed glasses (Chris Mulkey, FIRST BLOOD, BROKEN ARROW, BARE KNUCKLES, THE PURGE, THE STANDOFF AT SPARROW CREEK) shoots up a bank. He stays very calm, sometimes mildly amused as he tears through L.A. in a Ferrari, occasionally running over people (including a guy in a wheelchair), blaring a heavy metal tape, sometimes bopping his head a little. Police absolutely riddle him with bullets and destroy his car at a road block – he steps out and laughs before getting blown up. Even that doesn't kill him.
It does put him in the hospital, where a doctor is offended by how the detectives talk about this seriously injured patient. It probly makes more sense to him after Detective Willis (Ed O'Ross, LETHAL WEAPON, FULL METAL JACKET, ACTION JACKSON, RED HEAT) spews a monologue about all the murders, injuries and robberies the guy is responsible for, ending with, "Six of the ones he killed he carved up with a butcher knife. Two of them were kids. He did all that in two weeks. If anybody deserves to go that way it sure to hell was him."
The reason this guy went on such an inhuman rampage is, of course, that he's not human. I mean, he was, but his body was taken over by a space parasite. Like SHOCKER, THE FIRST POWER and JASON GOES TO HELL: THE FINAL FRIDAY, it's an evil force that jumps from body to body as it goes around fucking shit up. But it's a way more disgusting process than in any of those, because a few times we get to see the spider-legged space-squid-slug-penis thing transfer from mouth to mouth.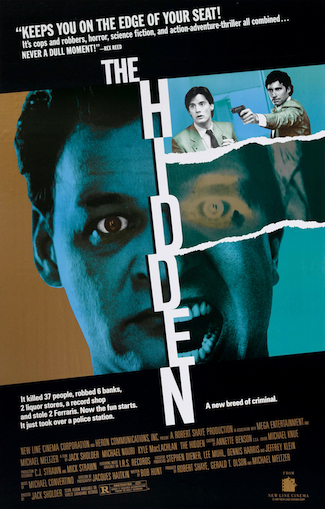 I hate when people make proclamations like "practical effects are always better than digital" because, while I generally prefer the old school, any technology can and has been used for great things. There are no rules to art and it's foolish to not be open to whatever technique or combination of techniques is best for the particular occasion. I believe that. But then I see a scene like this and holy shit, do I miss getting those kinds of thrills in new movies – seeing bizarre creatures with flesh and musculature and knowing somebody built them out of rubber and motors and paint and made them move and seem alive. Hats off to the great Kevin Yagher and his team, including Howard Berger and Robert Kurtzman. Yagher's big break was ELM STREET 2, then he carried over into 3 and this was his first big one after that. So he's totally showing off.
This also fits in with the extra-terrestrial cop movies like THE BROTHER FROM ANOTHER PLANET, CRITTERS, I COME IN PEACE and their time traveling cousin THE TERMINATOR. The space slug thing is an alien criminal and it doesn't take us long to suspect something is up with "Lloyd Gallagher, FBI, Seattle" (Kyle McLachlan, THE FLINTSTONES), who shows up at police headquarters, teams with best of the best Detective Beck (Michael Nouri, FLASHDANCE, CAPTAIN AMERICA) and always seems to know too much about the "criminals" rampaging through the city. It's super uncomfortable when Beck brings him home for dinner and he acts strange and can't convincingly answer any questions about his supposed life story.
This movie in general, but especially William Boyett (BLOODY BIRTHDAY, THE ROCKETEER) as the second body we see the slug in, really know how to make a normal guy come across as a weird alien. He behaves in ways that don't fit in with polite society or match his physical appearance. He's this older guy in a suit but he walks into a cool record store, starts stuffing his pockets with tapes, steals a boombox, brings it into a diner blasting the heavy metal again, eating sloppily, not understanding and/or caring that he's bothering everybody. He's this thing that doesn't belong here, doesn't have compassion for humans, doesn't have to live by their physical rules, and is totally anonymous because he doesn't even have to stick with one body, so he just does not give a fuck at all. Wants to cause as much mayhem as he can manage. Enjoys it. He's just playing Grand Theft Auto.
And I love the oddness of the character – he's this slug, but Ferraris are appealing to him, loud rock music seems to soothe him, and there's a joke that when he hears a happy song ("I believe in happiness when I'm goin through the pain…") he gets angry and wrecks the stereo. These probly aren't things he has on his planet, but he discovered them here and becomes a fan. Wants to indulge. When in Rome. He just seems to be having a great time.
One of the best stretches is after he's pissing everybody off in the diner and sees a Ferrari drive by. He just gets up and runs after it (I bet the waitress was more relieved that he left than pissed that he didn't pay), finds a Ferrari dealership where a salesman and customer (snorting coke together out of a toy Ferrari) and security guard mistake him for just a weirdo. He's worse. He leaves with the car he wants.
Eventually he gets into the body of a stripper (Claudia Christian, NEVER ON TUESDAY, MANIAC COP 2) and knows how to act vaguely seductive to a street harasser and then fuck him to death to steal his car. Christian, too, is good at moving and looking at things like she's new to this place and this body.
When it gets around to the explaining of the supposed FBI agent's actual backstory it's pretty vague. He's not human, but does that mean he's a slug too? I'm not sure. But like any action hero he's after the guy who killed his partner and his family. All the cop movie stuff, the action (stunt coordinator: Don Pike [THE DELTA FORCE, HALLOWEEN 5]) and the way it's shot (d.p.: Jacques Haitkin [A NIGHTMARE ON ELM STREET 1-2, CHERRY 2000, CAGE, MANIAC COP 3, SCANNER COP, FIST OF THE NORTH STAR, BLOODSPORT II]) are all gritty and legit enough to ground this lightly explained absurdity. They even helped me accept this casual, ludicrous introduction of what I had a pretty strong hunch would end up being an important weapon: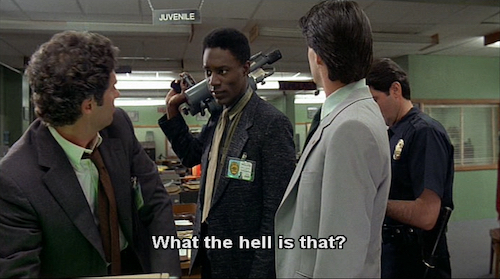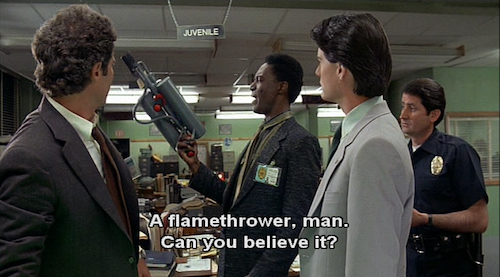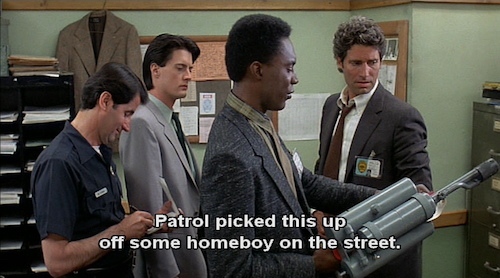 Some familiar faces show up. Queen of New Line Cinema bit parts Lin Shaye, for example, and ELM STREET 2's Clu Gulager. Both Danny Trejo (ANACONDA) and Bransombe Richmond (Renegade, THE SCORPION KING) play guys who say one line and then get shot.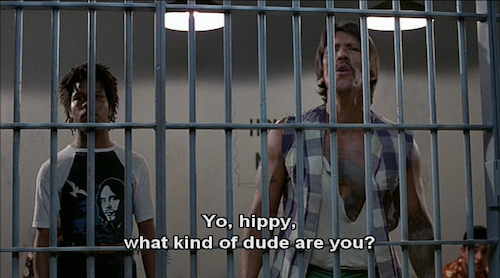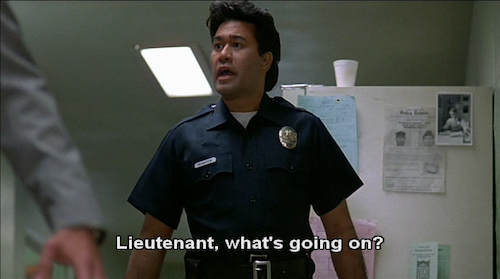 The script is by Jim Kouf, whose earlier movies include THE BOOGENS and WACKO, but his hit STAKEOUT came out the same year. He went on to even more success with RUSH HOUR and NATIONAL TREASURE and created that TV show Grimm. Weirdly he hid behind the pseudonym "Bob Hunt" for by far the coolest thing on his resume. But he also used that for THE BOOGENS, so maybe it's his Richard Stark. Do I need to see THE BOOGENS, now? Or do we just need more Bob Hunt movies?
1987, man. Quite a year. Thank you for your service.
This entry was posted on Tuesday, October 13th, 2020 at 11:02 am and is filed under
Action
,
Horror
,
Reviews
,
Science Fiction and Space Shit
. You can follow any responses to this entry through the
RSS 2.0
feed. You can skip to the end and leave a response. Pinging is currently not allowed.