I never knew about HEAT until I read that Brian DePalma's doing a new version with Jason Statham. [UPDATE FROM THE FUTURE: DePalma didn't end up directing but it was pretty good and called WILD CARD.] It started as a book by William Goldman, who also wrote both movie versions. This one stars Burt Reynolds (with mustache) as a likable Vegas low-life-for-hire. We don't really get an upfront explanation of who he is or where he comes from, but over time we learn that he dreams of moving to Venice, he's a familiar face to organized crime, he has been extensively profiled in Soldier of Fortune, he's a gambling addict, and he's an expert in the use of edged weapons. So much so that the only reason another character can think of for him to use a gun is because nobody would ever believe it was him.
I like the way it seems to go through a couple different stories before you can get a handle on where it's going. First it's about him reluctantly helping a prostitute friend (Karen Young) get revenge on a sadistic young mobster (Neill Barry) who beat and raped her. Then there's a long section about him going on an impossible good luck streak at the casino. Then it's about a nerdy young software millionaire (Peter MacNicol) hiring him to teach him how to fight. MacNicol is probly better than I've ever seen him – he's kind of funny and kind of embarrassing. I liked him. That's gonna be hard to cast in the new one.
The mobster is also really well cast too, very convincing as an entitled prick. You fear him for his connections and not his own capabilities. But man you want to see him experience some edged weapons.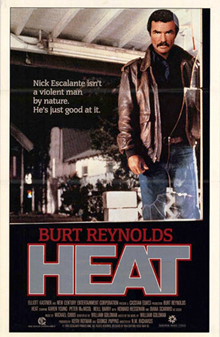 Like so many Burt roles this is a mix of awesome and laughable. Statham will be more believable with the physical stuff. This movie has Burt (and stunt double) running, nimbly jumping up walls, he even does a Tony Jaa jump-up-and-kick-a-light-out move that starts a carefully planned chain reaction to light a guy on fire. That stuff is goofy, but I like Burt's grim lack of emotion, even when looking at his friend full of bullets. You know that what the mobster did infuriates him, but he won't admit it, pretends to be a callous asshole.
The funniest Burt arrogance is in the opening scene where he hits on a woman at a bar. He uses a pool stick to rudely stop her and turn her around. After being rejected he goes back to the bar and snaps to get his drink. Something clean-lip Burt could never do.
But I think there is some seriously good emotion and tension in some parts. The hooker character is really good, so bloodthirsty, but understandably so. The bloody wound on her mouth never heals, it looks so painful and disgusting and reminds you how we got here. There's a real sense of dread as the revenge scheme goes down and you want to see these fuckers pay but also fear the inevitable mafia rebuttal.
There's a similar dread when he's literally gambling. He seems to have supernatural blackjack powers, but the bigger his collection of chips gets the more you know he's out of his mind to keep playing. Every time he seems to have called it a day he talks himself into going for more and heads back to the table. My favorite thing in the whole movie is his interaction with a dealer (Diane Scarwid) who knows him by name. There's kind of a half-assed flirtation, a whiff of real friendship, and idea that his streak puts suspicion on her. But when he stupidly bets everything and loses it all it overwhelms her. The house wins and it's her that's left crying.
It only really loses me in the climax where (don't tell me you don't know a SPOILER is coming up) he torments the villain from inside his dark apartment, and the guy keeps shooting at different places, guessing his location wrong. What, he can throw his voice? I don't get it. But then he scares this guy so bad about what he's gonna do to him that the kid chooses to use his last bullet on himself rather than risk missing! That's some uniquely badass shit, but unfortunately I don't really buy it in this movie. Maybe he could make the guy wet himself but I don't know about commit suicide.
HEAT was the last movie directed by Dick Richards, who only made 7 in his life, including the '75 version of FAREWELL MY LOVELY starring Robert Mitchum. HEAT does have kind of a TV look to it, and it doesn't help that the DVD is 4:3. The score is mostly that sleazy detective sax type style, like they would put on a Shannon Tweed movie so they can tell themselves it's noir. I can see why some people would write it off (ha ha Burt Reynolds) but the sleazy tone, the unorthodox structure and the strong relationships with the prostitute, the blackjack dealer and the software nerd all make it a forgotten gem in my opinion. Also he uses a credit card to slit a guy's throat.