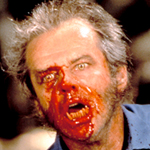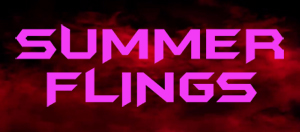 June 17, 1994
Okay, this one is not a Summer Fling with a McDonalds tie-in. It's more like a prestige horror film for grownups that didn't make much of an impact despite its pedigree. It's Mike Nichols (WHO'S AFRAID OF VIRGINIA WOOLF?) doing a serious and/or metaphorical monster movie, reuniting THE WITCHES OF EASTWICK's Jack Nicholson and Michelle Pfeiffer, both at new career heights thanks to Tim Burton BATMAN movies. The score is by Ennio Morricone – more of a minimalistic one than he usually does, and very important to the tone of the movie. The cinematographer is Giuseppe Rotunno (FELLINI SATYRICON, AMARCORD, THE ADVENTURES OF BARON MUNCHAUSEN).
Like one other serious grown up horror movie that I know of, WOLF opens with Jack Nicholson driving down snowy roads. But it's night and he's by himself and he has to stop because he hits a wolf. He experiences that common horror movie experience of "Do I have to put it out of its misery?" before a very effective "oh shit Jack don't do that!" as he grabs the thing by the paws and tries to drag it out of the street. So anyway, yeah, he gets bit.
In THE SHINING of course he was a writer. Here his character Will Randall works with writers as editor-in-chief of a major New York publishing house. But the company is being shaken up by new owner Raymond Alden (Christopher Plummer, THE SOUND OF MUSIC, DRACULA 2000), who offers him a shitty different job and replaces him with his young protege Stewart (James Spader, THE NEW KIDS, SEX LIES AND VIDEOTAPE). Spader is great as a Kushneresque young prick whose douchiness happens mostly off camera. We hear that he pushed relentlessly for the job, but only see him playing innocent, apologizing, offering not to take the job, pretending to be the nicest guy in the world. And Will, to the disgust of his wife Charlotte (Kate Nelligan, DRACULA [1979]), is not the type of guy to directly confront the little bastard. He leaves it up to Stewart's own conscience whether to accept the job or not, so of course he does.
As if that's not enough shit to deal with, Will's wolf bite seems infected and is getting hairy. I know when I mentioned the wolf biting him at the beginning you assumed that was just kind of an odd thing that happened that would have no bearing on the plot, but in fact it causes him to merge his soul with that of the wolf. Just because he hit the wolf with a motor vehicle nearly killing him does not mean they can't become some sort of telepathic human-wolf superbros.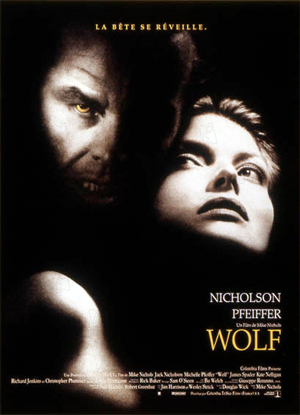 He starts to notice weird things, like animals (notably horses) are scared of him. That's one of those handy abilities like being able to eat things that'll make a billygoat puke. Also he can hear people's conversations from another building. He can smell people. I don't know if this is worth mentioning but I have had a couple times in my life where I identified people by smell. There was a guy I hadn't seen in a couple years and I was like "That smells like so-and-so" and turned around and it was him. I really wondered why I was able to do that. Admittedly this guy had a trademark odorousness, and I have never been bitten by a wolf. But this movie says that it can be transferred by the "passion" of a wolf, and it's left ambiguous what exactly that means. You guys don't think–?
Anyway, Will's super-smell causes him to catch his wife sleeping with Stewart! Jesus christ.
Other than that though he feels good most of the time and becomes newly aggressive. He hatches a secret plot to take all the writers away and start a less corporate, more writer-friendly company. He's giving his staff (Eileen Atkins and David Hyde Pierce) instructions and they're excited by his new attitude. They want to be part of his pack.
Pfeiffer plays Laura, troubled and rebellious daughter of Alden, who lives in a cabin on his estate and meets Will at the party where he finds out he's demoted. She kinda hates him at first but takes care of him as he has fainting spells from his condition, and she becomes more open to him because she senses her dad hates him.
The most exciting part of the movie is the attempted publishing mutiny, but I also like the more standard waking-up-werewolf type business. Please note, Rick Baker did the makeup but went 180 degrees from his AMERICAN WEREWOLF IN LONDON work. It's closer to the classic Universal wolfman – mostly some contacts and teeth and mutton chops. I can't fault anybody who finds it laughable to see hairy Nicholson slo-mo running and hopping on digitally erased wires, but I sorta dig the old school simplicity of it. I mean, at first you're like "ha ha, that's just Jack Nicholson, he's harmless," but next thing you know he's chewing out a deer's throat.
Sometimes a man wakes up and smells a deer, you know? And has to run out into the woods. I actually really wondered how they did this scene, because as far as I can tell they really had Nicholson sprinting through the woods right on a deer's ass trying to grab her. It looks kinda dangerous.
At work and in his love life it's like he's on speed and it's working out for him, but there's always a crash and waking up in regret. I know this has been done well in other werewolf movies, but Nicholson does a particularly great groggily-waking-up-confused-in-the-woods-with-animal-blood-all-over-him. It's the expression of somebody waking up face first on the sidewalk after a night of drinking, if he's maybe done this before but not enough to be used to it.
But also the wolf's not entirely gone. He crawls on all fours and dumps his face in a stream – the wolfman's version of going to the sink and splashing cold water on his face. Now he remembers he was sleeping over with Laura, but he's not about to crawl back under the covers covered in deer blood. He has to sneak back onto the property though because his car is still parked there! That's a pretty funny walk of shame.
He gets kind of used to doing crazy shit late at night. At one point he sneaks into the zoo and scares the animals. When the cops come he just jumps away. It's extra funny now because the cop who tries to frisk him is David Schwimmer (Friends debuted 3 months later).
Here's a class difference for you. When THE METEOR MAN realized he had powers he had to use them to fight crime in his neighborhood. WOLF just uses them to deal with his mid-life crisis. When he does randomly encounter DEATH WISH style Central Park park muggers, fighting them off seems more like a way to have fun and blow off steam than a community service.
There's a standard horror trope where Will goes to visit Dr. Alezais (Bollywood star Om Puri), an old occult expert type who provides speculation that we can take to be a true explanation of how the werewolf stuff works. I've seen reviews that single this out as an example of clunkiness, but 1) a little bit of exposition never hurt a genre revisit and 2) I love the ending to the scene where the doctor asks Will to bite him. Will tries to filibuster a little by questioning his choice of "damnation" over death, but you can tell he's uncomfortable as hell sitting there in this guy's apartment, not wolfed out at all, and picturing himself trying to bite into an old man's hand. Nobody ever said lycanthropy was gonna be easy, but I bet he didn't expect this type of awkwardness.
If there's a most famous part of the movie it's gotta be when Will tells off Stewart in the company restroom and then intentionally pees on his shoes. This joins the climax of THE NIGHT FLIER as one of horror's greatest urinal-related happenings. Maybe I missed something, but when Stewart (SPOILER) later shows up as a werewolf, he never got bit, did he? I wonder if it was transferred by Will's "passion," or by his piss?
A mysterious original ending (or entire third act, depending on where you read about it) was discarded and reshot, delaying the release. They obviously believed it wasn't working, but I wonder if it was more organic than the goofy werewolf-on-werewolf barn fight where Stewart tries to rape Laura in front of Will. We know that being a wolf didn't make him evil. It just got him to show his true colors.
A threat that Stewart makes and the suggestive way he grabs Laura are upsetting and would cause controversy today, but I think maybe this turn serves to distance Stewart and his abusive aggression from Will, who fears hurting people while "sleepwalking," but never does hurt the women in his life. Otherwise this plays a little too close to the MRA fantasy of the "nice guy" forced to start being a dickwad because his woman and his job took advantage of his passivity. Stewart shows that being an "alpha" is not a good thing.
Though I'm a little wary of these themes, I like that this is not from the young perspective of most horror movies. Laura and Stewart, played by actors in their thirties, are both people from the young world being used to reinvigorate the Randalls. Kids, almost. Both literally and figuratively Will's concerns have to do with having spent many years settled into a job and marriage and now realizing he can find something better. And now that I put it that way it sounds like some dumb macho '80s shit, but at least a nuanced performance by Atkins as Charlotte adds some layers to it. She obviously fucked up by cheating on him but she comes across as something more complicated than the bad lady who ruined everything.
Pfeiffer also brings a certain strength and humanity to a lightly written role. She feels pretty in control of herself even though she's basically second banana and caretaker. I also like the dumb little detail that she lightly snores while asleep next to him. I don't know if I've seen another movie where a woman (or even man) snores other than for comedy.
But mostly this exists as an exercise in watching Nicholson grumpily react to things, from the routine to the crazy. Like with THE SHINING, many (including Dario Argento) are on record saying it doesn't work because he's already a weirdo before the transformation. I disagree. I even like watching his expressions as he's having a hard time driving in the snow at the beginning. He doesn't know how to be boring. That's not a sin. It's even better seeing his face as he's realizing that he's possessed by the soul of an animal.
This was a long-in-the-works project for Nicholson and his friend Jim Harrison, the poet and author of Legends of the Fall who had written Tony Scott's REVENGE. A fan of nature and rugged individualism and what not, Harrison claimed (poetically?) to have once transformed briefly into a wolfman, giving him the idea for the script. His 1971 debut novel was also called Wolf (but with the subtitle "A False Memoir") and I suspect he's using the same metaphor here. I haven't read the book, but a New York Times review interprets the title as representing "a loner, an anachronism," quoting, "There are only three or four hundred native wolves left in the United States. . . . I felt that if I could see one all my luck would change. Maybe I would track it until it stopped and greeted me and we would embrace and I would become a wolf."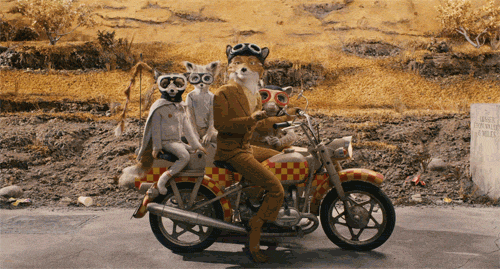 Will is explicitly singled out as a loner and an anachronism, shunned by Alden for his "taste and individuality," making a scene at parties with his politically incorrect (obnoxious) conversation topics, and brushed aside by the current direction of the publishing industry.
Like Will, Harrison himself was replaced by a younger upstart, Wesley Strick (TRUE BELIEVER, CAPE FEAR, script doctor for BATMAN RETURNS), with additional tweaks by an uncredited Elaine May (in part to convince Pfeiffer that her part wasn't just "the girl"). Harrison was unhappy with Nichols' new direction, complaining "He took my wolf and made it into a chihuahua." The writer decided to stop working in movies, though CARRIED AWAY and DALVA were made based on his works.
According to The Werewolf Filmography by Bryan Senn, WOLF was first offered to Stanley Kubrick. Man, that would've been good! (I'm assuming, because Kubrick made good movies.) Since Kubrick turned it down, Nicholson brought it to his CARNAL KNOWLEDGE/THE FORTUNE/HEARTBURN director, and this was their last collaboration.
* * *
Obviously WOLF wasn't gunning for #1 movie of the summer, so it's okay that it came out in the week between SPEED and THE LION KING. It opened in first place (the other new release was GETTING EVEN WITH DAD) and ultimately made a bunch of money, despite what I sense is an overall reputation of "ehhhh…" The top moneymakers of summer '94 were THE LION KING, FORREST GUMP, TRUE LIES, THE MASK, SPEED and yes, THE FLINTSTONES. Other notable releases of the season include THE CROW, WYATT EARP, THE SHADOW*, FRESH, and NATURAL BORN KILLERS. Also COLOR OF NIGHT and a forgotten Dolph movie that I like, PENTATHLON. So there were plenty of things to offer plenty of audiences, but WOLF ranks pretty high on that list, and it's the only one that combines adult relationships with fangs and jumping.
I for one can't wait to see Will Harrison return to fight the mummy
p.s. I'll be skipping the summer of 1995 since I already reviewed CASPER, JOHNNY MNEMONIC, CONGO, JUDGE DREDD, MIGHTY MORPHIN POWER RANGERS: THE MOVIE, FIRST KNIGHT, WATERWORLD, VIRTUOSITY and LORD OF ILLUSIONS in a previous series.
*I thought I'd already reviewed THE SHADOW. Apologies for skipping it in this series. I may have to come back to it.