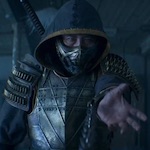 MORTAL KOMBAT (2021) is a perfectly okay movie, especially given the past success rate of video game adaptations. It does a decent job of putting some of the Mortal Kombat characters into a passable modern movie. I found it reasonably entertaining, and had I expected it to be bad I might even have been pleasantly surprised. It also might've played better in a theater, if I could go to one.
Here's the problem: I'm the type of guy who thinks you could make something truly kick ass out of any bullshit that involves colorful characters fighting each other. They've been talking about a new Mortal Kombat movie for more than 10 years, with James Wan announced as producer for six of those, and I think the '90s incarnations are fun (if ridiculous) movies that have plenty to build upon. So for years now I have been anticipating this movie that ended up being directed by Australian commercial director Simon McQuoid and written by Greg Russo (first credit) and Dave Callaham (DOOM, THE EXPENDABLES, WONDER WOMAN 1984), with a story credit for Oren Uziel (who had been developing it with Kevin Tancharoen after his unlicensed Mortal Kombat: Rebirth short and an episode of the official web series Mortal Kombat: Legacy). And I thought it might be something special. Maybe next time.
The movie explains things pretty well for those of us who don't know much about kombat sports: For thousands of years or whatever the different "realms" have sent their greatest warriors to compete in a fighting tournament called Mortal Kombat. We, Earthrealm, have lost 9 times in a row. (Embarrassing.) According to the rules, if we lose this tenth one we're done – invaded by evil ninja monsters or some shit. So the pressure is on to win the next Mortal Kombat tournament – an event which everyone talks about and prepares for throughout this movie, but – as you may have already heard – has not occurred when the film ends. It's a bold storytelling decision – imagine how much more awesome ENTER THE DRAGON would be if it ended right after he got to the island!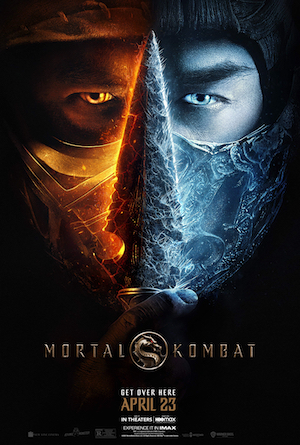 The story is told through a newly invented character, Cole Young (Lewis Tan, "Shatterstar" in DEADPOOL 2). He's a small time, not very good MMA fighter with a supportive wife (Laura Brent, THE CHRONICLES OF NARNIA: THE VOYAGE OF THE DAWN TREADER) and daughter (Matilda Kimber). This guy Jax (Mehcad Brooks, Jimmy Olsen on the Supergirl tv show), who Cole has some unexplained past with, visits him in the locker room and comments on his birthmark that resembles the Mortal Kombat dragon logo. (As a side note, that would be cool if Batman and Dick Tracy also had birthmarks shaped like their famous movie posters.) The mark, of course, means he's destined to fight in the tournament, which he does not know is a thing. Luckily Jax is there spying on him when the scary ice-power ninja Sub-Zero (Joe Taslim, THE RAID, THE NIGHT COMES FOR US) shows up to try to kill him before he can get to the tournament. (Which is unsportsmanlike.)
As far as the tradition of giving the most exciting martial arts leading men of Asian cinema limited roles as emotionless villains in Hollywood movies, Taslim's part here ranks below Jet Li's in LETHAL WEAPON 4, but above Byung-Hun Lee's in TERMINATOR: GENISYS, Tony Jaa's in FURIOUS SEVEN and his own in FURIOUS 6. He displays some of his fighting skills, and the character's Mr. Freeze powers are handled well. I like that people feel the room getting cold before he arrives. His best gags were in the trailer, but freezing a gun as it fires or stabbing a man with his own blood – you gotta respect shit like that. I personally believe that the bulky armor they put on him hides his form and overcomplicates the simple ninja robes of yore, but you know how they fuckin are, these rebooters. Simplicity is their enemy. If something looks sleek and cool it means somebody fucked up and forgot to add all the texture and detail they paid for.
Though they're trying to make it kinda grounded, they do have the good sense to occasionally cut to the fantasy painting landscape of Outworld, where the evil Shang Tsung (Chin Han, INDEPENDENCE DAY: RESURGENCE, GHOST IN THE SHELL, SKYSCRAPER) lords over everybody and sends various demonic minions after Earthrealm's fighters (fuckin cheater). This Shang Tsung vaguely resembles Cary-Hiroyuki Tagawa, who played the character in Paul World Star Anderson's 1995 MORTAL KOMBAT film (reprised in 2011 for Mortal Kombat: Legacy), but his performance is bland in comparison. He seems like standard issue evil rather than absolutely delighted at the opportunity to be an evil motherfucker.
Back in our realm, Cole tracks down Jax's partner Sonya Blade (Jessica McNamee, THE MEG) at her trailer home. When Cole sees her framed expository photos of her and Jax in the military together he says "You're military?" and instead of nodding or saying "yup" or like a normal person she says, "Special forces." And the audience perks up. Oooooooh, special forces. That's the extra-good ones. I'm glad she specified because now I really get an idea of what we're dealing with here.
Sonya is a pretty standard issue Sarah Connor wannabe, but I respect the craziness of her revealing that she at that very moment has a prisoner tied to a chair in her crib. It's Kano (Josh Lawson, ANCHORMAN 2), the Australian mercenary guy with the half robot face, except he doesn't have it yet because you really gotta build to that. Modern audiences are so sophisticated they don't accept a robot face unless you have a whole movie where there's not a robot face and then hopefully you can earn their trust and then get the robot face. We'll see.
In the '95 film Kano was a villain who taunted Sonya a little and got killed early on. Here I was surprised to find him the highlight of the movie. Some of his quips are bargain basement, but Lawson gives a good fun-asshole performance as he reluctantly works with the good guys to protect their realm on account of Australia is part of it. Sonya has been studying ancient scrolls and newspaper articles or whatever and pieced together the history of Mortal Kombat, and Kano knows the location of a secret mountain temple where they need to go train with Lord Raiden (Tadanobu Asano, ICHI THE KILLER). Kano has the dragon mark, Sonya does not. She's transparently jealous of him and it's never quite clear why they let her hang around and train even though they keep telling her she's not allowed in the tournament.
Liu Kang (Ludi Lin, POWER RANGERS) welcomes them to the temple and his cousin Kung Lao (Max Huang, CHINESE ZODIAC, POLICE STORY: LOCKDOWN) is sort of like the teacher's assistant. I know him as the guy with the big hat that Mark Dacascos played (better) in Mortal Kombat: Legacy. Here the hat is metal and works as a boomerang, so that's cool.
I like the premise of the "arcana" – in order to have a chance the fighters have to figure out how to tap into the one unique ability they possess. I want to say it's their special move, but it's really more like a super power. Obviously Sub Zero has his freezing, and Kano's turns out to be shooting a laser out of one eye. Jax has his arms iced off and replaced by skinny little robot arms that he hates and then I guess his arcana is that they morph into buff robot arms more like the flesh ones he used to rock. I don't get it but I like it.
The arcana idea allows for a little bit of training, but there could be more, and there could be an awesome montage song. Again, maybe next time.
In lieu of having any Mortal Kombat, they do get to have some unsanctioned fights in normal earth locations like, you know, a warehouse or a trailer (definitely inspired by the much better Beatrix vs. Elle fight in KILL BILL VOL. 2). I enjoyed the one with the giant four-armed monster Prince Goro, who this time is an animated character rather than the amazing but not mobile enough animatronic from the '95 film. You also get to see toothy Mileena (Sisi Stringer, CHILDREN OF THE CORN [2020]) and some winged demon lady (Mel Jarnson). I also dig the goofiness of Kabal (Daniel Nelson, GODZILLA VS. KONG), who looks like a robot man but I guess it's just a mask. He's voiced by Damon Herriman (THE NIGHTINGALE, ONCE UPON A TIME …IN HOLLYWOOD, Dewey from Justified), who sounds to me like he's doing a Joe Mantegna impression.
I was happy to see a giant dude with a giant hammer who, despite his Utupau-style makeup, was immediately identifiable as Nathan "I had a baby brother and he was perfect in every way" Jones (TOM-YUM-GOONG, FEARLESS, MUAY THAI GIANT, THE CONDEMNED, NEVER BACK DOWN: NO SURRENDER). And from the credits I noticed that his FURY ROAD cohort Angus "Organic Mechanic" Sampson is the voice of Goro.
So where does that leave us on everybody's favorite Kombatant, Hanzo "Scorpion" Hasashi (Hiroyuki Sanada, MESSAGE FROM SPACE, THE WOLVERINE)? It's weird. This movie opens with the same story seen in the animated MORTAL KOMBAT LEGENDS: SCORPION'S REVENGE and some episodes of Mortal Kombat: Legacy, with the yellow-robed ninja famous for saying "GET OVER HERE!" as a nice family man in 17th century Japan. After establishing that he has a wife and two kids who he loves very very much, and they make him so happy, and he really cannot emphasize enough how important they are to him, he goes to get some water and Sub-Zero shows up to terrorize and ice his family to death. He comes back, mourns for a second, fights some ninjas, is killed by Sub-Zero. That's all we ask.
His journey ends up being important to the story, but it's mostly off screen. We don't get to see Hanzo going to Hell and figuring out how to come back as a cool hand-tentacled vengeance ninja. Instead, Cole has a couple Avid fart visions of him in fiery agony and then he shows up to fight his nemesis at the end. It's that age old storytelling battle between "It would be cool if there was some context and characterization for the guy in the main fight at the end" and "Come on man, I don't have time for this shit!"
The fight coordinator is Chan Griffin (ALIEN: COVENANT, SHAZAM!), second unit director/supervising stunt coordinator is Kyle Gardiner (AQUAMAN), cinematographer is Germain McMicking (Top of the Lake) and editors are Scott Gray (THE LUCKY ONE) and Dan Lebental (DEAD PRESIDENTS, IRON MAN, BAD BOYS FOR LIFE). Compared to what you get in your average Hollywood movie with some fighting, the fights are decent. You know, they're pretty choppy and not all that enthralling, but they at least have some moves and memorable moments. (Best fatality: obviously Kung Lao using his hat as a tablesaw to bisect an opponent. And then doing a cocky hat spin and saying, "Flawless victory.")
That said, I think it's reasonable to expect MORTAL KOMBAT to be a better fight movie than this. Tan, Taslim and Huang are legit martial artists, the source material is a fucking fighting game, the lower budget web series had many good fights in it, and this is the primary area (besides special effects) where they had room to really improve on the '90s films. In the past few decades the sophistication of martial arts filmmaking has evolved massively not just in Hong Kong, Thailand, Indonesia, Japan and straight-to-video movies made in Bulgaria, but even in Hollywood. Being funded by an American studio (but filmed in Australia) is not a very good excuse in a post-JOHN WICK world. It's funny that a MORTAL KOMBAT movie could be so savagely shown up by another current action movie starring fucking Bob Odenkirk.
Not that you have to be 87Eleven good to be better than this. At one point Sonya did a slow motion flying kick or something that I liked, but it didn't clearly show her making contact. And I swear for a second there I thought, "You know who would've done this well? Paul Anderson," thinking of the fights in THE THREE MUSKETEERS and some of the RESIDENT EVILs before remembering oh yeah, of course. He already did MORTAL KOMBAT.
Now, I'll try not to dwell too much on this, but I need to return to the subject of the film's tournamentlessness. I just think there's something comical about a movie that has onscreen text about an ancient tournament, and awkward/fun exposition about it as Sonya shows Cole her Obsessed Investigator 101 wall collage, and everybody training for it and fighting over who gets to compete in it, and then when the film ends it has not happened and it's unclear whether it's still supposed to or not. I think the idea is that fighting them before the tournament counts as winning the tournament – one weird trick to defend Earthrealm from Outworld – but I'm honestly not sure.
It seems to me like the filmatists are ashamed and afraid of some of the things that make Mortal Kombat fun. They get that people want gory fatalities and a tragic backstory for Scorpion, that's good. But the whole premise of the game is these organized matches – why would we not want to see them? The ceremony, the drums and torches, the drama of competition. Some of the famous catch phrases that they know they have to use – "flawless victory" and "finish him" – don't make as much sense out of that context, but they go ahead and say them anyway.
Fight tournament stories are the template for numerous action classics, but there's not a definitive one of this era. Even if there was, this would stand out as the one where there's monsters and laser eyes and shit. It just seems to me that a fighting tournament story is inherently more interesting than one about people talking about and preparing for a tournament they never get to.
(Wait – are they trying to do REDBELT? Because it worked better in REDBELT.)
(Wait – are they trying to do ROCKY V? Do people try to do ROCKY V?)
I would like to conclude by comparing and contrasting to the 1995 film. The new version is certainly less cheesy. The digital effects are infinitely better – or at least 26 years of technological advancements better. The leads who are not fighters are generally more convincing playing fighters. There is more Asian representation in the cast, including a Japanese actor as Raiden (rather than Christopher Lambert as the Japanese thunder god). I would say the fights in the new one are better (though the original's were good for a Hollywood movie of the time). And with an R-rating they get to tip their hat to the extreme violence that made the game infamous in its day.
But it's not as if it's significantly more dramatic or clever. If the story and dialogue are more sophisticated, it's not by much. Kano calling a shirtless guy "Magic Mike" may have gotten a cheap laugh out of me, but so did Johnny Cage punching Goro in the balls, and that required more craftsmanship (thank you Amalgamated Dynamics). The attempts to make it smarter by not being Mortal Kombat only show how dumb it is to not just do fuckin Mortal Kombat.
This is not a 1:1 comparison, but it's a little like how I feel about the STAR WARS prequels vs. THE FORCE AWAKENS. The newer one is more competent in so many ways, and I understand why people like that better. But to me the old one, with all its flaws, is just more distinct, more pure, more interesting. You know, they got really capable new actors for Shang Tsung and Raiden, but C-HT and Lambert made their versions way more fun. And they got to do these rituals on a mystical island with weird statues and stylized red skies. That movie was just so dedicated to its ENTER-THE-DRAGON-meets-early-CG-age-Ray-Harryhausen-with-aggressive-electronic-dance-music vibe that it can't help but have more personality than this middle-of-the-road movie that one of the producers says was built on the motto "What would Marvel do?"
I guess so far that line of thinking is working out better for them than it did for the Dark Universe and other doomed MCU knock offs. But I think while they were asking "How do we make a MORTAL KOMBAT for the Marvel age?" they should've been asking "How do we do a modern MORTAL KOMBAT that lives up to the old one?" Because I would argue that what made that very flawed movie hugely popular is that it was not like the other popular movies of the time. It looked and felt different from anything else out there. The in-your-face soundtrack and score got you hyped from the New Line Cinema logo on and had you giggling and pumping your fist on the way out. That movie invented the cliche of techno music in fight scenes, carried over into better movies like BLADE and THE MATRIX, and also worse ones.
Though I disagree, I think it's reasonable to not want to replicate that '90s approach in the 2020s. But if you make that choice I think you gotta do something equally drastic and different. A generic normal person score (sorry Benjamin Wallfisch [BOBBY, HIDDEN FIGURES, BLADE RUNNER 2049]) can't cut it.
In my review of the '95 film I compared the soundtrack to Blaxploitation scores. I'm not saying it's as good as Curtis Mayfield, Isaac Hayes, Roy Ayers, etc., but they are similar in heart-pumping energy, in being so specific to their respective eras, and (in some cases) being equal parts goofy and awesome. I think the comparison is still relevant here because every time they do a modern followup to SHAFT or SUPER FLY or something they have this problem that they just don't make music like that anymore and, try as they might, they can never come up with a substitute that's not at least a little disappointing. They usually try, though!
(At least they swallowed their pride long enough to use the theme song on the credits. I think their new version is a little too mellow, but I'll stop complaining now.)
So that's why I'm feeling a little less "MOOOORTTTTALLL KOMMMBAAAAAT!" today and more just plain "Hmph. Mortal kombat, I guess." But I hope some of you were more happy with it than I was.
This entry was posted on Tuesday, April 27th, 2021 at 12:24 pm and is filed under
Action
,
Martial Arts
,
Reviews
,
Videogame
. You can follow any responses to this entry through the
RSS 2.0
feed. You can skip to the end and leave a response. Pinging is currently not allowed.