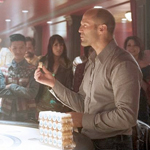 "I can take care of things. That's all you need to know."
In WILD CARD, Jason Statham plays Nick Wild (seriously), a legendary special ops badass who now works as an all purpose "security consultant" for hire. That's not going well for him, though. He shares his office with a lawyer (Jason Alexander from THE BURNING) on the strip mall outskirts of Vegas, most of his friends seem to be prostitutes, hotel maids, gangsters or casino employees, and he gets such glamourous gigs as getting fake beat up by Vinnie from Doogie Howser to impress a Sofia Vergara. It's hard to bask in your own greatness when you're such a fucking loser. So in that sense this is less like THE TRANSPORTER and more like REDEMPTION (where he starts out as a homeless crackhead).
He gets a couple "Just how badass is he?" speeches, but one of them is by himself, and ends with "And I lie alot." As cool as this guy is – his name is Nick Wild, for God's sake! – everybody knows he's a fuckup, and this is underlined by casual comments about the mediocre value of his life. When a friend wants him to get involved in something dangerous and he asks "What if they kill me?" she says "I'll be miserable for days." Not years, not months, days. Later a gangster wants to hear his side of the story before killing him just because if he was innocent of what he was accused of "I would feel dreadful."
If some of this sounds familiar that's because it's a remake of HEAT. Not the one by Michael Mann, the 1986 one with Burt Reynolds and based on the book by William Goldman. It counts as a remake though because they re-used Goldman's old script with just a few tweaks, like Van Sant did with PSYCHO. (In fact, Anne Heche is even in this. But not Vince Vaughn) They changed his name from Nick Escalante and added references to his Britishness. He says "mum" in one part. And I noticed big changes in the action parts (I missed a trick Burt did to light a guy on fire, and a scene where he torments a guy in the dark). But mostly, from what I could remember, it's scene-for-scene the same.
Therefore it's one of the more dramatic, character-based Statham vehicles. There are a few big fights, well staged with plenty of slo-mo and good use of improvised weapons found in a bar or diner (including a spoon). But mostly it's about his life going to shit and him worrying that he's missed his shot. He could be in the followup to the Eminem song: he had his one opportunity but he didn't lose himself in the moment. And that was a long fucking time ago.
Nick's on two cases, basically. One is to accompany a nerdy software billionaire (Michael Angarano from HAYWIRE and EMPIRE STATE) to the casino, supposedly as a bodyguard, but actually to give him some kind of manliness lessons. In the original it was Peter MacNicol and I think it was specifically to teach him how to fight.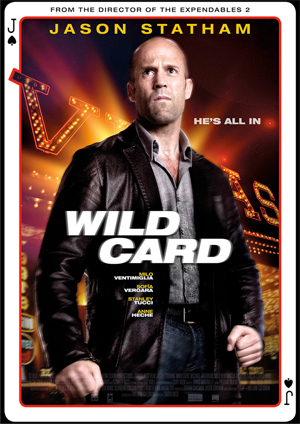 The more troubling case is a favor for an ex named Holly (Dominik Garcia-Lorida). She was sadistically raped and beaten by some guys in an expensive hotel and she says she wants to sue them. Obviously she should call the police, not him, so he refuses to get involved. But as soon as he drives away he realizes he can't stop himself from going to the hotel and looking into it anyway. Turns out the perpetrators were Danny DeMarco (Milo Ventimiglia), the sicko son of a mobster, and his two bodyguards. So it's like a tougher and more perverted version of Ioseph and his buddies in JOHN WICK. With their connections it could be life-ending for Nick to mess with them. So he puts on a Santa hat and goes to their hotel room to introduce himself.
It's not an action movie structure. It's very episodic, which I like. I was happy to see they kept the long section in the middle where Nick takes his money stolen from DeMarco on a crazy gambling binge. Hope Davis is well cast as the sympathetic dealer who knows him by name. Long time customer, I guess. It's a great scene and an interesting one to have in a Statham vehicle, but it can't quite measure up to the tour-de-force in the original. As good as Davis is, Diana Scarwid in HEAT was even better. She didn't just look at him with pity. She straight up burst into tears. In fact, she looked like she was gonna cry before he even (SPOILER) lost, just from the idea that he was stupid enough to risk it. His failure breaks her heart and her professionalism. To me that was probly the greatest moment in the movie.
But maybe the more important thing is that Reynolds was just more believable as the self destructive addict in this scene. It's really interesting to compare these two movies because the lead actors are good for totally different reasons. Statham is more believable as a highly capable ex-special ops guy who's legendary for using mundane objects as deadly weapons and knows how to martial-arts the shit out of a bunch of burly leather-jacket-wearing mafia thugs who attack him simultaneously. But Reynolds is better for the melancholy, the patheticness, the sense of have skipped over his prime, of being a compulsive gambler who even if he ever gets a good thing going will instinctively blow it.
Maybe it's not even the performances, maybe it's just how they naturally look and carry themselves. Statham probly does more acting to show on his face what he's going through, but he's a guy who can't help but be awesome. A guy who never hides his receding hairline, because he knows his awesomeness supercedes it. Reynolds doesn't show his vulnerability, but you sense it's there beneath the bluster. It's implied by the gloomy saxophone playing while he smiles and says it's okay.
It's fun to see Statham play this type of character, and he acquits himself admirably as an actor, but I think he doesn't quite match Burt. His very Stathamness can't help but overshadow the more prominent dramatic side of the movie. It still feels like a Statham vehicle despite the low amount of punching and kicking.
Those fights probly won't be enough to satisfy people who only want to see a generic action movie, but they're clearly better than in many of Statham's movies and all of director Simon West's. As a buddy pointed out, that might mean they were done by Corey Yuen (who, along with Roger Yuan [BLACK DYNAMITE] is credited as action director).
I have to admit that even though I'd seen the original I was a little surprised when I realized it was ending. I mean it makes sense, he solved his problem and everything. You just expect a modern movie to have a bigger blowout at the end than just a fight behind a diner. But I don't mind. It's kinda old fashioned. Sometimes it's just about getting out of town without getting killed, it's not about defusing a bomb that's gonna blow up the Statue of Liberty so it falls on the vice president and causes a nuclear war if you don't give me a billion dollars.
These days I pay to see any Statham, Stallone or Schwarzenegger vehicle on principle. I go see them all in the theater and not only do they have a good track record the last couple years, but I feel like I'm doing my part to keep these guys on the big screen and maintain our way of life as action fans. I heard WILD CARD had a limited theatrical release, but if so it hasn't made it to Seattle, so I had to go the VOD route. I hope that's not an omen about the future of Statham's career, but if he's able to do that and make movies this good then I guess I can't complain.
It's also important to give props to West, a director I once called "the BASKET CASE lump twin of Michael Bay" and considered to be one of the worst in the business. I was too hard on him. If I hadn't boycotted him I would've known TOMB RAIDER was actually pretty fun, and I know many people still love CON AIR. Some day I'll watch it again and find out if it has become watchable by modern standards. At the time I had no experience trying to get through action movies where the editing and camera placement seemed deliberately designed to not get across any visual information or storytelling. Now it's a rare treat for an action movie not to be made that way.
And this is one of those treats. With THE MECHANIC and maybe EXPENDABLES 2, West as grown into a watchable if undistinguished journeyman. And now for WILD CARD he brought his A-game. This is actually pretty artfully directed, with not only clear action scenes but also a nice patient pace, and pretty good use of LIMEY style editing (little glimpses of the past and future to show what the characters are thinking, the end of one scene intercut with the beginning of the next, but not in a confusing way).
I thought this was showing some parts of Las Vegas we don't usually see in movies, but then I noticed a New Orleans film logo on the credits, so maybe that's why! Still, I like the sun-drenched look to it, which contrasts with various references to it being December (occasional Christmas decorations and songs, a scene where he wears a Santa hat) in a kind of depressing way. It also emphasizes the difference between the world outside and the one inside the casinos.
There is one shitty music choice that bothered me. When the first fight starts we go into some generic techno that seems standard for a dumb action movie but completely out of place in this one. Thankfully that's the only part in the movie that does that. The big bar fight, for example, is set to the Drifters version of "White Christmas," which works really well, better than some of the pretty cheesy music in HEAT, actually.
(I also noticed on the credits that they apparently used two cues from AMERICAN GANGSTER. I didn't catch it, though.)
I also like West's choice to show closeups of Holly sewing while she tells Nick about what happened to her. It's a creative, stereotypically female act, but when the penetrating needle fills the screen it mirrors the violence of her story. It sort of reflects the vicious side they've unleashed from this seemingly harmless person. (Though again I thought the original actor, Karen Young, was more convincing.)
I'm really impressed that West pulled this off, because he's not only remaking a movie I really liked, but replacing almost-director Brian DePalma, who I was very excited to see work with Statham. So he's got a couple pairs of shoes to fill, and though they're pretty loose and giving him blisters he can still walk okay. Respect is due.
As much as I want you to support and enjoy this, I also gotta recommend watching the original version. Maybe not back-to-back, because they're so similar, but HEAT gets the humanity of losers better. WILD CARD, on the other hand, is way better at having Jason Statham in it.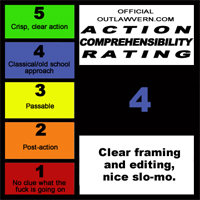 Statham remake score card:
Stath has portrayed characters previously played by
David Carradine
Charles Bronson
Lee Marvin/Jim Brown/Robert Duvall/Mel Gibson
Burt Reynolds
(he's also been in remakes of THE LONGEST YARD, THE ITALIAN JOB, THE PINK PANTHER and 13 TZAMETI)