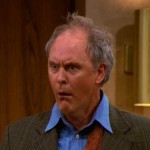 Long ago, before the rogue Finn Renny Harlin's Samson locks were shorn, he was not the director of DEEP BLUE SEA. He was the director of DIE HARD 2. Or DIE HARDER as everybody thought it was called then. (This was before the internet, so I couldn't explain to them that it was called DIE HARD 2.) Well, CLIFFHANGER is another movie from that o.g. Renny Harlin, or Renny Harlin Classic. And from where I stand this may be his finest McClane-free picture.
Of course, I'm coming late to the party. I missed this one when it came out in 1993 but I was planning on seeing it, so I saw it this week in 2007. So the rest of the world has had 14 years to know what I'm about to tell you: some guys robbing money from a treasury plane drop the money in the mountains, call a rescue team to try to steal their helicopter, and wind up having to deal with ace mountain climber Sylvester Stallone.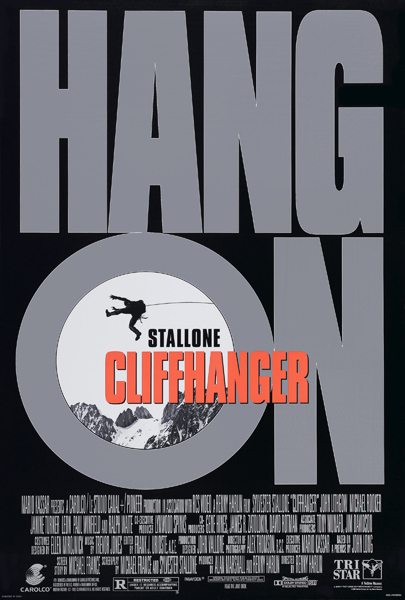 I wasn't convinced during the opening. I know it's a pretty famous action scene as far as '90s action movies go, and the fact that it's mostly real mountain climbing done by the real actors is undeniably impressive. But I couldn't take all the casual weizenheimer talk as Stallone comes to rescue Michael Rooker and his date from a mountain peak. Even though the girl is supposed to be a novice she's joking and flirting with Stallone and not showing any fear, which makes it hard to take the whole thing seriously. Especially since they're up on a mountain where you'd figure it would be hard to talk to each other at such low volumes. Then the big scene with Stallone trying to grab the girl's hand when she's falling doesn't look like it's in those same real mountains so it kind of took me out of it.
But the movie gets better, this is a decent take on DIE HARD ON A MOUNTAIN. Stallone's hero role makes sense: the bad guys have his friend Michael Rooker hostage to use as a guide. If they find the money they will kill Michael Rooker, so Stallone has to keep them from finding the money. It's great to see Rooker (HENRY: PORTRAIT OF A SERIAL KILLER himself) playing a straight ahead good guy. He blames Stallone for the death of his girlfriend, but he is completely loyal to him and risks himself to save his former friend. DIE HARD is a more cynical movie where certain characters will betray anybody to save their own ass. So it had me expecting that Rooker would be the bad guy, or would help them because of his anger at Stallone, or would be tempted to. But no, you got heroism all over the place. I liked it.
There are certain levels of action movie quality. There are shitty action movies like, I don't know, THE MARINE. There are masterpieces like DIE HARD and HARD BOILED. In the high-middle area are slick, formulaic but well-executed studio movies like UNDER SIEGE, UNDER SIEGE 2, and SPEED. CLIFFHANGER is somewhere in that area. A little lower altitude I think, but close.
Slickness might not be enough to make it memorable though, so you gotta have a couple crazy touches here and there that people will remember. And that's where Renny comes in. One classic moment is the climax of a prolonged battle inside a cave. Stallone powerlifts a dude above his head and impales him on a stalactite. I trust I don't need to explain any further. Obviously if you haven't seen this yet you're sold, I should probaly just end the review here.
And yet I go on. My other favorite part is when Stallone uses a guy as a sled. He slides down the mountain on this dude and then he pulls out his ice axe. And you're thinking holy shit, he's already sledding on the guy, now he's gonna go ax murderer on him? While still sledding? Well, that's not what happens, he uses the ax to hook into the ground so he doesn't launch off the cliff with the sled-man. Good trick though, not only does he send him over a ledge, he makes him think he's gonna get an ax to the face first. That guy must've shit his pants twice, once from the ax and a second time from the plummet.
Another highlight is John Lithgow doing a ridiculous Arrogant British Villain accent. He's definitely no Hans Grueber, but he's good for a laugh here and there.
The movie did test my good will at the end. It has a DIE HARD WITH A VENGEANCE style stretch where Stallone's character is home free but unneccessarily goes after the bad guys. I mean, this is a regular mountain climber guy, this is not a cop or anything. His friend is free, Lithgow has released his girlfriend in exchange for the money. All he has to do is be safe, give him the money and everything's okay. Instead he plays a trick where he throws the money into the helicopter blades. Why does he care? It's just money. It's not babies. It's not money that belongs to babies. It's from the treasury. Who gives a shit? Just give the asshole the money and live your life with your girlfriend in the mountains. I don't have to say "don't be a hero" because you already ARE a hero. Just give him the money.
But no, Stallone is too god damned stubborn to give this guy the money. I hate to say it but he kind of gets what he deserves when his trick backfires and he ends up down the side of the mountain wrestling John Lithgow on top of a helicopter somehow suspended by a wire. You reap what you sow, dude and in this case you're reaping a suspended helicopter wrestling match. I'm glad you're safe but that was pretty stupid there at the end. Quit trying to show off, hotshot.