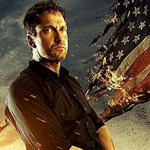 OLYMPUS HAS FALLEN is a watchable but instantly forgettable throwback to a subgenre I miss, the glossy '90s studio action like IN THE LINE OF FIRE and UNDER SIEGE. I mean it's not a studio movie – it was made by the until-recently-DTV sausage factory Millennium Films – but it sure seems legit with its respectable cast of Aaron Eckhart as the President, Ashley Judd as the First Lady, Academy Award winner Morgan Freeman as the Speaker of the House  (a demotion from DEEP IMPACT), Academy Award nominee Angela Bassett as the Secret Service director, Academy Award winner Melissa Leo as the Secretary of Defense, Golden Globe winner Dylan McDermott as… some other type of White House guy. Lending whatever action movie credibility they can muster are 300's Gerard Butler as the hero, PITCH BLACK's Radha Mitchell as the hero's wife, THE MAN WITH THE IRON FISTS's Rick Yune as the villain, and PAPARAZZI's Cole Hauser reprising his A GOOD DAY TO DIE HARD role as Agent Who Gets Killed Early On.
It also has just that right type of majestic, patriotic sounding score. Good job by Trevor Morris, a guy who has scored three Roel Reine directed DTV sequels (THE MARINE 2, THE SCORPION KING 3: BATTLE FOR REDEMPTION and DEATH RACE: INFERNO).
Butler plays Mike Banning, the bodyguard, sparring partner and best friend of the President until he gets transferred to the Treasury after a horrible accident leads to the death of the First Lady. (Remember, I mentioned it was kinda like IN THE LINE OF FIRE.) So he's unhappy with his job situation when North Korean terrorists perpetrate an air assault, ground attack and infiltration to kill pretty much everybody in and around the White House except the President, VP and some cabinet members, who they take hostage inside an underground emergency bunker. But since Banning's over at the Treasury he doesn't get blown away and does have time to run over, sneak into the White House and be the one guy we can count on to save the day.
Butler is capable and likable as an action hero, but his character here is not very distinctive. He's supposed to have the ol' bad attitude, so we hear that he once got in trouble for telling the Speaker of the House to go fuck himself, but then when those two have to work together there's no sign of this previous relationship. He calls people assholes a few times, gets mad at a general (Robert Forster), and has a couple funny tough guy lines. He does make one promise of future bodily harm to the villain that thankfully is later fulfilled. (You never know with modern action movies.)
I guess you could argue that he's a little more harsh than some of the action heroes. He conducts a successful mutilation/torture/interrogation that hopefully ZERO DARK THIRTY critics will demand a Senate inquiry into. He executes a few impressively abrupt and unceremonious stabbings and shootings. He doesn't have a good badass juxtaposition, but he gets along well with the President's kid.
And no, there's not an explanation for his accent. We're past the days when Jean-Claude Van Damme had to be Cajun or French Canadian.
The script by rookies Creighton Rothenberger & Katrin Benedikt makes a few action promises that I don't think are delivered on satisfyingly. One, it opens with the President practicing boxing, and yet we don't get to see him K.O. a thought-to-be-dead-but-suddenly-back-on-his-feet terrorist at the end. Just an early headbutt with "keep your gloves up" reference. Two, they spend more time establishing that the son knows all the hidden passages and security protocols of the White House than they spend actually taking advantage of that knowledge. It's just there to explain how he could've been hiding. Maybe there was a rewrite. Banning could've directed him around and had him pick off some of the gunmen himself. Make him earn his keep for the taxpayers.
Rick Yune was such a nice guy as The X-Blade in THE MAN WITH THE IRON FISTS, it's weird to hear that same dubbed-sounding voice come out of a guy that's stabbing people in the neck and pummeling the shit out of a crying Melissa Leo. (Leo really goes for it, kicking and screaming and at one point she's bloody and being dragged across the floor and she starts defiantly shouting the Pledge of Allegiance.) He's fine, he doesn't get to be real crazy or anything. The best thing about the villainy is the elaborate viciousness of their plot. They have this flying fortress thing that not only attacks the White House but needlessly guns down tourists on the streets. The gunmen on the ground shoot a dog. Yune kicks Melissa Leo down some stairs. They're not nice. The movie earns its R-rating.
Like we all expect (and maybe even hope) in a movie like this, what goes down seems pretty far fetched. For example even though the Air Force was slow in responding to those hijacked jets on 9-11 I don't believe an obvious war plane could just fly right up to the White House with only two late arriving fighter jets as obstacles. But I'm much more accepting of things like that than the courageous leadership of the acting president. There is no fucking way we'd ever have a Speaker of the House who could demonstrate Morgan Freeman level calm and decision making in an emergency like this. The motherfucker would be crying and staring at the table while the experts told him what he had to do. This man knows exactly what to do without prompting. We should be so lucky. Why did Banning tell this guy to go fuck himself, anyway? What is his problem?
I know it's been 12 years since 9-11, and I will not cede this grand tradition of stupid action movies to Osama bin Laden. But I do feel a small tinge of guilt while enjoying the fictional scenario of terrorists causing bloody mayhem in Washington DC. I don't know if that will ever go away.
It's not as jingoistic and flag waving as I'd been led to believe, but there are a few chuckles provided by blatant attempts at audience manipulation. One is the long, slow motion, animated shot of a burnt and bullet-ridden American flag tossed off the White House like garbage. Another is when a news report tells us that reaction to the attack in the Middle East has been "jubilant."
At the end the President, who has been depicted as a heroic public servant and great man throughout, makes an inspirational speech about how we will always survive and we will use this chance to rebuild ourselves even greater and all that. But in it he mentions some classic George W. Bush type bullshit, that the terrorists failed to take away "our freedom." Which has nothing to do with what the guy was doing! He wanted us to know the "poverty and famine" that his people suffer from. In order to prove our might we must always deny and pretend to not understand any legitimate problems that bad people care about. If we care about poverty and famine then the terrorists win, right? Therefore they hate our freedom!
People have been comparing OLYMPUS HAS FALLEN to a DIE HARD movie, but of course we know it's more like an UNDER SIEGE. He's not a vulnerable, reluctant hero in over his head because he happened to be in the wrong place at the wrong time, he's an extremely skilled professional performing his duty in the type of situation he's been trained for. Like Casey Ryback he knows protocol, lingo and hand signals, he establishes communication with government and Pentagon officials in the situation room, some of them know him personally, some by reputation and he gets a brief Just How Badass Is He? courtesy of Angela Bassett. It turns out he's not just ex-White House detail, he's also ex-Special Forces.
By the way, one important action movie fact this movie helped me realize is that ex-Special Forces trumps current Special Forces. That's why the Navy SEALS who get sent in don't heed his warning and all get killed, but he survives.
If you're gonna hold it up to an UNDER SIEGE though you're gonna notice that the action isn't as good. There's a good scope to the special effects vehicle mayhem, but it's not staged as well as it would've been in the '90s, and of course Butler can act tough and hold a gunbut he can't do anything to compare with the handwork and knife fighting moves that Seagal did. There's way more visual obfuscation and stuntman-hiding. That being the case they should try to have better characterization or something, but that doesn't happen either. Ryback has more personality, identifiable characteristics and outside interests (cooking, writing his memoirs). Also, Yune is fine but not half as much fun to watch as Tommy Lee Jones or Eric Bogosian, and he doesn't have a memorable right hand man like a Gary Busey or an Everett McGill. (He does have some guy whose hair do leads me to believe they wanted Yayan Ruhian from THE RAID.)
There's one scene that I think is a nod to DIE HARD, a "bad guy pretends to be a victim" scene like McClane's first face-to-face with Gruber. Of course it doesn't stand up to the comparison. The way he figures out the truth is not very clever.
Because of the DIE HARD influence alot of people have been comparing this favorably to A GOOD DAY TO DIE HARD. I don't know about that. The action is certainly not as bad as the big car chase in that one. The way it mechanically goes through the formula of this type of movie is more effective. But there's slightly more personality and humanity in that one I think, between the carrot eating/dancing scene and the way it deals with McClane's relationships with his kids at the beginning and end. OLYMPUS HAS FALLEN might be a better movie, but not by that much, and partly because we don't have to hold it to as high of a standard. If this was the new DIE HARD it would still be the worst one.
Because of my natural instinct to watch this type of shit I enjoyed seeing it once. But I'm pretty sure I'll never watch it again or think about it in the future. I guess it's pretty much what you expect from director Antoine Fuqua, even if he was reaching a little higher than this with his last one, BROOKLYN'S FINEST. Despite the mediocrity this might have been a historic viewing experience for me, because it inspired me to invent something that I think could be important in our continued cataloging of modern action: the Action Comprehensibility Rating, or ACR. We all know about "shakycam" and "Michael Bay style" and I coined the terms post-action and disestablishing shot, but there are still varying levels of incomprehensibility that are hard to explain. The ACR is not necessarily a judgment of quality, it's just a description of the movie's approach to visual storytelling. As we continue to suffer through this crisis in action filmatism it gets more complicated to communicate whether something is just absurdly hard to follow like a TRANSFORMERS or more middle-of-the-road like a TAKEN or what have you. So I decided to create a 1-5 scale with 5 being like a HAYWIRE level of clarity, 3 being standard modern-not-very-good-but-not-terrible action, and 1 being GAMER.
Make sense? I hope so. Maybe we'll fine tune the system as we go along, but here, for your viewing guidance, is the inaugural ACR rating: