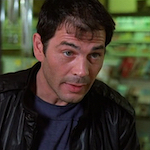 ALLIGATOR (1980) may not have knocked the world on its ass the way THE TERMINATOR did, but it's another genre movie made by Roger Corman veterans in the '80s that holds up today. People often credit that to an allegedly satirical screenplay by John Sayles, who had already written the Corman classics PIRANHA and BATTLE BEYOND THE STARS and begun his indie auteur career with RETURN OF THE SEACAUCUS SEVEN. (He completely rewrote an earlier script by Frank Ray Perilli [THE DOBERMAN GANG, DRACULA'S DOG, LASERBLAST], who gets a story credit). But let's not overlook the serious skills of director Lewis Teague. His NYU classmate Martin Scorsese had reportedly recommended him for the job at New World Pictures, where he'd edited COCKFIGHTER and done some second unit and editing on DEATH RACE 2000 and AVALANCHE. ALLIGATOR was his third time directing a feature, after DIRTY O'NEIL and THE LADY IN RED. He was also directing second unit for Sam Fuller's THE BIG RED ONE around this same time, but I'm not sure if that was right before or right after the gator picture, so I can't speculate how one gig might've informed the other.
ALLIGATOR opens with a teenage girl (Leslie Brown) on a family vacation to Florida watching a guy get mauled at a gator wrestling show. Despite this potentially traumatizing experience she buys a baby gator from the farm and names it Ramon. But when she's back at home somewhere in Missouri her drunk dad flushes the poor thing down the toilet. Then we cut to 12 years later when Ramon is still alive in the sewer system, and has grown to unusual size and hunger from munching on the clandestinely dumped victims of illegal animal experiments, and is destined to bump heads with police detective David Madison (Robert Forster in his follow up to THE BLACK HOLE).
I would like to note that a news report on the radio places the toilet flushing during the '68 Democratic National Convention, i.e. the time and place when in real life Forster was filming MEDIUM COOL.
Of the many things that are good about this movie, the most important one is Forster, whose laid back charisma would give the character an off beat appeal even if he hadn't added personal touches like his character occasionally fretting about his thinning hair. Following a trail of sewer worker body parts, Madison starts to suspect a giant gator and teams with attractive young herpetologist Marissa Kendall (Robin Riker, BODY CHEMISTRY II: VOICE OF A STRANGER). In a goofy touch that works way better than I'd think it would, she off-handedly tells a story about having a pet alligator named Ramon that her dad found dead (he lied to her!). It's silly that this monster was once her pet, but it's so funny that she never has any idea.
These sorts of uncommented-upon coincidences are just part of the reality of the ALLIGATORverse. When we first see Madison he's buying a new dog from a pet store, not suspecting that the clerk (Sydney Lassick, CARRIE, SILENT MADNESS, SONNY BOY) has a side business stealing dogs (in a vehicle with his company logo on it!) to sell to the lab, and will soon be a snack for Ramon. A more spectacular and climactic karmic fate awaits Slade (Dean Jagger, GAME OF DEATH, in his final film), the rich business asshole who sponsored the experiments that led to the gator and is engaged in a cover up.
Madison is haunted by an incident in St. Louis where his partner got killed, which makes it even shittier when the younger cop that goes into the sewers with him (Perry Lang, who was later in Sayles' EIGHT MEN OUT and SUNSHINE STATE, and directed the Dolph movie MEN OF WAR, based on a Sayles script) gets eaten. As you'd expect in a monster movie, nobody believes Madison at first, and then they do, so Ramon (or "Alexander the Gator" as one of the many souvenir salesmen decides to name him) becomes a media sensation.
I think some people have lumped ALLIGATOR into the JAWS genre. If so, it's the version of JAWS where Brody fucks Hooper and then is a total jerk to him but apologizes the next day and they make up. When Madison propositions Marissa it's very lucky that she's into him because man that would've been unprofessional. He's obviously way older than her, but her mom likes him. The old guy hero having to fuck the young female co-star is obviously pretty dated, but having seemingly needless tangents pays off in the case of a scene where Madison has to tackle a crazy dude (John Lisbon Wood, BEVERLY HILLS COP II and – holy shit – "Carnival Booth Attendant" in DARKMAN!) who comes into the police station claiming to be a suicide bomber. The scene provides Madison with a timer to use against Ramon later on, but I'd be fine if it had no narrative purpose. Wood is really great in the scene and it's fun to see the cops go from blithely dismissing the guy to realizing they have to figure out what to do about him.
The Quint character would have to be Colonel Brock (Henry Silva right before SHARKY'S MACHINE), the arrogant big game hunter hired to kill the gator, but he's a total piece of shit. Marissa proves to understand the situation much better than he does, but he condescends to her, calling her "this pretty girl" and "the lizard lady." When he gets some neighborhood Black youths to show him how to get into the sewers he calls them his "native guides." Needless to say we all cheer when Ramon takes care of this guy.
Though the budget was less than $2 million, they have lots of good shots with a big animatronic gator (plus real gators on miniature sets), and enough imagination to create some really entertaining mayhem. Like, there's a part where a police boat tries to ram Ramon, but flies off him like a jump and crashes on the shore, setting off all the grenades on board. The officers manage to fall out, but one gets his legs bitten off.
One of my favorite sequences is when, moments after Madison drives past some kids playing baseball in the street, Ramon busts out of the sidewalk like a subterranean Kool Aid Man. Coincidentally another police car drives by at high speed and has to swerve to avoid the fleeing kids, causing it to crash, roll and catch fire… Only as the officer is climbing through the window of his wrecked car does he realize this was a giant-gator-involved accident, and then it eats his leg in full view of a kid in an "I'm a Pepper" ringer shirt (Pat Person, THE LITTLE DRAGONS), who goes and gets a bread knife to go after the gator.
Honestly that kind of craziness is all you need, but Teague and/or Sayles add additional flavor with little character bits. For example, Slade is a hissable villain, but also just a funny character. Before the delightful occasion of Ramon invading his daughter's fancypants outdoor mansion wedding, Slade is working the barbecue and holding court about it to some ladies, and he keeps getting thrown off his game by a guy listening and repeating some of the words he says. It's an odd little observational bit that would be great in a high class movie, but is completely unexpected in a giant alligator eating people movie, and therefore even better.
Also, just little touches like this old guy who walks up behind Madison and Marissa when they're about to go try to kill Ramon. He seems curious what they're up to, but doesn't bother them.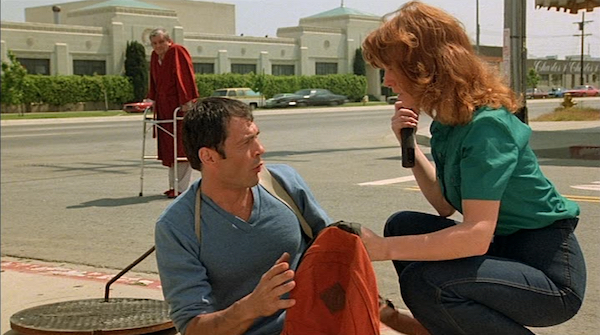 That's gotta be a directorial touch, right? You probly don't specify "a guy in a bathrobe with a walker scoots by in the background, looking at them curiously" in the script for a low budget monster movie. You save the quirky details for the munching scenes. Speaking of which, man – remember when Sayles was supposed to be writing a crazy JURASSIC PARK IV? It reportedly opened at a little league game. I bet he had some good Dinosaurs Attack! type shit in there. As evidence, I offer
1) the comical bit here where some little boys are having a pirate themed birthday party and force one kid to "walk the plank" off a diving board into a swimming pool that they don't realize contains a giant gator
and 2) the wedding scene. Everyone's having a great time and then that big bastard just storms in there. A maid gets eaten (unfair), the bride gets knocked into the pool, people in formal dress run around screaming while a security guy fires his gun right in the middle of everything. A bunch of people get tail slapped and flip through the air, one of them right into the cake, Slade gets rushed into a car… and locks the door! It's a funny joke (as if he thinks Ramon is gonna try the handle) but also some cold-hearted shit, because he watches his friend get eaten and smooshed against the window while screaming to let him in. You know it makes no sense for the alligator to come specifically after the motherfucker responsible for his size and appetite, but you're sure glad it happens anyway.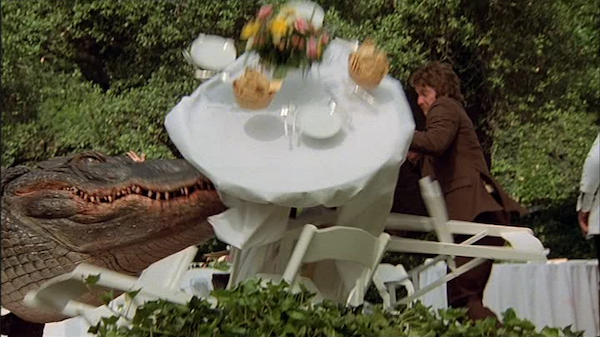 I called the script "allegedly satirical" only because I think people used to overhype that aspect to justify liking a straight up giant alligator movie. Yes, there is some dry, oddball humor, and some broad anti-corporate themes. But the latter is standard for the genre, and it's definitely a serious tone, not a comedy or a parody. I'm afraid you just appreciated a monster movie for being a good monster movie, you snobs. Sorry!
After ALLIGATOR, Teague had a run of FIGHTING BACK, CUJO, CAT'S EYE, THE JEWEL OF THE NILE, COLLISION COURSE and NAVY SEALS. In 1990 he reunited with Sayles to direct the pilot for his legal drama Shannon's Deal. According to IMDb trivia, the animatronic Ramon went on to be used as a mascot for the Florida Gators. None of them returned for the sequel.