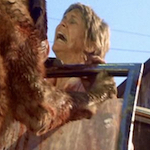 August 12, 1983
I've written about CUJO before, but that was 15 years ago. Since there aren't that many horror movies in this summer of '83, it seemed worth revisiting now. Cujo the book was formative to me because I read it when I was in third grade. It might've been my first Stephen King book, maybe even my first horror book besides Scary Stories to Tell in the Dark and Alfred Hitchcock short story collections. The part I remember vividly, of course, is something about Donna's sex life with Steve. That seemed grown up and mysterious. The dog attacking people just seemed cool.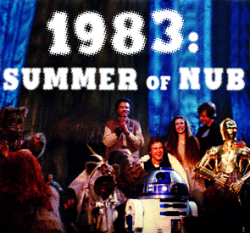 The movie wasn't as important to me, and though I saw it on VHS at some point it wasn't until rewatching it for that 2008 review that I realized it's a real gem. It's a movie everyone knows about but I'm not sure it's held in as high of regard as I think it deserves. It's a simple movie with very strong execution, and some of the elements involved (killer dog, tiny kid, limited location) are of a high enough degree of difficulty that there aren't many other movies to directly compare it to.
The first part of the movie where all the circumstances of the large dog vs. compact car siege are set up is important because it establishes the lives this catastrophe is interupting. We meet the Trenton and Camber families and learn about the tensions within them that lead them to temporarily split up. Donna (Dee Wallace, THE HILLS HAVE EYES) and Vic Trenton (first timer Daniel Hugh-Kelly, Ryan's Hope) are good at taking care of their six year old Tad (Danny Pintauro, As the World Turns), but there's a coldness in their marriage, and Donna is having an affair with family friend and handyman Steve Kemp (Wallace's real life husband Christopher Stone, also in THE HOWLING with her).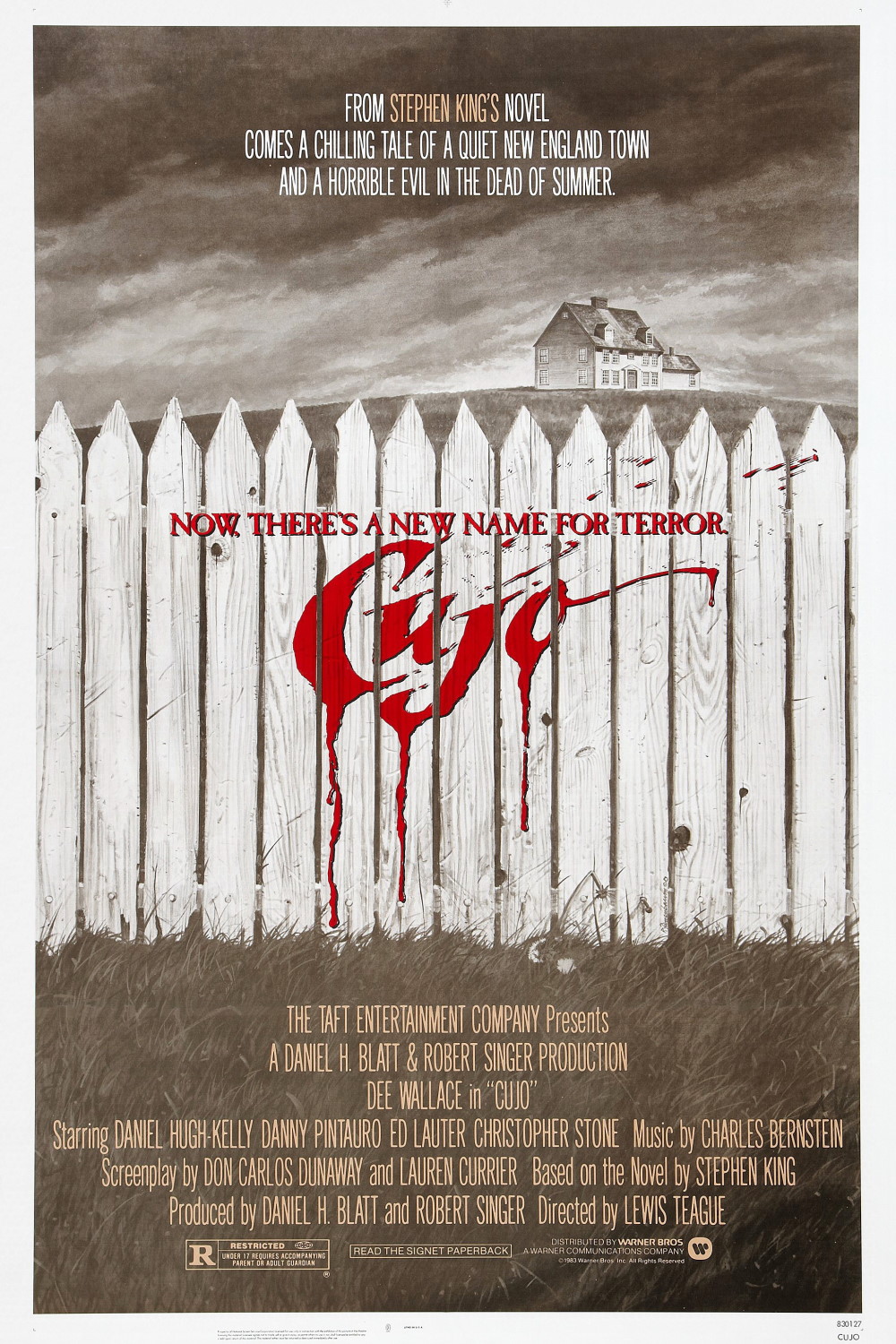 There's a brilliant touch when Steve is introduced, knocking on the door to deliver a wooden horse he repaired for Tad and have a friendly visit. Donna is cooking breakfast and the way the camera stays on the back of her head very deliberately not turning to see him gives us a pretty good idea what she's hiding. She soon decides to call off the affair, and as they're fighting about it Vic figures out what's going on, just before leaving for an emergency ten day business trip.
Meanwhile, they've been having car troubles. When the mechanic they usually go to is booked up, a passing mailman (Robert Elross, THE RIGHT STUFF) tells Vic to try this guy Joe Camber out in the booneys, up such-and-such road. I like this because it's that unlikely happenstance that sends them to a dangerous place they never would've been otherwise. He could've come a minute earlier or later, or the mailman could've minded his business, he never would've, at most, read about this rabid dog situation in the newspaper or seen it on the local news and said, "Oh, that's not far from, that's just up that road."
Joe is played by Ed Lauter (THE MAGNIFICENT SEVEN RIDE!) and he's a good mechanic, bad husband and father. He yells at his wife Charity (Kaiulani Lee, THE FAN) for buying him garage equipment he wanted, doesn't even apologize when she shows him that she won $5,000 in the lottery. The gift is really in trade for letting her take their son Brett (Billy Jacoby, BLOODY BIRTHDAY, HOSPITAL MASSACRE, Young Dar in THE BEASTMASTER) on a vacation just to get the fuck away from him for a while.
And of course the Cambers are the owners of Cujo, the friendly St. Bernard who in the opening chases a rabbit, sticks his head in a hole and gets bitten by a rabid bat. We see him in the yard and in cobwebs under the house, slowly getting sicker, panting more, drooling more, unnoticed by the family. Donna first encounters him before he's gone full rabid, and lifts Tad away from him. She notices the bite mark on his nose, but doesn't say anything. This is one of the traits Carol J. Clover attributed to the Final Girl of slasher movies when she coined the term in Men, Women and Chainsaws: they're more observant than the people around them, and notice dangers long before others take them seriously.
Brett is the first one to really worry about Cujo, after noticing him foaming and acting weird the morning before their trip. He wants to tell his dad but his mom convinces him to call him after they've left, worrying that he'd make them cancel the trip. If he hadn't made his family so terrified of him, he might've survived.
Vic leaves town unsure about the future of his marriage. Depressed, I-fucked-everything-up Donna promises to bring the Pinto to get fixed while he's gone. When she gets there everyone's gone, the Pinto won't start back up and Cujo is now a slimy fuckin monster jumping up on the windshield trying to chew them up. So most of the rest of the movie is this poor woman and her tiny kid trapped inside the car for two days, unable to escape.
The dog does lots of laying around. Sometimes in sight, so they know they can't run for it, sometimes it seems like he's gone but Donna opens the door and oh fuck he's laying right by the car. They only have one Thermos of water (or coffee?) and no food. She spots a (pre-established) baseball bat laying in the yard, but even if she can get to it in time, can she really beat this dog to death without getting bitten? She's not ready to commit to that yet.
The cutaways from the Camber house build suspense. Vic keeps calling, at first probly assuming she just doesn't want to talk to him, but getting increasingly worried. He tries calling Joe to see if she made it there – the ringing phone makes Cujo flip out. There's a wicked touch where Donna tells the kid they'll be able to get help as soon as the mailman shows up, and it cuts to the (pre-established) mailman picking up an auto part to deliver to Joe before a co-worker reminds him that the Cambers put a hold on deliveries during their vacation. He laughs at his absent-mindedness and thanks him for saving him the trip out to the middle of nowhere.
(This might be a good thing, though – if Cujo could kill Joe he could probly kill the mailman.)
There are many ways the mechanics of this suspense could go wrong. I have heard from some people who think it does with the dog, who is reportedly played by four St. Bernards, several animatronics/puppets, a Labrador-Great Dane in a St. Bernard costume, and a human stuntman (Gary Morgan, GOING APE!) in a St. Bernard costume. Some say there are shots that look silly and that the real dogs don't look vicious enough. I really looked for it this time and fortunately I have no idea which shots they're talking about. I guess all the disgusting viscera smeared all over the fur and the window are doing most of the work, plus the actual size of this type of dog already being unnerving before they turn savage. But to me that thing is scary as fuck. I don't want to have to deal with that thing. Please stop ramming the car and biting the window.
The element that would be easiest to screw up, I think, would be the performance of the child actor, but as I marveled about in my first review, Pintauro is just incredibly real in this thing. It's so upsetting to see this tiny little guy clinging to his mother screaming. And then it's balanced out by those perfect moments when things have calmed down and he turns back into a clueless kid, off in his own world, drawing pictures and stuff. I suspect Wallace, who was so good with the kids in E.T. just a year before this, is a big part of the special magic here. And that must've been a heavy burden on her playing protective mother in the scene and also having to remind the actual kid that this is just pretend (though his actual mother was there too).
Even before Cujo is in the picture there's a scene where the parents are trying to convince Tad that there's not a monster in his closet, and in a long take he describes what the monster looked like and the sound it made and you see his eye well up with tears. What the fuck, man. Supernatural performance.
What I really realized the last time I watched it, and was even more fascinated by this time, is the stellar fucking work of director of photography Jan de Bont, a Dutch veteran of several Paul Verhoeven movies, and relative newcomer to Hollywood. The camerawork in this movie is stupendous. He subtly captures the lighting of hazy afternoons, sunsets, low-light night time scenarios. The scene of Brett noticing Cujo's sickness happens in thick fog, for a classic horror feel. De Bont somehow shot the POV of the dog chasing a rabbit and staying right on its tail. He does this astounding slow motion shot of Tad running across his bedroom after turning the light off, expressionistically capturing the feeling of being a small child scared of the dark, making the distance look enormous, and also doing a cool tilt up and over him and turning upside down as he leaps onto the bed. (Credit also to Teague for devising the sequence and production designer Guy J. Comtois [who later did BODY ROCK] for building the oversized set.)
Almost as cool: the scene where Vic is driving in his convertible and glimpses Donna fighting with Steve outside his apartment. The camera stays close on him in the driver's seat as he makes a U-turn and drives back and they're no longer there. Intense. Or the one where the camera spins around between Donna and Tad inside the car. I had to research how they did it – De Bont built a device that hung a rotating periscopic lens down through a hole in the roof.
More often than those sort of show-offy moves he does the very slow, deliberate ones that carefully time when to remind us of the geography, threats and objectives to keep in mind. And it really struck me this time that he's doing these shots in scenes that require both a child and a dog to do the right thing within the same shot. There's one where Pintauro has to deliver the dialogue and the pauses just right and the camera pulls away from the car, rotates around and comes in close on Cujo laying nearby, and twitching his jowls right then. That last part may have been accidental, but how the fuck do they move the camera around and the dog still looks like he's watching the car and not noticing the camera?
(Or if that's not a real dog maybe I'm even more impressed. Looks great, fellas.)
I'd also like to shout out composer Charles Bernstein (MR. MAJESTYK), who helps set the tone and setting with a gentle orchestral score and some ominous undertones. Then when the shit hits the fan he starts bringing in a few electronic sounds (which he'd soon dig more into for A NIGHTMARE ON ELM STREET).
The director who pulled this all off so well is Lewis Teague, who was coming off of FIGHTING BACK but recommended by King because of ALLIGATOR, that other very good character-driven large vicious animal movie of the early '80s. ALLIGATOR is definitely quirkier, CUJO feels more reality-based to me. Not just because there's no sci-fi involved, but because the small scope and ordinariness of the scenario really create an authentic texture. These are normal, flawed people, during a bad point in their marriage, which happens to intersect with this bad luck pile-up of car trouble + rabies. I don't remember from the book but I certainly get the impression in the movie that Vic worrying about Donna, feeling helpless with the physical distance between them and arriving just after she's saved herself reminds him of what's important and will help them repair their marriage. I'd like to think they later renewed their vows and sent invites to the bunny, the bat, the mailman who told Vic about Joe, Brett and Charity (for not warning Joe about Cujo), and the designers of the Ford Pinto for making it all possible.
That CUJO works so well while so flagrantly violating the "don't make movies with kids or animals" advice is made even more impressive by the fact that Teague and de Bont replaced original director Peter Medak (THE CHANGELING) and director of photography Anthony B. Richmond (THE MAN WHO FELL TO EARTH) and continued the shoot two days later. To be fair, Teague had been the producer's original choice and had seen various drafts of the script (credited to The Rockford Files vet Don Carlos Dunaway and DEATHWATCH's Barbara Turner). He wasn't involved in the casting but was obviously impressed with what they came up with.
I forgot that Tad died in the book. King wanted it changed in the movie. He actually wrote an earlier, unused draft that Teague thought was too different from the book, but he liked that change. Yeah, I like the happy ending. They were also wise to remove the supernatural elements from the book, making this uniquely down to earth among King horror adaptations.
CUJO did pretty well at the box office, got some okay reviews, and some really bad ones. Siskel and Ebert apparently both hated it, though I couldn't find their reviews. Gary Arnold of The Washington Post seemed to think you couldn't root for Donna to survive since she did a bad thing and the dog doesn't know better. Variety called it "a dull, uneventful entry in the horror genre." Jay Scott of The Globe and Mail loved it but wrote that it was arguably "too good" because "the combination of low shock and high style results in an experience that borders on the unbearably intense. The movie is spectacularly well-made, but it's nearly unwatchable." Okay, I guess I'm the closest to agreeing with him, except I find it very watchable.
Teague followed this with another King adaptation, CAT'S EYE, and then went big time with THE JEWEL OF THE NILE. De Bont came along for JEWEL, later DIE HARD made him the definitive action d.p., and after that he had his nine year stint as a big name director, which brought us SPEED, TWISTER, SPEED 2: CRUISE CONTROL, THE HAUNTING and LARA CROFT: TOMB RAIDER – THE CRADLE OF LIFE. Turner later wrote the acclaimed dramas GEORGIA and POLLOCK. Pintauro became one of the stars of the sitcom Who's the Boss?. Hugh-Kelly played McCormick in Hardcastle and McCormick. Stone died tragically young of a heart attack in 1995, but Wallace continues to be prolific, having appeared in around 175 movies since '83, including ALLIGATOR II: THE MUTATION.
signs o' the times:
Tad has a Pac-Man lunchbox. Joe Camber drinks from a McDonalds Captain Crook glass. The most prevalent beers are Olympia and Hamm's.