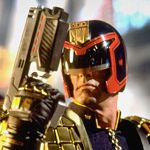 How are you gonna get em back on JUDGE DREDD with Sylvester Stallone when they've seen DREDD with Karl Urban? The new version is lower budget and streamlined and way better. It's dedicated to the purity of this fascist character and the ugly world he lives in, and doesn't worry about commercial considerations. (And sure enough did not do well commercially.) The new version is cool because it's just about this larger than life character on one day doing one job. The old one, of course, had to be the story of the biggest thing that ever happened to Judge Dredd. It has all the weaknesses of calculated blockbuster type filmmaking, and only some of the strengths.
But you know what, it's pretty fun to watch. There's alot of good shit in here anyway, especially at the beginning. It's a little better than I remembered.
JUDGE DREDD does more explaining of the world and the justice system than DREDD does, and the introduction to these concepts is actually the most enjoyable part of the movie. Mega-City One is a BLADE RUNNERish metropolis in a future where people gather in these giant urban hellholes because it's better than the nuclear wastelands that cover the rest of the earth.
Visually the movie is very impressive and detailed with lots of big sets, elaborate costumes, many extras, and probly more miniatures than CGI. We see the city through the eyes of Herman Ferguson, a hacker who's just been paroled. There are some nice FX sequences of flying down between the mammoth buildings. It really gives you that feel of coming into a big city on a plane and seeing everything get closer and start to surround you. So I guess Herman is our eyes in this movie, and also the comic relief character. And he's played by, uh, Rob Schneider.
You know I was thinking about Rob Schneider, as we sometimes have to do in this society. He's a comedy guy obviously but he has an appearance in DEMOLITION MAN and then he's Stallone's sidekick in this one and Van Damme's sidekick in KNOCK OFF. That's not a bad '90s action movie resume compared to alot of actors. I honestly might respect it if he showed up in THE EXPENDABLES 3. I mean hopefully he would get expended quick, but as meta as they insist on getting in those movies they might as well acknowledge Mr. Schneider's status as a veteran action movie comedy sidekick.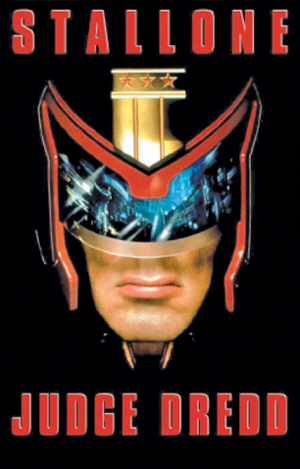 Herman unfortunately goes home to a housing project that's in the middle of guerilla warfare, or as they probly call it in Mega-City One, "a weekday." His roommates are a bunch of sci-fi movie street gang guys led by James Remar, who are shooting and throwing bombs out the window at rioters in the streets. Suddenly the cops show up, including Judge Dredd (Sylvester Stallone) and his rookie partner Judge Hershey (Diane Lane), and they try to pacify everybody.
In the JUDGE DREDD world, which comes from a British comic book, crime is so bad in the Mega-Cities that they had to make some changes to the system to keep shit under control. In this future the intro to Law & Order would say, "In the criminal justice system the people are represented by one group: the judges, who investigate crime, and also prosecute and punish the offenders. These are their stories of going around arresting people or blowing them up."
These "street judges" have the same equipment as in DREDD: heavy armor, tinted, eye-covering helmets, bulky, armored motorcycles, and powerful "Lawgiver" guns with many capabilities ranging from bullets to rockets. In this version the armor is much more ceremonial and opulent, it has huge golden shoulder covers, one of them shaped like an eagle. I bet Ghostface Killah would actually wear those. Appropriately they hired Gianni Versace to design it.
So Dredd blows everybody away, we see how he works, and when he finds Herman cowering inside a garbage disposing robot (not as cute as Wall-E) he sentences him to 5 years for tampering with public property. So we can see that the system is not as fair as it is awesome.
Back at the police station we learn more about how it all works, because we see the Supreme Court who are in charge of the police (including Dredd's mentor Chief Justice Fargo, played by Max von Sydow) and we hear Dredd give an intimidating speech to new recruits about the joyless life of a Judge before he or she chooses to retire and take "The Long Walk" (go out into the wasteland to bring law to the mutants and shit). He talks about "the law" like it's a religion and he's a preacher. An apocalyptic one who seems grimly resigned to a horrible fate.
That's all great but the trouble is there's a conspiracy afoot. This guy Judge Griffin is played by Jurgen Prochnow, so let's face it, we know he's a bad guy. And he's conspiring to bust out Rico (Armand Assante), a psychotic ex-Judge (and Dredd's test tube brother) who's locked up at the penal colony in Aspen. (I like that that a ski resort becomes a prison in the future.) Rico comes to Mega-City One, puts on Judge armor, and using his Dredd-like DNA is able to set Dredd up for some murders. One thing that's cool, he goes to a pawn shop and buys a battle robot. It's from some past war, it's like buying an antique WWII grenade or landmine or something. It's not supposed to work, but he fixes it.
Unfortunately the movie goes downhill as soon as the plot kicks in and Dredd becomes a fugitive. He's stripped of his armor, and I've read that the comic book fans hated that because he always has the helmet in the comic strips. That's why Urban's face is never shown in DREDD. I gotta agree with the nerds on this one, not for comicalistic fidelity reasons but because when he takes the armor off he just becomes a generic Stallone character. Wearing the ridiculous getup he's willing to be more over-the-top but without it he plays it safe and tries to be the Stallone that doesn't bother with the type of distinctive character work he does in a Rambo, a Rocky or BULLET TO THE HEAD or something like that. Just the standard issue Stallone, except this time he is the law instead of being the cure for crime.
There are still some good parts. Dredd and Herman's prison transport (not a bus, but a flying ship, because it' s the future) crashes out in the wastelands where they're abducted by a family of cannibals called the Angel Gang. The family includes an inbred named Junior (Ewen Bremner, JULIEN DONKEY-BOY), a giant cyborg named Link (Phil Smeeton) and of course a redneck preacher man patriarch named Pa. I knew I recognized him but it took me a minute to place him as Scott Wilson, aka Herschel from The Walking Dead.
DREDD teaches us the beauty of economy and limited scale. Just the story of the prisoner ship going down in cannibal territory would make a great sci-fi western. In a big movie like this, though, it's just one brief tangent it goes on and it has to rush through to get to the flying motorcycle chase (Herman gets so scared he pees his pants!) and the fight inside the blown-open head of the Statue of Liberty. Kind of a cliche setting for a blockbuster climax, but I'll allow it for the appropriate symbolism. American freedom broken open, engulfed in violence, surrounded by taller buildings.
I like this detail about the motorcycles: they have screens that read "MALFUNCTION" when the engine won't turn over. He just has to bang on the screen a couple times to get it going, like an old TV.
There's a tradition of these R-rated action sci-fi movies with elements of cultural satire: ROBOCOP, STARSHIP TROOPERS, TOTAL RECALL, RUNNING MAN, DEMOLITION MAN. I love that kind of shit. This is not one of the better ones, but it does have enough of the elements to be enjoyable at times. It's funny that because it's based on a comic book they feel they gotta end with a profile of Dredd on top of a tall building, overlooking his city, like the last shot in BATMAN (1989), except Dredd's on a motorcycle. Then, weirdly, something called "The Dredd Song" by The Cure plays over the end credits. One of the very few Sylvester Stallone vehicles to have that type of moping over the credits.
The story is credited to Michael De Luca (one-time New Line Cinema head and writer of IN THE MOUTH OF MADNESS) and William Wisher Jr. (TERMINATOR 2), screenplay to Wisher and Steven E. de Souza (COMMANDO, DIE HARD, RUNNING MAN, HUDSON HAWK, RICOCHET, STREET FIGHTER, KNOCK OFF…). I'm gonna credit de Souza with the nice tough guy line where Dredd advises Rico "Don't miss," but maybe also with the shitty one where he throws him off Lady Liberty and says "Court's adjourned." Oh well. I guess I'm okay with it. Maybe that's what he was trained to always say, for legal reasons. For all we know it doesn't count if he doesn't say "court's adjourned" and that's why there are lawyers.
Director Danny Cannon, after this shot at big budget filmmaking, scaled down for I STILL KNOW WHAT YOU DID LAST SUMMER and mostly does TV shows like Nikita now.
I'm trying to put my finger on exactly why this doesn't quite come off to me as Verhoevian satire. The hero of the movie has the official job of passing sentence on, and often personally executing, civilians as he encounters them in the street. Not only do they not get a trial, he doesn't even spend much time deliberating. But when he gets in trouble there's a tribunal system so he gets to introduce evidence in his defense. His partner is trained as a lawyer – I guess just in case this happens, since most citizens would never be allowed legal representation. Even within this more democratic part of the legal system he gets railroaded, convicted of a crime he didn't commit, just like his sidekick who he unfairly convicted.
At the end of the movie Dredd has cleared his name, but he happily returns to his fascist job, having only learned that it's okay to "be human" by kissing a girl. I'm glad it doesn't pull a ROBOCOP 3 and have characters point out that this world is unfair. It's closer to the ROBOCOP and STARSHIP TROOPERS approach of pretending to endorse what's going on, and with an absurd level of enthusiasm about it.
The problem is – and I'm open to the idea that I'm wrong about this – it doesn't seem like we're supposed to notice anything wrong with Dredd going back to work at the end. It seems like we're supposed to be satisfied that he's the hero and he likes girls. If I'm right about that then I'm gonna blame the classic too-many-cooks problem. Clearly many smart people were involved in the writing and crafting of the movie, but somewhere in the journey from idea to corporate product they might've lost track of what they were trying to do.
Or maybe it's just too subtle for me.