A BETTER TOMORROW II is a crazy fuckin sequel. The story is incredibly convoluted, the plot (or plots) divided between Hong Kong and New York, continuing the story of Ho, Kit and Jackie, but also following a new character called Uncle Lung (Dean Shek) in conflict with the police and with two unrelated crime syndicates. The weirdest (and best) part is that they actually used the gimmick that's always joked about but almost never actually done: Chow Yun Fat plays Ken, the never-mentioned-before-twin-brother of his deceased part 1 character Mark. I probly don't have to say any more than that to convince you this movie is stupid. I liked it though.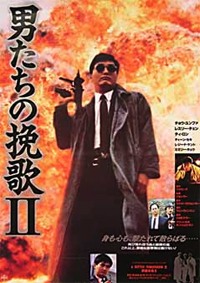 Ho is in the joint again, because he let Kit arrest him at the end of part 1. But ever since he helped bust that asshole Shing the cops must expect him to be their new bitch. They're investigating Ho's old mentor Uncle Lung, who they think is involved in counterfeiting again, and will let Ho out if he'll spy on the old guy. But Ho says Lung has been reformed for 10 years and he refuses to take part. So Kit moves in calling himself "Billie" and dating Lung's daughter Peggy (Regina Kent) so he can get close enough to bug the office and shit. When Ho finds out about this he worries about Kit's safety so he does take the deal, hoping Kit will drop the case.
Well, Ho was right. Lung is clean, his business is owning a shipyard, but he's getting threats from gangsters who want to take it from him. Then he gets set up for some murders, etc. Remember in part 1 Ho had Kent (or Ken? that's what IMDB says but I thought it was Kent), that cool ex-con boss at the garage? He goes to him for help sneaking Lung out of the country and Kent says "This goes against my principles. But principles can be changed."
(I'm so disappointed in Kent. Sequels seem to take away everybody's integrity.)
As Lung goes to New York he finds out the Hong Kong gangsters killed his daughter. He goes to stay with a friend whose daughter reminds him of his own, and then she gets killed by different gangsters. He's starting to approach Paul Kersey levels of tragedy here, nobody should know this guy, it's too dangerous. But instead of turning him into a vigilante the trauma causes him to shut down. He stops eating and talking and picks up a bunch of strange tics. He kind of acts like a monkey.
Luckily he has Mark's twin brother to look after him. Ken owns a little restaurant and has a crew of dedicated young people who think he's awesome because they read about his brother in comic books (!?). His situation is similar to the restaurant owner in WAY OF THE DRAGON – the local gangsters are coming in and causing chaos, demanding protection money. But instead of getting Bruce Lee to stand up for him he does it himself, acting crazy, offering the mobsters a 25 cent bribe, then forcing them at gun point to eat fried rice that was on the floor. I want to emphasize that this is not something they normally do at the restaurant. By all accounts the fried rice is very good and there's no reason to believe it is served in a manner that is in any way inappropriate. It's only for these particular mobsters who are threatening him and causing a scene, because they have to be taught a lesson.
So anyway, the mobsters blow up the restaurant.
There are alot of different conflicts here, but after the plot flails around for a while it just comes down to Ken, Lung, Ho and Kit reunited in Hong Kong, getting a whole lot of guns and grenades and going after some gangsters in a mansion.
You know how sequels try to top part 1s? Kit one-ups being an asshole to his wife on her birthday by going to take part in a shootout while his wife is giving birth. Ho actually tells him he should stay with her, and he's gonna do it until Ken turns and gives him a thumbs-up. The implication is that Ken is so fucking cool that hanging out with him would be worth missing the birth of your own child.
I don't know, you can judge for yourself but in my opinion Kit made the wrong choice there. I mean Ken is cool, maybe miss a funeral cool, but not miss a birth cool, in my opinion. Also, you know, the shootout doesn't work out very well for Kit. Spoiler.
I forgot to mention that the artist who drew the comic books about Mark gave Ken Mark's actual bullet-ridden duster, so he wears that, if that makes any difference to you. Different character, same actor, same coat. Different matchstick, most likely.
Ken gets the most firepower here, including a rifle that sprays sparks and about a dozen grenades. In New York he gets to do a HARD BOILED type shootout, except it's a traumatized adult he's bringing to safety instead of a baby. He gets to shoot while falling backwards down stairs. The shootouts are great, but not as good as HARD BOILED because too much of it is one-sided. Not just that the bad guys are missing their shots – they don't even have guns alot of the time. It's more of a massacre or a rampage than a shootout. But it's still got that A BETTER TOMORROW theme song, so it's hard not to think these guys are awesome. Every time I hear that song I want to stand up and put my hand over my heart. If I wore a hat I would take it off out of respect.
I like that once again this is about people trying to get out (or stay out) of a life of crime, to find a better tomorrow. But when you think about it this is one of those movies where something really tragic happens but it tricks you into thinking something awesome happened. At the beginning of the movie Lung was a completely reformed criminal. He used to be a gangster and now he was standing up to gangsters to keep his legitimate shipyard business. But the cops didn't believe he was clean and hassled him. He got framed, his daughter and friend's daughter were murdered and he was severely psychologically damaged. But our heroes came along and helped nurse him back to mental health… so he could go kill a whole bunch of people!
That's not a better tomorrow. You turned the reformed man into a killer again. It's everything he fought against. This is sad. But…
No, I guess it's not sad. Music doesn't lie. It's awesome!
Woo directed again, but apparently he and producer Tsui Hark had alot of the ol' artistic differences. From what I've read Hark wanted it to be more about Lung than Woo did. So the movie ended up getting cut together by some editing company without being overseen by either Woo or Hark. As goofy as the movie is I'm kind of surprised to hear that because it has a whole lot of Woo in it, starting with the opening ballroom dance montage. It's a crazy mess, but the type of crazy mess I can respect.