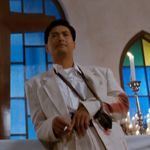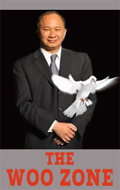 As a guy specializing in writing about action movies, sometimes I worry I'm documenting an ancient art form. I romanticize a time when action movies were a rite of passage, a father-son bonding tradition and a major passion for many young people, especially males, but it seems like the youth of today aren't necessarily interested in this shit. And if they don't grow up on it then they're never gonna have that moment when they get a little older and become aware of the other powerful strains of it from around the world.
That makes me sad because whatever they're watching instead cannot possibly match the rush of joy I got when I saw my first John Woo movie – which was THE KILLER – or each time I revisit his classics now. At the time there was nothing else like it. Somehow that seems even more true today.
The things that are greatest about THE KILLER might be the things that would seem silliest to younger people: the unabashed style and the the unbridled, unironic emotion. I remember people who came up a few years after the era when Hong Kong action cinema was the coolest thing going – people who are old and decrepit now – who would make jokes about John Woo's doves. "Ha ha, two pistols, and some doves, am I right? Ha ha, I know about a trademark, I have defeated him."
Well, THE KILLER is gonna be way too much for anybody like that. And maybe I gotta face that they just don't deserve THE KILLER. The cards are laid on the table in the opening, when Chow Yun-Fat as Ah Jong (or "Jeff Chow," according to the credits) meets with his Triad manager Fung Sei (Paul Chu Kong) in an empty church at night. That happens in all action movies, but this church is lit with what must be a thousand candles, and there are doves and pigeons flying around, landing on the cross.
"Do you believe in all this?" Fung asks.
"I like it because it's quiet in here," Ah Jong says. "I feel comfortable just sitting here."
(Note: I'd heard that the Dragon Dynasty Blu-Ray has "dubtitles," transcribed from the dub instead of a direct translation, but it's not true. The dubbed dialogue is very different and less natural, for example Fung directly asks "Do you believe in God?")
See, it's hypocritical for an assassin to hang out in a church. That he wants to symbolizes that there's still a part of him that is good, that cares about (as the subtitles say throughout the movie) "honor and ethics." That's what this story is about. He's sent to kill a gangster at a night club, and he does it. But of course this erupts into a full on gun fight. The place doesn't look that much bigger than my apartment, and he fires around fifty bullets. He tries to shield the innocent club singer Jennie (Sally Yeh, PEKING OPERA BLUES), but fires his gun near her face and damages her eyes. And he feels bad. He kills people for a living, but this lady, who did nothing, who sings sappy songs that speak to the heart, he didn't want to fuck up her life.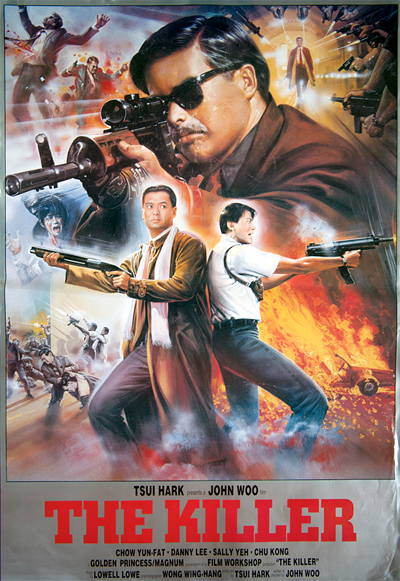 In contrast to his cold-bloodedness moments ago when he kicked a table to flip it over and catapult a gun into his hand to shoot a guy with, Ah Jong looks immediately horrified. Jennie flails around, grabs onto a table cloth and pulls it down. He embraces her, tries to calm her, wraps his scarf around her bloody eyes.
One montage later – during which he hovers, listens to her sing and watches her, feeling like an asshole – he has one of those movie moments where he just happens to see two dudes walk up to her in an alley and try to gang rape her and he runs in and beats them up (an easy day for action director Ching Siu-Tung). He becomes her friend and protector. She can kind of see shapes, but not enough to recognize him as that last face she saw that's burnt into her memory, staring at her through a sea of blood. He's honestly not trying to get into a romantic comedy lie with her, but it happens. And her sight is getting worse, so he agrees to take one last job for HK 1.5 million so he can bring her to the States and get her surgery. He has to assassinate a politician as he ceremonially paints dots on the eyes of a dragonboat. Giving it new corneas.
Back in the day it was the gun fights that most captured our imaginations – firing two pistols at a time, sometimes while leaping through the air, pointing around corners, sliding or rolling, only seeming to reload when it was needed for dramatic effect. I guess Woo's poetic fetishization of guns is a hard sell right now, as horrific gun violence increasingly terrorizes the citizens and fattens the wallets of the politicians willing to stand up and pretend that refusing to do anything about it means freedom and America and eagles and shit. But Woo, who last I heard claimed to have never fired a gun himself, has a different approach than the hardware-obsessed American action films of that decade (think RAMBO or PREDATOR). His shoot outs seem more based in the martial arts, emphasizing the movements of the combatants. Someone coined the term "bullet ballet," and that was generally how we thought of Woo's movies.
But in THE KILLER, and later BULLET IN THE HEAD, Woo (like one of his heroes, Peckinpah) alternates between thrilling action and sobering reminders of its consequences. Ah Jong's pursuer Inspector Li (Danny Lee, CITY ON FIRE) says "every shot takes a life," which is heartfelt, but not technically true. Usually several shots are used for each life. At the dragonboat festival Ah Jong hits his target right between the eyes and still puts two more in his back as he falls. But the iconic image of Woo's shootouts is not anything to do with bloody squibs exploding out of people, it's a Mexican standoff. Two men standing with guns aimed or pressed against each other. Mutually assured destruction.
To this day, nobody has matched Woo's gunplay scenes, and yet it's the style he lathers on outside of the carnage that really captivates me: the dreamy slow motion shots, the wavy bars of yellow, red, white and magenta neon reflected across wet cobblestone, the shot of Ah Jong in a dark suit, leaning casually against a wall in the club, bathed in red light, motionless, before he disappears from sight while others pass in front of him.
Woo likes to slow down time to admire the imagery, but he can also speed up to be kinetic. A scene of police discussing how to stop the assassination at the festival is laced with quick flashes of the boats racing, like the movie is so excited to get started it's accidentally jumping ahead in time.
The documentary-like scenery of the festival widens the scale of the movie, but the highlight of the sequence is after Ah Jong flees from the police and then gets attacked on a beach by the Triads who hired him in the first place. A little girl is wounded in the crossfire, and he picks her up and drives off with her (evidence that his guilt over Jennie is not merely based in infatuation, as well as a precursor to HARD BOILED's iconic image of Chow running around with a gun in one hand and a baby in the other).
This is how Li is able to catch up with Ah Jong. He suspects, to the confusion of his colleagues, that this killer has a conscience, and will bring the girl to the nearest hospital. This is the ultimate iteration of one of Woo's favorite themes, the two men on opposite sides who bond because they are reflected in each other.
Jennie even mistakes Li for Ah Jong when he approaches her in the restaurant. They become the two friendly men in her life, neither letting her in on what's actually going on. It's a complicated situation when Ah Jong and Li show up at her apartment at the same time and have each other at gun point, but they don't want to upset her so they pretend to be old soccer friends, taunting each other with double meanings, aiming guns past her head because she can't see them. This may sound like a farcical scene, but it's played more for tension than laughs.
Many strong parallels are drawn between the two. When we first see Li he's undercover. Just like Ah Jong, he's lying about himself to get closer to someone. And when his betrayal is found out he chases some suspects onto a crowded trolley, and one of the hostages is so scared she has a heart attack. So both of them have friendly fire incidents. Ironically, it's the cop who's defensive about the tragedy and the killer who feels the need for redemption.
Later Li is retracing Ah Jong's steps and sits in a chair where he figures out he was sitting when he shot somebody coming through the door. Woo brilliantly flashes between Ah Jong doing the shooting and Li re-enacting it, a piece of visual language that both tells us what Li has figured out and forces us to see them as the same.
It's not as if the West was experiencing a dearth of action movies at this time. As THE KILLER was released in Hong Kong, LETHAL WEAPON 2 came out in the U.S. Also that year: KICKBOXER, ROAD HOUSE, BEST OF THE BEST, DEAD BANG, TANGO & CASH, THE PUNISHER. But when Woo's films made it stateside they seemed like a revelation, a much more powerful strain of action than the type we'd grown used to. He gave us a jolt of adrenaline by depicting violence in an over-the-top style unlike anything we'd ever seen, then he turned around and tried to make us feel sad.
Woo's best movies, and much of Hong Kong action cinema of the era, are rife with melodrama that may be off-putting to Americans only comfortable with cynicism, irony and wiseassedness. The idea of exploring the respect and loyalty between two male characters seemed so alien to the West that it was a cliche to refer to Woo's films as "homoerotic," as if friendship between men can only mean they want to fuck each other. In THE KILLER, Ah Jong not only befriends his enemy Li, but has an intense relationship with Fung, who considers betraying him to save his own ass from the Triads. The idea of the bond being broken and having to kill his old friend is so upsetting to Ah Jong that it looks like he's about to cry. To me this intensity of emotion is not a quirk, it's a big part of the appeal. Hong Kong action heroes are in touch with their inner the-end-of-FIRST-BLOOD-when-he-cries-to-Trautman.
Li seems somewhat worshipful of Ah Jong. Describing him to a sketch artist, he says that "He has a manly air about him. He's a bit different from your average murderer. He's very calm, quite intelligent. His eyes are very alert. Full of compassion. Full of passion."
Yep, that sounds like Chow Yun-Fat all right. In Hong Kong, Chow had already gone from TV actor to movie superstar with his role as Mark in Woo's A BETTER TOMORROW, which smashed all Hong Kong box office records in 1986 and won Chow a Hong Kong Film Award for best actor. But this is him at his most suave. He wears nice timeless suits or a tux with that white silk scarf. He has perfect hair. In disguises sometimes he looks even better – a mustache, salt and pepper hair, sunglasses, in a speed boat, with a sniper rifle like Golgo 13. It created a new image for Chow.
Had Woo had his way, there would've been an extra layer of smoothness, as he wanted Jennie to be a jazz singer and Ah Jong a saxophone player. Producer Tsui Hark put his foot down, believing jazz didn't translate to Chinese audiences. Instead, Ah Jong's badass juxtaposition is to play sad harmonica while looking up at the church steeple.
I never noticed this before, but there are some interesting parallels between THE KILLER and Woo's career. When Ah Jong does the assassination, the Triads who hired him immediately turn on him and try to have him killed. For Woo's part, Tsui was producing THE KILLER but turned on him when they disagreed about the editing of A BETTER TOMORROW 2, and Woo had to get the rest of the funds from Chow and Lee. Ah Jong took that last high-paying job so he could bring Jennie to America where there's a better chance of getting her a cornea transplant. Woo actually had a few more jobs (BULLET IN THE HEAD, ONCE A THIEF and HARD BOILED, where he stuck both middle fingers up at Tsui by opening with Chow playing sax in a jazz club), but he too headed for the U.S. looking for opportunity.
Though I assume this is coincidental and intentionally reflecting his situation, Woo did start filming THE KILLER with only a treatment and wrote most of it while filming. An argument could be made for some of the story being autobiographical, at least subconsciously.
Released in Hong Kong a month after the Tiananmen Square massacre, THE KILLER was not an immediate hit like A BETTER TOMORROW. But it did go on to acclaim, winning best director and editing at the Hong Kong Film Awards. (It was nominated for best picture, but lost to something called BEYOND THE SUNSET, which is not available on video in the U.S.) Chow was not nominated for his acting in THE KILLER, but he actually won that year for Johnnie To's ALL ABOUT AH-LONG and was also nominated for GOD OF GAMBLERS (among his opponents were Jackie Chan in MIRACLES and Sammo Hung in EIGHT TAELS OF GOLD). Paul Chu Kong got a best supporting actor nomination for playing Ah Jong's manager and confidant.
In Leone terms, I consider THE KILLER to be kind of like A FISTFUL OF DOLLARS to HARD BOILED's THE GOOD, THE BAD AND THE UGLY. Or in James Cameron terms, THE TERMINATOR to TERMINATOR 2: JUDGMENT DAY. I generally prefer the sprawling epic, but sometimes you want a tighter, more contained story. THE KILLER is a beautiful, envelope-pushing work of crime cinema, using extreme characters to show the fallacy of good guys and bad guys; the potential for man to fuck up, but also to make amends. It's a perfectly mixed cocktail of technical elegance, balls-to-the-wall awesomeness and heart-on-the-sleeve sentimentality. Required viewing.