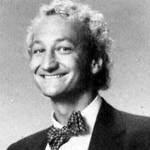 Technically Freddy already got his revenge in part 1 by going after the children of the people who burned him alive. In this one he's just messing with a new kid who moves into the same house. It really is not revenge when you do it to a stranger who never did anything to you before and is not related to anyone who did anything to you before. Not to be pedantic but, come on dude, titles are important. Make 'em count.
I always thought FREDDY'S REVENGE was the worst of the ELM STREET pictures, a pretty common view. They ended up figuring out the sequel formula in part 3 and they stuck with that for a while so part 2 is now kind of the odd man out when you look back at it.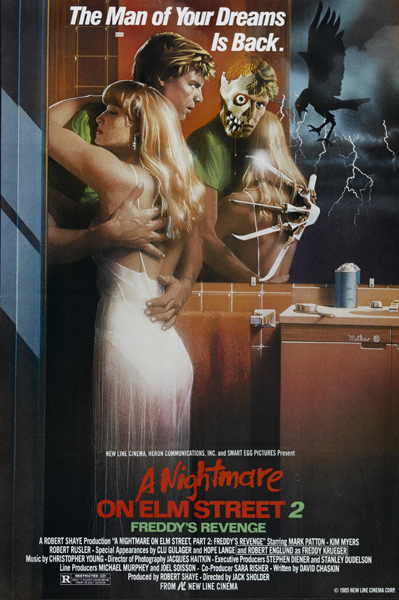 But watching it again now I realize that's a good thing. Freddy had not yet become a comedian, so although he's probaly on screen a little more than in part 1 he's still pretty scary and mysterious. At the end of part 1 Nancy had dis-believed him out of existence (at least before the shock-ending – we never really know what happened with that) so now his way to come back is through this kid who lives in Nancy's house (although it sure doesn't look like the same house) and found her diary (that we never saw her writing in before).
The different twist is that instead of attacking this kid Jesse in his dreams and hurting him for real Jesse has dreams about Freddy attacking other people, then all the sudden realizes that it's him wearing the glove. Watching it this time I realize this is actually a really clever idea for the sequel because it makes it a different type of psychological horror – the fear of what you could do to others instead of the fear of what others could do to you. He's afraid that he is murdering people without realizing it. And it's playing off of his deep felt hatred of people like his asshole gym teacher. Alot of people have some violent anger in them at that age, that's why you get all these school shootings. So I think it's a good spin on the concept of the original.
Another idea they use that's not in the other movies is that Freddy sort of haunts the place by making everything hot, like his boiler room or like him when he was on fire. The house is constantly too hot, things melt, things catch on fire. Unfortunately this climaxes at a pool party so the flame imagery gets pretty silly – the pool boils, some hot dogs catch on fire, 25-30 year olds playing high school kids run around screaming. Instead of just bad dreams there are weird things that happen in reality, like one of their pet birds kills the other one, then it gets out and flies around angrily until it explodes into flames.
There's some really surreal imagery, especially when Jesse's girlfriend Lisa goes to Freddy's boiler room. I can't believe I don't remember this because it's probaly the coolest thing in the movie, but she gets confronted by two dobermans with some sort of human (possibly baby) faces. Creepy as shit. And they don't attack her, they just growl like tigers. There's also a monstrous rat that gets eaten by a monstrous cat. She has a cut on her leg that's suddenly infested with ants, and then it isn't. I like the constant changes like this – first Jesse is watching Freddy doing something, then all the sudden it's him doing it himself. That's like my dreams because dreams are stream-of-consciousness, they don't have continuity to them. They don't make sense.
The Freddy effects are excellent. I always liked the part where he peels the top of his head off to reveal his brain. Very realistic assuming he doesn't have a skull. I bet he doesn't. It would be just like Freddy to be going around without a skull. There's another even better sequence, most likely inspired by AN AMERICAN WEREWOLF IN LONDON's transformation, where Freddy tears out from inside Jesse. First the blades of his glove burst out of the fingertips, then his eye can be seen in Jesse's throat, and then he just sheds Jesse's body like a snake shedding his skin. Pretty disgusting. Using this trick he ends up coming into reality.
And this is one of the areas where they kind of blew it. Robert Englund says that bringing him into reality goes against the rules of the first movie, which threw me off since in the first movie he was also brought into reality at the end. I guess only now do I realize that maybe that whole section of part 1 up until the shock ending is supposed to also be a dream, even though you don't realize it at the time. Which would mean the same for JASON VS. FREDDY. Man, this is getting confusing. Anyway I don't have a problem with bringing him into reality, just don't bring him into reality at a pool party. That's kind of dumb. I mean it's kind of funny to see everybody screaming and Freddy flying out of the pool like he's wearing a jet pack. And there's a pretty hilarious line where a guy tries to play it cool and talk Freddy down, saying very softly, "Hey, what is it you want? I'm here to help you." That doesn't work.
I think alot of what doesn't work in the movie is the stuff like the pool party where they're trying to be a typical '80s teen movie instead of an atmospheric and psychological horror movie. They have all the adults playing teens talking about getting laid, playing crappy '80s music. There's one particularly ridiculous montage where Jesse dresses up in wacky sunglasses and hat and dances around his room making sexual gestures. I mean it's pretty cheesy. He's not all that relatable and doesn't have much charisma either. He's not a good replacement for Nancy.
Clu Gulager from RETURN OF THE LIVING DEAD is a good choice to play the dad, though. You gotta have somebody decent to fill in for John Saxon. And the girlfriend isn't bad. She kind of reminds me of that '80s singer Tiffany. That'd be funnier if they got the real Tiffany.
Here's some faint praise: this has the best end credits of the series. I'm serious, I care about this. They play Gene Austin performing the Bing Crosby song "Did You Ever See a Dream Walking?" I don't know why but I'm a sucker for the horror movies ironically playing oldies at the end. Nothing can top the goofy happy tune at the end of the first EVIL DEAD, but this type of harmless-but-with-lyrics-tied-into-the-theme-of-the-movie approach is fun too. Part 1 has scary horror scoring and if I remember right most of them from now on will have some shitty heavy metal assholes or, in one case, the Fat Boys. So that's one reason this one stands out. Class and wit. Also, great old school logo at the end, not the same NIGHTMARE logo they use on most of the posters and merchandise and shit.
It has been pointed out – and even the director admits it – that the movie ended up seeming pretty homoerotic. So that's the other thing that makes it stand out from the other ones. Jesse goes to a leather bar, he ties his gym teacher up naked with jump ropes in the locker room shower and slashes him. There's alot of intentionally phallic hot dog imagery, even exploding, ejaculatory beer cans. The gayest scene is probaly when he's about to screw his girlfriend when suddenly he gets freaked out and runs away to a male friend's bedroom where he asks if he can stay over, and complains that something is "trying to get inside of" him. His friend says "Yeah, it's female, and it's waiting for you in the cabana, and you want to sleep with me." None of this was intentional but since ELM STREET movies are all about dreams these must've been in the writer or the director's subconscious. So it's fair to interpret it like a dream. Plus, they say one out of ten people is gay, so it's only fair that one of these would be gay. I wonder which one of the FRIDAY THE 13THs is gay? There's been ten of those. And holy shit, there's gotta be two gay James Bonds by now too. This is interesting.
Anyway, don't judge FREDDY'S REVENGE on its sexuality. It didn't ask to be born gay. Judge it on its own merits and I think you can see that, like most people, it has its good points and its bad. But since it was way better than I remembered it being I'm gonna give it some credit. Good job on your "revenge," Freddy. Keep it up in part 3.