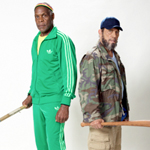 "Let's go get those sonofabitches."
BAD ASS 2 is the sequel to a DTV movie I almost forgot about, the one where they bought the life story rights to a mentally ill Vietnam vet who punched out a guy in a racial incident on a bus in a famous Youtube video and turned him into a heroic vigilante played by Danny Trejo. For part 2 they ditch the true story claims, but do have one in-joke reference to the video (a guy pronounces "ambulance" weird). The adventures continue for Trejo's character Frank Vega, so I guess he's Buford Pusser for the internet age.
This is three years later and Vega is settled in to a more normal life training boxers, with one particularly promising student Manny (Jeremy Ray Valdez) who is "almost like a son" to him and is about to have his first pro fight tomorrow. This will shock you to your very core and make you question everything you've ever believed, but the kid has gotten involved with some drug dealers who say he's stealing and they murder him but the cops aren't gonna do anything so Vega has to track them down and, I don't know, trick them into getting on a bus so he can punch them, or whatever he does.
The difference from the first one (aside from being slightly more jokey) is that now Vega gets a buddy, another old guy so it can be DEATH WISH by way of GRUMPY OLD MEAN. GRUMP WISH, I guess. Or DEATH GRUMP. His boxing gym for some reason has an interior door connecting to a convenience store run by Bernie, a bitter old agorophobe played by Danny Glover (PREDATOR 2). "Two Dannys is better than one," according to a sticker on the DVD. At first the two Dannys don't like each other, and they flip each other alot of shit and probly mean every word of it. But then they save each other in a traditional store hold up/alley ambush scene pairing, and this causes them to become partners who bicker LETHAL WEAPON style.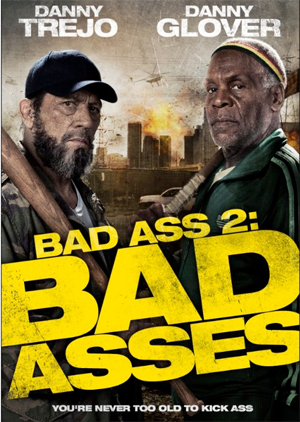 Vega wears a look inspired by the real life bus attacker (beard, baseball hat, t-shirt, cargo shorts, fannypack) while Bernie decides to always wear a green Adidas track suit, white and red pumas and a red, yellow and green headband, and he refuses Vega's gift of a fannypack. Despite the flashier look he's not a man of means either – his transportation is a beat up old Bronco he's had in storage for decades. It doesn't work, so they have to keep riding the bus while one of Vega's students works on it.
I do appreciate this series's idea of a hero with little money or resources. Actually he has a pretty big apartment and that gym now, but one of them gets blown up. He's also supposed to live a simple life and be resistant to the modern world, so he doesn't really know how to use the smart phone that the late Manny gave him as a (paid for by drug money) gift. It's a plot device because he uses apps on it for tracking the bad guys (a little girl has to show him how) and a prop because he sits in the dark drinking and crying and watching a video of a dead guy on it, like you used to have to do on a TV, preferably a big one (or a flickery home projector with fold-up screen before that). But it's kind of a shitty gift to give the guy – he didn't need this in his life, now he has to pay for it monthly. I guess he can think about Manny every time he gets the bill.
It's definitely a cuter movie than what I'm into. For example, the reason Bernie knows how to fight is that he was a hockey player and had to defend himself from racists on the ice. Ha ha, black people don't usually play hockey. What a fresh and new comedy premise that has never been explored before, other than in THE LOVE GURU. Still, compared to MACHETE KILLS this shit is Michael Mann. The plot and characters are generally taken seriously, allowing Trejo to do a real leading man performance, including falling in love and being sweet and fatherly toward a little girl. Badass juxtaposition: Trejo is good at "playing Barbies." He's goofy in the movie but it's a genuine display of his charisma, showing him as a likable person instead of another one-dimensional killer. That's one way he's turned into the modern day Charles Bronson: not many guys that grizzled get to play sweethearts.
Since I mostly forgot the first one I didn't realize until I re-read my review that in that one he also helped a woman and then fell in love with her and became a father figure to her young kids. I wonder what happened to that family? Hopefully there'll be a whole series and he'll leave a trail of abandoned adopted families all across the city.
There's a part where he beats up Jonathan Lipnicki, but the poor guy is neither recognizable as the nerdy child star he used to be or able to show off that he knows JiuJitsu now. But I guess it's a step up to be able to play a douchey naked frat dude. Apparently Dante Basco (BLOOD AND BONE, HOOK, the Funk Blast movie ride that used to be at the E.M.P. in Seattle) is in here somewhere as "Gangly Asian," but I didn't notice him.
Of course, MACHETE KILLS at least had some inspired absurd ideas in it, as horribly executed as they were. This is pretty much a generic sequence of cliches, while sharing some of the Rodriguez penchant for cheap-ass digital explosions and bullets that deflate any feeling of danger or meat-and-potatoes down-and-dirtiness. Just get some pyrotechnicians on these things and wink a little less and you might get closer to the latter day Bronson vehicle feel you aspire to. You can still have the part where he steals a guy's grenade and puts it in his fannypack for later. Just get some real fire in the shot when it blows up, that's all I ask.
On the positive side, there's a part where one of the drug gang bad guys says to "Put Drake in the sky" and it cuts to some mountain goats and a helicopter roaring over a mountain. I mean, a fake helicopter, but they have a real one in other shots. You start to appreciate basic stuff like that these days.
In some of the early scenes I thought writer/director Craig Moss had improved his chops since part 1, but that didn't last. He just shoots everything basic and competent, that's it. I'm not gonna bother with an Action Comprehensibility Rating on this one – the fights are perfectly understandable but just rudimentary cowboy movie or syndicated action TV type shit.
A better score would go a long way toward creating some authenticity. The Mexican songs used in some scenes seem a little cheeky, but work better than the cheeseball sampler cues.
There's not much more to say about this. It's probly more watchable than most Danny Trejo vehicles, but if they make a part 3 (maybe throw in a character based on this guy) I probly will have forgotten about both of these movies by the time it comes out. But people always say "I'm surprised you didn't mention such-and-such part" on my reviews (well, I can only mention so many parts) so I think I should describe the very end of this movie, which is more crazy than the rest of it.
First of all, they kill the bad guy, played by WISHMASTER star Andrew Divoff, and it seems to assert that since Bernie helped kill him he can claim his liver for a needed transplant. In my opinion, this is not a viable legal theory. Keep in mind, this takes place in California, not Florida.
Second, the very last thing in the movie: the mother of the dead boxer and the little girl has really fallen for Vega, and they're at her house at night about to kiss, but suddenly they're interrupted by Bernie farting while looking for some pie in the refrigerator, and then a slutty college girl that he had a conversation with at the beginning of the movie comes up behind him and offers to give him a different kind of "pie."
Huh.