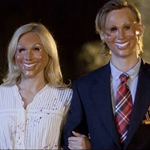 What if in the near future "unemployment is at 1%, crime is at an all time low, because one night a year" – on March 22nd, for a 12 hour period – "ALL CRIME IS LEGAL!"
You know, everybody gets all their rapes and murders out, everybody does their shoplifting and meth dealing, and public defecating and car theft and kidnapping and arson and all that, just let it loose on that day and unless you want to beat someone's face in with a crowbar or jack off in front of your neighbors you just stay indoors and out of trouble. And all because of that 12 hours of mayhem the rest of the year the streets are so clean Paul Kersey could eat off 'em!
Other than on March 22nd, llife would be so much better. And we must consider the value of this trade off. Would an almost-year of peace be worth the dangers and moral complexities of that one day? Thinking about THE PURGE you can't help but consider the ramifications of trying something like this, 'cause it would obviously work, right? Why haven't we done this?
Admittedly I have some questions. Are people really goonna postpone all their crimes of passion until that period? Can serial killers hold it in that long? Do mentally ill people know how to schedule when to snap? Can the drug trade get all their work done in one day a year? And what are they gonna do with their 364 day weekend?

Okay, on second thought, but actually also on first thought, this premise doesn't sound like it even halfway makes sense, and every time I saw this trailer it made me giggle like my name was Harry Knowles. That's why I insisted on watching it now that it came out on discs. I have no clue how this premise ever got past the "dude, wouldn't it be awesome if…" stage, let alone actually made into a professional movie by sober adults. There are supposed to be checks and balances to prevent that sort of thing from happening. This is just a really dumb idea.
Keep that in mind so you know "better than I expected" is not that big of a compliment here. But it is better than I expected.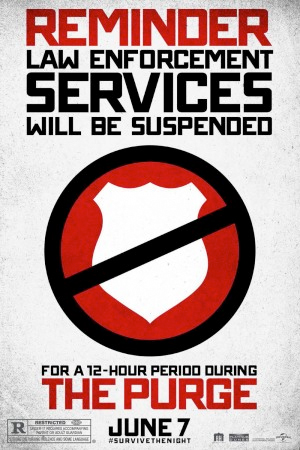 They don't spend any time making it seem like it would work. They just tell you it does and you gotta accept it and move on with your life. Ethan Hakwe plays a guy who installs security systems. Obviously that's a high paying job in a world where you better lock your ass up once a year or there's a 100% chance of getting Clockwork Oranged. So he goes home to his family in his nice new home, they have dinner and then close the shields, turn the whole house into a panic room, holing up for a night in with the family, maybe watch a movie, occasionally glance at the wall of security monitors.
Trouble is the son (Max Burkholder) still has a conscience, so when he sees a guy (Edwin Hodge, DIE HARD WITH A VENGEANCE) outside screaming for help he lets him in. The neighbors narc them out and suddenly they have a gang of masked killers on their doorstep threatening to get a battering ram if they don't give the guy up. Interestingly it's not a matter of who to trust – we quickly find out this guy's not lying, because the mask-people admit they want to kill him just 'cause he's homeless and they think they're improving the world by eliminating undesirables or whatever. So it's really fucked up that dad wants to give him to them.
Here's why I have some respect for the movie. I think some of what they're saying within this dumb idea is actually pretty smart. This typical American family of 2022 is pretty okay with the fact that they're safe because they have money, even though the logical extension of that is that poor people are not safe. The best part is when the son asks his parents (mom is Lena Headey from 300 and DREDD) why they don't kill people during the Purge, as is their legal right. They wouldn't do it themselves but they believe in the American system, so they have to awkwardly defend it. It's like our wars or our capital punishment, we'll go along with it and if we just stay home and mind our own business then our hands are clean, right? We can enjoy the hot dog without having to think about what's in it.
Of course today the war is gonna come home, they end up having shootouts, beatings and hostage situations in their own house. They have to shoot the daughter's boyfriend (it turns out The Purge can be dangerous for dads who don't approve of their young daughters dating older men) and learn to defend an innocent victimized by the system. I think the class consciousness falters a little when it turns into their also-rich neighbors being jealous of their money. That seems like a Real Housewives Problem, not a real people one.
But the corniness of the home invaders was already losing me. They might be scary if they seemed like they thought they were the good guys. Instead the main guy (Rhys Wakefield) imitates Heath Ledger's Joker and they wear ugly, self-consciously creepy smiling masks and play around outside like they somehow know they're a a twisted parody of happy upper class white people. Pretty forced.The movie also sets up a potentially fun gimmick with the kid having a remote control robot he can use as a drone, but then it doesn't do that much with it.
I will give props to Hawke, who has a little bit of that Kevin Bacon gene, he's an Academy Award nominated actor but he keeps doing these kinda lowbrow movies and he gives them 100%, always elevating them. DAYBREAKERS was one where I actually think it was a good movie. SINISTER I thought had a corny monster and premise but I almost liked it because Hawke was so good in it, taking it all seriously even while wearing a ridiculous old man sweater. Probly his idea, too.
THE PURGE was written and directed by James DeMonaco, who it turns out wrote that Robin Williams/Francis Ford Copolla movie JACK, plus THE NEGOTIATOR and the sort of remake of ASSAULT ON PRECINCT 13. Then he went into TV for a while and now here we are.
What if only one day out of the year they were allowed to release stupid movies like this?  The rest of the year it would be all masterpieces. Would it be worth it?