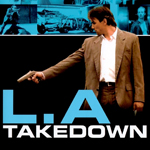 L.A. TAKEDOWN (or MADE IN L.A. as the credits said on the region 2 DVD I watched) is a 1989 TV movie written and directed by Michael Mann, that started as a TV pilot but the series wasn't picked up.
Actually, I take that back. It started as a 180 page screenplay that he wrote before THIEF, and tried to get Walter Hill to direct, but after a decade of not getting it off the ground he had a chance to do a TV series so he gave up and rewrote it as the pilot. It's too bad he didn't keep pushing for it, because it would've been interesting to see what the movie version would've been like. If it were up to me it would be called HEAT and star Al Pacino and Robert DeNiro. But of course there's already the Burt Reynolds movie called HEAT so that would never happen.
The story begins with a squad of ruthless thieves headed by Patrick McLaren (Alex McArthur, CONSPIRACY THEORY) driving a garbage truck, which they ram into an armored car. It flips and gets pinned against a wall before they attach bombs, yank the guards out and line them up so some of them can threaten them and punch them in the face while the others climb in the car and steal its contents.  But like an idiot, the squirrely rookie Waingro (Xander Berkeley, BARB WIRE) turns Mr. Blonde and shoots one of the guards, forcing them to kill the other ones too. This was supposed to be clean.
Next we meet LAPD sergeant Vincent Hanna (Scott Plank, THE IN CROWD), who's trying to catch these guys. His team (including macho Daniel Baldwin [VAMPIRES] and quiet Michael Rooker [SLITHER] with glasses and latex gloves) come and examine the scene and then take notes while their boss makes a blustery, Mannly speech quickly outlining several theories about what type of people did this, questions about their methods, instructions for what to look into to try to find them, plus some bonus words about "I want this crew. I want them before they score again." Thanks coach.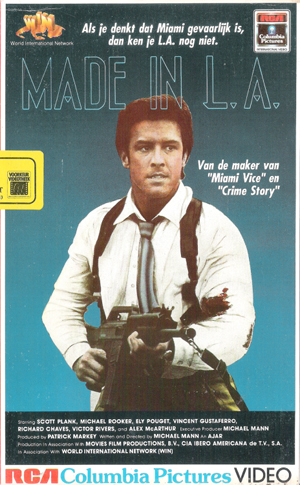 That crew that he wants meets at a diner to pay off and fire Waingro. Then they try to execute him in the parking lot, but he sneaks away. He'll be the death of them some day, mark my words.
Mann had already been producing Miami Vice for a few years, and this shares the high-powered soundtrack (Billy Idol doing a cover of "L.A. Woman") and music video inspired filmatism. As Vincent scours the streets for info we get a rock 'n roll L.A. montage slapping together helicopter shots of traffic, driving shots, inserts of murals and street life, documentary I think.
Like MANHUNTER, we have these two opposing characters, one doing evil, the other trying to get inside his mind in order to locate him, and Mann spends the movie showing them on their separate trajectories as he lays out the parallels between them. Most importantly, each has a passionate but troubled relationship with a woman. Vincent's wife Lillian (Ely Pouget, LAWNMOWER MAN 2: JOBE'S WAR BEYOND CYBERSPACE) is the accountant of a cool night club. She counts receipts at the bar while being hit on by Sam J. Jones (LADY DRAGON 2), who she coldly tells off. So maybe she still loves Vincent, or she wouldn't be turning down Flash Gordon. But she's frustrated with the job taking him away from her.
Meanwhile Patrick is having a fling with Eady (Laura Harrington, MAXIMUM OVERDRIVE), a magazine art director he meets by being rude to her when she makes conversation in a diner. He starts to be into her but he's not exactly gonna open up his whole life to her, so she thinks his job is selling swimming pools.
Patrick's sneaking away from bed while Eady's asleep cuts to Lillian waking up and calling for Vincent, who is off meeting with informants. You see, these two have alot in common. Their work endangers their relationships. I'm sure the Roadrunner and Wile E. Coyote were the same way. Their wives spend every night will be the night someone shows up on her doorstep with news of a giant boulder or piano or something falling on top of him.
But they seem to love their women, and Vincent can dance salsa, but then he punches out Sam Jones for calling Lillian "a nice piece" and gets into an argument with her (more like hears an emotional monologue from her) about it, so he's in the doghouse.
Not that it's any easier to deal with when you ram armored cars for a living. You gotta be all secretive and shit. When Eady asks where he's from he answers "Here and there."
"Come on," she says.
"You wanna know where I'm from?" he starts. "I'm where the needles start at zero and go the other way. The double blank. And then something fine like you comes along… take off with me."
"Where?"
"New Zealand."
And keep in mind this was well before LORD OF THE RINGS. That's a red flag, ladies. In my opinion. Both the suddenly-wanting-to-up-and-leave-the-country-for-no-stated-reason and the grandiose Michael Mann language. Beware of guys like this. "Where the needles start at zero and go the other way, the double blank" – what the fuck does that even mean? She seems like a smart lady and I think she knows this is not swimming pool salesman lingo.
Both the cop and the robber sides contribute their best versions of popular tropes. For Patrick's part, we have the requisite trying-to-give-them-fair-warning-before-the-big-heist talk, the "I'm going to do this but you guys would be so stupid to go along with me if you had any brains at all you would take your money and go and not risk this I mean seriously it would be a really, really poor life choice for you to do this" / "I'm in" conversation.
And Vincent offers one of those classic hothead moves where he gets bad news and then tries to make a phone call about it but in his anger he's just banging on the numbers and then repeatedly hitting the hang up button and getting mad as if he doesn't know how to get this crazy telephoning machine to work. I mean what is with these fucking things, what a piece of junk.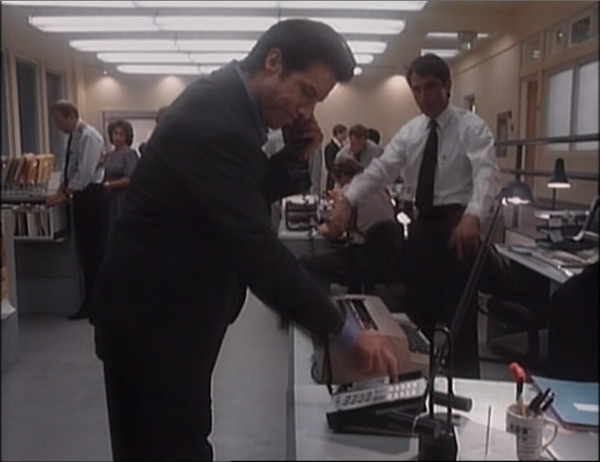 At other times he reacts to Vincent's victories with admiration. At one point he says, "Is this crew somethin, or is this crew somethin? I mean this guy is a megablast!"
And since this is Michael Mann I'm gonna assume it's heavily researched and that "megablast" is an actual term that he knew actual cops used. But in the tradition of "go fast boats" it still sounds hilarious to hear an actor say it real seriously.
Patrick kinda has his own investigation. He stakes out the cops. He even has a connect who brings him files on Vincent, like his own version of an informant. Meanwhile Vincent goes around threatening local criminals and accomplices who he thinks might know where Patrick is. He even gets in the face of a crook played by Cary-Hiroyuki Tagawa. I've never seen my man C-H T look quite this cool before, but also I've never seen him scared of anybody like this.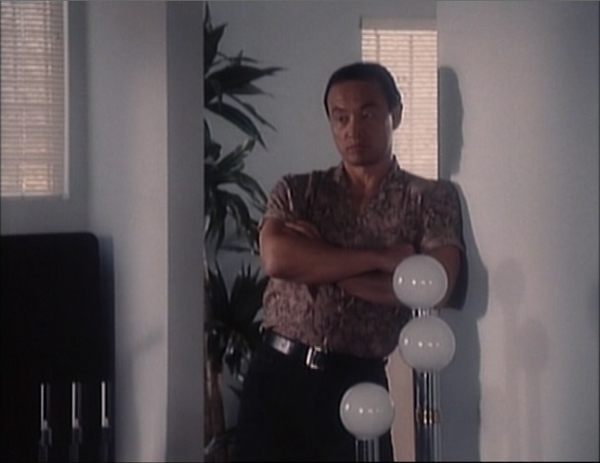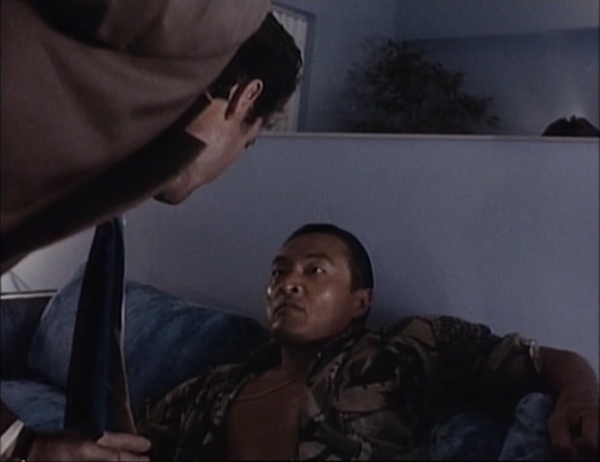 If anybody had ever seen L.A. TAKEDOWN, or if there happened to be a much longer and better movie based on it that people were more familiar with, I think there would be two most famous scenes:
1. When Vincent and Patrick finally come face to face, but it's not while they're on the hunt. It's random, in a parking lot, and they both give each other that look like Butch and Marcellus in PULP FICTION when Marcellus is crossing in front of Butch's car. They stare each other down and reach for their guns, but on a weird whim, Vincent says "Buy you a cup of coffee," and they actually have a time out to sit and discuss this. They note their similarities, including lady problems, and show each other some respect, but also very bluntly declare that if the next time they see each other is during a robbery it's not gonna be coffee time anymore. "I'll blow you out of your socks."
2. The heavy fuckin duty shootout in the middle of L.A. when they do see each other again, post-bank-robbery. It's huge, loud guns, casings the size of cigars littering the sidewalks, cars and storefront windows blowing out, one guy fleeing into a tree-lined residential street like the one in HALLOWEEN, picking up a random child as a hostage but Vincent shoots him anyway and then picks up the girl like a protective mother.
But Pat gets away and Vincent figures out the key to catching him: find Waingro, because Patrick's gonna be looking to get revenge on him before leaving town. Waingro fucking deserves it, too. This is underlined by his poor etiquette of condescendingly shouting to a bartender and calling her both "sweetheart" and "honey" in one sentence. So we're kinda on the same page with Patrick there, but then Eady finds out what he does for a living and freaks out, runs out into a field and faints. A little dramatic but I mean, she was probly hoping he would get her a deal on a swimming pool. Anyway, I think she's right to be upset.
Ironically, neither of them blow each other away, and both of them keep their socks on. It's actually a desperate, cornered Waingro, who fires through a hotel room door and sends Patrick flying against a wall. So Vincent runs and embraces him like a friend.
"What the hell is the matter with you? Why'd you fall for this, huh? You were free like a bird." He was gonna kill him himself but still, it's disappointing.
Like Mann's JERICHO MILE this is much more cinematic than what you expect out of a TV movie during most of my life. But moreso than that one there are parts where you have to kind of give it "well, this is a TV movie" leeway to really appreciate it. Apparently Mann fought to have the Ed Burns-esque Plank in the lead, and this was what prevented it from becoming a show. To me he seems a little young for the grizzled veteran talk he's spitting, but he delivers it well. McArthur is fine too, but perhaps lacks the magnetic presence it could possibly have in a movie version, who knows. I'm not sure I buy Eady's attraction to him, but I guess people do weird things.
The big mystery is what the show would've been about if it continued. Would they have kept Patrick alive and had a continuing chase? I suppose it would have been a normal cop show with Vincent chasing different robbery-homicide division suspects. Rooker and Baldwin would've had more to do, and we'd find out about their family lives. Maybe C-H T would show up occasionally. But it probly wouldn't have that central conceit of the cop and the robber who get equal focus.
Or I guess also they could've killed off Vincent and it could've been a robbery procedural.
Anyway, this is an interesting footnote in Mann's filmography, a bridge between his TV success and his movie pursuits.