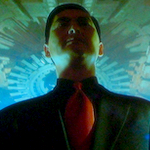 I try not to be too set in my ways, which is a good reason to rewatch a movie years later and see if you respond differently than the first time around. So something told me it was time to revisit something from those heady days when the emerging international popularity of Hong Kong action cinema fired peak John Woo and Chow Yun Fat out of a cannon aimed at the heart of Hollywood. I'm not sure what kind of a cannon shot them so that Woo landed in 1993 and Chow not until 1998, but life is a mystery. Anyway, they exploded and in the case of Chow, we were mostly disappointed and then happy that he didn't stick around that long, because Hollywood clearly didn't know what they were doing with him.
THE REPLACEMENT KILLERS was significant not only as Chow's first Hollywood/English language movie, but the directorial debut of Antoine Fuqua, who became a much bigger deal when 2001's TRAINING DAY won Denzel Washington an Oscar. That kind of gave him the air of an Important Filmmaker for a little bit, but I think now he's settled in as the type of director who makes OLYMPUS HAS FALLEN and THE EQUALIZER 1 and 2, which is more like the expected trajectory for the director of this one. He came from directing music videos, most famously "Gangsta's Paradise" by Coolio, but also "The Most Beautiful Girl in the World" by Prince.
Chow plays "John Lee," who's pretty much a remix of his character in THE KILLER. He's an assassin who owes one more hit to L.A. Triad boss Terence Wei (Kenneth Tsang, A BETTER TOMORROW 1 and 2, THE KILLER, SUPERCOP, RUSH HOUR 2). But he's sent to the home of LAPD Detective Stan Zedkov (Michael Rooker, CLIFFHANGER) and sees the man's wife and son through the sniper scope and decides he can't do it. (In a corny touch, Zedkov doesn't see him but looks right into the scope as if sensing him.)
So John has to get back to China to protect his family from Wei. His Buddhist monk friend (Randall Duk Kim, THE MATRIX RELOADED, NINJA ASSASSIN, THE LAST AIRBENDER, JOHN WICK 1 and 3) helps with hiding out his mom and sister back home while John tries to find a fake passport, like, today.
That's what brings him to the apartment of forger-for-hire Meg Coburn (Mira Sorvino, THE STUFF), the co-lead who kind of seems like the lead-lead because she does most of the talking. Two things I like about this scene: One, she's working on some fake documents when he buzzes her, and she's smiling, as if she just really enjoys her work. Two, because he's Chow Yun Fat, he looks totally suave even on a shitty security cam monitor.
She's suspicious and resistant to this new, demanding client, but takes his money and gets started… and then Triads show up at her door. There is shooting, her computer gets wrecked, John gets away. Meg hates cops and only has a faceless incomplete passport anyway, so she can't tell Zedkov anything, and he lets her go to use as bait.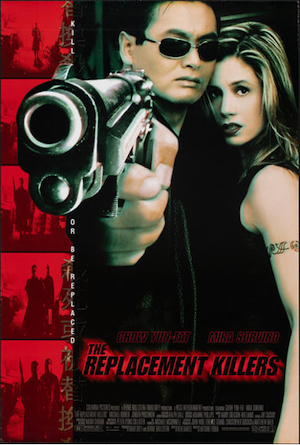 It's one of those reluctant partnership stories – John comes back to try to get the passport, Meg wants nothing to do with him, he sort of kidnaps her, he protects her, she starts to understand him more and like him, it's kinda sweet, but not real deep. The attempt at a Hong Kong style killer/cop relationship between John and Zedkov kinda works too – during a big chase/shootout Zedkov is observant enough to realize that John could've shot him and didn't, and that he needs to re-examine what's going on here, so he's later able to recognize that this supposed bad guy is risking himself to protect his son.
Zedkov is a weird cop, though. Wei is after him over the death of his son in a drug bust, and he actually had the audacity to show up at the funeral, "to show my respects," he says. And the thing is, it seems like that was a sincere answer! It's the sort of honorable cop thing that would play different in a Hong Kong movie. It's weird to see it played by Henry: Portrait of a Serial Killer!
There's either a kind of cool twist or a misunderstanding on my part that made it seem like a kind of cool twist. See, when John's conscience prevents him from shooting, it seemed to me like it was because he saw Zedkov's wife and son and thought of his own family, and/or "I can't kill this man in front of his son." So it seemed more original when I realized the kid was the target. From the sounds of it he would've been totally fine shooting the cop in front of his son, but the job was to shoot the son in front of the cop. That's cold.
There are some flashes of excitement in the action. Some good car stuff. Many bullets fired (supposedly a record for an American movie). You get to see Chow hang upside down from a fire escape to grab a guy. There's a cool part where he's running in a parking garage and an SUV pulls out and he drops down and slides all the way under it. And then the innocent lady inside totally gets shot! The stunt coordinator, Allan Graf, was Walter Hill's go-to guy for a long time, but probly got the job off of BROKEN ARROW.
Unfortunately just like back then, watching it now I can't really avoid comparing it to the Woo shit, which it can't compete with for excitement, poetry, style or volume, partly because nobody does it like Woo, partly because I'm just not as invested in the characters. I'm glad Fuqua tries to put his own spin on it, not really mimicking Woo that much outside of slow motion. But he and cinematographer Peter Lyons Collister (AVENGING ANGEL, GARFIELD: A TAIL OF TWO KITTIES) come up with a slick music video look set to songs by Crystal Method and Tricky and stuff (nothing against Crystal Method and Tricky and stuff), and it doesn't really have the same power. It feels like a pose instead of passion.
A small observation about that: in THE KILLER, Woo makes the church a very important and meaningful location, because Christianity was important and meaningful to Woo. Fuqua has Chow visit a Buddhist shrine, because Buddhist shrines are more interesting to us.
Wikipedia quotes Fuqua saying he wanted a "TAXI DRIVER for the 1990s." I'll tell you this: I would not have guessed that!
Fortunately there's a strong supporting cast and a couple goofy bits of flavor that prevent it from being too generic. Meg brings John to take his photo in a coin-op photo booth, but she runs into buffoonish gangster Loco (Clifton Gonzalez Gonzalez, a.k.a. Clifton Collins, Jr., FORTRESS, MENACE II SOCIETY, ONE TOUGH BASTARD, DEAD PRESIDENTS), who is a big shot with the Triads but works out of a video game arcade? The ridiculous touch that made me grin the widest is that they have to stop a plan to assassinate Zedkov's son when he brings him to the "Cartoon Festival," which is showing Mr. Magoo shorts to a packed theater at night. As totally happened constantly in the late '90s, I assure you.
The titular replacement killers – flown in from the big leagues to kill the kid as well as John – are Til Schweiger (also making his American debut) and a leather trenchcoat wearing Danny Trejo. Trejo only has two lines, totaling four words, because he's there to walk in calmly firing guns and exude menace in all directions, but I want to emphasize that he was a reason I was excited for the movie at the time. Though he had already been in RUNAWAY TRAIN, PENITENTIARY III, DEATH WISH 4, LOCK UP, CAGE, MANIAC COP 2 and MARKED FOR DEATH, I didn't really pick up on him until a decade into his career when he played Navajas in DESPERADO. Then I would be excited to see "the knife-thrower guy from DESPERADO" show up in HEAT, FROM DUSK TILL DAWN, even CON AIR. It's very possible that Fuqua also knew him from DESPERADO, since Carlos Gomez is in the movie and Schweiger carries a machine gun briefcase very much like the machine gun guitar case. I bet it was an influence.
Jurgen Prochnow (right after AIR FORCE ONE), Patrick Kilpatrick (ERASER, LAST MAN STANDING) , Leo Lee (MARTIAL LAW II: UNDERCOVER), James Lew (NIGHT OF THE WARRIOR), Bob Minor (ACTION JACKSON) and the great Al Leong are also in it.
This didn't turn out to be one of the great Chow Yun Fat vehicles, but there's obviously still an appeal to watching him in it. Though the movie doesn't give his character enough personality or substance, it is properly worshipful of him. That extended to the marketing – the trailer actually had deep-voice-trailer-narrator-guy say, "In theaters around the world, where action is almost a religion, they worship a hero. And on February 6th, he… arrives." Then Chow spins around in slow motion and fires his gun a bunch of times before "Chow Yun Fat is John Lee, a deadly assassin in a dangerous world…" etc. The narrator also gets in a "from executive producer John Woo" and an "international action star Chow Yun Fat." Man, those narrated trailers were so cheesy, and also I miss them dearly.
I wonder what the narration would've said if they'd gone with their original choice, Chazz Palminteri? I bet he would've toned it down a little.
But honestly I think the best thing about the movie is Sorvino. As the trailer also indicated, she'd won an Oscar three years earlier. She was also coming off of two cool movies that became more appreciated over time, ROMY AND MICHELE'S HIGH SCHOOL REUNION and MIMIC. And her tough girl character is scripted with a sort of silly former-child-criminal-who-doesn't-trust-the-system bio, but she makes you want to buy it. She definitely seems like she's into it. She speaks Mandarin, spent some time in Beijing and majored in Asian studies at Harvard, so she had many reasons to be excited to work with Chow. (Chow's first language is Cantonese, though, so there was still some effort required for communication.)
I watched the extended cut, and don't remember the theatrical version enough to notice any difference, but it sounds like it's pretty significant. Apparently Columbia didn't trust Fuqua and had sort of a studio chaperone for him, pissing him off, until they sent in Debra Hill (!) to mediate. Then test screening chumps objected to any romance between Meg and John (which there's barely any of even in this version) and apparently other backstory stuff was cut out. Then they brought in editor Richard Francis-Bruce (MAD MAX: BEYOND THUNDERDOME, SE7EN). According to the handy Movie Censorship sight he made lots of little cuts here and there that add up to 8 minutes, and include things like Meg explaining the guilt she has for leaving her brother behind when she ran away from sexual abuse.
Well, I wish I could say I missed the boat on THE REPLACEMENT KILLERS, but it's about what I remembered. Not bad, but there are still real Chow Yun Fat movies I haven't seen. Still, it hasn't killed my interest in this period of flawed cultural outreach, so don't be surprised if I rent THE CORRUPTOR pretty soon.