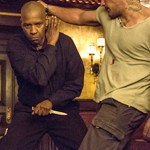 All things being equal, THE EQUALIZER is Denzel Washington's TAKEN. It's the one where they figure out people like to watch a really commanding older actor be smarter than everybody and kill a bunch of criminals. It has some gestures of seriousness and takes a bit to get to the killing, but once it does it's pretty straight up about being a violent, lowbrow action movie. It even has the Academy Award winner doing the ol' slo-mo-walking-away-from-a-fiery-explosion shot. I guess he did that in MAN ON FIRE too, and shot more beautifully from what I remember. But this one is more my speed because it's not trying to rub my nose in the shit, it's just trying to be stupid fun.
And by the way I apologize for awkwardly shoe-horning "all things being equal" in there at the beginning. It just seemed like something you do. But let's try to get past it.
Written by Richard Wenk (VAMP, 16 BLOCKS, THE MECHANIC REMAKE, THE EXPENDABLES 2) and sort of based on the '80s TV show of the same name, this has Denzel (RICOCHET) playing Edward Woodward's character Bob McCall, now a book-reading, OCD widower square who works at "Home Mart," wears polo shirts tucked into dad jeans and cleans his New Balance sneakers with a toothbrush every morning. Then one day when an acquaintance from the diner where he hangs out (Chloe Grace Moretz, TODAY YOU DIE) gets badly beaten by her Russian pimp (David Meunier, a.k.a. Cousin Johnny from Justified) Bob decides to try to help her. And it turns out his previous job was at the CIA or something (the agency is not specified) and that he's real good at massacring a whole bunch of armed criminals using found objects and guns he takes out of their hands. Gino Fellino would be proud. He even sticks a corkscrew in a guy's chin and we see it poke up into his mouth.
Of course they're not gonna have Denzel flying around and doing wing chun and shit, so it's the close up, very fast cut type of action that they use to make normal people into killing machines. But it's not shaky at least. I found it pretty comprehensible. And they obviously had to think it through, because they start most of the fights in Equalvision: slo-mo p.o.v. shots as McCall looks around at his opponents, examines the objects in the room and plans out his moves. To show that if you're real smart you can beat everybody up, using your smartness. This is also used for him examining details and clues and shit for detectiving. Luckily just about every bad guy he crosses is plastered in easily identifiable tattoos and other stupid giveaways. When one dipshit robs the Home Mart at gunpoint he allows McCall to see multiple tattoos, a dangly skull trinket, a company logo on his hat (!) and also his license plate. I mean, I hope when Bob tracked this guy down for equalization he gave him a list of all the different ways he could've done it.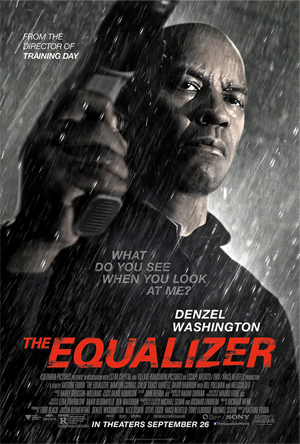 Now that the thirst is back, it just so happens that this mild-mannered Bostonian's acquaintances keep running into major criminal conspiracies even outside of the Russian mafia child prostitution ring, and he finds ways to secretly help. I like that, because before he started Equalizing it seems like his way to try to save the world was lecturing people about eating too much sugar or potato chips. I know he's trying to help but please, friend, go inside a closet by yourself to do that.
By the way, he's so picky about his tea that he brings his own packet to the diner, and I don't think he adds any sweetener. His war on sugar is a genuine health crusade I believe and not setup for a promotional tie-in with Equal brand artificial sweetener.
The number of criminals he faces borders on DEATH WISH sequel comical, and I mean that as a compliment. Sometimes it completely skips over what he does, just shows you the results, leaving it to your imagination. So I like to think he also is doing other ones on the side that we don't even find out about. We thought he went to bed that night but he snuck out and maybe hobbled a pedophile or something like that.
His obsessive compulsive disorder is never discussed, but is pretty interesting. In his first big showdown when he takes the plunge he repeatedly re-arranges the skull decorations on the pimp's desk. They all watch him and they can't figure out if he's trying to intimidate them or what. They have to laugh. He almost leaves, but turns back around when he decides to kill them all. But first he has to open and close the door 3 times (or some specific number – I'm sure he could tell you). After that the compulsions never get in his way. I didn't really consider this while watching it, but maybe getting back into the secret agent shit puts his mind at rest.
I don't remember the show that well, but I believe it took place in New York and had a different backstory for him. I think he had an ex-wife and a son who were still alive, here he's a widower, no mention of other family members and he faked his death.  Apologies to any Equalizer purists, but I think it's kind of cool that the show is not well known enough that they have to be beholden to famous catch phrases and shit. There might be a specific reference or two but mostly they just knew that covert-agent-turned-vigilante-for-hire is a cool premise worth re-using. I like that.
It's a very male type of wish fulfillment, the sort of thing THE GUEST has fun messing with. It's the white knight fantasy us regular dudes have of being able to surprise everybody, show a motherfucker what's what and save the day. He even talks about "a knight in a world without knights" or something like that when discussing the themes of a book he's reading (Don Quixote or Nothing Lasts Forever) or something, but also obviously thinking about what's going on in his life. Since he's so keen on drawing parallels between his life and classic works of art I wonder if it ever occurs to him that killing a bunch of dudes to protect a teenage prostitute he met is the same thing crazy fuckin Travis Bickle did in TAXI DRIVER. I'm not saying he's the same kind of psycho, but you know. It's worth thinking about.
Anyway there's one subtle nod to gender equality I dug. Late in the movie he's suddenly in a drastically different setting, he shows up at this big house somewhere and a guy comes out smiling and shaking his hand like an old friend. Oh shit, it's Bill Pullman! I guess Bill Pullman is playing like an old agency connection or something who he comes to to get information.
They're having an awkwardly quiet dinner, and we see that Pullman's wife is with them too. Hey, wait a minute… they got Melissa Leo just to play the wife?
After dinner when they get to business, though, it's her that McCall talks to, and we see on the walls the photos of her with presidents and everything. See, Melissa Leo is the old agency buddy. They got Bill Pullman just to play the husband.
(Admittedly he does get to act in one scene, so it's maybe not as crazy as his amazing flopping-off-a-balcony cameo in THE GRUDGE.)
In my opinion there are not enough great villains in modern action movies – in fact, off the top of my head none come to mind from recent American ones. This one's not a hall-of-famer or anything but I liked him. He's this well-dressed Russian guy  played by Martin Csokas, making a stronger impression on me than he did in FELLOWSHIP OF THE RING, xXx, THE BOURNE SUPREMACY, KINGDOM OF HEAVEN, AEON FLUX or NOAH – but partly because he looks like Kevin Spacey covered in gang tattoos. He's sent in from higher up to look into these killings, the local mobsters resent him being there, don't want to work with him. At first he seems like a pretty bland villain. But there's a scene where he basically pulls an Equalizer, he's outnumbered by this gang in their own office but he gets sick of them giving him lip so he goes crazy on them. He kills the henchmen and stomps on the boss, and the beating goes on for quite a bit longer than you expect, enough that I started laughing. Okay, villain, you have my attention.
You know what, if this was a PG-13 movie I'm not sure the villain would've been allowed to do those extra blows that got my attention. That's what I think is kind of important about THE EQUALIZER: it's "Rated R for strong bloody violence and language throughout, including some sexual references." In other words it's a studio action movie in the year 2014 that did not restrain itself for the sake of the imaginary little kids that theoretically would buy tickets to it. That gives it a certain leg up over the TAKENs, the BOURNEs, LIVE FREE OR DIE HARD,  the most recent EXPENDABLES, etc. Horror has gone through this before. R-rated SCREAM and its copycats made horror popular with teens again, then the remake of THE RING turned out good, and 9-11 made everybody freak out about violence, and all the sudden the genre seemed to be stuck in a PG-13 ghost movie phase. Eventually horror fans got sick of it and the pendulum swung back hard with the invention of SAW, Rob Zombie, Eli Roth, etc.
I never really thought about it, but could that happen in action movies? I don't know, but I do know that in THE EQUALIZER we have Denzel strangling dudes with barbed wire, drilling people's heads, impaling people. We've all seen worse but it's kinda thrilling to see a Denzel movie this gruesome. I guess credit for that should go to director Antoine Fuqua (THE REPLACEMENT KILLERS, TEARS OF THE SUN, BROOKLYN'S FINEST) since his SHOOTER and OLYMPUS HAS FALLEN are also R-rated straight ahead action. He's keeping the tradition alive. And I think I liked this one a little better than either of those.
In my review of A WALK AMONG THE TOMBSTONES last week I said that "it distinguishes itself with taste. It's willing to be slow and quiet, it takes its sweet time between edits, it communicates more visually than through jibber jabber, the score… is simple and creepy instead of the usual manipulative bombast." Well, this is more the other kind. It has the generic Tony Scott type thriller score (by Harry Gregson-Wagner [UNSTOPPABLE, THE TAKING OF PELHAM 123 REMAKE, DEJA VU, MAN ON FIRE]), quick cuts, a completely unrelated rap song on the end credits (seriously, why did they use a song of Eminem talking very personally and specifically about his career? It doesn't make any sense).
This is not a great one, more of a programmer or whatever. A Denzel action vehicle. But to me that's something worth existing, and I hope it somehow drags Denzel into the world of increasingly ridiculous sequels. We'll see. Even though they're already talking about a part 2 I think he might have too much integrity for that. But at the end McCall is advertising for clients like on the TV show (online now, of course), and he wears darker jeans and shoes, a slightly nicer shirt. He's still not dressing like a standard cool movie person, but less like a dude that would wear a fannypack. So I think the world wants to see what he'll do next. Or at least I do. But I would watch an A-TEAM part 2 if they made one so what the hell do I know.