As a Chris Tucker fan in a white-people-heavy part of the country I too often find myself defending the kind-of-funniness of RUSH HOUR. I don't love the movie or anything (MONEY TALKS is the real classic) but I have to admit that every time I come across it on TV I find myself laughing at the shit Chris Tucker says and saying, "I forgot how funny this was."
I realize that you all think I'm crazy for that, so I got a new argument in defense of RUSH HOUR, and it's called COLLISION COURSE (1989). You think RUSH HOUR is such a terrible movie – well, what about the version where instead of Jackie Chan it's Pat Morita, and instead of Chris Tucker it's god damn Jay Leno? This is a generic mismatched buddy-cop picture only made novel by the rare hero role for the famous Tonight Show host/usurper. It's funny – not in the sense that the jokes are funny, but in the sense that it's sometimes interesting to look back at older movies and remember what was considered cool or funny at that time.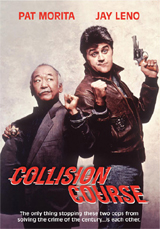 Leno's character fits his modern persona – working class joe from Detroit, drives vintage Corvette convertible. As a Guy's Guy of the '80s he's single and lives in a smelly apartment littered with fast food garbage (see also Jim Belushi, THE PRINCIPAL). One of his primary traits is that he repeatedly tries to abuse his authority to get women's phone numbers. I can't remember why that was cool back then. What's he gonna do, call and hang up? Or say, "Hi, I'm that police officer who pretended it made sense to take down your phone number – wanna come over?" Actually it does become useful when he hits on a girl at a photo developing kiosk. It doesn't show him calling her, but she develops photos for them later and lets them go into the back with her, which implies something more than the usual photo developer/client relationship. Also she gives them info about gang territory (she knows because she's black, is the implication).
Morita is a fuckup sent from Japan to track down a super-engine prototype stolen and headed for GM or somewhere. Chris Sarandon, Tom Noonan and Randall "Tex" Cobb are all involved, and the Japanese thief is murdered along with a friend of Leno's. He's in robbery, of course, not homicide, because there's a strict screenwriting rule that movie cops can only investigate cases against their bosses direct orders. His boss (Ernie Hudson) gives him a good dressing-down over this, but he ignores it. I wonder what kind of robbery caseload backlog he has by the end of this thing?
It's weird to watch Leno in the serious parts, like talking about his dead partner. Made me wonder if Daniel Roebuck studied this movie for his role as Leno in THE LATE SHIFT. He got it just right – that is what that voice sounds like when it gets sad or pissed. It's also weird to see him in fight scenes, but it's not the real shit, it's the awkward kind where the hero mugs and runs around and gets lucky ducking punches. There's a bowling alley brawl involving angry autoworkers (one of them is Mike Starr several years before his bar brawl involving racist oil workers in ON DEADLY GROUND).
The goofiest piece of nonsense is when he blows up Tom Noonan in a trainyard (SPOILER) and for some reason there's a pyramid of watermelons stacked up on the ground. You don't see that everyday. Later it's got the old car-chase trick where they go through the alley behind the Empty Box Factory – you know, they knock down a mountain of empty wooden crates, then a forklift drives in carrying a giant stack of empty cardboard boxes.
It's all what you'd expect, the two having cultural misunderstandings and insensitivity (Leno calls him "Tojo," expects him to know karate), but then learning to respect each other and imitate each other, repeat each other's dialogue from earlier scenes. What's unexpected is that they completely blow the setup for a spectacular climactic car chase. This whole movie they're talking about "the prototype," this incredible new engine. And then they find out it's hidden in an ordinary Toyota that's ended up at a rental car place. An old lady drives it and almost crashes it because it's too fast. Then our boys take the wheel… and have a brief, TV style car chase (the one with the empty boxes). I bet the screenwriter had something bigger in mind but they didn't have the money or the time or something. But that's a major ball dropped.
In one scene Leno steals a motorcycle – and a helmet too. Morita rides on the back, no helmet. What does this say? Why is Leno's skull more precious than Morita's? He's driving, he ought to offer the helmet to the passenger, since both lives are in his hands. That would be more polite.
One saving grace: there's a part where Morita runs at a fast-moving car and does a (blue-screened) flying kick through the windshield.
Leno is pretty good, he really stretches pretty far in his performance. For example in the movie he's a cop, in reality he is not a cop, at least not full time (I don't know of him doing a STEVEN SEAGAL: LAWMAN type deal on the side but I guess I can't rule it out). In the movie I think he just has one car, in reality he has more than 50. And at the end of the movie, when he's solved the case that he wasn't supposed to be on and Morita must go home having failed his mission, Leno's character sacrifices himself by stealing the prototype from evidence and giving it to Morita to bring home. Obviously the real Leno would be happy with his case being solved and not worry about the other guy's problem since he didn't directly cause it and is not technically required to intervene. So it's an impressive transformation by Leno the actor to put himself into that kind of honorable mindset that is as completely alien to him.
The director is Lewis Teague, same guy that did ALLIGATOR, CUJO and NAVY SEALS. Weirdly it was almost directed by Bob Clark. In an interview with the Onion AV Club Tom Noonan tells the story of how Bob Clark wanted to work with him, said they had this script that was terrible but could be rewritten. Noonan claims he rewrote the script and took the job just to work with Clark, but when he was on set found out Clark had been fired and they'd gone back to the original script. He only stayed on out of a sense of professionalism, but apparently most of his scenes are from his rewrite. So if you ever talk to him ask him about the watermelon pyramid.
This entry was posted on Thursday, March 18th, 2010 at 11:01 pm and is filed under
Action
,
Comedy/Laffs
,
Reviews
. You can follow any responses to this entry through the
RSS 2.0
feed. You can skip to the end and leave a response. Pinging is currently not allowed.