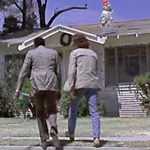 First of all, I would like to extend my deepest and most profound apologies for the first time I wrote about LETHAL WEAPON and fixated on Mel Gibson's Swayze-esque hair and David Sanborn's Smooth Cop Jazz saxophone. I know my comments hurt alot of people and put alot of negativity into the world, and that is something I simply never wish to do. I would especially like to apologize to Gibson's hair stylist Paul Abascal, who not only did hair on many Swayze, Stallone and Willis (?) classics, but also went on to direct PAPARAZZI and the reshoots of PAYBACK. I know now it was a different time and place that cannot be held to a newer era's standards of taste and style. In the years since that review I have changed alot, I have learned, I have grown as a man, as a critic and as a spiritual being. I have looked at pictures of JCVD in HARD TARGET and realized Mel's mullet coulda been worse. So to get ready for Christmas I decided I was ready to try LETHAL WEAPON again.
It's hard to separate LETHAL WEAPON from the litter of movies it spawned. In the sequels Murtaugh (Danny Glover, PREDATOR 2) and Riggs (Mel Gibson, MAD god damn MAX) are great buddies and there's wisecracking and everything and I mix it up in my mind with the cliches of interracial buddy movies. But really the first LETHAL WEAPON is not about race and it's pre-buddy. It's about the formation of their buddyship. It's about this regular working family man cop who, on the day after his 50th birthday, is forced to be partners with a younger crazy guy. Like, not just a loose cannon, a guy that we've actually seen wake up in his trailer, put a gun in his mouth and start crying and almost pull the trigger. While watching Bugs Bunny cartoons. He's been suicidal since the death of his wife in a car accident, even has a special hollow point set aside for the job.
For part of the movie the cop-with-a-death-wish is used for action movie fun. Like, he doesn't worry so much about being held at gunpoint during an undercover drug sting. In fact he begs the other cops to shoot the guy. Also it causes an interesting dynamic when he has to talk a guy down from the ledge of a building. You don't know what's gonna happen when he handcuffs himself to the guy and makes the jump with him. But this shit isn't funny to Murtaugh, who just wants to stay alive and raise his kids and have some beers and fix up his boat like a regular 50 year old. He wants nothing to do with this crazy fucker. It's not fair that they stuck him with this kid.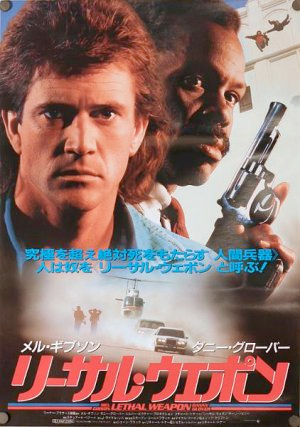 They do have some things in common though. Despite the age difference, both were in Vietnam. Riggs was an amazing sharpshooter from a very young age, part of the "Phoenix Project in Vietnam – assassination stuff," which seems to both impress and scare Murtaugh, and gives them things to talk about. The case they become involved in is all about veterans too. Murtaugh's war buddy (Tom Atkins) calls him up, his daughter just got murdered. And there are some nefarious individuals about, including Gary Busey as Mr. Joshua, who are involved in a heroin-smuggling ring that dates back to the war when they were in a special ops crew called Shadow Company.
I don't think I've ever properly appreciated LETHAL WEAPON for being a year ahead of the game on a couple of my favorite movies. It beat ABOVE THE LAW to the topic of special ops people smuggling drugs out of 'Nam, and of course it was a big '80s action movie with a Christmas setting before DIE HARD. Also, couldn't McClane's famous "Now I have a machine gun, ho ho ho" be sort of a one-upping of Riggs's note to "bad guys" left on the Christmas tree?
I wonder if producer Joel Silver has something to do with some of the LETHAL WEAPON-DIE HARD overlap. They also have similar scenes at the end: everything seems to be resolved, everybody seems to be safe, cops are on the scene cleaning up the mess, suddenly the bad guy has a gun and a cop shoots him dead in slo-mo. Actually, two cops in this one, Murtaugh and Riggs both get him at the same time. A nice moment of teamwork and unity for these newly formed buddies. Now they have one more thing in common: they both killed Gary Busey.
I think hindsight also shows what insightful casting it was to have Gibson in this role. We always thought he was this funny leading man guy but actually this was him, charming but sometimes psychotic. He has some yelling fits, some violent mood swings, also some jokes.
They make a good buddy team because they're so opposite. Murtaugh is always so exasperated and disappointed in people, Riggs doesn't give a shit and likes fucking with everybody. And after they go through their roles they can stop and laugh together. Glover's younger than the 50 years old he's playing, and he's in good shape, but he physically plays Murtaugh as tired and worn out. Meanwhile, Gibson in this movie is at his most svelte and athletic, showing off his body and rock star hair like some lost rival of Bon Jovi. And he acquits himself well when he has to run around and fight. Murtaugh famously declares himself "too old for this shit," but Riggs is exactly young and vital enough for this shit.
Hats off to twentysomething hot shot screenwriter Shane Black for the way he establishes Riggs's gun skills. First we hear about it – he tells the story about a crazy shot he made in the way that he thought maybe 10 other guys on the planet could've made. Then we see it in the scene at the gun range, where Riggs shows off humorously by sending the target as far away as it will go and then shooting a perfect smiley face into its head. Finally, when they're out in the desert trying to get Murtaugh's daughter back from a bunch of ex-soldiers with guns we see him making some impossible shots and we know this is the character's unique skills and not just an action movie pretending everybody can do shit like that.
Its cool how this first Shane Black movie establishes some trademarks he revisits throughout his work. Of course the Christmas setting reoccurred in THE LONG KISS GOODNIGHT, KISS KISS BANG BANG and IRON MAN THREE. The helicopter attack on cliffside mansion came back in IRON MAN THREE. The funny, wiseass little kids that Murtaugh and Riggs question outside of the hooker's house remind me of the type of kids he put in MONSTER SQUAD and IRON MAN THREE. (Of course, this being a Richard Donner movie you could also consider them the black Goonies.) They're little goofballs. How many movies have a kid wearing a Keith Haring t-shirt and wearing 3D glasses? And they say the darndest things. "Mama says police misuse black people. Is that true?" "Yeah, is it true?" they ask innocently.
Black is known for his cleverness, and he's got cleverness in this movie. There's an ironic sensibility, an idea that the world of 1987 is crass and shitty and that acknowledging it is kinda funny. Riggs's idea of success is "We do this right, we get famous. Do shaving ads." It's a world where our savior is a broken down, suicidal mess who grew up as a brainwashed super-killer. This is best illustrated when Mr. Joshua (or one of those guys) says "There's no more heroes left in the world" just before a crazed, shirtless Riggs runs in with dead Al Leong slung over his shoulders and judos and shoots everybody to save Murtaugh and his daughter. Yeah, there's heroes left in the world, it's just that they're crazy motherfuckers.
Then they exit into a normal bar with normal patrons and start shooting bad guys right in front of them.
A simple thing I love: when Riggs gets shot with his vest on it hurts like hell! He doesn't recover right away. We've seen the old "you thought he got shot dead but actually he was wearing a vest" trope in a thousand cop movies, but they usually act like it just bounces off and then you stand back up. Riggs treats it more like he got run over by a car.
You also gotta give it to Richard Donner. I've never rated him in the upper echelons of action filmatists, but maybe I've underrated him, and at any rate he's got some good work here. Two examples that come to mind: the scene where Murtaugh meets with Tom Atkins in his office to confront him about what he knows. There's a window behind Atkins and we can see things going on out there. As the camera pans around him it stops where the window is perfectly lined up to reveal that Riggs is standing out in the distance, looking up into the window, backing up Murtaugh in case anything goes wrong.
And the most show-offy scene is the build up to the showdown in the desert. There are these sunny, wide angle shots of the two parties approaching each other cautiously, the helicopter blowing up huge clouds of dust, total Leone shit. This is not at all what you picture when you think of the cliches of late '80s buddy cop movies.
I'm still a little befuddled by the martial arts aspect. There are a few things that suggest it could've been part of the JCVD/Seagal wave of western martial arts action. Jeff Speakman is… THE LETHAL WEAPON. First, they actually talk about Riggs being a "lethal weapon" because of his fighting skills. Then he uses some jiujitsu type leg maneuvers to escape electroshock torture from Al Leong. Most importantly there's the weird climax where they do one of my favorite tropes: get the bad guy dead to rights and then put the guns down and fight honorably. This scene is awesome with Riggs's line "What do you say, Jack? Would you like a shot at the title?", the brutality of the fight, the then-novelty of jiujitsu on film, and the preposterousness of Murtaugh being able to convince the huge number of police on the scene to back off and let them duel on his front lawn.
So I'm glad they did it, this is a nitpick, but to me it feels slightly off, kinda unearned. The movie hasn't established a context of them taking pride in their fighting styles either as athletes or as rival schools or disciplines. I thought Joshua was just a guy with guns. I didn't know he was a contender. That's why I wonder if maybe Black pictured it being a Chuck Norris movie or something. He thought it would star some guys known for spin kicks, not for driving fast.
It doesn't matter. It's a good story, or at least good enough characters that the story works out. I don't fully understand why fighting some guys with Murtaugh cured Riggs of his suicidal tendencies, but I'm glad he found a friend.
Maybe he's just depressed because of the time of year. As far as Christmas cheer, this one is subtle enough that you could watch it during other parts of the year, but it's in there. The drug sting happens on a Christmas tree lot. When Atkins gets shot the bullet goes through a carton  of eggnog he's drinking. A Christmas Carol is seen playing on a TV. There's that note on the Christmas tree I mentioned. At the end, Murtaugh's house is all boarded up from action movie damage, and the kids have drawn Christmasy stuff onto the plywood. The best Christmas/action movie juxtaposition is the opening credits. That cheeseball song "Jingle Bell Rock"  is playing but then the title comes up in manly 3D metallic lettering.
And you know what, I didn't pick up on this until just now but Darlene Love, who plays Murtaugh's wife Trish, is the same Darlene Love who sang the song "He's a Rebel." In 1963 she sang several songs on Phil Spector's classic Christmas album. You've definitely heard her song "Christmas (Baby Please Come Home)," and David Letterman has made it a tradition to have her sing it on his last show before Christmas every year. She's been doing that since 1986. So there you go, there's Christmas even in the casting of the movie. They shoulda had Gene Autry or Burl Ives playing a police chief or commissioner.
I'm glad I revisited this one. Maybe I'm having my Ebeneezer Scrooge or Grinch moment on this. I don't even mind the music that much this time. In part 1 there's actually less of the Eric Clapton and David Sanborn noodling, more of the pre-DIE HARD bombastic Michael Kamen orchestra. God bless the LETHAL WEAPONs, every one!
Merry Christmas everybody.