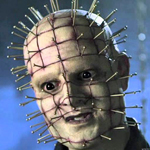 HELLRAISER: REVELATIONS, the final nail in the head of Pinhead, has the audacity to open as a fucking found footage movie. Two young bros named Nico (Jay Gillespie, ANDROID COP) and Steven (Nick Eversman, VAMPIRES SUCK and this week's episode of Agents of SHIELD) make a video of their road trip from L.A. to Tijuana, (which they think is hilarious to say in a fake Mexican accent). Nico in particular is an obnoxious dick begging to be punched in the face and/or torn apart by hooks, very reminiscent of the guys that get killed in the opening of TEXAS CHAINSAW MASSACRE 2. He smirks with pride as he blows your fuckin mind by talking excitedly about donkey shows and hookers. Get it.
Jump cut to Nico shirtless on the floor in a square of candles solving the famous Lament Configuration puzzle box. And then Pinhead is there asking for the box. Or, wait… who is that guy? If you've seen BLOODLINE you remember it because Pinhead was in space, if you've seen REVELATIONS you remember it because they dressed some other dude up as Pinhead.
I knew that much going in and assumed they would at least try to do a different take on the character, a different interpretation. Not really. Just some guy (Stephan Smith Collins) who has noticeably buggier eyes, dubbed by somebody trying to talk like Doug Bradley. The one consolation is that there's another Cenobite with a more messed up face, called "Pseudo Pinhead" on the credits, who Pinhead puts nails into himself. This guy here: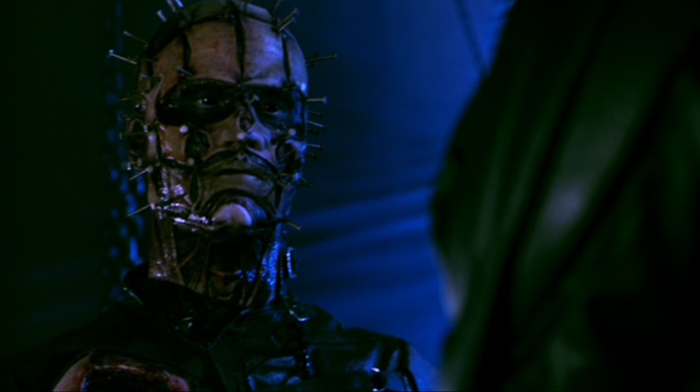 So we could imagine that this main Pinhead is also a Pseudo Pinhead who was created by the real Pinhead to take over while he, like, goes on vacation or something.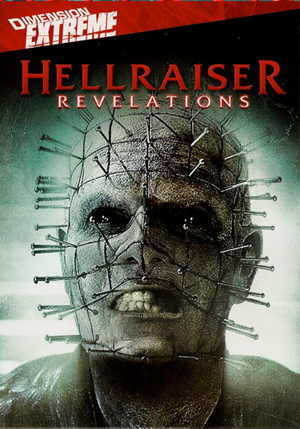 REVELATIONS didn't happen because the studio (still Dimension… except this time their prestigious EXTREME!!! division) cheaped out or got mad at Bradley. It wasn't really intended as a "movie" per se but more of a contractual obligation quickly shat into the market in time for Dimension to retain the rights to the series. Because
1. how could they have known to allow for a reasonable amount of development and production time before a specific date decided upon years ago
2. what if these rights fell into the wrong hands? God forbid they end up with someone who didn't really care about the series and just used it as a brand name to slap on some crap every couple years to squeeze out a couple more bucks
Bradley read the script, written by Gary J. Tunnicliffe (a makeup artist who'd been making Cenobites since part 3) and didn't want to be in it, saying that "this does not seem to me to represent a serious attempt to revive the Hellraiser franchise." But the show must go on, so they went ahead and made it without him.
Director Victor Garcia, like Tunnicliffe, came from a special effects background, but he had already directed RETURN TO HOUSE ON HAUNTED HILL, FROST GIANT (starring Dean Cain) and MIRRORS 2.
Clive Barker, in response to the film using his name in advertising, wrote, "If they claim it's from the mind of Clive Barker, it's a lie. It's not even from my butt-hole."
This story that is Not From the Butt-hole of Clive Barker is not any sort of epic or apocalyptic tale like the similarly titled Bible story. If that was the intended reference it could only makes sense in that this is the end of the world for the HELLRAISER series. It's mostly about two beautiful, well-dressed families in a fancy house, shot with all the visual panache of a day time soap opera by cinematographer David A. Armstrong (SAW I-VI). Look, this is a scene from a HELLRAISER movie: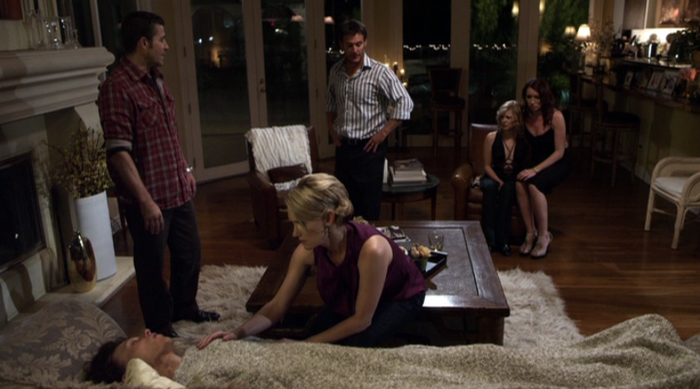 The families are the Cravens and the Bradleys (oh, what a great tribute to Doug Bradley!), parents of the two boys on the video, who are now presumed dead. Also present is Emma Craven (Tracey Fairaway), sister of Steven and girlfriend of Nico. She suddenly throws a fit about how they all just act like everything's normal, why don't they talk about how Steven and Nico disappeared and might be dead and her mom is obsessed with watching a video of it.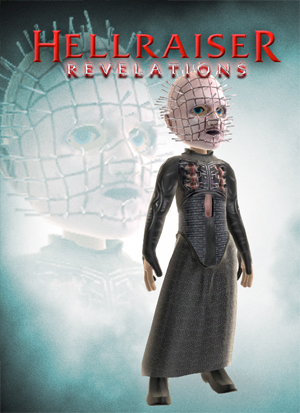 And then Steven shows up. He seems confused and says someone is after him, and they try to get him to explain what happened to his friend, but he passes out on the couch there and they attend to him and get in emotional arguments with each other about what to do.
This story is intercut with flashbacks to what happened in Tijuana. They went to a bar and hit on a woman; Nico had sex with her in a bathroom stall and somehow killed her. Then they met a weirdo vagrant (Daniel Buran, THE HUNGOVER GAMES) who gave them the puzzle box. Nico ends up in Hell and then coming back skinless and trying to make Steven kill hookers for him. I guess it's kind of an interesting twist that it's a guy making his buddy kill for him instead of his girl. The makeup is good but it looks so much like Frank that you can't help but compare this young man and realize that he doesn't have what it takes to be Frank. Sure, he's racist and misogynistic and a murderer, but he's just some babyfaced 25 year old entitled douche. He doesn't have Frank's edge.
They do seem dedicated to getting some weird sex stuff in here. Not full-on Clive Barker I-want-to-fuck-a-porcupine-lady weird, but at least uncomfortable. First there's a part where Emma plays with the box and starts acting super horny while sitting next to her dead boyfriend's dad, who tries to hide from his wife that it turns him on. Then in the very next scene Emma brings soup to her brother in bed and they have a sweet talk that turns into them making out. And even before it happens there's a long, painful sexual tension thing going on where they keep moving closer together. Yuck.
Towards the end they bring in all the HELLRAISER tropes: somebody wearing somebody else's skin, somebody solving the box, light glowing through the slats of the walls and the Cenobites show up. This is at least the part of the movie where they make it look like a professional horror movie. But it's still just a dumb standoff. Impostor Pinhead arguing with a kid in pajamas holding a rifle.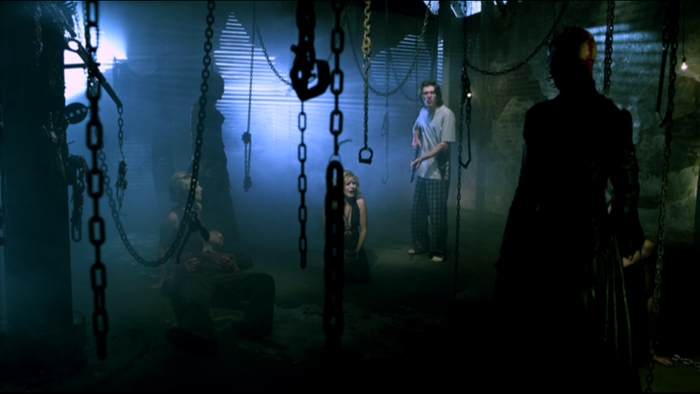 There is some gore, if that's what you're looking for. A throat gets torn apart, that kind of stuff. I guess that's why it's Dimension EXTREME! It's gross, but nothing new that makes you feel dirty, like those early HELLRAISERS.
It barely has an ending. Pinhead kills the mom and claims that Emma has some dark side to her that "we will be waiting" for. There is little evidence for this except for when she got horny with the older man and the brother. Suddenly she and her dad are back at home, apparently okay, and they hug and she tells him how much she loves him. Then he I guess dies, and she immediately gets the puzzle box and then looks into the camera in a possibly mischievous manner. I really don't know.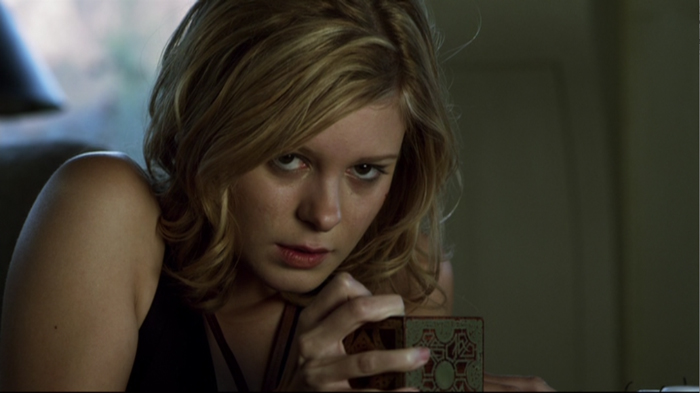 BOOM! THE END! OF THE ENTIRE 9 MOVIE SERIES!
(UPDATE: Except later they did a tenth one called HELLRAISER: JUDGMENT!)
Whoever did the English subtitles on this one was not too enthused about the movie either. Even I was able to follow most of the character's names, but they just write everybody out as "Man" or "Woman." In the Mexico scenes when they say basic Spanish phrases like "como esta?" it just says "[foreign language]." Yeah, that's about the effort this one deserves.
* * *
I've enjoyed doing this series of reviews, partly because they span a period of over a quarter century, so each installment has a new context within the history of modern horror. This one came out in 2011, so about six years had passed since HELLWORLD. Researching the notable horror movies that came out just during that gap really gave me more respect for 21st century horror.
Sure, we always think of it as a period of recycling, and there is truth to that. Horror remakes (both of old classics and recent foreign hits) that were released during this period include BLACK XMAS, CHILDREN OF THE CORN (DTV I guess), THE CRAZIES, DAY OF THE DEAD, THE EYE, THE FOG, FRIDAY THE 13TH, THE HILLS HAVE EYES, I SPIT ON YOUR GRAVE, THE INVASION, IT'S ALIVE, MIRRORS, MY BLOODY VALENTINE 3-D, A NIGHTMARE ON ELM STREET, THE OMEN, ONE MISSED CALL, PIRANHA 3D, PROM NIGHT, PULSE, SHUTTER, SORORITY ROW, WHEN A STRANGER CALLS, THE WICKER MAN and THE WOLFMAN.
And of course, this being horror, there have been plenty of sequels (including to a few remakes). These include 28 WEEKS LATER, COLD PREY 2, HATCHET II, FINAL DESTINATION 3 – THE FINAL DESTINATION, THE GRUDGE 2, HALLOWEEN II, THE HILLS HAVE EYES 2, HOSTEL: PART II, SCREAM 4, SURVIVAL OF THE DEAD and SAW II-3D. Also a few prequels such as BEREAVEMENT, COLD PREY 3, HANNIBAL RISING and TEXAS CHAINSAW MASSACRE: THE BEGINNING.
And it was a time when some of the studios had divisions dedicated to DTV sequels to their theatrical originals, and they were pretty prolific about it. Others besides REVELATIONS (and I'm betting almost all of them are better than REVELATIONS): 30 DAYS OF NIGHT: DARK DAYS, 2001 MANIACS: FIELD OF SCREAMS, ANACONDA 3: OFFSPRING, CABIN FEVER 2: SPRING FEVER, THE DESCENT 2, FEAST 2: SLOPPY SECONDS, THE GRUDGE 3, I'LL ALWAYS KNOW WHAT YOU DID LAST SUMMER, LAKE PLACID 2, LOST BOYS 2: THE TRIBE, PULSE 2: AFTERLIFE, PULSE 3: INVASION, PUMPKINHEAD: BLOOD FEUD, RETURN TO HOUSE ON HAUNTED HILL (from this movie's director, Victor Garcia), RETURN TO SLEEPAWAY CAMP, SPECIES: THE AWAKENING, STIR OF ECHOES: HOMECOMING, VACANCY 2: THE FIRST CUT, WHITE NOISE: THE LIGHT, WRONG TURN 2: DEAD END and WRONG TURN 3: LEFT FOR DEAD.
Influential to REVELATIONS, of course, were a slew of found footage movies, though not as many as I'd expect. It started with PARANORMAL ACTIVITY, and part 2 also came out during that window. Also there were DIARY OF THE DEAD, LAKE MUNGO, THE LAST EXORCISM, [REC] and its remake QUARANTINE.
Okay, yes, that's alot of recycling and franchising. But also during that period there were many original movies (or new adaptations of literary material). This is not nearly everything, but I will include some that I like, some that I know have their followings, a couple that everybody hates but I enjoy their craziness. They represent a broad range of subgenres and many countries including France, Australia, Norway, Italy, Britain, Spain and Mexico. They include:
30 DAYS OF NIGHT, 1408, BAD BIOLOGY, BEHIND THE MASK: THE RISE OF LESLIE VERNON, BLACK SWAN, THE BURROWERS, THE CHILDREN, COLD PREY, THE COLLECTOR, DRAG ME TO HELL, FRONTIERE(S), FROZEN, GRINDHOUSE, HATCHET, THE HOUSE OF THE DEVIL, I AM LEGEND (I consider this a re-adaptation), INSIDE, INSIDIOUS, JACK BROOKS: MONSTER SLAYER, LET THE RIGHT ONE IN, THE LOST, THE LOVED ONES, MARTYRS, ACADEMY AWARD NOMINEE BRADLEY COOPER'S THE MIDNIGHT MEAT TRAIN BY BRADLEY COOPER, THE MIST, MOTHER OF TEARS, MY SOUL TO TAKE, ORPHAN, THE ORPHANAGE, P2, ROGUE, SEE NO EVIL, SEVERANCE, SHEITAN, THE SIGNAL, SILENT HILL, SLITHER, TEETH, TRICK 'R TREAT, TUCKER AND DALE VS. EVIL, WE ARE WHAT WE ARE, WOLF CREEK, THE WOMAN (okay, technically a sequel or spin-off of OFFSPRING, which also came out during this period, but is not good) and ZOMBIELAND, among others.
We always like to think they don't make 'em like they used to, and they don't. They never do. But this is pretty recent period we're talking about here and they were still making 'em pretty good. We can be thankful for the times we live in. That's the real revelation I guess.
Thank you friends for reading these reviews. I hope you got alot of good recommendations for movies to watch, such as only the first two HELLRAISERs, or other movies that were mentioned in the reviews other than the movies that were being reviewed. It's been good. I had fun. At times.
P.S. if you enjoy this and my other ambitious series of reviews, such as the award-snubbed KID 'N PLAY: 20 YEARS ON FILM – A CINEMATIC LEGACY, please consider scrolling up and looking at the sidebar for ways to support outlawvern.com such as donations or using my Amazon links when you buy shit (doesn't even have to be the things I link to). You don't have to, this is a free country, I'm just asking you to consider it. thanks bud