Sometimes when we talk about all these horror remakes it seems kind of senseless, you can't even tell what they're thinking when they pick which movies to remake. But the reasoning behind this one is clear: HOUSE ON SORORITY ROW is one of our culture's most recognized and beloved stories ever. The name recognition alone is invaluable, even if you change the name, like they did here. But the idea of a killer going after sorority girls to avenge a prank gone wrong, you can't just make something like that up. You gotta remake it up. You buy the rights to it, then you change what the prank is and who is accidentally killed and who gets revenge and how they do it and why, and you change the title and most of the characters and events.
I trust I've made my case. This young generation was hungry for a movie that is not named after but is slightly similar to a whole bunch of movies they never heard of including HOUSE ON SORORITY ROW. These producers and filmatists could feel that hunger, they could hear the growling stomach of the zeitgeist, and they delivered it this pizza. And we, as a culture, used a coupon and didn't tip.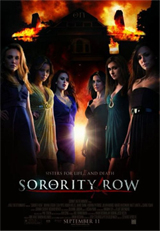 SORORITY ROW doesn't aspire to more than being a stupid throwaway forgettable slasher movie, so it doesn't fail that bad. It has a couple funny kills, like the one where the girl has a wine bottle hammered into her mouth, and I forget the other one. Most of the characters are deliberately hatable, especially the Kim Catrall wannabe alpha-bitch leader who bullies her sorority sisters into covering up the accidental killing of their friend so as not to risk her relationship with a senator's son. There's also a good-girl character who felt the most guilty about what happened (kind of the Sue Snell of the movie) and we know she's good because we're told she did unspecified "charity work" during the year the movie skipped over. That's how guilty she felt.
Bruce's daughter Rumer Willis plays the shy girl with glasses, and I wouldn't dream of giving away whether or not she finds the inner strength to turn tough and snuff the killer at the end, let alone if I was disappointed that she doesn't say "Yippy ky yay, woman hater" or anything along those lines.
Unfortunately there's not too much to recommend this movie, although I did laugh at some of the dumb dialogue and behavior, and I appreciate that. I know that girl getting killed was an accident, but I do think it was poor judgment to say she's dead and it's time to dismember her body and then have everybody turn their back on the guy who really believes they're trying to dispose of a body. He stabs her with a tire iron, so the movie's avenging slasher uses a tire iron with fancy blades attached to it. We've seen several people murdered with this weapon and understood what it was and then near the end they have a character look at it and point out explicitly that it's a "pimped out version" of the tire iron. Thanks for the Cliff's Notes, lady.
At one point there was some graffiti by the killer and I was trying to figure out what the hell "the tapi" is before I figured out it was a run-together "Theta Pi must die." And I laughed because then I remembered that when this was in theaters I kept seeing ads with "thetapimustdie.com" and I couldn't figure it out then either, it just looked like "the tapi must die." It's all Greek to me, ha ha, get it.
Hopefully these writers did a better job with PIRANHA 3-D. If not, hopefully the directational chops of Alexandre Aja and the magic of 3-D piranhas chewing shit up will make that one more memorable. The direction here is fine, but nothing special. Every once in a while there's a really beautiful shot, or a funny one, like when the girls come walking in slow motion out of a burning house like a bunch of badasses. They think they're the opening credits of RESERVOIR DOGS or something, but they're all showing off their cleavage and one of them has no pants on.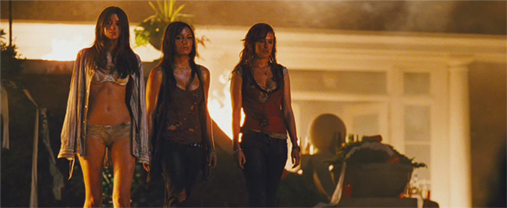 How does the remake top the original? Well, it's more expensive. The parties are much bigger, with an elaborate tracking shot around girls in pajamas having a feather and pillow fight while bouncing on a giant trampoline, or playing in a mountain of bubble bath suds. There are more extras and they are more carefully modified with delicate hair tints, laser tans and advanced titty customization.
The real Game Changer though is how much they use text messages, cell phone cameras and the light from their phones. This is a crucial update because real sorority girls would watch the original, which has none of that, and wouldn't understand what the fuck was going on. To them it might as well be a western or a Roman gladiator picture. This was the only way to get them to relate. Somebody should put some texting in all the Shakespeare plays to make them more relevant to today. And A CHRISTMAS CAROL. And SCREAM. That movie holds up but the cell phone technology is so out of date. Most people don't even own cell phones in that movie! It's like in BULLITT how they have that computer that fills up most of a room. Laughable.
Speaking of SCREAM, remember Carrie Fisher's horrible cameo in SCREAM 3? Hopefully not. She has a small part here that's much better. She's the gruff house mother, hated and accidentally killed in the original, but not in this one. She survives long enough to go after the killer with a shotgun. Good for Carrie Fisher.
Another thing about SCREAM: I'm not sure but I think we might've hit that horrifying moment when we have a wave of slasher movies that are nostalgic for that wave of slasher movies that came after Kevin Williamson got nostalgic for the wave of slasher movies that came after HALLOWEEN. It's not postmodern at all, praise Jesus, but it's got that I KNOW WHAT YOU DID LAST SUMMER guilty secret vibe and it has the SCREAM whodunit, unmask the killer like Scooby Doo at the end type story, complete with the red herrings and the URBAN LEGEND style completely arbitrary solution to the mystery. Seems like they probly filmed the whole movie and then spun a bottle to see which actor got to be the killer. Anyway it definitely seems more like it's trying to be like those '90s slashers than like HOUSE ON SORORITY ROW. Even the poster there looks pretty '90s.
God damn, we're old, aren't we? What are we doing watching this shit?