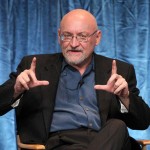 THE MIST is called THE MIST because it's a cool and refreshing vapor of soothing horror quality in a sea of crappy bombast. Also because it's about a mysterious mist that surrounds a small town and when they go into it there's monsters. The small town is Castle Rock, Maine and you know what that means: based on a Stephen King story. The weird thing is the hero, Thomas Punisher Jane, is not an alcoholic writer, he is a guy who paints movie posters exactly like Drew Struzan (he even painted the poster for THE THING, just like Drew Struzan did, and came up with the same poster). So this is real new territory for Stephen King.
After a storm wrecks Tom Jane's painting, his window, his boathouse, and his asshole neighbor's Mercedes he takes his son and the neighbor (the great Andre Braugher of TV's HOMICIDE: LIFE ON THE STREET) to the Food House grocery store. The place is chaotic with everybody stocking up in case of more storm and you can imagine how much worse it gets when The Mist traps everybody inside. By the way, even though this is Stephen King the grocery store is not possessed, not even the mist is possessed, it's just mist that happens to surround monsters, which may or may not be possessed. I'm not really sure if monsters can be possessed or not, I have not considered this before.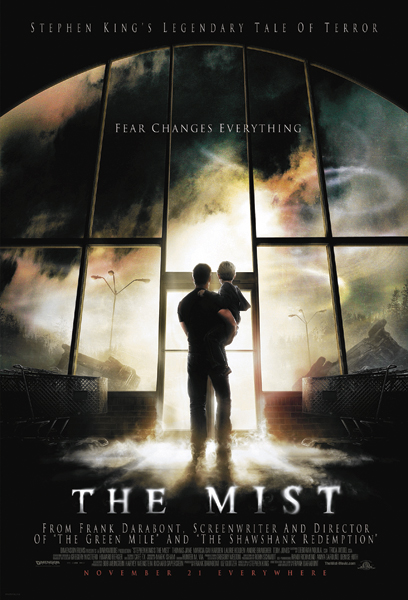 There's kind of a microcosm thing going on here. The story shows how people turn on each other due to fear. At first they band together and they trust the authority of the guys in uniform (strangely I'm talking about the guys with the Food House aprons, not the three uniformed soldiers who happen to be there). But as things get crazier tensions rise, they argue, they split into teams. Working class don't trust college boys. Locals don't trust out of town vacationers. Out-of-towners think locals are talking shit about them. The biggest split is religious when Marcia Gay Harden believes these are the end times, starts preaching, develops a flock.
This is a good movie but not a perfect one, and this religious part is the most not-perfect part. Leave it to the one Oscar winner in the cast to stink up the joint with overacting. I guess she's subtle compared to Piper Laurie as Carrie White's mother, but not by much. Luckily I expected worse based on the trailers so it didn't ruin it for me. But I think this "crazy religious lady who thinks she's a prophet" cliche should've been left in the book. It would be way scarier with some rewrites and re-acts so she's not completely nuts, she's not cruel or evil, she just has extreme religious views that endanger the people who don't agree.
There are other bumps here and there – Jane goes from telling people not to go outside to wanting to go outside himself a little fast, his son has some corny dialogue, the feisty old lady using hairspray as a blowtorch is a little too much – but overall this is a solid, well told horror story. There's nothing shockingly original about it, but there are many points when it avoids the obvious turns. For example, Jane and some other guys are in the back room when some tentacles reach in from outside. They try to tell the others about it but nobody believes them and at first they won't even come back to look at the piece of tentacle Jane hacked off with a fire axe. When they finally convince somebody to go back there it could be an "I swear, it was right here!" moment but instead the tentacle is right where they left it and they even poke it with a stick and make it wiggle. Yep, it's a tentacle.
The craziness of the Mist escalates and the people witness various strange and scary creatures. Giant bugs may or may not be involved. The creatures are well designed and look pretty real. There are some good scares and few cheap ones.
This is a great setup for a Romero style horror movie – a good location, lots of character tension, good monsters and a device to keep them out of sight and mysterious. It's rare these days that a movie takes a good, simple premise like that and follows through with it, but this one does. And they have a secret weapon in Tom Jane. He is the protective father, the take charge hero, the nice guy talking common sense, the macho guy ready to take a risk, all wrapped up in one guy. Director Frank Darabont (co-writer of ELM STREET 3) said he wanted to give Jane a role that really took advantage of his talents. I guess he must not know about STANDER. But this is a good role for Jane.
Although the theme of how fear divides people obviously applies well to post 9-11 type America, this movie feels timeless. There's nothing tying it to modern pop culture or current film trends. Except for the digital effects it almost could've been made any time from the '70s until now. In fact it's so old school that on the DVD Darabont includes a black-and-white version of the movie – I'll have to try that out next time I watch it.
"The ending" seems to be controversial partly because it's different from the book. I can see the complaints, there are other directions it could go which could be interesting. But man, the way it ends is such a punch in the balls I had to kind of admire it. You like Tom Jane and wish things could work out for him, but it looks bad for him. Then his fate turns out worse than you could have guessed. Film buffs usually have a kneejerk reaction against happy endings (for example I can't talk about Spielberg's WAR OF THE WORLDS without somebody saying the whole movie is worthless because the son survived at the end). It's funny for once to see people mad because an ending is too darked and fucked up. You don't get that too often.
In the Stephen King movie hierarchy, well, this is not a masterpiece like CARRIE or THE SHINING. But it's on the tier just beneath those, the good solid movies destined to maybe be a little underrated and forgotten but definitely be pulled out every couple of years and enjoyed.