Honestly all I knew going into THE WOMAN was who made it, that it was supposed to be really good, and that some dude flipped out when he saw it at Sundance and had to be removed as he yelled that the movie had no value and should be burned.
The director is Lucky McKee (MAY) and he wrote it with the novelist Jack Ketchum, who he also collaborated with on RED (the good RED – sorry Bruce). I liked both of those movies quite a bit, but this is McKee's best work yet. It's surprising and it's darkly humorous and it's the rare horror movie that works without following the template of any previous movie, at least not one that I can think of. So this is one of those reviews that I recommend you don't read yet unless you either already saw the movie or don't plan to see it. I didn't see a trailer or anything and I was glad I didn't really know what it was about at all.
After seeing the movie I finally did read what it was about. Some people (including McKee) say it's about a middle class family trying to civilize a feral woman. Okay, sort of, but "trying" might be too strong of a word. A family making a genuine effort to do that would be an interesting story too, but that's not what this is. They keep The Woman chained up in a shed for days before they even try to clean her off. Eventually they give her clothes, but they don't teach her anything. It's not like she's Edward Scissorhands and they condition her to eat dinner with them and pass the butter and everything. It's more like a wild animal they're trying to keep as a pet, but she's so dangerous they can't give her any freedom at all.
I once knew a guy that built a big cage out of sticks and said he was gonna catch a crow in it. I don't know if he ever pulled it off, but if he did I bet he never taught the crow to sit on his shoulder and eat seeds from his hand. And that doesn't happen with this The Woman here either.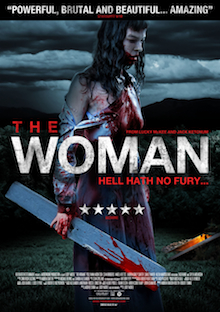 The genius of the story is how casual it is about this insane idea. It kind of acts like this is ordinary small town living. It's obvious that there are problems in this family of five. The older daughter (Lauren Ashley Carter, who looks like a baby Helena Bonham Carter but doesn't seem to be related) is clearly depressed at the very least, the son (Zach Rand) seems a little cruel (he sits and watches dispassionately as other boys manhandle a young girl at a barbecue), the mother (Angela Bettis from MAY and THE TOOLBOX MURDERS) seems distant, the dad (Sean Bridgers, CHILDREN OF THE CORN II: THE FINAL SACRIFICE) seems like kind of a dick. But all that's very middle of the road for a horror movie family. They're not obvious psychos like a TEXAS CHAIN SAW MASSACRE or overcompensatingly wholesome like a STEPFATHER.
Because of that it's more unsettling (and darkly funny) when dad has the whole family helping clean out the basement for a surprise project. He saw that feral-Xena-looking woman while he was hunting earlier so we're thinking wait a minute, is this guy really gonna– yep, he wants to sneak up on her outside of her wolf-cave, throw a net on her and drag her to the basement to keep as a pet.
He gets her all chained up, deals with the wound she gives him and then excitedly brings the whole family down to show them what he brought home. They seem a little shocked but they roll with it and are ready to chip in with new responsibilities, as if they just got a new dog or a baby brother.
Despite this extraordinary thing going on in the family the movie slyly continues with more ordinary subplots: the boy is jealous of a girl that shoots free throws better than him, the girl's geometry teacher is worried about her. It's about the way people (or specifically men) can be cruel without even thinking about it. After The Woman (or "that animal lady" as the youngest daughter calls her) bites off the tip of the dad's ring finger he says "That is not civilized behavior." The so-called civilized get to decide what counts as civilized, so if they want it can include inequality, capital punishment, genital mutilation, apartheid, slavery, locking a wolf lady in your basement, whatever. They can do horrible shit and still act high and mighty when somebody violates one of their rules.
Bridgers (who looks kind of like Will Ferrell) is fantastic as the real villain of the movie, who for most of the running time seems to have no idea that he's a bad person. The costumers also avoid giving him some kind of scary HOSTEL-worthy torturer's outfit. At one point he wears pink kitchen gloves with daisies on them. Without seeming to play anything for laughs he got me with a bunch of lines, like when he tells the Woman "I've got kids to raise around here, young lady, and disobedience is not something I want them to witness." Doesn't mind them witnessing kidnapping and stuff.
Another favorite: "God only knows how she got that way, but we cannot have people running around in the woods thinking they're animals, it isn't right. It's not safe."
At least outwardly he seems to believe he's doing the right thing, but of course he knows he has to keep this thing secret, he doesn't go tell everybody at church that they're doing a good deed. And plus we've had our suspicions about his motives since he first watched The Woman naked, hunting fish with a knife. The women in the family seem very worried, but they go along with it. The son seems intrigued and happy to help. He doesn't even hesitate when his dad tells him to "get the scoop shovel" and clean up human feces. Eventually, when Mom questions the whole project with a charitably worded "Do you really think we should be doing this?" she gets slapped.
I have to say, I disagree with Crazy Yelling Man at Sundance. And I think he should give this movie another shot, he'd probly dig it the second or third time. Okay, that's not true, I kinda feel like he was mistaken to think he was gonna enjoy the midnight horror movie that year. But he is clearly, blatantly wrong with his interpretation of the movie as having "no value" and "degrading women." I hate it when numbskulls mistake showing something in a movie with agreeing with it. I don't remember anybody saying that SILENCE OF THE LAMBS promoted skin-wearing. Of course the behavior in the movie is extreme, but from early on it seems way more interested in a very grim sort of satire than in what people usually mean when they say "shock." It's rubbing your face in a point, not in a bunch of blood and crying.
At first I saw it as being about how brutality can be disguised as "civilization," but as I think about it more there's obviously alot about gender in here. The father and the son (who's struggling to be more manly) are cruel, they are rapists, they are competitive. That kid oughta have a crush on the girl who's so good at basketball, or at least be her buddy. Instead he's jealous and plays cruel tricks on her, too cowardly to even cop to it. She has no idea and thanks him for allegedly trying to help.
Meanwhile the mother and older daughter are obviously troubled about what's going on, but too afraid to speak up. The daughter hides not only what's going on in her family but other serious problems, even from a woman at school who really goes out of her way to help.
The only people mentally free from this patriarchal system are The Woman and the pre-school age daughter Darlin' (Shyla Molhusen), who have been able to remain in their natural states. Darlin' isn't in the movie that much, but she's hilariously oblivious to what's going on and whenever she talks she has some weird thing that only a little kid would think to say. She seems a little scared of The Woman but also likes her enough to bring a toy radio out to the trap door and play Korean pop music and shit for her. I'm not sure if that's what wolf-people are into, but it's a sweet gesture.
The Woman is played by a woman named Polly McIntosh, and she's so good I have trouble thinking of it as a performance. She has sort of manly features, broad shoulders, a weird posture and bitter eyes. I almost didn't want to watch the behind-the-scenes stuff just so I wouldn't have proof that she's a normal human being. Turns out the story exists because she was so good playing the same character in a previous Jack Ketchum movie called OFFSPRING that he and McKee wrote a sequel about her. I've heard that OFFSPRING is terrible but that the book is good, and that it's already a sequel to another book called Off Season that's not a movie. I'll check the books out, but for now it's cool that THE WOMAN stands on its own and then turns out to have a backstory too.
At a late point in the movie there's a bit of a surprise, a weird reveal that threw me for a loop at first. If you haven't been spoiler warninged enough this is your cue that I'm gonna give away this little twist and the ending in this paragraph and the next one. It's the part where you find out that the family also has some sort of a dog-girl living in their shed. When it first happened I didn't like it, because it violated my idea that these people were almost normal when they decided to add a pet The Woman to the family. (of course, I had to ignore the implications that the daughter was being molested to go with this logic.) But I really like how they set it up without me even realizing it. There's that scene where the mother says what's going on with the dogs could put him in prison, and all I thought was "oh, what is he doing with the dogs? He's keeping them locked up illegally?" After all, DMX got busted for having a bunch of dogs and leaving without having somebody feed them. It could happen. Then when this happens you realize what she's really talking about.
But as this settled in I started to like it and it helped lead to what I thought was the most perfect ending I've seen in a while. This savage woman-beast, having murdered their parents, walks off into the sunset holding hands with Darlin', and the dog girl running along side them like Lassie. And then the older sister (and unborn child) look like they decide to go too. What the hell is gonna happen? Are they really gonna all go live in a wolf cave together? If so this is definitely a better environment for the dog girl. And maybe even for Darlin', assuming she gets to keep her radio. At least she won't grow up to be like dad. It's a disfigured parody of a Hallmark happy ending. Such a weird combination of horrible and hilarious and adorable that I just gotta love it. In baseball terminology it's a walk off home run.
I don't think I've been this excited about a new horror movie since MARTYRS, but the two are very different. This is not as polished, not as complex and not nearly as gutpunchingly brutal (although it is one of only a handful of movies last year where a kid gets beheaded and you kind of think he deserved it). But like MARTYRS it's a disturbing story that plows through formula and expectations and comes out the other end a unique, almost even enjoyable experience. And covered in the blood of formula and expectations, I guess.