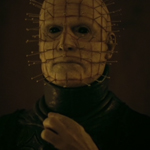 It wasn't much more than two years ago that I finally bit the bullet and reviewed the entire HELLRAISER series. I'd always had an attachment to the four theatrical ones (HELLRAISER and HELLBOUND: HELLRAISER II are still classics, HELLRAISER III: HELL ON EARTH is ridiculous, HELLRAISER: BLOODLINE is a mess with its hellbound heart in the right place) but had previously stayed the hell away from the DTV sequels (HELLRAISER: INFERNO (directed by Scott Derrickson), HELLRAISER: HELLSEEKER, HELLRAISER: DEADER, HELLRAISER: HELLWORLD and HELLRAISER: REVELATIONS). That last one feels for all the world like they just had to shit something out by the end of the month to maintain the movie rights, and that's what they came up with. Yet they've gone almost seven years without making a new one or a remake. Could it be that they finally decided to let it–
AH, FUCK. They made another one. And you know me, I'm a completist, I can't be the guy who's watched nine of the ten HELLRAISER movies. I had no choice but to watch this shit.
In many ways it's the same shit. Same fucking Dimension Films minus one Weinstein brother on the credits. Same low budget, same no Clive Barker involvement, different guy who's not Doug Bradley playing Pinhead. This one is directed by Gary J. Tunnicliffe, who wrote REVELATIONS, which is by far the worst HELLRAISER, and that's saying something. In his defense, he told Fangoria "I was devastated to not be able to direct REVELATIONS and to see the script whittled down and shot in a way that I would not have done." He's not some Johnny-come-lately to the series – as a makeup artist he's worked on parts III-8, as well as on the authentic Clive Barker movies CANDYMAN and LORD OF ILLUSIONS. In addition to writer/director, here he gets the credit "Special Make Up, Costume Characters and Key Props Designed and Created by Gary J. Tunnicliffe and Mike Jay Regan."
And, to be sure, this is a much better movie than REVELATIONS, a more worthy extension of Barker's universe, and a better guy trying to be Pinhead (Paul T. Taylor looks and sounds more like regal Doug Bradley than the last guy). The pre-credits sequence alone has more sicko imagination than any of the other DTV sequels. There's a new set of characters who are sort of the legal system working beneath the Cenobites. The Auditor (played by Tunnicliffe himself) is an effectively weird character who interrogates a captured child murderer and types up a report on his sins.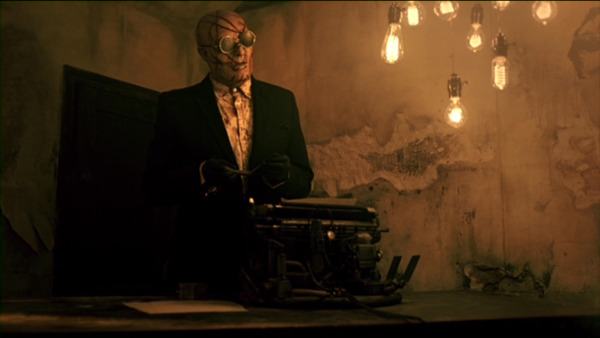 By the seven minute mark we're already seeing The Assessor (FEAST director John Gulager in a dirty sport coat with no shirt underneath) pouring children's tears (!) on the report, eating it…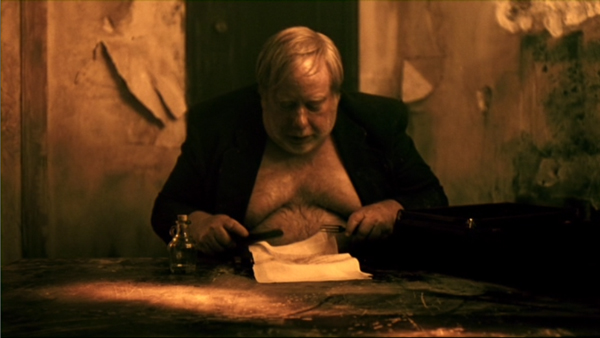 …and puking it into a funnel that pours into a trough where a "jury" of topless women with skinless faces put their hands in the puke and declare the defendant guilty.
You know. That kind of movie.
I'm thinking okay, well the filmatism is on the cheesy side. Barker made his first masterpiece for only a million dollars, but that was when you still got to use film, and anyway most people don't have the artistic eye he had. Barker was a fringe theater maniac, painter and visionary author, this is a guy who directed HANSEL & GRETEL featuring Howie Mandel and Sinbad and JACK AND THE BEANSTALK featuring Gilbert Gottfried and Chevy Chase. But Tunnicliffe has come up with some genuinely bizarre stuff here, this is not at all a copy of what Barker did, but with a not-unrelated seediness. This is surprisingly good.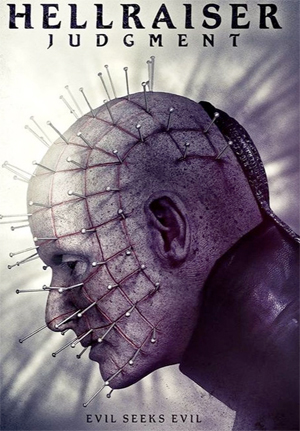 But then the plot starts. And god damn it, this is another cop movie that's barely related to HELLRAISER and also doesn't cut it as its own thing. When we meet the two detectives, troubled combat vet Sean Carter (not Jay-Z, and played by Damon Carney [THE LONE RANGER]) and prissy uptight David Carter (Randy Wayne, ANDROID COP) the very first line is the ultimate cop cliche: "You look like shit." A scene or two later we have one of them coming home to his disappointed wife (Rheagan Wallace, SIX STRING SAMURAI, 7th Heaven) because he got too involved in the murder case and forgot her birthday. I guess I didn't catch their names, because I didn't understand until near the end that they're not just partners, they're brothers. That's different, I guess.
They're tracking a serial killer who calls himself the Preceptor and has been killing people in ways based on the ten commandments, which is totally different from SE7EN man I don't even know what you're talking about this is commandments not sins and it's a different number of murders. A higher number. Any similarity is coincidence.
Obviously it lacks the style and grim execution of that other completely different movie, but it does have one thing over all other Fincher rip-offs: a part where the belly of a corpse starts moving because the killer sewed her dog up inside there.
Okay, that was impressively disgusting, but does any of this have anything to do with HELLRAISER? Well, it will later. Until then, enjoy the occasional part where it cuts to Pinhead and he leans back in his chair and smiles.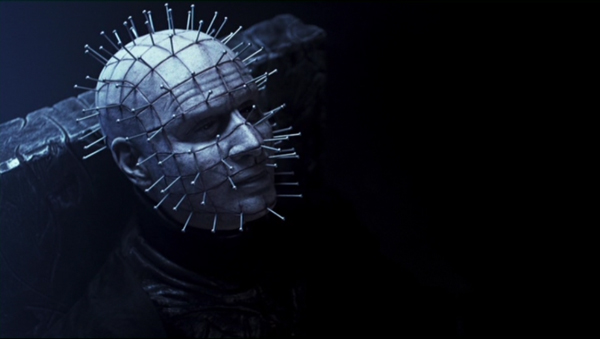 Eventually one of the officers is questioned by the Auditor and finds out about the puzzle boxes and at the very end there will be a traditional summoning of Pinhead and the chains and also a Chatterer appearance. Still no Engineer. When are they gonna figure out how to bring The Engineer back into this series? He's still one of my favorite character actors.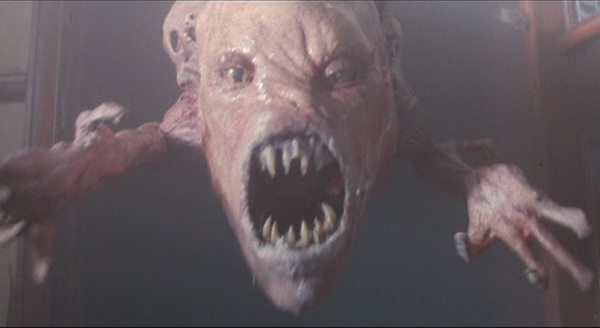 But I guess if they can't afford him I would settle for Kool Aid Man Cenobite.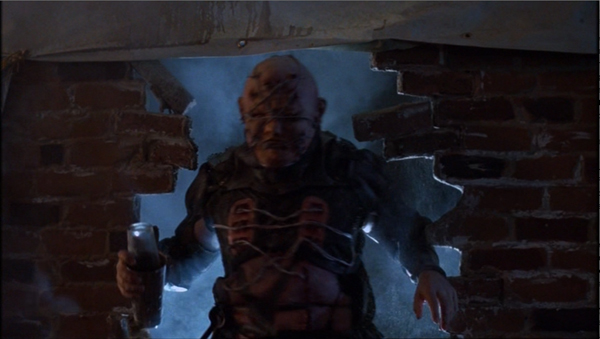 I'm not sure where it's supposed to take place, if anywhere. The auditing happens in an abandoned house with the address 55 Ludovico – i.e. the Cotton house where it all went down in parts I and II. Except that was in England and these are all Americans and I assumed it was L.A. But it was filmed in Oklahoma City.
I was excited to see Heather Langenkamp (TONYA & NANCY: THE INSIDE STORY)'s name on the opening credits, but it's a tiny cameo as a landlady who opens an apartment door for the cops and then doesn't even go inside with them. I think she's only in a total of two shots, but I guess at least she gets to (briefly) play against type, being made up to be wrinkly and calling her tenants "cocksuckers."
To the movie's credit there is a drastically new twist on the mythology in that there is an angel character named Jophiel (Helena Grace Donald), who has power over Pinhead and is able to make him set people free. This adds new dynamics to the mythology and new imagery (Pinhead in a blinding white light, talking to a normal blonde lady in white leather jacket and pumps) but, like INFERNO, I think it also minimizes and lessens the scary exoticness of Barker's Leviathan worshippers by turning them into another binary Christianity based thing – good and evil, Heaven and Hell, angels and demons. That's just not as interesting, even if the movie is nose-thumbingly heretical by (SPOILER) having the angel protect a religion-inspired serial killer. It takes Barker's stories about the lure of the taboo into SAW style moral superiority porn – high horse horror.
For the opening alone, though, I respect JUDGMENT's ambitions more than most if not all of the other DTV HELLRAISERs. Also I respect that it's only 81 minutes long. Thank you. Still, I do not think it's a good movie. I believe Tunnicliffe is sincere about wanting to make a great HELLRAISER movie, and has better ideas than some, but next time you're on the road to hell, take a closer look at the pavement and see what it's made out of. If he is the guy to do it he would probly need a company that gives a shit backing him up. Pinhead actor Taylor admits in an interview with 1428 Elm that the company made it not out of love but out of wanting to maintain the rights. Apparently it sat on the shelf for a year and he speculates that it may never have been released if they weren't in desperate need of money after the, uh, judgment of Harvey Weinstein.
I'm just some guy, nobody cares what I think, but they'd be doing me a huge favor if they either stopped making HELLRAISER movies altogether or handed them over to like a Blumhouse or even just some random dentist or real estate person or lottery winner who would undoubtedly apply more passion and taste to filmmaking than this godforsaken company ever has or will.
Dimension Films, I am auditing and assessing you, and I find you guilty of ruining everything.
p.s. Two shorts by Tunnicliffe: one about trying to redesign Pinhead for the proposed remake, and a TEXAS CHAIN SAW fan film