"Hey, I didn't think SURVIVAL OF THE DEAD was all that terrible. Just not very good." That's what I told my buddies who had seen it before me. They were surprised and appalled.
The word was abysmal on George Romero's latest, especially from the guy I saw DIARY OF THE DEAD with. He agreed with me that although that one was an embarrassing  failure at least it had some good parts. He offered no such mercy for the new one.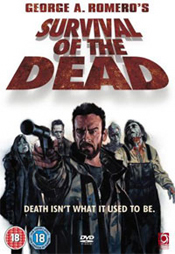 But I'm against the grain. I stand by my assessment: not all that terrible. I'm damning it with faint praise, 'cause that's the best I can offer. Light, almost imperceptible praise. A fluffy little puff of praise, gliding on air like a dandelion seed. And I hate to say it but I'm now convinced that we've officially reached the expiration date on the ol' living dead. It's time for even Romero to hang up the zombie towel for good. And that makes me sad. Pour some intestines on the curb for my dead zombies.
Tragically, this is a George A. Romero movie with bad zombie effects. That's not something I expected to see in my lifetime. In the '70s 'low budget' meant Tom Savini and friends work their asses off and do something incredible, now it means just use computers to get something semi-passable. I'm not talking like LAND OF THE DEAD where elaborate makeup effects were spruced up with some digital blood. This is people in shitty Halloween makeup given cartoony digital head explosions. Some of them don't even deliver good zombie performances, like he's not even worrying about that aspect of it anymore. Used to be you could count on his zombies all seeming like real ghouls, but not anymore. Maybe he just got sick of explaining it so many times. I mean how many times can you do a little "how to be a Romero zombie" workshop for the extras before you just don't want to do it anymore?
There's a part where a guy hands a zombie a stick of dynamite and the thing just hold onto it until it blows up. I'm sure there were other decent zombie gags, but that's the one I remember.
That would matter more if this was more of an action movie, but it's really a drama. This one picks up with the soldier (Alan Van Sprang) who robbed the protagonists in DIARY. He and his team find an old Irish guy named Patrick O'Flynn (Kenneth Welsh) who has a boat and says he can bring them to an island. Actually he's been kicked off the island for the crime of killing zombies. See, the residents of the island (led by his childhood friend Seamus Muldoon [Richard Fitzpatrick], and including his estranged daughter Kathleen Munroe) believe in chaining up the zombies of their relatives and leaving them alive. They think God doesn't want them dead and besides it's convenient for Muldoon 'cause he can keep his wife chained up in the kitchen without feeling guilty.
It's pretty weird to have so many Irish accents in Delaware, but I think Romero is trying to put you in mind of The Troubles. This is a religious disagreement with some personal bitterness and it's never gonna be resolved. This is about how even with the world staring into Hell spread-eagled like a Penthouse Pet, people won't unite to solve problems. They'll just think of new and innovative things to fight about. So I like that about the movie.
The best news: it's not done fakumentary style. Like DIARY it does have voiceover that hammers you over the head with points you could've picked up on anyway, but only at the beginning and end. And the characters, while not among Romero's best, are much less hatable than the obnoxious kids and their pretentious film professor in that one. But then none of them are real charismatic either, and you've got these accents, and lots of dry indoor conversations scenes, it kind of ends up feeling like a pilot for a TV series. (Didn't Romero almost do a LIVING DEAD TV series? I forgot about it until now but I think he was trying that at one point.)
Like DAY this one deals with zombies getting smarter and the hope that they can be somehow cured or rehabilitated. The only memorable zombie is O'Flynn's daughter who remembers how to get on her horse so she gets carried around aimlessly, which is a creepy sight. She also has a non-zombie twin sister, and this outraged my buddy for some reason. I thought it made sense, it explained why the living daughter wants to let zombies live. That's her twin! She can't kill it.
At first I was worried that the Romero voice was gone. But by the end you can definitely see ol' Big Glasses George in there, making a movie about gut-munching ghouls where he's clearly more interested in the politics than the scares. But not in an annoying way like Joe Dante in that one Masters of Horror episode. By the end I was pretty into what was going on, there are some nice ideas and a darkly ironic turn-of-events that's pure Romero. The problem is George has already said and done so much with zombies, and gotten so elaborate with it:
* NIGHT – still a masterpiece, a revolutionary independent horror movie and the beginning of what people now consider zombies.
* DAWN – even better in my book, though very different. One of my favorite movies of all time.
* DAY – at the very least the best zombie makeup and gore effects of any zombie movie. And some day I gotta write that one up because there's a whole lot more to it that people don't give it enough credit for.
* LAND – well, not everybody likes this one. But it takes his zombies in the modern day, and goes further with his post-apocalyptic world (rich people building a gated community, organized scavengers) and his zombie evolution (Big Daddy, the Spartacus of zombies).
So it feels backwards and wrong for him to be working in the same genre but smaller, simpler, and lesser. If George wants to (or has to) do these low budgets I hope he'll start using other things besides zombies to express his ideas. He's not a one-trick poney. He's done guy-who-thinks-he's-a-vampire. He's done creative-conflicts-between-honorable-knights-on-motorcycles. He's done stalker monkey. I think a new subject would go down better than these zombie ones. Not as much to live up to.
I'm not giving up on you, George. I'm just giving up on your zombie movies. What else you got?