So we got this French director Alexandre Aja who I think of as one of the good ones, but to tell you the truth he's more potential than actual achievement at this point. When I read that he wanted to do WOLVERINE, or when I thought about they could've hired him for CONAN or FRIDAY THE 13TH instead of Marcus Nispel, I imagine these great movies I think he could've made. But this is just based on the chops he showed in HIGH TENSION before the stupid twist derailed the whole thing, and on how much I like his HILLS HAVE EYES remake. But even that has that scene where the "Big Brain" character makes a big speech explaining everything, which makes me cringe every time I think about it.
So I figured if I was gonna be talking this guy up I should see his other two movies and find out if he's the real deal. His first one is a low budget French sci-fi type deal called FURIA. But here is his latest, MIRRORS, starring Kiefer Sutherland.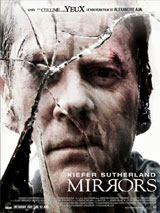 This one's a very different type of horror for him, a supernatural deal. It's a remake of a Korean movie called INTO THE MIRROR but what it really reminded me of alot was Stephen King. Troubled guy, recovering alcoholic, estranged from his wife, dealing with evil inanimate objects. He's not a writer though and there are no '50s pop songs used in a spooky context.
Sutherland's character was a New York cop who was involved in a fatal shooting incident that really messed him up, then he became an alcoholic and got suspended from the force and kicked out by his wife. Now he's living with his younger sister (Amy Smart) and has a shitty new job as the night security guard at the remains of a Macy's type department store that was gutted by a fire but is stuck in some kind of legal limbo where they haven't been able to tear it down yet. Also apparently they have not been able to remove the spooky mannequins. Fuckin red tape.
It's not about scary mannequins though, it's about scary (***!!!***SPOILER***!!!***) mirrors. We know, but he doesn't, that the last guy with his job had his throat slit by his reflection in the mirror. What I'm trying to tell you is that there's something evil about the huge mirrors inside the store. He starts to notice weird things, reflections not matching up with reality or horrifying images. Also he keeps exploring this spooky burnt out store, it gets flooded, etc. So even if he immediately knew it was some supernatural mirrors of evil, he would have every reason to believe that the whole joint was haunted as a motherfucker and the evil mirrors are only the tip of the iceberg. Luckily, no, it's just mirrors. The mannequins don't bite him, the hangers don't poke him, there is not an escalator attack. Just mirrors. That is why it is called (SPOILER AGAIN, TURN BACK NOW) MIRRORS.
He soon figures out that the mirror (the reflection in the mirror?) is trying to tell him something, so it becomes a mystery story. He uses his old police connections to chase down any leads he gets. He looks at a body in the morgue, looks through files and newspaper archives, interviews witnesses, the whole deal. Seems like a worthwhile daytime hobby for a former detective turned night time security guard/time waster, but the problem is he's trying to turn his life around. Right when he's making an effort to convince his wife that he's stable enough to be around the kids again he also freaks out and starts taking or painting over all the reflective surfaces in the house. I like that scene because the maid and the kids are scared because he's acting weird, not because he's a physical threat or something. Although come to think of it he does pull out a gun and shoot at a mirror on the front lawn. So never mind, don't have this guy around kids ever. The evil mirrors are fuckin him up. But everybody assumes it is either the alcoholism, the pills or the horrible trauma and stress. Nobody guesses it's because of evil mirrors.
I think I can understand why this got some really harsh reviews. It's a ludicrous premise and it is your responsibility as a viewer to just say "fuck it" and run with it like Kiefer does. Many people are not prepared to take on that kind of responsibility. They are afraid of commitment, but Kiefer is not. I wouldn't say he's as good as Kevin Bacon in DEATH SENTENCE, but it's a similar kind of un-self-conscious dedication to material that most people would turn their noses up to. But fuck those people.
At times I got some chuckles from him going through every page of the dramatic actor playbook: dropping to the ground and crying, exploding into angry cursing, throwing things, busting off angry shots with his gun, you name it. He very seriously says some pretty silly lines like something about, "The water is dangerous, it has a reflection!" But I don't know man, I kind of dug that about it. I hate when movies have a silly premise and they get embarrassed and have to have the characters constantly point out that it's silly. "Ha ha, isn't the premise of NATIONAL TREASURE stupid, ha ha, what a dumb movie you are watching, you are a moron fuck you, thanks for the money though asswipe, signed, NATIONAL TREASURE." MIRRORS doesn't pull that shit. It doesn't worry about you laughing at it and doesn't insult you if you don't.
I gotta say though, late in the game when his wife sees with her own eyes that the mirror is supernatural, and she tells him that she should've believed him all along – no, she shouldn't have. Yeah, I get it, you're showing that you still love him and should believe in him, but still. You should not have believed him when he told you that the mirror in a burnt out department store is somehow haunted because of an incident with a possessed girl from a mental hospital that used to be in the same location and now it's reaching out through other reflective surfaces in order to harm his loved ones if it thinks they might interfere with his search for the truth. I don't think you should feel bad about not believing that one, lady. You can still love him and not buy that.
The one part I had already heard about was an extra gruesome death scene. That's the Aja magic, a little treat for the horror fans not into it up to that point. So far in his career Aja doesn't do PG-13 horror, which is interesting because this type of horror can sometimes get away with it. These days it's surprising that a studio didn't force him to cut it. But I'm glad they didn't because the horrible fucked up thing that happens makes the silly mirror threat a little more menacing.
Overall this is a pretty solid little horror movie, made better by a great TWILIGHT ZONE type ending and an old fashioned score. I don't really think it's all that scary, and sometimes the musical stings when the reflections did something different from the reality seemed like way too much, maybe it would've been better if there was no music in those particular parts. But I enjoyed it, it was pretty decent. Doesn't put Aja in the visionary category, but supports my theory that he's a reliable director.
Still, there are some missed opportunities I gotta point out. It does deal with the threat of rear-view mirrors (the emphasis on the "Objects in mirror are closer than they appear" disclaimer confused me – does this mean the evil is closer than it appears? I'm not sure the significance), but it doesn't really get into all of the other types of mirrors. What about security mirrors in a 7-11? Mirrored sunglasses? Disco balls? The T-1000? The Silver Surfer? Kiefer never runs through a mirror maze like in ENTER THE DRAGON or TANGO & CASH. Hopefully they're saving those things for MIRRORSES.