A supernatural horror movie like DRAG ME TO HELL might seem like a weird thing to release in the end of May. But it's a hell of a fun time at the movies, making up for some of the underwhelming feelings we had from the bigger popcorn type movies. Looks like it's not doing so well right now, which is too bad. I recommend all horror fans see this immediately. But if you don't like being bossed around (and I don't blame you on that) at least read my review please. Thanks.

Have you ever had a friend, a relative or a pet that disappeared for so long you thought they were dead, and after you gave up hope they showed up again? Or maybe your car got stolen, you figured it was gone for good but then one day the cops called you and they found it on the side of a road somewhere without that much damage? Well, that's Sam Raimi. He was lost so deep in Spider-land we went through a period of denial, then acceptance, then moved on with our lives in a Raimi-free world and forgot all about him. But all the sudden the intercom buzzes in the middle of the night, we rub the sleep from our eyes and look out the window and holy shit if that isn't Sam Raimi standing at the gate holding DRAG ME TO HELL in a little cage.
Let's be fair though. I'm not gonna disavow the Sam Raimi of the 21st century. I don't blame him for getting bored with what he was doing and making THE GIFT, even if I was kind of bored with what he did in THE GIFT. And I liked his SPIDER-MAN movies, it's just that seven years of them is a heavy trade for the old Sam Raimi we loved. EVIL DEAD seems like so long ago now that when you hear his name associated with a horror movie (he produces a bunch of them through his company Ghost House) you assume it won't be very good.
30 DAYS OF NIGHT had some good parts, but there's not a particularly good track record there. There is no noticeable connection to the O.G. Sam Raimi, the guy with the energetic visuals and goofy dark humor, the purveyor of ultimate experiences in grueling horror and Three Stooges homages. The guy who strapped that camera to that car and drove it through the woods, who made a character swallow a flying eyeball, who had Liam Neeson demand the fucking elephant and blew a hole bigger than a grapefruit through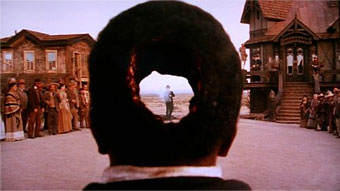 Keith David's head in THE QUICK AND THE DEAD. What happened to the guy who worshipful fans rallied around and cheered on when he got to do SPIDER–MAN and then kind of… forgot about? You see glimpses of that guy in the SPIDER-MANs, but they're hidden behind the big budgets, the top-of-the-line effects, the demands of the corporation and the iconography and the movie stars and the franchise. Not as much room to fuck around and invent shit when you've got all those boxes to check off. So we don't really get to see all his talents there.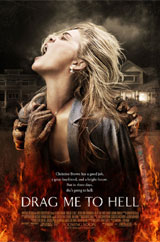 But god damn if O.G. Sam Raimi isn't back with DRAG ME TO HELL. Written with his brother Ivan just after ARMY OF DARKNESS, this is an old fashioned fun-time horror movie with a tone very close to EVIL DEAD II. It treats its story of a fatal 3-day gypsy curse seriously just like EVIL DEAD did the Necronomicon Ex-mortis. It's not another fuckin horror comedy. But you will find yourself laughing at all the inventively horrible things that befall the young loan officer Christine Brown, played by Alison Lohman.
There's a great score and arsenal of creepy sounds courtesy of Christopher Young (HELLRAISER), and the old school Universal logo and the way the title slams onto the screen get you ready for business. But the point where I made a positive I.D. on our man Sam Raimi was in the first real setpiece where Christine fights a decrepit, angry gypsy woman in an enclosed space and the two use every dirty-fighting technique known to woman. (My SPOILER favorite: the old lady loses her false teeth but bites Christine in the face anyway.) Just this scene milks more laughter and squirming out of you than most recent horror movies do in their entire running times. And this one never lets up.
Somebody told me DRAG ME TO HELL had "jump-scares" that work, somebody else said it wasn't very good because it was just a bunch of jump-scares. Both might be valid but I didn't think about it that way. I don't think it made me jump, it just seemed to be a movie where everyday reality can at any moment be ferociously invaded by feverish otherworldly visions, demonic apparitions and disgusting substances. It doesn't build to a crescendo of insanity like EVIL DEAD. It's more like this young professional is trying to keep a lid on the horror but it keeps pushing its way out and whacking her in the jaw with the lid. The poor girl is trying to get a promotion at the bank, but she bleeds all over her boss. She's trying to make a good impression on her boyfriend's parents but she starts yelling at a demon during dessert. She's not stuck in a cabin in the woods, she's trying to live her normal life and go to work and everything while this devil keeps circling around her licking its lips.
As horror fans we know that when somebody comes back from the dead there's gonna be something missing, such as a soul. Maybe it looks like little Gage, but he's gonna slash your achilles heel with a scalpel, so I was worried there would be some catch here with Raimi. Horror fans tend to be purists, and most of the ones I know are totally racist against any use of CGI. I do think there is one quick grossout gag in the movie that was a mistake to do with computers. We know it's fake when it's made out of rubber, but at least you know she really had to have slime on her face. When it's digital it might as well just be a drawing. The rest of the computery shit I thought was really good though. There's a scene involving a fly that could not have been done any other way, but looked good enough it had me questioning whether they somehow really did it.
Okay, so the computers aren't the monkey paw's curse, so what about the rating? If you've avoided this movie it might be because you read it was PG-13, the cursed watered-down rating that has been forced on so many once proud R-rated series. THE EVIL DEAD was pretty damn R (nobody gets raped by a tree in PG-13, that's the rule), Raimi was once known for his extravagant gore, and there have been almost no good horror movies ever released with that rating. (I like the remake of THE RING, that's about it.)
But my friends, I don't know how to explain this, but somehow this one works. It doesn't feel like "good for a PG-13", it just feels like "good." If I did not know about that rating I would've never believed it. This doesn't necessarily need to have a bunch of blood (actually it does have a bunch) and it turns out that inventing new ways to be disgusting doesn't affect the rating. I would still think it would be a problem though because with a PG-13 rating you can feel safe knowing that certain things won't happen, certain lines will not be crossed, and that takes the horror out of it.
But take my word for it, lines are crossed in this movie. There are things that happen here that you don't expect to happen in any movie, let alone a PG-13. There are tricks in the movie I completely fell for. I think it's one of those decoy PG-13s they put on there to give you a false sense of security just so they can fuck with you. One act in particular – okay, it's off screen. But it is something reprehensible that you do not ever expect the hero of a movie to do. Especially when the hero is a pretty young blonde.
That brings me to my next point, which is the unexpected cleverness of the characterization in this script. The basic feel of the movie is like a spookhouse ride. It's about fun. This ain't MARTYRS. So the characters can just be types if they want to. There are a couple really hatable types in here, and Raimi could leave it at that, but then these characters show another side you don't expect, and just at the right time to make everything more uncomfortable.
More importantly Christine is subtly different from your standard horror heroine. Most women in horror movies are either idiots or saints. If you look at Laurie in HALLOWEEN, Nancy in A NIGHTMARE ON ELM STREET, Helen in CANDYMAN, Sydney in SCREAM, Kirsty in HELLRAISER… most of these ladies are goodie two shoes by design, they are supposed to have a purity that gets challenged or corrupted when they encounter true evil or whatever. They find the toughness to survive and maybe kill their attacker, but they're still good through and through.
Christine might seem the same at first – she was raised on a farm, she's nicer than everybody else at the bank, she even says she's a vegetarian and volunteers at a puppy shelter. But the nice twist is that throughout the movie she has moral lapses and temptations that are a little over the edge of what can be reasonably expected. She's still sympathetic but every once in a while she has a plan that makes you think, "Wait– really?" For example she comes very close to allowing a random old man at a diner to get his soul ripped out in place of hers. And worse.
There's alot of humor in this going too far, and I think it's really cool they would give that to a female character. I can see Bruce Campbell doing this stuff but I can't think of another woman that would.
The other thing about the script that makes it a little better than it might appear on the surface is the classic horror movie morality that (by accident, I think, since it's an old script) is very timely. The whole story kicks off with her denying an old lady a loan extension, causing her to lose her house. For Christine's own personal code it's the wrong thing to do, but she's under pressure from her asshole peers and wanting to get this promotion, so she tries to be unfeeling about it. Raimi sets it up in an interesting way because the old lady is not very nice (to say the least) and is physically repulsive, coughing snot onto Christine's desk and taking out her false teeth (which are completely rotted, by the way, even though they're false). Christine has many excuses not to feel sorry for her, but deep down she does anyway, showing her humanity. And then throughout the movie she can have a combination of fear and guilt.
This goes back to Christine's moral lapses, too, because she keeps lying and saying it was her boss that denied the extension, even though we saw that it was her own decision. Even while communicating with angry spirits in a seance she tries to pin it on her boss. Some funny shit. But of course she learns her lesson.
DRAG ME TO HELL doesn't waste its time trying to reinvent horror, and it's not nostalgic either. Okay, I counted four references to the EVIL DEADs, but it's not trying to be retro or meta or anything. It's just reviving an enjoyable type of horror that we don't get enough of in our diets, and executing that style with flair and supreme skill.
Welcome back and long live new-old Sam Raimi.