I SPIT ON YOUR GRAVE (2010) is an okay-but-could-be-much-better remake of the disreputable cult classic. In the rankings of 21st century remakes of notorious '70s rape revenge movies I'd put it at #2, more watchable than CHAOS but not nearly as artful as LAST HOUSE ON THE LEFT. It has pretty effective pacing and a couple good ideas, but it's not as smart or observant as I'd want for a really worthwhile remake.

Sarah Butler of Tacoma, Washington (FLU BIRD HORROR, two different CSIs playing different characters) takes over for Buster Keaton's niece as Jennifer Hills, a writer renting a cabin in Louisiana to work on her new shit. (is that what the professionals get to do? God damn.) She has a run-in with some locals who work at the gas station when one of them (Jeff Branson, who it seems has had runs on All My Children, Guiding Light and The Young and the Restless) hits on her and she laughs at him. Later they show up at her cabin to terrorize her, and I guess you know how it goes in a rape-revenge movie. You gotta endure the rape in hopes of enjoying the revenge.
The weird detail in this one is that for some reason they keep making references to horses and making her show them her teeth. They must've seen ZOO I guess. That movie's like SCARFACE to a redneck rapist.
One of the other rapists, the guy who plays a harmonica, I didn't realize was Rodney Eastman, the nice mute kid Joey from NIGHTMARE ON ELM STREETs 3-4. I noticed he gets a songwriting credit for the harmonica playing. I hope that gets him some extra bucks, not because of this movie, but because he's Joey. He had so much trouble with naked ladies that turn into Freddy that you just want him to do well in life, you know?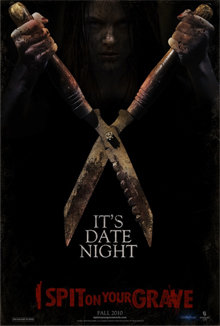 I wouldn't say Butler is terrible, but she's much better as a spooky avenger than a normal person. Some of it's not her fault – she's got some awkward moments, some of them due to weird staging and timing. I think Camille Keaton benefited from a strange type of long-necked, aristocratic beauty that made her interesting to look at, this girl is more normal Hollywood good looking. And in order to get some of the plot going she has to be a total klutz. She knocks over a bucket of water at the gas station, spills wine all over her clothes, drops her cell phone in the toilet, breaks a glass when scared by a bird. With some actresses that might make her seem like a lovable relatable person, but here it just makes her seem like an idiot.
This new version is modernized in a clever way, but not in the way I wish it was. They chose to do it by making the I SPIT ON YOUR GRAVE for this horror era: instead of a slasher movie it's a torture movie. Instead of getting her revenge through gruesome kills it's through sicko torture devices. Instead of luring them in by acting the way their misogynistic minds wish she would and then, say, castrating them with shears, she abducts them, torments them for a while, and then castrates them. Unlike the SAW movies though it's pretty open about asking you to enjoy the sadism. There's no question about whether or not they deserve it. In SAW it's sanctimonious moralizing through torture, in I SPIT ON YOUR GRAVE it's punishment.
The only major change I noticed in the structure is that she disappears for a month after the attack. The rapists assume she's dead, and the movie switches to their perspective, so we don't know what happened either. Is she gonna come back as a ghost in this one? You don't really know.
What's not really updated though is the gender politics or the subtlety of the characterization. The original dealt in broad stereotypes – redneck rapists vs. feminist writer. Feminism was still a pretty new concept to some people in 1978, Zarchi must've felt he had to make his points bluntly. The new one doesn't try to find a modern equivalent to say something about the state of gender relations in 2010. She's just a writer (not for Bust Magazine or anything) and they're just yahoos.
Their acting isn't as over-the-top as in the first one (especially the retarded guy), but not subtle enough to be much more believable. To make this real insidious it's gotta seem like real guys, assholes who don't believe they're assholes, who maybe even hold back their more deviant behavior in front of their friends until they can't restrain themselves anymore. If this is gonna make a point it's gotta seem like alot of men have the potential to do this type of shit, not that this is the anomaly that becomes a horror movie.
But these characters pretty much know they're the bad guys, and even delight a little bit in being evil. I think it throws things off that he has to murder a man to hide the crime. And it seemed to me like they cut out or played down all the sexist excuses, where they try to blame it on her. Instead they try to cover their tracks like serial killers. This should be just assholes who mistakenly think they can get away with victimizing a woman. This shouldn't be a horror movie massacre, it should be the misogynistic underbelly of America.
And they're those fake movie rednecks with the unnatural dialogue calling everybody "boy" all the time. I don't believe them, they don't sound natural. I'm a fan of class tension in a horror movie, and the anti-tourism sentiment in the maniac community. It works in everything from TEXAS CHAIN SAW MASSACRE to WOLF CREEK to STORM WARNING, but here it just seems forced. I don't believe them bitterly calling her "that city girl" and "stuck up city bitch." If these guys were real they wouldn't hate the city. They'd dream of the girls at the Mardis Gras parade. They'd drive into Baton Rouge or New Orleans to see a WWE Raw or a UFC Fight Night, or maybe the Foo Fighters or somebody. I just checked, Ice Cube is playing Baton Rouge in March. If they were still alive (SPOILER) maybe they'd go to that show. They'd probly think about moving there too. They're too young to want to spend their lives working at that gas station out in the middle of nowhere. This just doesn't ring true to me.
And now that I think about it the whole idea of I SPIT ON YOUR GRAVE is a little quaint in the age of Lisbeth Salander. In THE GIRL WITH THE DRAGON TATTOO she got her violent revenge in the first act of the movie. And she's a computer genius and mystery solver. Jennifer Hills doesn't really compare.
But you know, it's not garbage. Considering director Steven R. Monroe's previous works include SASQUATCH MOUNTAIN and ICE TWISTERS it's alot better than I thought it would be.
I like how you see all the tools and chemicals and things she's gonna use later when she's checking out the storage shed on the property. Like, you see a pair of shears covered in cobwebs. It almost had a double meaning for me. It works as setup but also made me wonder if these are the shears she used in the original, and now a new visitor is sort of echoing horrible events from the past. I think the original took place in Connecticut, so that wouldn't make sense. But I think in the original her name was Jennifer Hill and in this one Jennifer Hills. It's plural, like ALIENS to ALIEN. It could be a sequel, right? I guess not.
Anyway, it has its moments. She certainly finds a novel way to assrape a guy. But there are subtle things I like about it too. Like when they show up to intimidate her and make her show them her breasts she says, "We're even now, right?" The one guy is mad that she embarrassed him, now he's embarrassed her (by molesting her, basically) and she's willing to call that even. But he chooses not to accept that as even. He will regret it.
The best thing about the movie is the added layer of irony with this sheriff having a nice pregnant wife and a daughter he calls his "little angel" who just got into a gifted program. Her name is Chastity, which fits in with his hatred of alleged "whores." But I appreciate the disturbing observation that people like this want to do shit to adult women that they would stay up at night worrying would happen to their own daughter. And his family has no idea there's anything wrong with him.
Also, while being tormented, he starts yelling things like "Help me Jesus!" and "I'm a God fearin' person!" Ain't that rich? And he keeps calling her "ma'am," as opposed to his earlier preference of "big city whore."
Meir Zarchi, writer/director of the original, is credited as producer on this one, and he went and supported it at some film festivals and stuff. I noticed that on the credits they say it's based on DAY OF THE WOMAN, his original title. It's funny, I SPIT ON YOUR GRAVE is one of the greatest exploitation titles ever, you'd think a guy would be happy to be associated with something so legendary. But at the same time the movie is so notorious he has to use his original title just because it gives more of a hint that he was on the woman's side.  No, seriously guys. "I" is Jennifer, she's the one spitting on graves, that's the part you're supposed to enjoy.
Well, I wish the new movie itself was good enough to help him rehabilitate his image there, but oh well. I've definitely seen alot worse. In my opinion I SPIT ON YOUR GRAVE 2010 does not spit on the grave of I SPIT ON YOUR GRAVE 1978. It has a healthy respect for its grave but does not go out of its way to deliver flowers or perform any maintenance such as cleaning the grave or pulling weeds around it.
.
.
note: I can't vouch for the new blu-ray and dvd of the 1978 version (and can't say I'm planning to find out how it plays in HD) but I'm happy to see they included Joe Bob Briggs's excellent commentary track from the earlier release