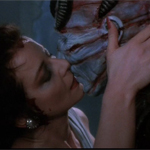 Holy shit, man. You talk about a part II. Somehow this sequel takes the dirty, forbidden, evil vibe of Clive Barker's original and pushes it into the realm of epic (low budget) fantasy. It's hard to believe I saw this sicko movie at Christmas time in a suburban multiplex, but I did. That's just how we rolled back in 1988.
Immediately after the events of part 1, Kirsty is stuck in a mental hospital, I guess for telling the truth about what happened. But she has bigger problems than having to get discharged. For example there's the skinless man who writes "I AM IN HELL HELP ME" on her wall in blood. She's not entirely free of her family's dark underpinnings, because she goes over and touches it and then smears a little bit of the blood on her lip. But she takes it as a message from her dad.
Also there's the matter of the bloody mattress that Julia died on, which she wants the cops to destroy so Julia can't come back the way that Frank did. Little does she know that her doctor Channard (Kenneth Cranham, OLIVER!) is a death-obsessed weirdo, a high class Uncle Frank who collects puzzle boxes, Egyptian shit and information about Hell and magick and what not. He hears her talking about the mattress and it gives him ideas.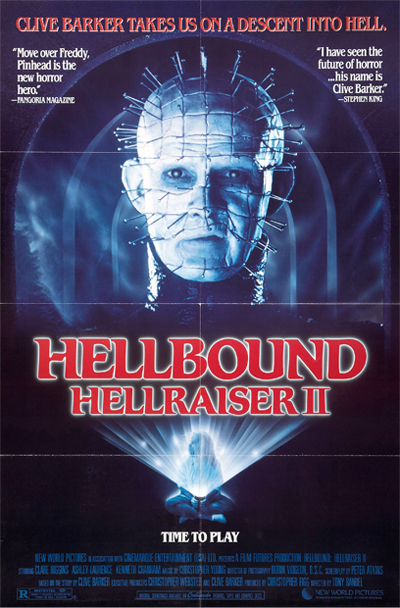 There's a younger, more reasonable guy at the hospital named Kyle (William Hope, ALIENS, SUBMERGED), who is the rare Barker character who is exposed to an insane other world and is freaked out without getting a boner or deciding to change religions. The poor guy overhears Channard talking on the phone about having the crime scene mattress delivered to his house, so he gets curious and sneaks into his house and sees all the paraphernalia, to which he has the proper response: "Weird. Fucking weird. Jesus Christ. Jesus Christ!"
But that's nothing. Then Channard comes home, so Kyle has to stay in the room hiding behind a curtain during the most fucked up shit to ever happen in a HELLRAISER, which is a high hurdle to clear. Channard has Julia's bloody mattress in his house, and he brings in a patient from the asylum who perpetually believes he has bugs on him. Channard gives him a straight razor and steps back while he cuts himself, crying "Get 'em off me! Get 'em off me!" It alternates between his delusion of being covered in maggots and the reality of slicing himself up, and I'm not sure which is worse/better.
So skinless Julia crawls out of the mattress and flops around on the ground like an oiled pig or that one fight scene in THE TRANSPORTER before eating the guy out of his misery.
Of course that scene would be horrifying all on its own, but the extra layer of poor bastard Kyle having to passively watch makes it even crazier. Merry Christmas, everybody.
Trivia: the poor bug guy Mr. Browning is Oliver Smith, who also played Skinless Frank in the first movie (and part of this one). Skinless Julia is played by Deborah Joel. She has some really nice, creepy moments when she's freshly resurrected. There's a beautiful shot of her standing around looking depressed in Dr. Channard's DMX-in-BELLY type mostly-white fancy apartment. Check out the bloody hand print on the wall and the drips on the carpet.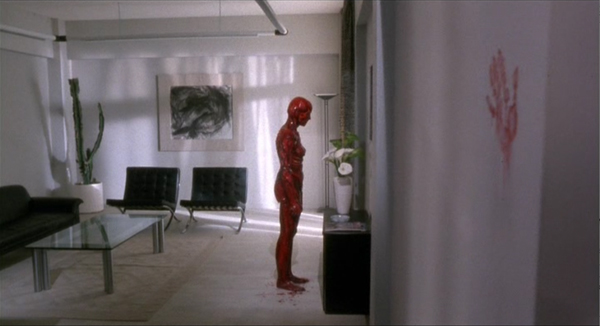 This is gonna be a continuing problem in my opinion. Always go for darker colors in your interior design if you're gonna have a skinless lady stay over. Anyway, she looks at herself sadly in the mirror and then freaks out and punches it. Shitty houseguest in my opinion. And he's too freaked out to be running around putting towels down when she's gonna sit and stuff.
But she talks very quietly, says "Don't be scared" and "Help me," things that make you almost feel sorry for her.
Not being in a dingy attic, the skinless scenes are even more surreal than in the first one. At one point she takes his cigarette and smokes it. She gets a little blood on his hand when she takes it. Later he wraps her in gauze like a mummy, then he kisses her and feels her boobs. You know, one of those skinless makeout movies.
So now Julia is Frank, with Channard as his sucker Julia, bringing her blood. But instead of hiding from Hell she brings him there to see what he's spent his life trying to see. But when he gets there he's not a kid in a candy store. He's as scared as anybody.
Meanwhile Kirsty, wanting to save her father, enters Hell too, aided by Tiffany (Imogen Boorman, DREAMCHILD), a mute, puzzle-obsessed fellow patient. The hallways like the one the Engineer came down in part 1 turn out to lead to a huge labyrinth with detours through people's worst fears and traumatic memories. Some of these are more interesting than others. The evil carnival section is a little trite.
In a great moment of you've never-seen-this-shit-in-a-movie-before, skinful Julia (Clare Higgins) leads Channard across a matte painting of the labyrinth…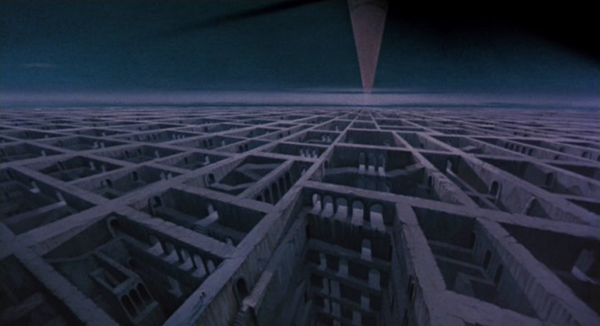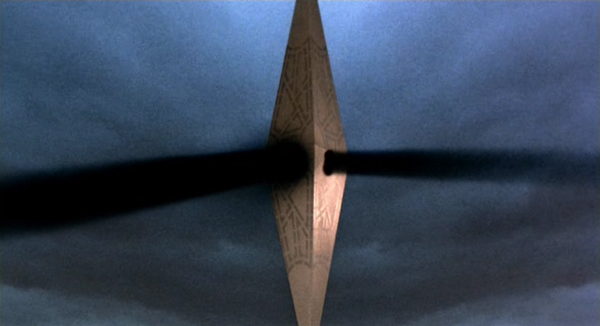 …to introduce him to her god, Leviathan. It's kind of like if you have a date who turns out to be way more religious than you in a way that makes you uncomfortable. So you worship a floating geometric shape? In this case he kinda gets what he was asking for with all his explorations,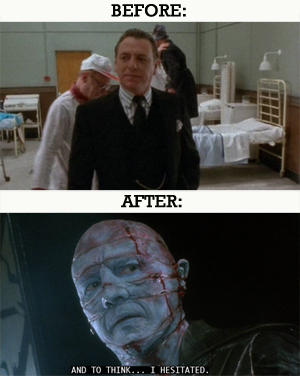 but you know, it's a pretty huge lifestyle change to deal with all the sudden when Leviathan cuts into his face with wires and drills into his skull with a giant dick-shaped tentacle claw which stays permanently attached to his head and carries him around like a marionette. He becomes the weirdest Cenobite – he has long tentacles that come out of the palms of his hands, and the tips of them open up to reveal surgical blades, pins, drills, eyeballs with blades that come out of them, even flowers or a single finger to gesture with. Swiss Army tentacles. It's all stop motion and never composited with the live action so it's a little clunky, but the idea is so beautifully strange that it works.
This time around Julia is not a victim. When they meet again in Hell, Frank (Sean Chapman, voice not dubbed this time) expects her to turn puppy dog for him again despite his betrayal. Instead she literally rips his heart out. But that doesn't make her hard enough to survive the mean streets of the Labyrinth. She gets a brilliantly weird comeuppance when (SPOILER) she's getting sucked into a vortex and Tiffany mercifully takes her hand… but then the skin on her back splits open and her whole body slides out, like slitting a package of hot dogs and then squeezing it until one of them pops out. She's gone and her empty skin (with dress) is piled up on the ground like dirty laundry or a shedded snake skin. I mean, Kirsty never did like her stepmother, but I bet she never wanted to see that shit either.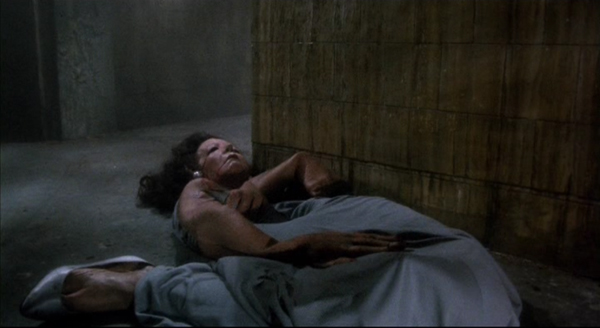 Later (SPOILER AGAIN) Julia's back and trying to help Tiffany, saying "Trust me!" Why? Because it's actually Kirsty wearing the skin to trick Dr. Channard. That might be the most hardcore shit a Final Girl ever had to do. Not just the full-body Leatherface bit, but having to kiss an old man hanging from a tentacle. At least it'll help her to forget having to kiss her rapey uncle on the cheek and say "I'll do anything" before she burned off his skin with hellfire.
I like the character of Kirsty. She's kind of in the mold of Nancy from A NIGHTMARE ON ELM STREET, but older (in the first one she was adult enough to come visit her dad and drink alcohol). But of course I can't pretend she's a fully three-dimensional character. She's mostly a cipher who reacts to these horrors. Here there's a fairy tale motif and she gets called "Snow White" at one point. But she gets to be a little more active than in the first one (although if she wouldn't have fallen for Frank's "I'm your dad and I'm in Hell" trick it would've saved her some trouble).
Once again, wisely, the Cenobites are used sparingly. The decision to show a flashback of Pinhead before he became Pinhead was not the best idea in my opinion, but his past as a human (uncovered by Channard during his research) works because it's a good piece of information for Kirsty to use against him. Probly the one thing she knew that he didn't.
Again, the Cenobites are a horrible danger who are in opposition to the real villains of the movie. There's a civil war in Hell when they resist Channard and he takes them out. Cenobite on Cenobite violence. One nice touch: as they die they revert to their human forms, which in the case of The Chatterer (Nicholas Vince, NIGHTBREED) turns out to be a kid. What the fuck kinda childhood leads you to solving that puzzle!? Keep in mind, he had to have a desire to open a portal to Hell, because Tiffany just solving the puzzle wasn't enough for them to take her.
In this one I gotta say the most underrated character, if not Channard, is Female Cenobite (Barbie Wilde, who also played "Female Punk" in DEATH WISH 3. She's really good at playing Females!). Pinhead gets all the t-shirts, but Female is just as no-nonsense. In fact, more no-nonsense, because it's Pinhead that gets curious when confronted with his human origins. If it were up to Female they would've got the job done.
According to an article by Philip Nutman in the August 1988 issue of Fangoria, Barker couldn't direct "due to a variety of commitments: the manuscript delivery of his next novel, which he was contractually bound to complete by June this year, a short novel titled Cabal for publication in the U.S. edition of volume six of Books of Blood, and finally, putting the finishing touches on his forthcoming Harry D'Amour screenplay, which will be his next film as director." We know from being alive in the present that in fact Cabal became his next film as director, NIGHTBREED, and the other screenplay took 7 years to become LORD OF ILLUSIONS.
The article says Barker tried to get horror novelist Michael McDowell (screenwriter of BEETLEJUICE) to write and direct, but he turned it down. So the writing job went to first-timer Peter Atkins, an actor from Barker's old theater company who played Faust in his 1978 experimental short film THE FORBIDDEN, who said that Barker "did an outline and gave me a clear brief on what was required." The directing gig went to another rookie, Tony Randel, who Barker knew as the New World Pictures studio representative for HELLRAISER. Randel would go on to direct TICKS, FIST OF THE NORTH STAR (written by Atkins) and two episodes of Power Rangers In Space. Not to dismiss that filmography, but considering how unique and special his debut is, he's kind of a mystery.
There were other good horror movies in 1988 such as THE BLOB, CHILD'S PLAY, MANIAC COP, MONKEY SHINES, PIN, PUMPKINHEAD and THE SERPENT AND THE RAINBOW. Also a ton of sequels: CURSE II: THE BITE, FRIDAY THE 13TH PART VII: THE NEW BLOOD, FRIGHT NIGHT II (which was the cover story on the aforementioned Fangoria issue), HALLOWEEN 4: THE RETURN OF MICHAEL MYERS, HOWLING IV: THE ORIGINAL NIGHTMARE, A NIGHTMARE ON ELM STREET 4: THE DREAM MASTER, THE OGRE: DEMONS 3, PHANTASM II, POLTERGEIST III, RETURN OF THE LIVING DEAD PART II, SLEEPAWAY CAMP II: UNHAPPY CAMPERS and ZOMBI 3. I've seen alot of those and I like a couple of them but from what I've seen none of them come even close to reaching as far and grabbing as much as HELLBOUND.
HELLBOUND is a truly great sequel, the kind that gives you more of what you liked in the first one but then goes way bigger, way more ambitious, way crazier than anybody could've expected. That its production values can't quite match its scope never bothered me because its sick imagination is more than enough to fill in the holes. They worship a god damn metal shape in the sky, you guys. People are getting their skins pulled off and put on. And if you like disgusting you're in luck, because it's really fucking disgusting, and always in ways you haven't seen in any of these other movies. Stuff like this happens: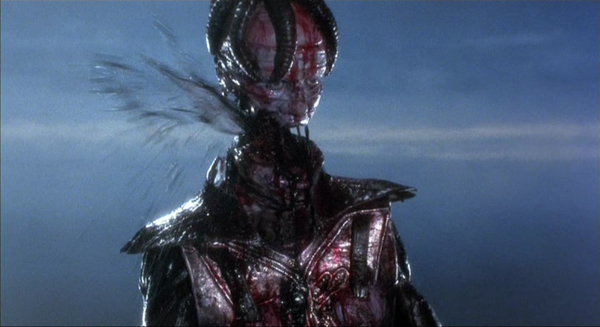 Man, what a great one-two-punch they pulled off with Barker's first movie and its one-year-later sequel! This is a truly remarkable set of stories and characters, absolutely drenched in concepts and intriguing mythology to explore and expand upon, which they proceeded to do for more than a decade worth of followups, all of which I'm going to write about here. I think we're gonna be in for a real treat here with this series, you guys. What could possibly go wrong?