Every nerd and his uncle has two or more ideas for a zombie movie these days. And even the uncle got kind of sick of hearing about zombies two or three years ago. But as far as George A. Romero creations go, aren't crazies more relevant than zombies anyway? Coming back from the dead is kind of a quaint 1960s problem in my opinion. Today we worry about ordinary people, people in our neighborhoods and families, suddenly turning nuts on us. We look at them and we can tell something is wrong, something is different, and we don't really know why but it might be caused by some military fuckup. And there is no reasoning with these crazies. They are not our friends and loved ones anymore. That's why a crazy is better than a zombie.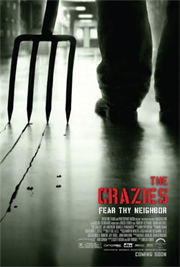 No, you're right, a crazy is the exact same metaphor as a zombie. It just doesn't eat intestines. The advantage though is that Romero's original THE CRAZIES is not a masterpiece like his first three DEAD movies. It's a great idea, some good parts but for me it doesn't come together for some reason. I think I've tried watching it three times, thinking this time I'm gonna appreciate it more, I just know it. But after I watch it I never remember much about it at all. I think it had something to do with crazies? So for me there's no problem with this remake having to live up to the original.
The movie takes place in a small town called Ogden Marsh, Iowa, and the crazy shit first goes down at a high school baseball game. The sheriff, played by Timothy Olyphant, happens to be at the game and sees one of the locals, a dude named Rory, walk out onto the field with a rifle. Rory's a recovering alcoholic and he's acting strange. The sheriff tries to talk him down but ends up having to shoot him. Just like on his show 'Justified' Olyphant starts this one with everyone questioning his self defense justification for shooting a guy.
Of course we know enough about the movie (for example the title) to know that guy's no drunk, that guy's a crazy. Other people around town start doing odd things too, like repeating the same sentences over and over, staring right through you, turning on farming equipment for no reason in the middle of the night, burning their families alive, etc. Whatever's happening here, it's obviously no good, and the sheriff's gotta figure out what exactly is happening and why what's happening is happening. Oh shit, it's the happening! Stay away from trees!
Nah, he traces it pretty quick to a military jet that crashed while carrying a biological weapon and contaminated the water. Which I'm against. But in this story the military not only causes the threat, it also becomes its own separate threat when they show up to clean up their mess. After lots of tense chases and showdowns with crazies in a mostly empty town the movie abruptly shifts gears. All the sudden the quiet town becomes noisy and crowded with troopers in biohazard suits rounding up the citizens and quarantining them, separating anyone with a fever and strapping them to gurneys. This is a bad combination – not only does the sheriff get separated from his wife, but she guts stuck strapped down when a crazy stars coming through the room stabbing everybody with his pitchfork. Fuckin crazies. They need discipline, in my opinion. Stop being so lenient. Or at least take away their pitchforks. I'm sorry but they got it coming.
Unlike Romero's, and like all remakes of Romero movies, I don't think this is meant to be very political. But there's enough going on I'm sure you could read something into it. It's a solid thriller though with a good lead (when did Olyphant turn so cool?), nice atmospheric photography, mostly tasteful stylistic touches (I could do without the computery blips when it switches to satellite POV) and lots of different types of tension and danger (though I wish a few less sticky situations were solved just by somebody else showing up with a gun). I think one secret to the movie's success is that it uses an extensive menu of paranoia types:
1. of people you know snapping, becoming unrecognizable. They look like your loved ones but they aren't
2. authority figures metaphorically trampling all over civil rights, as well as literally trampling over things because they wear big boots
3. disease: you don't want you or your wife to get it
4. being misunderstood or blamed for something that wasn't your fault
5. having to call your friend out for going too far. The sheriff and his deputy have a good bond throughout the movie but it's strained as one of them seems to be losing it. The old "is he turning, or just being an asshole?" dilemma.
One remake advantage for crazies is you don't have to worry about the slow zombie/fast zombie controversy. Crazies aren't made of rotting flesh, so it would make sense for them to run fast. Interestingly though these filmatists mostly use them slow anyway, because they know that can be more dramatic.
As long as we're on the topic I want to point out the hypocrisy of some of the people who get worked up about fast zombies. I mean, you know my preference. I prefer the Romero shamblers, and it frustrates me when people think faster has to be scarier because it's more of a physical threat. That's missing the point: zombies in the original DAWN OF THE DEAD are not scary because they can get you, they're scary because you can never get them. You kill a hundred of them a day it makes no difference, they'll keep coming, and eventually overwhelm you.
I have noticed there are many horror fans who agree with me on that, and even pretend to be offended by the idea of fast moving zombies such as in Zack Snyder's DAWN remake. Yet many of these same people make cute little quips and novelty t-shirts and shit that involve zombies saying "braaaaiiiinnns." But Romero's zombies don't say "braaaaiiiins," they don't say anything. And they prefer intestines. They'll eat what they can get, I'm sure they'd enjoy brains, but they've never shown a preference for them. The zombies that specifically eat brains and who say "braaaaiiiinnns" are from RETURN OF THE LIVING DEAD… and they are fast zombies!
BOO YAH. So if you ever catch some whiner complaining about fast zombies but also referring to zombies eating brains, sic 'em for me.
But that's zombies, forget about zombies, this is crazies we're dealing with here. I think this was originally gonna be directed by Brad Anderson of THE MACHINIST, so his writer Scott Kosar still gets a credit on the screenplay. Kosar also wrote the terrible remake of THE TEXAS CHAIN SAW MASSACRE. I guess it shows that in addition to a decent script you also need a director who can direct actors so you like the characters and put together tense sequences, get some thrills and/or chills or whatever. THE CRAZIES, believe it or not, was directed by Brock Lesnar. I don't know how he's had time to learn about photography and editing, let alone shoot the movie in between being three-time WWE champion, his wrestling in Japan, his attempt to play NFL football with the Minnesota Vikings and his subsequent career in the UFC, where he captured the heavyweight championship from Randy Couture in 2008. You'd think he'd have to be training for upcoming fights and everything.
Wait, hold the phone, it turns out I heard that wrong. THE CRAZIES was actually directed by Breck Eisner (SAHARA). I don't know how he's had time to learn about photography and editing, let alone shoot the movie in between being the son of former Disney bossman Michael Eisner. But I guess I can see how his filmatistic roots run deep. According to the Wikipedia websight "Disney CEO Michael Eisner was struck with inspiration for the [hit 1980s cartoon show 'Disney's Adventures of the Gummi Bears'] when his son requested the candies one day." It doesn't specify which one of Eisner's sons wanted the candy but I'm gonna sitck with my hunch that it was Breck, so I consider him to be the uncredited co-creator of Disney's Adventures of the Gummi Bears, and therefore a successful filmmaker since 1985. His dad also supposedly came up with this one called 'Wuzzles' which is "animal creatures composed of half of one animal and half of another," for example rabbit + hippopotamus = hoppopotamus. I don't know, I suppose an adult really could've come up with gold like that, but to me it sounds more like the work of a gummi bear eater. At any rate, I'm sure being around all that boundless creativity had to've rubbed off on him. I mean, he grew up in a Wuzzles family, for Christ's sake. Of course he's gonna be a director.
But seriously, he seems pretty good and I would like to take this opportunity to announce Breck Eisner as the latest recipient of Vern's I Guess If Some Asshole Has to Remake Escape From New York It's Fine That It's This Guy Because Maybe He Won't Fuck It Up Too Bad seal of approval. I think we need more directors with true vision, but these days it's refreshing just to see one with solid skills, so we'll have to keep watching this Eisner and hopefully he'll amount to something. If not he probly has a life time supply of gummi candy he could live off of.