TRICK 'R TREAT got a little bit of the ol' internet hype when it came out last Halloween. It's a Halloween-time horror anthology written and directed by Michael Dougherty (co-writer of X2, SUPERMAN RETURNS and URBAN LEGENDS: BLOODY MARY). It was made for a 2007 theatrical release but then it got bumped and fell behind the shelf and got misplaced for a while. I believe it got shown at one of the doll collecting conventions or something so some of the internet websights got behind it, but ultimately it got released DTV. But it's "Warner Premiere," kind of a respectable DTV outlet, actually. According to their websight they "develop and produce quality, direct-to-consumer content including feature-length entertainment for the rapidly growing direct-to-DVD market," which is press release talk for "sequels to THE LOST BOYS." But they're pretty respected for not having done any movies starring Cuba Gooding Jr.
TRICK 'R TREAT is four different stories I guess, but not with title cards, and in fact they overlap and skip around in time a little, like PULP FICTION but with helpful comic book style "EARLIER…" or "LATER…"
They did up the opening credits like a comic book too, so I guess it's adapted from a pretend comic book, like CREEPSHOW. There should be a best original screeplay not really adapted from another medium Oscar. Not that this would deserve such an award, but it would be a good category for it not to be nominated for.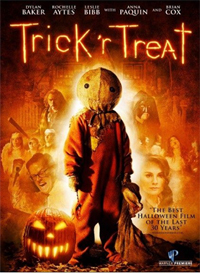 It's a pretty enjoyable movie though. What's good is the Halloween atmosphere. They have trick-or-treaters, Halloween parties, decorations, costumes, pumpkin smashing. They talk about poisoned or razor bladed candy. They got murderers, town legends, ghosts and/or zombies, werewolfs, just not swamp monsters. They got all the age groups – trick or treat aged kids stealing pumpkins, teens looking for sex partners, a grown couple coming home from a party, and an old weirdo (Brian Cox). There's a little guy with a bag over his head who seems to be nearby whenever anything happens, even in a long ago flashback. So he's kind of the host, a mercifully pun-free Crypt Keeper.
The cast includes Anna Paquin, etc. One of the stories has Dylan Baker as a homicidal principal. I don't know about anybody else, but I can't see that guy in any movie without thinking "pedophile." It's not his fault, it's just that he was so memorable in HAPPINESS. Sylvester Stallone will always be thought of as Rambo or Rocky, and Dylan Baker will always be thought of as a child molester. I mean honestly that's probly why he got cast in this anyway. But it's upsetting to see him poisoning Thurman Merman from BAD SANTA.
The way the stories overlap and intertwine is pretty clever. My favorite is during the Dylan Baker story, he's hiding a body and gets yelled at by his neighbor through a hole in the fence. It didn't occur to me that we'd later see that scene from the other side of the fence, or that the voice I was hearing was an actor I could've recognized, or that the character is the older version of another character we see in a flashback.
There's a jack o'lantern burning during the opening credits, and that got me thinking about HALLOWEEN and how after part 2 Carpenter wanted to turn it into a series where each installment was an unrelated Halloween story, not another Michael Myers story. But that made me realize, in case HALLOWEEN III didn't already, that that wasn't a very good idea.
Anthologies can be fun, but are they ever great? I don't think so. The ones people remember are mostly for one particular story. For example, I forget what was in TRILOGY OF TERROR besides that killer doll. Anybody remember off the top of their head?
Anthologies are almost always inconsistent.  The filmatists know one part of an anthology isn't expected to be THE SHINING, so they're never trying to make it that good. Would it even be possible? Probly not. And there's usually gonna be at least one kinda stupid one that goes too silly or is just based around a pretty obvious groaner of a gag. In this one I'd nominate the Dylan Baker epsiode.
More importantly the format of an anthology just doesn't allow a real deep scare. There's not time to develop the characters so you feel like you know them, or to build a decent amount of suspense or tension, or to set up the pieces for a big thrilling climax. It's a couple of quickies with a wraparound, usually just a misdirection setting up for an ironic/darkly humorous twist ending. It's more like telling a joke than telling a real story. But that's okay when you're in the right mood.
I guess what I'm saying is that I want a whole meal out of my horror movies, but during October I don't mind a couple snacks. TRICK 'R TREAT is fun-sized horror. It tastes good, but then it's gone so fast, and what is so fun about a smaller size anyway, I don't consider that to be more fun at all, doesn't seem like a very accurate name for that particular size.