You know, people always complain that there's too much crap out there and not enough smart movies, not enough movies that have something to say or make you think or really move your soul. But then when a truly important and powerful film like that does manage to slip through the cracks – and I'm talking specifically about PIRANHA 3-D, which is a new 3-D movie about piranhas – those same complainers always stay home, the movie doesn't make as much money as hoped and Hollywood is forced to go back to making the types of movies that do make lots of money, like INCEPTION. So shame on you, moviegoers. Shame shame and shame again. You have blood on your hands. You are murderers and liars. Fuck you.
I really mean this seriously. Well, not that seriously. Well, not at all seriously. But kind of. You don't have to see PIRANHA 3-D if you don't want to. But if that's your stance I really gotta ask: what do you not understand about the title PIRANHA 3-D? It's right there. It speaks for itself. Piranhas are a type of deadly carnivorous fish, by the way, did you not know that? Okay, obviously you're gonna go now. I'm glad we straightened that out.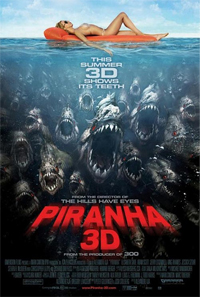 So we're in the middle of this new wave of 3-D movies and a backlash against them, at least in these internet movie discussions. Nobody really admits to liking 3-D, though some people tolerate it. I've noticed alot of reviews of 3-D movies praising them for not having alot of gimmicky things-flying-out-of-the-screen shots, or for having "subtle 3-D." I have to respectfully declare that stupid. I can think of one or two good subtle uses of 3-D, but otherwise subtlety is a waste of this technology. I believe until you figure out a really innovative way to use it subtly that's going to be self-explanatory then 3-D should be a novelty, should be a gimmick, should be literally in your face. My favorite 3-D movie is FRIDAY THE 13TH 3-D, which introduced the world to the magic of 3-D antenna adjustment, 3-D joint passing, 3-D spear gunning, and of course 3-D eye-popping-out-of-skull-that-Jason-squeezed-real-hard. To me that's a better use of the technology than, say, the Pixar movies, where it's dimensional for a little bit and then you forget about it. I want to see CAPTAIN EO, people. I want to see little fuzzy guys flying out of the screen and looking me in the eye. If you're using this great new 3-D and then making it almost imperceptible then you might as well go back to shitty Freddyvision where I keep taking my glasses off to figure out if it's still in 3-D or not.
That's part of why PIRANHA 3-D, where HILLS HAVE EYES remake director Alexandre Aja serves a nice meal of Lake Havasu Spring Break to thousands of prehistoric carnivorous fish, has been one of my most anticipated movies of the last couple years. That's kinda bad, because there's not enough strength in its chewed-up skeleton legs to hold those type of expectations, but I did enjoy it and you normal people who haven't given it as much thought should have a great time. It's some funny shit.
Steve McQueen's grandson (no shit) plays a teen whose mom (Academy Award nominee Elizabeth Shue) is the sheriff of an Arizona tourist town (called Lake Victoria but shot at Lake Havasu). So when Spring Break comes around mom is always busy with work and McQueen has to stay home babysitting his little brother and sister, missing all the boobs, booze and butts that a young man, especially a McQueen, desires. But this year he gets a chance to be location scout for a Girls Gone Wild video (called Wild Wild Girls) and he's not gonna miss that, so he pays his siblings to stay home and gets on a boat with Jerry O'Connell, two porn stars and his long time crush (played by a young actress who I'm pretty sure is not 42 year old Dinah Meyer from STARSHIP TROOPERS, despite what some of the publicity photos I found online say).
You may have seen that Harry's review talked about jerking off in the headline. I still don't understand why people go crazy for that in the modern world, because I have found that the convenient acquisition of hardcore pornography is at an all time high. I don't know, maybe Harry doesn't have internet access. But it's true, this movie has more boobs and butts than any modern horror and some vintage (although not one single strand of pubic hair. I guess they don't make that anymore). O'Connell (who seemed to me like he was playing Jason Bateman playing his role) presides over a girl-on-girl naked underwater makeout session and some bellybutton tequila shots. Eli Roth has a cameo as basically the same character, "Wet T-shirt Contest Host." So if you want to see 3-D closeups of suspiciouly perfect bouncing boobs and flawlessly round butts there are some of those here.
The script isn't Shakespeare or Sayles (actually it's the guys who wrote SORORITY ROW) but it at least finds a good way to make fun of these dumb kids without having that judgmental anti-sex tone of some of the post-HALLOWEEN horror pictures. The heroes are the good kids, but they have a healthy curiosity. When the good girl indulges in tequila and softcore porn she's punished by throwing up (in 3-D), not by being slaughtered by Jason. I appreciate that.
In the tradition of JAWS 2 this is more about the kids than the sheriff, and there's a subplot about the younger kids going in a boat and getting stranded. I also spotted nods to JAWS and JAWS 3-D, but unfortunately not JAWS: THE REVENGE. Shue is good though and when she gets a chance she jumps into action immediately. She's pretty tough, I liked her. Adam Scott gets a rare chance to play a non-asshole, and the rest of the name actors you heard about have small parts or cameos. Ving Rhames's part is almost the same as in the worthless DAY OF THE DEAD DTV remake that I am already beginning to regret that I just mentioned because it would be best to ignore it until it becomes unfilmed. But in this one Rhames gets one really funny and badass scene. I don't really agree with the logic of shooting at a swarm of piranhas, but I give him credit for trying. I'd like to have seen more of some of these characters, but at 82 minutes the movie keeps it minimalistic.
You can't really accuse them of skimping on the gore and mayhem, though. A whole lot of Spring Break kids get chewed up, skeletonized and torn in half. There's a good mix of digital and real makeup – in fact I'm not sure I really knew which was which behind the 3-D effects. One thing I thought was pretty funny is how many people are killed not by the fish but by other people being stupid. One panicking dipshit in particular must take out more than ten people in a minute or two, including my pick for the #1 cringe-inducing kill of the movie.
Like Joe Dante in the original Aja makes it funny but acts like it's serious. I laughed at goofy shit like Rhames still having to yell "Everybody out of the water!" a good 10 minutes into the beach party holocaust. It seems like at that point if there was anybody who didn't understand that it was important to get out of the water then there really was no point in trying to explain it to them.
Despite some intentional stupidity like that it's not at all lazy. It's good about going everywhere you want it to go. It doesn't pull any of that SNAKES ON A PLANE shit of saying a guy's a kickboxer and then not having him kick any snakes. Some people are climbing a rope to safety, one has long hair hanging down, don't worry – a piranha will jump up and bite her hair. The character who you most want to see get killed – don't worry, his death will be so horrible that you'll start to feel bad for rooting for it, and then that in itself becomes funny. There's no reason why a piranha movie needs a big explosion, is there? Well, that's okay, we get one anyway.
One thing some people might not pick up on but that I'm convinced is intentional is the movie's similarities to TITANIC. You really notice it when there's an overhead-tipping-and-people-falling shot, but instead of the Titanic tipping over it's some radio station's stage they put up for a wet t-shirt contest. It's got a similar type of love story where a guy wins over a nice girl from a different social group who already has an asshole boyfriend, and at the end one risks themself to stay with their trapped lover. In TITANIC you can take the boat as an example of man's hubris and decadence. This is the same kind of thing except instead of rich people spending their money on extravagances it's rich kids blowing it on travel, boats, boners and alcohol. So it's this generation's TITANIC. Same thing except less than half as long, nobody's fully clothed and at the end nobody throws any jewelry away. So technologically and thematically this movie would not have been possible without PIRANHA 2 director James Cameron paving the way.
The 3-D is pretty good to my eyeballs, but not perfect. It was planned for non-subtle 3-D from the beginning so it's got plenty of things flying out and fish looking out at you, mugging for the camera. But it wasn't shot with 3-D cameras because Aja wanted to shoot it on film, and I guess getting both sides perfectly focused with the reflections on the water is too hard (although that didn't stop them from having scenes on the lake in FRIDAY THE 13TH 3-D). So they intentionally used the dreaded "post conversion process" that got such a bad name from CLASH OF THE TITANS. I didn't see that one to compare it to. This has plenty of depth but looks slightly blurry or weird at times, definitely not as sharp as AVATAR or the computer animated ones, or I think MY BLOODY VALENTINE 3-D.
One new dimensional issue I've never heard of before is with the opening credits. You're looking into this landscape, so your eyes are focused off in the distance, but every time a name comes up it's floating really close to your eyes. I don't know about anybody else but my eyes couldn't take it. I was getting whiplash. Man, imagine all the new ways shitty directors will use this technology to torture our eyes.
I've really had alot of hope for this director, and he hasn't really let me down since I've been into him, but he hasn't exactly hit the lotto numbers either. I enjoyed all his movies on some level: his debut FURIA is pretty cool from what I remember, HIGH TENSION doesn't knock itself out of all time slasher classic contention until its legendarily bone-headed twist ending, MIRRORS is enjoyable and twisted in a small kind of way, but it's mainly THE HILLS HAVE EYES that sticks with me. I see it as a stylish and enjoyably over-the-top elaboration on the original, staying true to all of Craven's themes, improving on some of his characters, with bonuses like even having a technological breakthrough in the way they digitally widened the space between Ruby's eyes. I think it's a fun movie but it has this reputation as some kind of horribly grim torture porn type of deal. I remember Drew being absolutely livid about a part that didn't even register with me at all, and to this day people interview Aja and talk about PIRANHA being a huge departure from him because it has a sense of humor.
Okay, I know the tone is different, but I really thought HILLS HAVE EYES was darkly funny. Am I alone here? How come nobody else thinks that?
Well, I was thinking about it the other day and it hit me why I seem to react differently to that movie than everybody else: I think it's funny when normal people get attacked by savage mutants. It just tickles my funny bone, y'know? And it never occurred to me before that that's just my thing, it's not something regular joes agree with me on.
I'm not joking about this. A 7 foot tall guy with a face that looks melted covered in armor made out of junk jumps out of nowhere and starts stabbing a spear at a family on vacation from the suburbs – that type of shit just gets me for some reason, like the way Ghost Rider loves monkey movies. So maybe that's why I elevate that one higher than most people and why I continue to enjoy his other movies but not on the same level as that one.
I'll continue to watch Aja's movies, but I should accept that not all of them are gonna have that extra kick from mutant attacks. Maybe some day he'll take on my idea of THE BEVERLY HILLS HAVE EYS or something, but until then fish attacks will have to be enough.