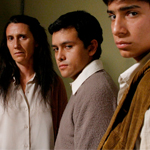 WE ARE WHAT WE ARE (Somos lo que hay) is a one of a kind horror movie out of Mexico. Well, it was one of a kind until they just did an American remake, but it sounds like they changed things up for that one anyway.
The story in the original begins with a man stumbling through an upscale outdoor shopping center, coughing up blood and dying on the pavement, and nobody trying to help him. He kinda seems like he might be homeless, but he's not. He has a wife and three kids to not come home to.
Obviously it seems like a tragic situation for this hard working family. The brothers, Alfredo (Francisco Barreiro) and Julian (Alan Chavez), have to go man their dad's table at the market. Their sister, Sabina (Paulina Gaitan), has to stay home and fill in for him repairing watches and clocks. But I knew going in, and you probly do to, that there are other duties they're gonna have to fill in for when they figure out their dad is dead. They need somebody for "the ritual" tomorrow. And not a volunteer. And not a person that is gonna stay alive for the ritual. And not a person that is not gonna be cooked and eaten as meat for the ritual. Because the ritual is to eat human flesh. They will be kidnapping a person and eating that person and that is what the ritual is. I'm not sure if I've made this clear. These guys are cannibals is what I'm getting at. That is the titular "what we are" that they are. And I'm against it personally but that's what the movie is about so what are you gonna do.
So the movie's largely about these rookies trying to learn how to continue the family tradition, and findint out it's harder than it looks. I'm not even talking about the cooking, which I'm sure is difficult, and you're not gonna get much help from cookbooks or the internet, I'm guessing. The part they have trouble with though is the shopping for ingredients.
They try to kidnap a street kid that hangs out under the freeway, that should be an easy bet, right? But they almost get beat up by the other street kids. They do successfully kidnap a prostitute, but they get spotted and chased by the other prostitutes and barely get away. They plan to dress her up in Sabina's clothes so Mom (Carmen Beato) won't know she's a hooker, but she figures it out anyway and gets all snooty about it, refusing to eat whore meat. These fuckin foodies, I tell ya.
It's easy to imagine this all played as dark comedy, but I like that they took the path less traveled. It's just very uncomfortable. Most movies would also make the Mom force the tradition on them, the old idea of the oppressive mother (PSYCHO, DERANGED, DON'T GO IN THE HOUSE, FRIDAY THE 13TH maybe) or the evil passed down to the next generation (THE TEXAS CHAIN SAW MASSACRE, THE FUNHOUSE). This lady is a scary ball-buster, but she doesn't push them into killing. She actually discourages it, but not in a loving way, more in a shitty parenting way. She derides Alfredo for trying to lead the family, criticizes their attempts to fill in for their father, and tells them their family is doomed.
It's not a movie with a high opinion of humanity. Alfredo is the most sympathetic member of the family, because he's the most put-upon, but he doesn't have a conscience at all, he doesn't even seem to feel guilty about killing people. Sometimes I wondered if Sabina wanted out, but she's very manipulative and pushes Alfredo into the leadership role, sort of guilting him into doing these kidnappings. Also, she's fucking her brother Julian, who's very jealous of his more sensitive older brother. He prides himself on being able to abuse prostitutes better, and when they tie one up he starts groping her. Those are the types of ethical disagreements they have in this family: whether or not it's okay to sexually assault their abductee before eating her.
Meanwhile, the characters outside of the family aren't exactly saints. A pair of loser cops find out from the coroner (Daniel Gimenez Cacho – I didn't pick up on this, but the internet tells me this is the same coroner character from Guillermo Del Toro's CRONOS) that papa had a human finger in his stomach, and we occasionally come back to them as they try to prove that Mexico City has a cannibal problem. You might assume they're fighting for justice in a corrupt system or that they're underdogs on the force trying to prove themselves, but it's pretty clear that they just want to solve this case because it would make them famous.
The most intense sequence is the one where Alfredo makes eyes with a young gay man on the bus. He decides to follow him, and it's a long drawn out pursuit all around the city, on streets, on subways, into a club. He's nervous as hell, almost backs out, doesn't know how to behave when the guy starts talking to him. You don't know if he's discovering that he's gay or if he just knows this is a chance to find a victim. The answer turns out to be the most tragic one: both.
This is a different type of horror movie, it doesn't have the same type of thrills I usually look for in the genre, but it makes up for it with really complicated characters and relationships. I dig it. Definitely worth watching.