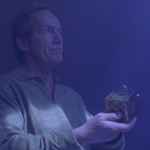 The penultimate HELLRAISER, Rick Bota #3, is not really better than the previous DTV entries, and definitely way worse than any of the theatrical releases, but after three pretty samey ones in a row it was briefly refreshing to see the series, for the first time, try to pander to dumb young people. Elements include: an addictive internet game, an exclusive invite-only theme party, teen suicide, masked orgies, cell phones. Coming only 3 months after DEADER and from the same director it's nice that it's crappy in a completely different way.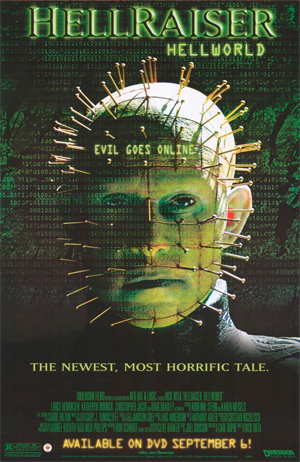 In the interim, LAND OF THE DEAD and THE DEVIL'S REJECTS had come out. That's about it. Impossible to detect a change in the horror landscape. Instead of sticking with the times I guess they wanted to pull a LAWNMOWER MAN or BRAINSCAN type deal and base it around computer technology, so that the movie would already seem laughably dated and out of touch by the time it was finished editing.
The story is about a group of twenty-something friends (and one ex-friend) whose buddy Adam has just died horribly. We don't know how it happened, but it had some connection to their shared obsession with a video game called Hellworld.
Two years later they're thrilled to solve a virtual Lament Configuration and get invited to "a Hellworld party!!!" at a mansion on "86 Hillbound Drive." It's hosted by the great Lance Henriksen, who has a collection of puzzle boxes and weird babies in jars and claims the mansion was designed by LeMarchand, all of which delights his guests. There are young people dancing, drinking, mingling, some of them topless or just having sex right out in the open like it's EYES WIDE SHUT. The host gives them all a cell phone and a paper mache mask with the phone number on the forehead so people will call and proposition each other.
Our group comes in and does not play it cool at all. Instead they run around with giant grins, excitedly pointing things out, like when the cast first sees the house on any season of The Real World.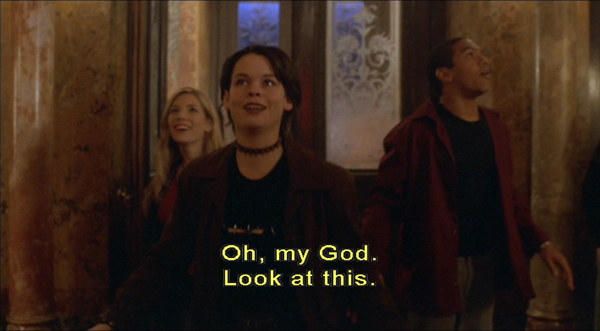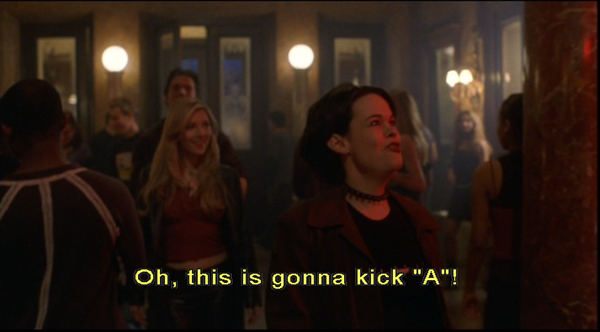 I know, I thought for a second that the subtitle transcriber was a real prude, but I listened again and that's what she really said. In another part she says "holy sugar!" so I guess that's just her character. Though timid about language, they have no compunction about loving this macabre shit even after whatever it was that happened to their friend. Only mopey Jake (Christopher Jacot, BATTLE IN SEATTLE) still seems hung up on the tragedy, and he still comes to the party (to hook up with an online girlfriend).
Oh, by the way, you know who's in this?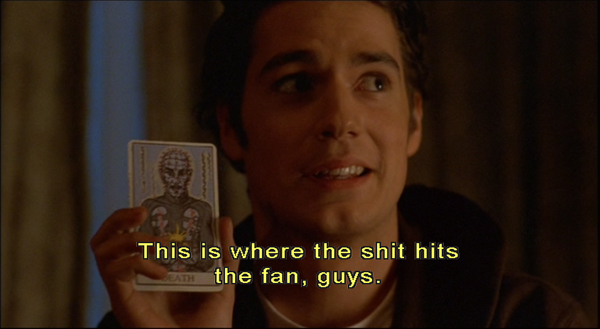 Fucking Superman! Henry Cavill! It's not just a bit part, either. He's one of the main characters. He has a thing for Chelsea (Katheryn Winnick, SATAN'S LITTLE HELPER, Vikings), but when she rejects his advances he opts for a blowjob from a stranger whose mask grows fangs at one point but luckily she doesn't bite his dick. Instead she later lures him into the basement and locks him in and then he, uh, learns how to fly.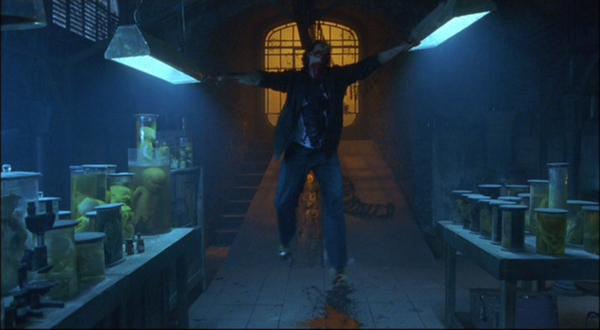 Before that he actually gets the movie's goriest moment, when he thinks there's a dummy of his friend but it turns out to be the actual guy split open. Yuck.
Two things to note about the deaths in this movie:
1, they use a lot of chains on cranks, a chair that you get strapped into and blades spin toward you, stuff like that. Old fashioned torture chamber type business, so I guess this is our proof that a HELLRAISER came out during the HOSTEL era.
2, the traditional horror movie sign that he kind of deserves it is the face he makes when the girl wants him to return the favor for the oral sex she provided: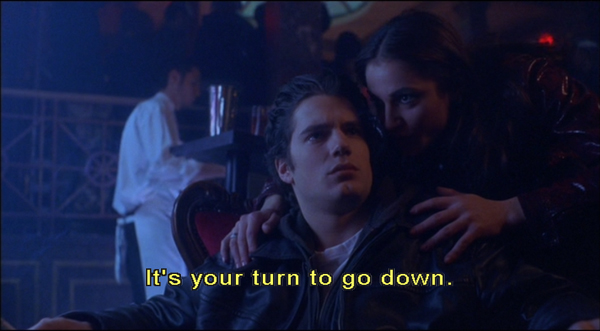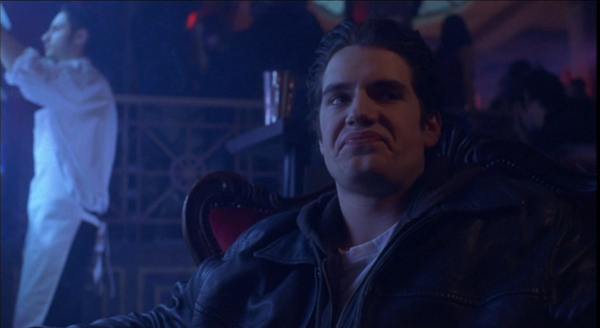 That's not MY Superman!
Motherfucker didn't seem so scared of girl parts when he used this pickup line: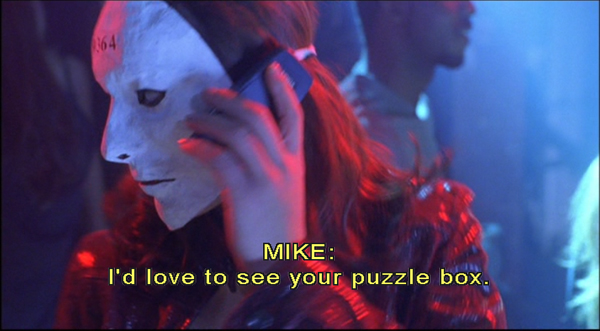 Meanwhile, Jake is trying to hang out, but everybody ignores him. In their defense, his way of starting conversations is stuff like saying to the bartender "Some party, huh?" And also they are in a different reality than him and can't see him.
See, the party devolves into a Derrickson/Bota style reality-bending situation which alternates with scenes of Pinhead (Doug Bradley) and two Cenobite interns tearing people up. Chelsea gets locked in a room and tries to call the police, but when they come they look up into the window where she's standing and they don't see her. So it's like they're in two different dimensions or something. That kind of stuff.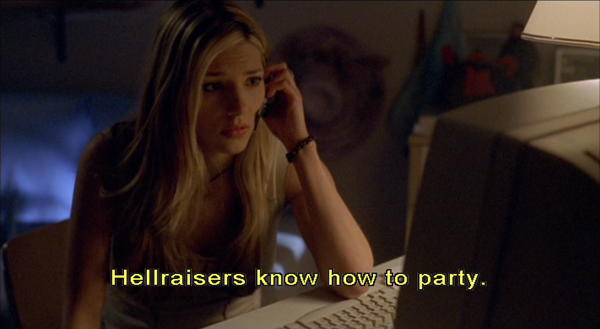 This one is written by Carl V. Dupre (HELLRAISER: HELLSEEKER, DETROIT ROCK CITY), from a story by Joel Soisson (DRACULA 2000, MIMIC 2, HOLLOW MAN II.) I was a little confused about the reality the movie takes place in. They refer to "Hellraiser," there is a Pinhead t-shirt, they know about him and Cenobites but they say "Cenobites aren't real" when somebody wears a mask to look like one as a prank. They know about LeMarchand and that the box summons Pinhead and the Cenobites. They also mention a "Wall Walker," which must be The Engineer. They refer to all that as "mythology."  For a time I thought it was a NEW NIGHTMARE deal where the previous movies are just movies but they will turn out to be based on a real thing. I guess not. They must know those things just from the video game?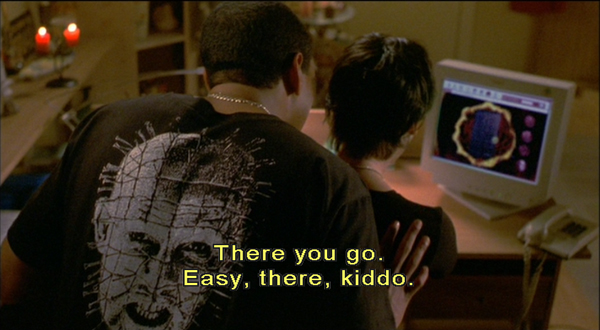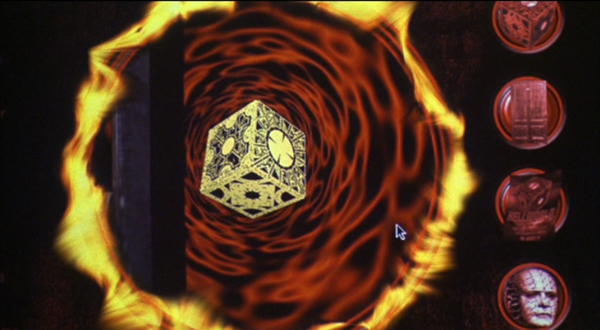 (By the way, I lose track of time, but 2005 doesn't seem that long ago. Didn't they have more sophisticated online games back then?)
Anyway, then Henriksen talks about LeMarchand as a real guy. I guess they think he's LARPing?
I never quite figured all that out, but there is a twist ending that sort of explains what's really going on (kind of like HELLSEEKER), until Pinhead and the Cenobites actually show up to get Lance. In his memoir with Joseph Maddrey, Not Bad For a Human, Henriksen doesn't sound too fond of it:
"My character knows he's running out of time – that's the cynicism of power. So I'm sitting in a room, getting drunk. And why do people get drunk? Because they don't want to feel the pain of payday. He knows the bill is coming due… So I'm sitting in that room, thinking: How did I get here? And then these fucking clowns walk in, with their leather outfits and their righteous Wagnerian voices… I just thought: Ahhhh… fuck you."
Which is a pretty fair review of any of these DTV ones.
This entry was posted on Thursday, October 22nd, 2015 at 8:45 am and is filed under
Uncategorized
. You can follow any responses to this entry through the
RSS 2.0
feed. You can skip to the end and leave a response. Pinging is currently not allowed.