When I reviewed P2 recently I talked about movies with confined locations, well how 'bout this one? Three college kids – girlfriend, boyfriend, and boyfriend's life-long best friend – get stuck on a ski lift. There's some build-up to set up the characters and how it happens, but most of the movie takes place with them sitting on this lift, nobody knowing they're up there, the resort closed for a week, hail coming down, the skin on their faces freezing off. Not one of the better snowboarding trips they've had, most likely.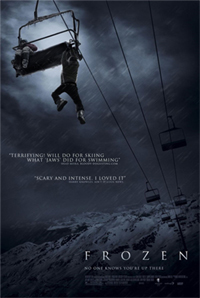 As you're watching you think of the things you would try if you were stuck there, and they try some of those and quickly find out why that's not as easy as it sounds. I've heard some criticism about them not trying to take off their clothes and tie them into a rope, but I forgive them for not trying. With the luck they have in this movie I'm positive they would've figured out a way to fuck that up. Their hopes are crushed pretty quick when they try the most obvious one (maybe we could just jump? It's not that far down and there's snow!). It not only fails but fails way worse than they could've imagined.
At first being stuck up there seems more shitty than life-threatening, but their efforts change that pretty quick. First it's how do we get off this thing, next thing you know it's how do we stop the bleeding, then what can I use to defend myself from predators?
Of course a movie like this is gonna be kind of like a play. Lots of talking, revealing their secret resentments, talking about things that have happened to them in the past, showing us what drives them. Either that or there could be a bunch of fight scenes on the ski lift, but in this case they chose talking. So there's more time spent on quiet character moments than big scares.
It's not really a horror movie, more of a suspense-survival thriller, like that one where the soccer team's plane crashes in the mountain. But there's no cannibalism on the ski lift. Or is there? I would never give it away if there was and/or wasn't cannibalism.
There's a couple effective grossout/sympathy pain scenes, but for the most part it's not a shock movie. The most devastating things aren't necessarily the ones you're expecting, they're things like having to piss real bad or realizing that her dog could starve to death if she doesn't get home.
The writer/director is Adam Green, who did HATCHET. I've spilled alot of letters before about this phenomenon I see of certain directors that have good promotional type relationships with the web movies writers and it seems to me like the quality of their movies gets accidentally blown out of proportion because of that. Instead of going into detail about it for now on I think I figured out a shorthand, I'll just call those guys "friends of the internet." Adam Green is a friend of the internet, and the internet loves it some HATCHET and FROZEN. We'll put it that way.
FROZEN isn't gonna knock you on your ass, but it's a little step toward earning that internet love fair and square. I didn't like HATCHET much at all, but this is a different type of deal and doesn't make the same mistakes. It does have a sense of geography and atmosphere, it does balance its humor with its tension and drama, it does seem to understand the traditions and expectations of its genre.
One thing that's a little odd, they set up a few conflicts with other people before they get stuck, so if it didn't show you how the lift stopped it could add some extra paranoia – did somebody do this to them on purpose? Is somebody gonna come after them? Instead the movie shows exactly the series of circumstances and mistakes that leads to them getting stuck on the lift, and I think that's the right choice. It seems very plausible and keeps you from looking for a big bullshit Hollywood revelation at the end.
The part I did have a problem with is the fucking SPOILERS. Er, I mean the wolves. Okay, putting a wolf down there is a good threat, and it's kinda funny that the poor girl is worrying about her dog not having food and her boyfriend gets eaten by wolves. But wolves rarely attack humans, and I have a hard time believing there's a whole pack of hungry maneaters living on a damn ski resort. These are the types of problems that get sorted out long before some people accidentally get stuck on a ski lift.
I would forgive it if the scene played out with a realistic feel. If it seemed like a wolf going oh, fuck it, he's injured, I'm tasting him, then it could be terrifying. But the movie treats them as roaring monsters that circle in and then it cuts away. I don't buy it.
But for the most part FROZEN works. It's a pretty good execution of a simple, clean suspense concept. It didn't leave me cold. I didn't feel freezer burned. And that's snow joke. Don't get stuck with inferior confinement movies, like STUCK. FROZEN will lift your spirits! Etcetera!