There was a time in our cultural history, or in our life's journey or whatever, when the freaky grossout shit seemed real interesting. The odd top shelf Troma, the young and hungry Peter Jackson, the works of Frank Henenlotter. These are home made labors of love obsessed with bodily fuction and dumb humor, trying hard to disgust you but not really to scare you, and not to be taken very seriously. For a while it's fun, but you can only go so far with that. It gets old after a while, or you get old after a while.
Still, I gotta admit, I had some fun with Henenlotter's new one, BAD BIOLOGY, which is about a monstrous 7-clitorised vagina on a collision course with a detachable superdick that the vagina-possessor believes is God's penis. (I know, I know… yet another movie about that. But bear with me.) The clean-cut-looking Charlee Danielson plays Jennifer, the woman whose orgasms are so intense she tends to accidentally beat her lovers to death in the process. You know, it's about sex and relationships from a woman's point of view, like Sex & the City.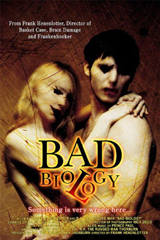 But the movie isn't just about fearing vaginas. Penises are also demonized. This guy Batz (Anthony Sneed) gets in arguments with his 3 foot flailing monster. He had to build a machine to jerk it off and shoots it up with rare animal tranquilizers to keep it under control. There's an obscene conversation in the movie where some young ladies discuss penis size and John Holmes, and argue whether a dick like that is desirable or scary. But they have no idea.
Both parties spend their lives in search of solutions, and of course their parts are destined to meet. I guess it's kind of like AMERICAN GANGSTER the way these two characters spend most of the movie unaware of each other but we know they're gonna eventually come head-to-head. You can decide if it's Denzel or Russell that's the vagina.
Anyway, the rendezvous happens when the guy's dick gets loose and goes on the prowl. You know how it is. She ends up having to give it CPR, then cuddles it like her pet. It's a long story. He tries to get it back and they play tug-of-war with it.
If this doesn't sound like something you'd be into then trust me, it's way classier than I'm making it sound. Nah, just kidding. It's exactly what it sounds like. I mean, most of the nastiness is out of the frame, but there's an occasional stop motion penis or inside-the-vagina POV shot. Don't bring it to your church group, probly.
It's been years since I've seen a Henenlotter movie. Maybe I'll watch BASKET CASE again soon. What struck me about this one is that he has both progressed and stayed exactly the same. For example, there's a really cool looking effect for the bath tub babies, then later there's a terrible stop motion dick. A nice combination of skill levels going on here.
I think part of what makes it interesting is a weird crossbreeding of subcultures. The movie is co-written and produced by R.A. The Rugged Man, an obscure NYC rapper who did a song named after Stanley Kubrick on the classic 'Soundbombing 2' compilation. I guess this is his BARRY LYNDON. R.A. appears in the movie, filmed part of it in his dingy apartment, got Kool G Rap on the soundtrack and populated the cast with little known rappers and even a Prince Paul cameo. Most importantly he put a rapper's love of slang and wordplay into the dialogue that distinguishes it from, say, Troma's brand of dialogue. The scene with the drug dealer explaining that he's never heard of the drugs this guy is asking for is especially enjoyable for its language. You rarely get that in these types of movies, if ever. So it's refreshing.
The other secret weapon is Charlee Danielson, who is pretty but a little dorky looking, more Chelsea Clinton than Sasha Grey. But she approaches this obscene character with such abandon that it's scary.
Yeah, it's a silly movie about out of control genitals. But as far as those things go, kind of fun. Happy Valentine's Day.