It's weird how the secret to a good movie idea sometimes is just to think of a really limited location and then figure out everything that could happen inside there. Like there's that movie coming out where Ryan Reynolds is buried alive, and there was the one where Colin Farrell couldn't leave the phone booth. There's the building in DIE HARD, the bus in SPEED, the mall in DAWN OF THE DEAD, the hockey stadium in SUDDEN DEATH, and there should be one that takes place entirely in one of those Japanese compartment hotels. Or a nerd gets stuffed in his locker and then terrorists take over the school and he has to fight them from inside. Or a cartoon about a cat stuck in a tree and there's a bird's nest there and they're forced to get along and learn from each other, like Lee Marvin and Toshiro Mifune in HELL IN THE PACIFIC.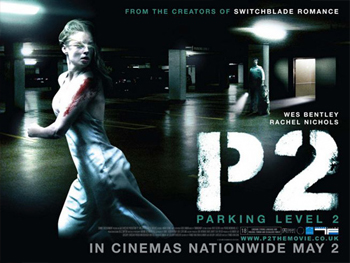 Anyway P2 was probly made up by somebody on their way home from work, but that's kind of the beauty of it. It seems like something that could really happen, and isn't that just our luck?. Rachel Nichols (the good guy redhead in GI JOE) plays Angela, an overworked gal leaving her office late on Christmas Eve only to find that her car won't start. She tries to get help from the one security guard on duty in the parking garage (Wes Bentley), but no luck. Then she tries to call a cab from the building but when it gets there she can't get the building's doors to open and the driver ditches her, and her day just keeps on getting worse. I really mean that, it gets alot worse than the cab ditching her.
I suppose there could be a whole movie about this sort of trouble, in fact there could definitely be a romantic comedy where her bad luck just escalates and escalates and it takes her a while to figure out that she's in love with this security guard who keeps helping her. But in my opinion this is not a romantic comedy, this is a horror movie, so you gotta have some bad intentions involved. And I'll say SPOILER but I think the point where you know for sure it's not gonna be all that romantic is when she finds herself drugged and wakes up TEXAS CHAIN SAW style. Suddenly she's wearing a low cut dress and heels, sitting down for an intimate Christmas meal in the parking garage security office, with Bentley dressed as Santa Claus. He calmly tells her that it's okay, everything's fine, she just passed out. But it's hard to believe that when her leg is cuffed to the table, you know?
I kind of forgot about Wes Bentley after AMERICAN BEAUTY, other than to occasionally confuse him with Adam Scott. But now I think he deliberately hid out in obscurity so he wouldn't be overly familiar in this role. He's  a really good villain because he seems so convinced that he's not a psycho. He thinks he's a real nice guy fighting loneliness. There are small hints that he's influenced by the romantic gestures in movies. He points out that people who go through an ordeal together often fall in love. After SEVEN, all the SAW movies, LAW ABIDING CITIZEN and other movies where the psychos are trying to prove points it's nice to see one where he's just trying to get a girl.
It might be an understatement to say that this guy just doesn't know how to woo somebody properly. He gives her a gift but it's a pretty presumptuous one – he actually kidnapped a boss who drunkenly made a move on Angela after the Christmas party. In HALLOWEEN 6 or something this could be a character that you're supposed to want to see killed, but this is closer to the real world so you think "This is too much. For chrissakes man, she already forgave him! Let him go!" But Bentley doesn't pick up on that. He just know he's awesome, a knight in shining armor going above and beyond. Like, wow, she can't help but be impressed by this one.
To do one of these movies right they gotta set up the geography and the players and then find a whole list of what could happen taking advantage of these elements. And they gotta go through all the possible solutions to the puzzle, the things she should do to try to get out (find the other security guard, get her phone back, go up the elevator, etc.) and why those things don't work. One of my favorite bleak-but-you-gotta-admit-kind-funny moments is when she screams for help through some sidewalk grating but the only person who hears her is a mentally ill homeless lady pushing a shopping cart, who repeats the cries for help over and over again like it's just something she says to herself.
Angela goes through the classic Women of Horror Gauntlet. She gets terrorized, beat up, but doesn't give up. She tries everything she can think of and when one doesn't work she thinks up the next one. She's covered in the blood of herself and others, and comes out the other end a savage ready to stab Michael Myers, beat some WUFs to death with a bone, blow an alien out the airlock or whatever she needs to do. The horror movies offer an equivalent to boot camp or 36 chambers, they carve charcoal into diamonds.
I'd say her most primal moment has gotta be when he sics his attack dog on her. This is a fight to the death, and our girl wins the fight. What makes it great is Bentley's reaction – he gets really upset and can't understand why she would kill his dog. "Why would you do that?" Well look, buddy, you're the one that put her in touch with her primal self. You unleashed this beast. Don't cry when it eats your dog.
(note: that's a metaphor. She doesn't literally eat his dog [spoiler])
I think there's a great joke at the end too. Obviously this is a SPOILER but I think it's too good not to discuss. She turns the tables on him and ends up with him contained. She can walk away and the cops will be able to come get him and she can go clean the dog's blood off herself before Christmas morning. But as she's walking away he calls her the ol' c-word. And she turns around like "WHAT!?" and proceeds to do something that would make a P2-2 more difficult.
So even after graduating horror movie boot camp she was ready to give him a little Christmas grace, but he blew it with his misogynistic vocabulary.
This was produced and co-written by Alexandre Aja and his writing partner Gregory Levasseur, but the director is Franck Khalfoun (who wikipedia claims edited THE HILLS HAVE EYES, but if so nobody told IMDB). It's a tight, solid movie with a worthy heroin and villain, a serious tone but a slight undercurrent of dark humor. It's a very effective cat and mouse game, it's got the strong filmatistic mechanics of HIGH TENSION without the mistake of completely blowing it with a hotshot plot twist maneuver in the last act. I was also surprised and delighted that Bentley's character doesn't go too far into having super powers or anything. It might be a little far-fetched when he fills the elevator with water and somehow sneaks a corpse in there without her seeing it coming, but for the most part it all seems like things he could really do.
I should've gotten to this one earlier, it's modest but underrecognized. Share it with your loved ones this holiday season. Also it's cool that it's able to have the title painted on a wall within the movie. Because it's called P2, you get it?