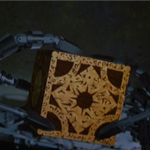 HELLRAISER: BLOODLINE is produced and distributed by Miramax and, in related news, directed by Alan Smithee. It's a mess, and it's not surprising that it ended up being the last theatrical HELLRAISER.
You would remember it if you've seen it, 'cause it's the one where Pinhead is in space. Hear me out, fellas. It's a story that spans three time periods. It starts on a space station that has been hijacked by its own designer Merchant (Bruce Ramsay, BRICK MANSIONS). The space marines take him into custody and he tells them the story of how his ancestor invented the famous puzzle box that opens the gates to Hell, and now a debt has been passed on through the family and he's trying to close them. Obviously they don't get it, but he better convince them, because he has Pinhead trapped in a containment unit!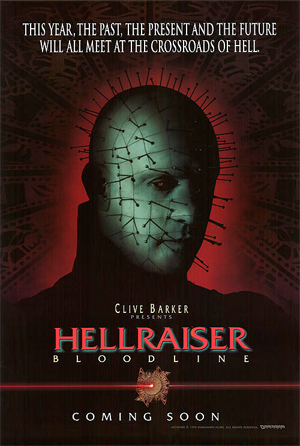 His story begins in wig-wearing 1796 Paris, when the toymaker Phillip LeMarchand brings his masterpiece to the mansion of Duc de L'Isle (Mickey Cottrell, MY OWN PRIVATE IDAHO), the decadent magician who commissioned it. Little does LeMarchand know that this guy is a sicko who has just murdered and carved up a courtesan (Valentina Vargas, THE NAME OF THE ROSE, TWIN SITTERS) with the help of his assistant (Adam Scott from TORQUE and Parks & Recreation) and they're gonna use the puzzle box to resurrect her into a demon called Angelique. This is before the invention of Cenobites, so she doesn't have metal stuck in her, she's just a beautiful, sensual woman who wanders the earth tempting people and shit. But I mean, she's pretty evil too.
LeMarchand designs a box to close the gateway to Hell, but he fails, so his mission is picked up by his '90s incarnation, the architect John Merchant, who created the puzzle box inspired skyscraper from the ending teaser of part III. He dreams of and is stalked by Angelique (who rips out the heart of still-alive Adam Scott when he objects to a trip to the U.S.). Then Pinhead (Doug Bradley) shows up. There's some pretty cheesy business, partly because there's not enough production value to pull off the building-as-puzzle-box idea (it's obviously just a normal building with some large cut outs of some of the puzzle box inlays), but I like the tension between Pinhead and Angelique. When she sees him she says "Things seem to have changed."
He says, "Hell is more ordered since your time, Princess. And much less amusing."
(I believe she's supposed to be some kind of Princess of Hell, he is not just being sexist.)
And he shames her for not being "what you truly are" (all S&Med out like a Cenobite).
A weird thing: since the loss of his pals Butterball, the Chatterer, Female Cenobite, CD Head, Camerahead, Terry Cenobite and JP Cenobite, Pinhead has started traveling with a pack of Cenobite hellhounds. The execution is spotty, and at the time I probly thought it was a laughable idea, but now I think it's pretty cool. I just wish they showed them less so it would be a quick "WHAT THE FUCK WAS THAT?" funhouse thrill like The Engineer in part 1. Their weirdness is really more intimidating than their gnashing (or sometimes chattering) teeth.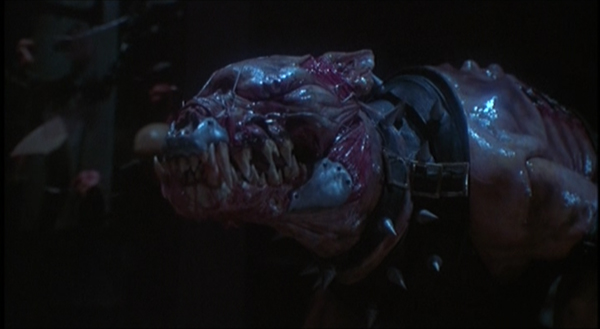 Pinhead also makes a new Cenobite, for some reason, when hunky twin brother security guards spot him in a hallway, and he causes a weird machine to twist their heads together. (When they show up again in the space scenes they separate and then smoosh a guy between them).
The plan to kill Pinhead in space is pretty cool. Merchant solves the puzzle remotely through a robot, which immediately explodes. He traps Pinhead, the pups, the twins and now-Cenobitic Angelique, but the space marines get in the way of folding the station into a giant box of perpetual light. Instead they end up setting the Cenobites loose to chop some people up.
The ending is weird. Merchant pulls it off, the whole thing blows up like the Death Star, his shuttle flies away, credits. No "He'll be back?" horror teaser, no ALIEN style moment of contemplation. It feels unfinished.
And it is, of course. A November 1995 Cinefantastique article explains, "Miramax's production of Barker's franchise series has been caught in a lengthy process of editing, rewrites, subsequent filming and postponement of release dates. The numerous setbacks have caused most of the creative elements of this latest Pin Head saga to drop out of the production as they needed to move on to other scheduled projects." Ironically the movie ended up being delayed another four months after the November 4th release date mentioned in the article. For extra measure, a quote about "the number of things that can go wrong" in making movies is followed by "says Barker, whose animated version of THE THIEF OF ALWAYS is set for release in late 1996." That movie was shelved after Barker watched an animatic and hated it.
The original BLOODLINE director (after Stuart Gordon almost did it!) was Kevin Yagher, the effects artist known for doing Freddy's makeup in most of the ELM STREET sequels and designing Chucky and the Crypt Keeper, and who had started directing on episodes of Tales From the Crypt. Barker had suggested following a family through three time periods, II and III writer Peter Atkins suggested using the LeMarchands, as mentioned Barker's original short story The Hellbound Heart. The script they developed, agreed on with Miramax and filmed was told in chronological order. But after, according to Barker in the article, "closing down this movie with three weeks of shooting still to be done," the company decided they didn't want a movie that took an hour getting to Pinhead.
The idea of starting the story in the future and going back isn't necessarily a bad one, but it was too much for Yagher. "The bottom line was I had to decide to either basically dedicate another year to the film or go on on with my life and continue with other projects," Yagher told Cinefantastique. "In the end, it wasn't so much that I was upset with the direction that they wanted to take, as it was that I just didn't have the time and energy." (Later in the article he compares the process, less diplomatically, to "pulling butt hairs.")
He left to direct SLEEPY HOLLOW. Hmm. I hope that turned out better for him.
Brought in for cleanup was Joe Chappelle, Miramax's wonderboy at the time who'd come from advertising and had written and directed an independent crime film called THIEVES QUARTET (which was never distributed) and the terrible HALLOWEEN: THE CURSE OF MICHAEL MYERS (which also had controversial reshoots forced on it). He was tasked with shooting as few new scenes as possible to re-order the story and salvage Yagher's incomplete footage. He wasn't happy with the movie either, so it's a duel Alan Smithee credit.
Miramax/Dimension would continue to push Chappelle with PHANTOMS (starring Ben Affleck), and then the DTV movies TAKEDOWN (with Skeet Ulrich as the famous hacker Kevin Mitnick) before he did the non-Dimension THE SKULLS II. He eventually found his place in television, most notably as a producer and director of The Wire.
In a 2011 Vulture interview, Scott remembered,"We had, like, two sets of reshoots and it took forever to make that movie. I'm not really in it that much, but I remember we would do one reshoot and redo everything, and then six months later we would reshoot it again and everything was super different. My death changed from melting to getting my guts ripped out."
By the way, I know Adam Scott is pretty popular now, so please enjoy these screengrabs summing up his role.
Strangling somebody: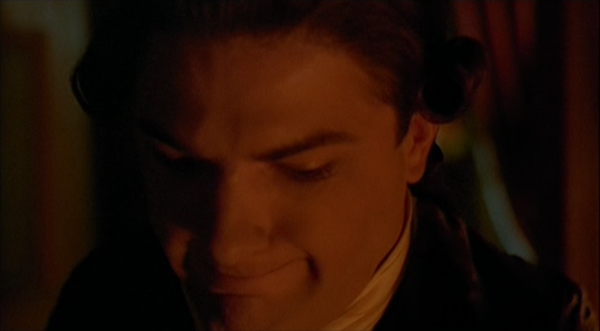 Watching a demon be summoned: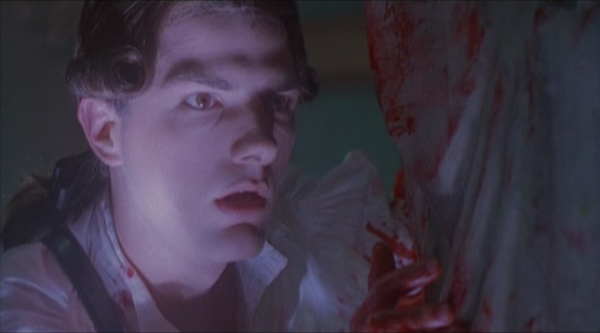 Wearing an evil bathrobe: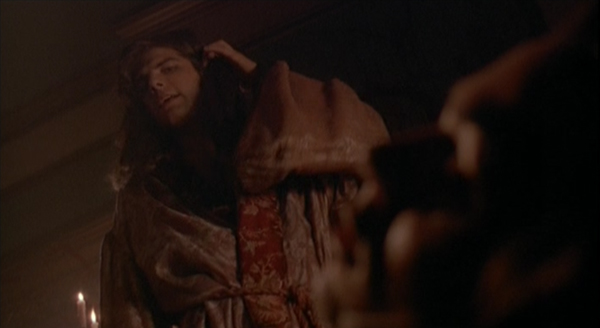 Toasting while wearing a suit that's too big for him: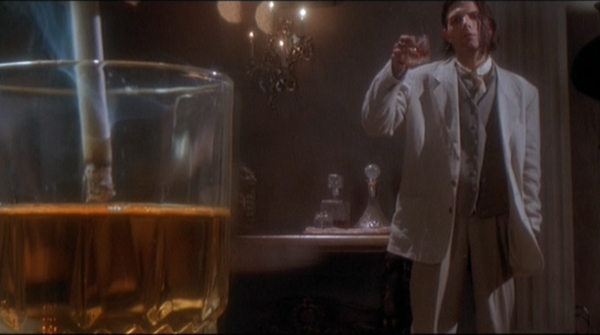 Getting pinned against the wall and his heart ripped out TEMPLE OF DOOM style:

The first reshoots were three scenes written by Atkins, but the re-reshoots were re-written by Rand Ravich, who had been suggested by Barker because he wrote CANDYMAN 2.
The original version (here's the script) started in Paris, and stayed there much longer. In this version, Angelique was already a demon, which we learn when she does a striptease in which "Her torso transforms – suddenly it is covered in a score of SCREAMING MOUTHS and DEMONIC EYES that stare balefully out into the room." De L'Isle, instead of creating her, had summoned her using a pentagram. She's the one behind commissioning the box, which she explicitly names as the "Lament Configuration" while showing it off to a group of gamblers, who have the misfortune of solving the puzzle and being turned into Cenobites.
Angelique comes to LeMarchand's house and seduces him, inviting him to a masquerade ball, entertained by a troupe of clowns and acrobats whose "costumes are even more exaggerated and bizarre than normal and they all have strange half-smiles, as if they possess a secret knowledge. Or are close to the borders of sanity." On their way to the party the entertainers kidnap Auguste (LeMarchand's friend who convinces him to make an anti-Lament Configuration), ball-gag him and throw him into "a HUGE MAW OF HELL!"
When jealous De L'Isle tries to stab LeMarchand, Angelique "SNAPS HIS WRIST easily!" and "grasps D' L'Isle by the throat and hoists him impossibly high with one hand… and effortlessly flings him more than thirty feet to SMASH through a glass window at the far end of the room!"
But LeMarchand is killed by the Cenobite gamblers, before Angelique explains the premise of the movie (unstated in the theatrical cut):
"Phillip Lemarchand can have no child. His bloodline must die with him lest his genius be reborn and turned against us."
In this version, instead of being barb-wired to death off screen, De L'Isle actually redeems himself. He rescues LeMarchand's pregnant wife Genevieve by tackling Angelique onto the pentagram and uttering a Latin invocation, destroying the Cenobites and bringing her back to Hell.
Genevieve then gives the Lament Configuration to a "derelict" merchant, presumably some ancestor or incarnation of the "What is your pleasure, sir?" guy who opens and closes the original HELLRAISER.
That script also had a little more of an ending, but not a great one. Instead of flying away in a shuttle, Merchant would've died inside the station with Pinhead. Then it would've gone into kind of a 2001 style psychedelic freakout which would then loop back to the opening of the film when LeMarchand has finished the box.
HOLY SHIT IT'S ALL STARTING OVER AGAIN! WE'RE DOOMED!
Some of these scenes were definitely filmed. There's a "Reconstruction Workprint" version on Youtube that includes unfinished footage of the gambler striptease, some scenes animated like Taiwanese news re-enactments, and for some reason a section of HELLRAISER III.
Some stills of the missing scenes showed up in the April 1995 issue of Cinefantastique, almost a year before the film was finally released: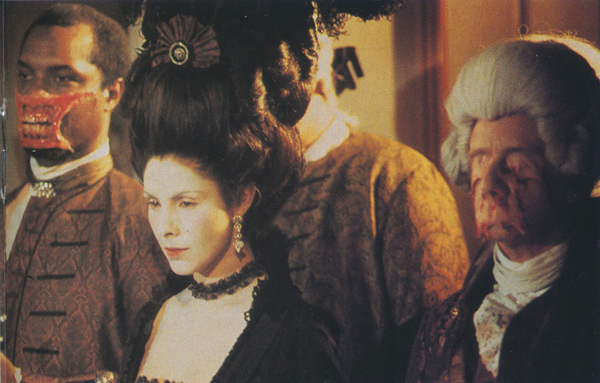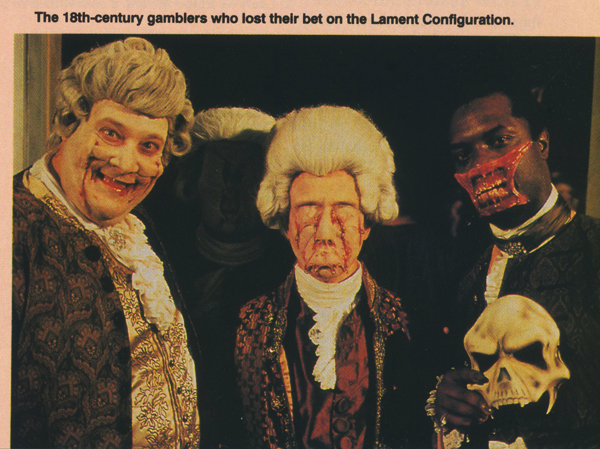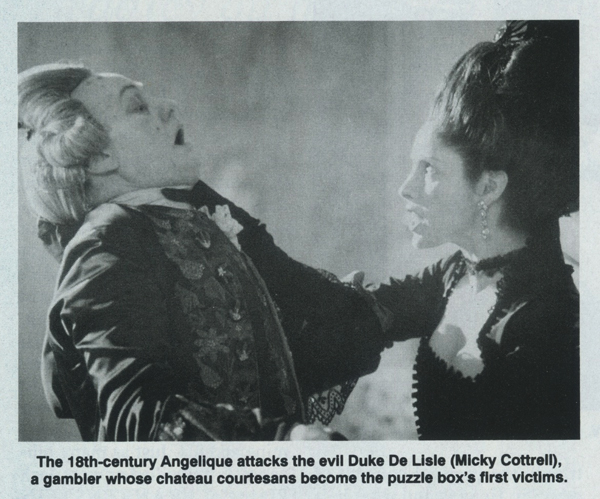 But what could've been doesn't really matter that much. It wasn't. The finished film, even if no one will put their name on it, is unequivocally better than part III. It's a better story, a better extension of the existing mythology, a better use of Pinhead, even if he has pets. It's a closer match to the tone of the original HELLRAISER, and the origins of the puzzle box are more interesting than the origins of Pinhead.
Unfortunately, the execution is not as good as the ideas. If the space scenes could've had the production value of an ALIEN movie, or even the HELLRAISER copycat EVENT HORIZON, maybe people would've accepted the "Pinhead in space" concept more. Unfortunately it's very cheap looking and always feels suspiciously like it was filmed in a stationary room on earth, not on a floating space station.
Maybe my biggest problem is Ramsay as the three different leads. He's probly better now but in this he didn't have the presence to be compelling or the gravitas to be convincing as a genius designer or architect, or a space prisoner who convinces people he has to close a doorway to Hell. It doesn't help that he looks like Jimmy Fallon.
I have trouble hating it. It's too unusual for that, and too not-having-a-guy-with-CDs-stuck-in-his-head. It's better than some part 4s. It should've been worse.
APPENDIX: Notable horror movies released between HELL ON EARTH and BLOODLINE:
BRAINSCAN
BRAM STOKER'S DRACULA
CANDYMAN (came out on the same day as HELLRAISER III!?) and CANDYMAN 2: FAREWELL TO THE FLESH
CRONOS
THE DARK HALF
THE DAY OF THE BEAST
DELLAMORTE DELLAMORE (a.k.a. CEMETERY MAN)
FROM DUSK TILL DAWN
HALLOWEEN: THE CURSE OF MICHAEL MYERS
IN THE MOUTH OF MADNESS
JASON GOES TO HELL: THE FINAL FRIDAY
LEPRECHAUN 1-3
LORD OF ILLUSIONS
MARY SHELLY'S FRANKENSTEIN
PHANTASM III: LORD OF THE DEAD
SPECIES
TALES FROM THE CRYPT PRESENTS DEMON KNIGHT
TEXAS CHAINSAW MASSACRE: THE NEXT GENERATION
VILLAGE OF THE DAMNED
WARLOCK: THE ARMAGEDDON
WES CRAVEN'S NEW NIGHTMARE