INSIDIOUS (new this week on home video formats) is the latest from James Wan, the director of SAW. He didn't do any of the SAW sequels though, if that's what you're thinking. This is only his fourth movie. I didn't think SAW was that great and never saw his other horror movie DEAD SILENCE, but I'm kinda rooting for the guy to turn into a consistently good director because of how much I dug DEATH SENTENCE, his vigilante movie starring Kevin Bacon. Also 'cause he's the only Chinese-Australian director I ever heard of, and that's kinda cool.
Well, INSIDIOUS isn't gonna propel him into the pantheon, but it's not bad. Above average. It's a ghost story with a mildly unique twist. Nothing to write home about, unless you send the people at home reviews of all the movies you see, which I guess some of us here probly do, so fair enough. It might be something to write home about if they're interested, just don't bore them by going into too much detail, please. Learn from my mistakes.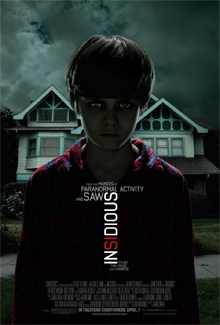 Rose Byrne (CIA lady from X-MEN FIRST CLASS) plays a mother of three, just moved, her husband is Patrick Wilson (owl guy from WATCHMEN), a high school teacher who seems kind of distant. There are vague indications of some sort of traumatic event or trouble in the marriage or something. The camera moves very slowly and deliberately, making an ordinary suburban house seem ominous without resorting to gothic shadows or nothing like that. A nice, confident, slow burn opening.
Then, since this is a ghost movie, weird shit starts happening, things they don't necessarily give much thought to at first, things getting moved around in the house, etc. Then one of the kids is exploring the attic and falls off a ladder. We see that he sees something strange, but he doesn't even tell anybody. The next day he goes into a coma.
Byrne is really good and sympathetic and the movie milks some sadness and creepiness out of the situation. You see the helplessness of a parent whose son won't wake up and nobody knows what's wrong with him, and also of the little brother not able to sleep at night, looking out his door and seeing his lifeless brother in his room down the hall, heart monitor beeping. Also you see the husband being sort of emasculated by not being able to protect his family from the weird shit. He's got the macho protective thing, telling his wife "Stay here!" when he goes to investigate the loud knock on the door in the middle of the night. But when he can't figure out who knocked or why the burglar alarm keeps going off or whether or not his wife really saw somebody upstairs for a second there's nothing he can do to protect anybody. Puffing his chest out doesn't intimidate travelers from other realms, apparently.
The movie is promoted as "from the makers of PARANORMAL ACTIVITY" because the guy that directed that is one of the 7 credited producers. If you're reading this review when it's recent there is a possibility that you still remember PARANORMAL ACTIVITY was a recently relevant no budget POV video movie about how a couple is videotaping themselves and a ghost opens a door at night and what the fuck man that's terror right there. I will have you know that in this movie a door opens several times, therefore it's way scarier.
I prefer the "real movie" approach to the "home video" one, so this is way more my speed than PARANORMAL. But I can see a similarity. Both movies give a squeeze to the ol' primal heebie jeebie glands with brief, hard-to-see, impossible-to-explain apparitions invading and desecrating the safety of the home. Oh shit, what was that sound. Hey, how did this stuff get knocked over in this room, we were just here a second ago. What is that creepy talking I hear over the baby monitor? It's real effective for a while unless and until you recognize the formula: it's just gonna be a bunch of unexplained shit happening for a while until things escalate at the end.
Since it's a real movie and not a home movie it has to actually go somewhere, and not just end with a camera tipped over on the ground when something spooooooky was about to happen. So they gotta call in the exorcist type character. First these "funny" goofballs come in and take a bunch of readings. One is the writer, Leigh Whannell, the other is one of these guys the young people have now with the beards. I wasn't too happy with these characters but was pleasantly surprised when they turned out to be sort of the pre-interview guys working for the big shot psychic or ghost expert or whatever played by Lin Shaye.
You guys know who that is? I always remember her as the filthy landlady that Woody Harrelson is forced to bone in KINGPIN. ("What is it about good sex that makes me have to crap? You really jarred something loose, tiger.") She's a character actress who's played a ridiculous number of bit parts, often as nurses. Her brother Bob Shaye was the head of New Line Cinema so she was in a ton of their movies, including the original A NIGHTMARE ON ELM STREET.
Anyway it was refreshing to see her in this role where they don't make her look ugly or act crazy. She's very confident and professional but polite. When the husband kicks her out of the house for telling him that his son is haunted she's very nice about it and says she understands completely. In fact she doesn't really seem like a weirdo until the seance scene where she puts on a crazy gas mask contraption for communicating with astral travelers.
The movie picks up when you get to the explanation of what's actually going on and what they gotta do to save the kid. It's a pretty cool idea and makes one of the parents more active in saving the kid than just helping a priest do a bunch of chants or something. But I do wish there was some more surreal ideas in the place that must be traveled to to save the boy. There's an opportunity for the movie to get into some weirdness but they mostly just have the regular world with extra shadows and smoke machines. One exception, and the highlight of the movie for me, is the weird lead beastie who's seen in a room sharpening his Freddy claws on a sandwheel attached to an old sewing machine while listening to Tiny Tim's "Tiptoe Through the Tulips." I've often complained about the horror movie cliche of the Oldie Used In Scary Context, but if you're gonna do it I think that's a pretty good song to use.
Also am I crazy or does this demon guy's antique doll collection include some kind of a Michael Jackson mannequin: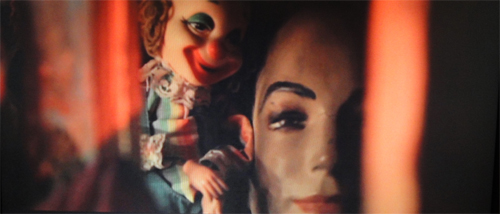 (sorry, I don't know how to do screengrabs so I had to take a photo of the screen. Actually it doesn't look too bad but I don't want the cinematographer to see this and start crying. You know how sensitive they are.)
There's a couple little things I can mention that might seem like nitpicks but they're examples of the kind of thing that I think held it back from being as good as it could be. For the most part it has a pretty realistic feel to the characters and the way they react to things, but then every once in a while there'll be a big one where they don't. The biggest is the night when they hear the knocking on the door and she says she saw a guy in the room. They know there was somebody outside at least in the middle of the night, and it kept setting off their alarm, it seemed like somebody was harassing them. At this point they're not thinking it's anything supernatural, and the husband must've stayed up all night watching the door to make sure it doesn't get opened again. So why didn't he call the cops? He's not in the hood with a Stop Snitching ethos, he's a teacher living in the suburbs, trying to protect a wife and a baby and two other kids. But he doesn't try to get help with this.
Not as big a deal but there's a part where the wife is talking to the nurse that helps with their home coma care, and moments after the nurse leaves the room she finds a bloody handprint on the kid's sheets. Why doesn't she say, "Hey, come back here for a second" and ask her if she knows what the deal is? I'm not sure. It's a dumb detail, but it takes you out of the movie's reality when you wonder those things.
And that reminds me of another unrelated matter. In that same scene she cries and confesses to the nurse that the way everything's going to shit she feels like the universe is conspiring against her. The nurse says, "Well the universe picked a fight with the wrong chick." I thought that was a good line but the thing is, the wrong chick does not end up saving the day. The husband sort of takes over as the protagonist and the chick does very little to push back against the universe's aggression. So the badassness of the line is diminished when it sets up completely unfulfilled expectations. Actually the universe picked a pretty good chick to fight with, a sensitive singer-songwriter. What's she gonna do, play piano? I told you, we're dealing with bad guys who listen to Tiny Tim all the time. They can handle some corny music.
The cool way the title comes on screen seems inspired by DRAG ME TO HELL, which I thought was a much more fun and inventive take on the PG-13 ghosts-'n-possessions-'n-shit type of movie, but that got me thinking about spookablasts. See, when DRAG ME TO HELL came out Sam Raimi referred to it as a "spookablast," and then I kept seeing reviews and articles that used that casually as if it was a word everybody was familiar with and understood. Actually it's not a real word, they just got tricked, they got Raimi'd. If not, why didn't I see anybody using it to describe INSIDIOUS? Is this not spookablasty enough for you? The tone is pretty different, it's much more serious and there are way less fans and less shit being hurled toward said fans. But that part with the guy sharpening his claws is pretty weird, it seems pretty spookablasty for a minute there in my opinion. Oh well.
INSIDIOUS is not, in my opinion, a spookablast. But it's a spookaokaytimeiguess.