I don't know if "good" is an adjective I would apply to Wes Craven's little-seen latest horror movie (his first writing/directing joint since NEW NIGHTMARE). Other than the synonyms for "strange" there aren't many adjectives that really do the job here. So it's hard to explain what this movie is like, exactly, but I'll try.
MY SOUL TO TAKE looks like a pretty typical glossy teen horror movie, with characters that could be in FREDDY VS. JASON or a FINAL DESTINATION, plus your standard Marco Beltrami score infused with an occasional rock song. Although it's not a remake, a sequel, a prequel or a prequmake it does fit your modern mainstream horror mold by being released in last-minute-post-production-3D (LMPP3).
Yeah, it looks normal from a distance, but when you get up close it's clear that something's off here. Most movies that look like this follow a fairly simple formula. In the first half hour or less you figure out generally where the story is going and it either plays out elegantly or clumsily and that determines whether it works or not. But I rarely knew where the fuck MY SOUL TO TAKE was going, or what it was supposed to be about. The story is so convoluted and the combination of elements and incidents is so effortlessly odd that it just feels completely unhinged and keeps me off balance. It's nowhere near the same level of quality, but it made me think a little bit of FEMME FATALE and RAISING CAIN in the way it crazily connects so many different types of stories, like mixing up the pieces of five different puzzles and forcing them to fit together.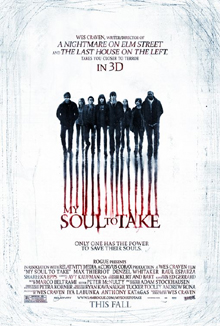 Actually, I got a better comparison. It's like a calmer version of I KNOW WHO KILLED ME. Not as bonkers as that one, but weird enough that you're not sure if it's kind of clever or if it just has parts that work by accident. For example, the first present-day kill (which I noticed afterwards is spoiled on the disc menu, as well as in this review) happens at exactly the place in the movie and in exactly the manner that horror movies usually have a fake scare.
Hey, who is that menacing silhouette coming toward me on a foggy night? Oh shit, it's the killer! He's coming at me! (BOO!) What the– is that a mask? Oh, it's my buddy playing a tasteless joke. (Ha ha ha, I got you.) You asshole, that's not funny! etc.
So I'm watching this scene in MY SOUL TO TAKE ready for the unmasking, but it turns out it really is the real killer already. The kid just gets quickly stabbed and unceremoniously tossed off a bridge. Is that a fakeout fakeout? Or did they not expect that I would expect a fakeout? Is it knowingly confounding my expectations, or is it succeeding by doing everything wrong? I thought maybe Craven would settle that question on the commentary track, but he has a couple of these young actors with him, so it's one of those "co-workers reminiscing about the good times they had" tracks. He doesn't go into deconstructionist college professor mode like he sometimes can.
It helps that the few trailers I saw didn't really explain what the movie was about, exactly. But I guess the movie itself doesn't do a very clear job of that either. What I'm trying to say is that this review might ruin it for you, it was nice to go in having no clue what was about to unfold. (I've noticed I spend alot of time writing about why you guys shouldn't be reading what I'm writing. Also, would you believe that I'm just now getting to the part where I try to describe the plot.)
We open 16 years ago. The people of Riverton, Massachusetts are presumably aglow in FORREST GUMP mania, enjoying the Winter Olympics live from Lillehammer, Norway, or having their minds blown by the instant classic debut albums of Wu-Tang Clan, Snoop Doggy Dogg and Notorious B.I.G. These things are not mentioned though. Instead a video of a recent serial killer attack is showing on the local news, where they can't make out the killer's face but have enhanced the footage to show that he used a knife that says "Vengeance" on it (this has no apparent meaning in the story, so it's probly just a promo item from the Johnnie To movie). Meanwhile a lady is pregnant and a CGI baby hand imprint pushes out of her belly (I think it's supposed to be cute, not creepy). The father is building a dollhouse, then starts flipping out between multiple personalities and realizes that one of his personalities is the owner of that famous knife. Before you know it there are gunfights, near death experiences, a rash of premature births, distorted Freddy Krueger type voices, an exploding ambulance and a paramedic explaining that perhaps each of the killer's multiple personalities is a separate soul.
Then we skip to the present, when the seven teenage preemies (now known as the Riverton Seven) and their school chums are at the site of the candle-decorated charred ambulance wreckage to celebrate their sweet sixteens by having a jock guy make a big speech about the urban legend of the Riverton Ripper before they perform a ritual where one of them leads a giant puppet into the river to scare away the ghost. The guy who has to do it is named Bug (Max Thieriot). He is the protagonist of the movie and is scared of the puppet. Also he has a best friend named Dunkelman (John Magaro), a nerdy guy who teaches him how to be a man.
Bug is supposed to be very troubled. There are hints about his mysterious hidden past, his migraines, even claims that he has murdered people before (claims he questions as if open to the possibility). For most of the movie he wears a t-shirt depicting the life cycle of frogs. And he stays up past 2 am listening to a talk radio show about birds called "The Birding Hour," building a giant California condor puppet that represents some kind of mythological such-and-such about the transference of souls, and also pukes and shits on a bully in class.
At some point we unexpectedly shift into a stylized high school world like HEATHERS or MEAN GIRLS. The popular girls bribe the bully to punch people they don't like, using numbered ratings to describe how hard. They also have a closed-door daily restroom debriefing called "The Fang Zone," which the boys know about enough to spy on it by balancing a cell phone on top of a pipe. I must've missed when they mentioned that the bitchy chainsmoking "Fang" is Bug's sister. Back at home Fang reveals Bug's secret backstory through narrated childhood flashback while beating him to a bloody pulp and calling him a "maggot."
I guess if I'm gonna describe everything weird about the movie we're gonna be here for a week, so let me just skip to the highlight reel. There's the scene where Bug and Dunkelman suddenly play the mirror game like in an acting class while scary horror music plays. There are the many off-putting cuts, like the one that goes from comical boy-and-girl-screaming-when-they-see-each-other-in-the-bathroom to police car arriving at murder scene. There's the awkward expositional dialogue that never turns out to be relevant, like when the principal forces "I've been a principal here for six months" inappropriately into a conversation. There's the part where Bug confronts Dunkelman about whether or not he's a killer. He admits that he is, but not the killer – he coincidentally has just come from off-screen murdering his abusive stepfather. (What is this, MYSTIC RIVER?)
And I don't know why, but there seems to be some sort of nut motif:
1. Fang threatens Bug with a pair of scissors, screaming "Watch your nuts, little squirrel!"
2. Several shots prominently display Bug's poster that shows a squirrel and says "Protect Your Nuts."
3. He has a big bowl of nuts sitting on a table in his room.
This doesn't have to do with nuts, but it's weird: the end credits have a crudely animated California condor flying around, sometimes wearing clothes.
The working title for the movie was 25/8. I read many times that it was about these seven kids who were born on the day when a serial killer died, August 25th. On the DVD Craven says that actually it meant that to fight evil you gotta work 25 hours a day, 8 days a week, but they had to change it because people kept thinking it was a date. Huh.
So I didn't really catch on until the last stretch, but the hook of the movie is this: the Riverton Ripper is killing again, either through one of his seven souls that were transferred into the bodies of 7 kids born on the day that he died, OR also it is possible that he didn't die and is still alive living in the woods, and the kids don't have his souls at all, they just were born on the day when he was mistakenly thought to have died, and I guess in that scenario he would be trying to kill them because of that. Catchy, huh? I can't really figure out why this didn't catch on.
Okay, I changed my mind, I know for sure that "good" is not the right adjective for this movie. But whatever you want to call it I gotta admit I enjoyed being confused by it.