Here's another popular 2007 French horror movie. This one came out about a month before FRONTIER(S) did and like that one it has a pregnant protagonist and takes place during a time of rioting in the underprivileged Parisian suburbs. But it seems to be in the present and it's much simpler, fewer characters and locations, and to me way more effective. "Fun" is probly not the right word for this one, but it comes close.
The movie opens with a (digital) baby in its mother's womb… and what happens to it when the mother is in a car accident. In-utero whiplash. So, yeah, it's pretty fucked up. But that's how they do it in France.
Alysson Paradis (Johnny Depp's sister-in-law, it turns out) plays Sarah, whose husband died in that crash. Now, 4 months later, she's about ready to pop. Tomorrow, which is Christmas by the way, she's either gonna go into labor or the doctor's gonna induce it. Tonight she's depressed and trying to be alone and forget about the holidays.
Then some lady (Beatrice Dalle) shows up at her door. And then in her house. Sarah doesn't know who she is, but she knows things about Sarah, and eventually she finds a large pair of scissors, which she seems interested in using for things this tool was in my opinion not originally intended for.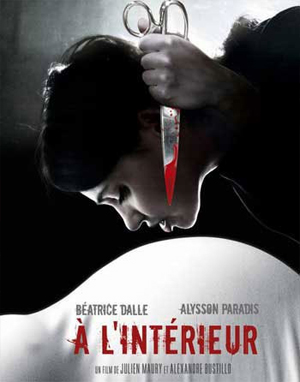 So once the lady shows up it's pretty much one long stand-off and scuffle. It gets more complicated as a few different people show up to check on Sarah. The editor at the newspaper where she works comes by, and mistakes this lady for Sarah's mom. Sarah tries to keep people out of her life but they worry about her so they show up and make things worse. And it's INSIDE because she's holed up inside her house, inside the bathroom, with the baby inside her.
This is a really different type of horror villain. She gets your typical psychotic killer looks on her face every once in a while but most of the time her motives are unreadable. You can guess at why she's doing this but you're in the dark as long as Sarah is. Who the fuck is this crazy woman in her house? She came here with nefarious intent but she's wearing a dress and heels. Ladylike, not seductive (though she looks kinda like a little bit older, gap-toothed Angelina Jolie). She's determined like a Terminator but vulnerable like a human. She doesn't say much, doesn't do alot of evil laughing or verbal torment. She bleeds like a motherfucker, she screams in pain, even cries in emotional anguish, throws fits. She wears a wedding ring.
As a rule if a horror movie causes me to say "Oh no" out loud then it's pretty brutal. When the gore happens it's pretty fuckin intense because the characters seem real and the blood doesn't look digital. And it just keeps getting worse. This Sarah might go through more of a physical and emotional wringer than any non-tortured protagonist in horror history. These characters receive injuries that cause you to wince in sympathy, but it's emotionally unrelenting too because of the way people we believe she really cares about get pulled into this mess. And of course she looks extra vulnerable with that giant belly, and the stakes are so high with her not only protecting an unborn baby, but the legacy of her dead husband.
Since it's Christmas Eve and she's supposed to give birth tomorrow it's natural to compare and contrast what's going on with the Nativity story. Instead of a virgin pregnancy she just doesn't have a husband, because he was killed in a car accident. She wasn't going around to inns and finding no vacancy, actually she has a home but she pushes everybody away including her mother, because she's depressed and wants to be alone. Instead of three wisemen bearing gifts there are three cops bearing arms, instead of following a star to the place they're sent there to check on her. I guess the rioting suspect would be the little drummer boy. Instead of a drum solo his gift is a warning when he yells to Alice upstairs that the killer is still in the house.
There are only a couple parts that took me out of the movie a little, both involving one of the cops that tries to help the poor girl. I mean I'm sure police work is a little different in France but I have a hard time believing a cop would keep a young prisoner leashed to himself while investigating a way more serious crime – then give the kid a gun and encourage him to use it! It just seems like poor strategy on several different levels. Then there's one scene that threatens to HIGH TENSION the whole movie when something happens that appears to be supernatural, but I decided it was just a weirdly-depicted regularnatural event and therefore doesn't fuck up the landing.
I didn't get to this one right away because I just kept hearing how brutal it was and assumed that was all there was to it. The cover for the American DVD is cheesy and just gives off a "stabbing a pregnant lady, isn't that fucked up, dude?" type of attitude. So I gotta say I was truly impressed. This is a really good horror movie, not only better than I expected but easily one of the best of the 2000s.