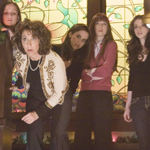 I skipped BLACK X-MAS for six years 'cause everybody told me it was bottom-of-the-barrel, but after I heard Brian Collins and some guys discuss it on some podcast about their favorite horror remakes I decided to try it out this year. Of course it's a disgrace to the pioneering original Bob Clark BLACK CHRISTMAS from 1974. But it's a fun disgrace.
Like the original it's about some sorority sisters (and one sorority den mother, or whatever it's called) staying in the house on Christmas break, being harassed on the phone by some weirdo named Billy who stalks them and suffocates one or more of them with a plastic bag and leaves her in the attic in a rocking chair and nobody finds her for a while. It skips the original's thread about a father going around trying to find his daughter, preferring to keep the cast mostly male-free and most of the running time isolated to the one location. But the biggest and boldest change was to give the killer a backstory.

See, one of the most distinct touches in the original is that you never find out who the hell this Billy is or what his deal is. When I heard about the remake I assumed they'd have to fill that in and that it would be a terrible idea. But now that I've seen it I actually think it's what saves the movie, because the focus on the backstory – told to us in flashback and conversation with asylum guards and longtime neighborhood residents – completely changes the content and tone of the story, making it easier to not compare it to the original and instead to enjoy it as trashy fun.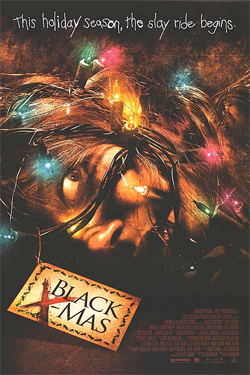 It turns out Billy did not have a good childhood. There was all kinds of cruelty and Christmas-related trauma. His mom locked him in the attic of what is now the sorority house. She made him the father of his own sister Agnes, then taunted him with her, yelling to him through the ceiling while celebrating Christmas with the new baby. His stepfather told him he wouldn't get presents because Santa was dead, shot down by the Russians. Eventually when Billy was grown he killed his stepfather, ate his sister's eyeball, strangled Mom with Christmas lights, beat hear with a rolling pin and made cookies out of her skin. When the cop showed up he was sitting there eating them dipped in a glass of milk.
The cast includes Katie Cassidy (who's also in remakes of WHEN A STRANGER CALLS, A NIGHTMARE ON ELM STREET and REVENGE OF THE NERDS [unfinished]), Michelle Trachtenberg (HARRIET THE SPY), Mary Elizabeth Winstead (Lucy McClane), Lacey Chabert (Party of Five), Crystal Lowe (DRIVEN TO KILL), Jessica Harmon (A CHRISTMAS STORY 2, ANYTHING BUT CHRISTMAS), plus Kristen Cloke (who happens to be the director's wife but is a real actress) as an older estranged sister of one of the missing and SCTV's Andrea Martin plays the sorority mother lady. I actually forgot she was in the original but not knowing it was an homage it seemed pretty cool that she was in this.
At first the girls worried me, they have that manufactured horror movie bitchiness, sniping at each other because one's the rich girl and one's supposed to be a redneck or whatever. But the obnoxious ones die quick, and there are a few good jokes that won me over, like the awkward moment when the weird girl  gives Winstead a glass unicorn as a gift, saying "I know you like the Bible and stuff." Or when they think their friend is calling, but it's a clearly male voice who yells and threatens and acts crazy and then one of them states very confidently, "That was not Megan."
And this is a little thing but I like that when a bunch of the sisters encounter their friend's severed head at the same time one of them, Trachtenberg, yells "HOLY FUCK!" It seemed like a believable type of reaction you don't usually see in horror movies, which are usually more fond of high pitched screaming.
Alot of these characters don't get a chance to develop (it's a pretty violent movie) but I like how for those who stick around for a while there's a theme of sisterhood: the actual sister who refuses to leave until she finds out what happened to her sister, the girl who does the same for her sorority sisters because "we're supposed to be sisters!", and they're banding together to fight this guy who went psycho partly because of jealousy of a siter. And he wants the girls to be his sisters too, but to him that means hanging their eyeballs from a Christmas tree.
Because of his childhood confinement Billy knows how to sneak around the house and spy on the rooms. He does it in the attic, behind the walls, under the floorboards, through not just obvious Norman Bates style peepholes but even thumbtack holes from the girl's posters. In one weird creep-out moment we see a small bathroom tile move to reveal an eyeball under the floor, checking out a drunk girl's ass in the shower. At the end the girls take the battle to him and we get to see it in there, how he climbs around. Barefoot, too.
It's kind of clever in the way it updates the original's prank phone calls to modern cell phone technology where you can see who's calling you. There's a good scare where one of them gets a Billy call and calls back, only to hear her friend's ringtone through the ceiling. Creepy! He's right up there!
I like a good holiday horror, including dumb ones like this, the more ridiculous the better. I especially respect them when they're careful to make use of all the holiday trappings. This one gets high points in that department. There's the cannibal cookies, gory tree decoration, ornament stabbing, candy cane stabbing, Christmas tree impalement, wall-to-wall Christmas music, "Jingle Bells" and "Dance of the Sugar Plum Fairies" ring tones, ominous presents, spooky Nutcracker snow globe. At the hospital, a nurse's help buzzer is not heard because of Christmas carolers. During the murder of Billy's mother there's a JURASSIC PARK style shot of Christmas cookies vibrating on a table. My favorite is probly the shot of blood splattering into a glass of eggnog. I could be wrong, but off the top of my head I think eggnog might be a holiday tradition not really explored in the SILENT NIGHT DEADLY NIGHT series.
There's also a snow storm happening, which is a procedural move for a horror story like this (keeps police away, limits cell phone range, makes transportation away from dangerous location difficult) but it also allows for various winter themed gruesomeness: ice skate beheading, icicle stabbing, murder while scraping ice, marshmallow skewer eye poke, etc.
The writer/director is Glen Morgan, who co-write some of the FINAL DESTINATIONs with his long time partner James Wong, who directed them. They were writers together on X-Files and a bunch of stuff but Morgan's only other directorial work is the I-remember-being-good 2003 remake of WILLARD starring Crispin Glover.
Man, I know this is a tough sell, they shouldn't've remade BLACK CHRISTMAS, but that's why I'm calling it by its altered video title. Just think of it as a different thing. I know some of you like this sort of shit as much as I do. Have yourself a merry little x-mas, everybody.