If you had told me a week ago that I would bother to see ORPHAN, even on DVD, I would've thought you had the wrong guy. But then somebody told me the plot twist and it was SEVEN POUNDS all over again, it suddenly seemed more interesting and I went and paid money to see it.
And I'm happy to report that ORPHAN is a surprisingly smart and enjoyable evil-child suspense thriller. It's about a couple played by Vera Farmiga and Peter Sarsgaard who adopt a 9-year old Russian girl named Esther, and they should've kept the receipt because they got a lemon. At first she seems like a smart and incredibly talented kid, but actually she's a fuckin lunatic who ends up terrorizing them all, mommy seems crazy because she says her daughter is a maniac, etc. You pretty much know the drill.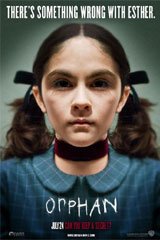 Except not exactly. First of all, this isn't another OMEN ripoff. There's no magic or demons in this one. No possession or anything. Just a crazy person. It's more like THE STEPFATHER with the kid being the psychopath instead of the dad.
But more importantly what I like about this movie is that Vera Farmiga plays a fully-formed character. Women don't usually get roles like this in mainstream Hollywood movies, let alone a silly thriller from Dark Castle productions. The first thing we learn is that she was horribly traumatized by a still birth (the movie opens with an upsettingly blunt birth disaster nightmare), not surprising for a movie about adoption. Then we learn that she's in therapy, then that she is a recovering alcoholic, then that she has a deaf daughter, then that she plays and composes classical piano. And you keep finding out more about her: the rock bottom near-tragedy she still hasn't lived down, the time she was forced to quit her job at Yale, the tense relationship she has with her mother-in-law, the way she deals with the loss of her unborn daughter, the sore spot she has with her husband over something he did a long time ago – all things that will conspire against her when dealing with an evil child situation.
Sometimes in a movie like this it's good for the protagonists to be somewhat unlikable yuppies, because then it's funnier to see them get terrorized. But this goes the other route: this poor gal has been through so much, you feel sorry for her before she even adopts. But she's not a victim, she's pretty upbeat for most of the movie, trying to be a good mother whether that means mistakenly trying to help her lunatic kid adjust or protecting her other kids from the lunatic. But she's not just Lifetime Television For Women Heroic Mom of the Year either, she also has a playful side, joking around and getting it on with her husband. Something seemed unusual about the sex scenes in the movie and later I figured out it's that sex in movies is almost always between characters who just met during the movie, almost never between people who have been together for years.
It's a great role for Farmiga – strong, intelligent, tragic, with a naturally occurring side helping of hot. I only knew her from THE DEPARTED so I looked her up and noticed she also played the mom in that other evil kid movie JOSHUA – I wonder if that's just her favorite type of movie? Or maybe she wasn't happy with that one and wanted another shot.
Thomas in the comments recently pointed out the rash of evil kid movies and wanted to know if this meant that the generation that controls Hollywood is just learning that they don't understand their kids and are terrified of them running around with their little skinny pants noodling on various bizarre handheld devices that transmit information to other little eyeliner wearing freaks so that they can vote on different singers that they have on TV or download some hot jamz for their phone ringing or whatever. It's a good question that I don't have a good answer to, but this one specifically I don't think fits that theory. Part of the reason Esther is strange is because she is not modern, she wears vintage dresses that the other kids make fun of her for (in one case miming a text message as a way to cruelly insult her for no reason in front of the teacher without consequence).
I think more likely this is the rare horror movie trying specifically to appeal to adult women. It's all about Farmiga's parental fears. I'm not sure what she went through with JOSHUA, but with this one she has to worry about miscarriage, not being able to control her kids, not being able to protect her kids, not understanding her kids, not being trusted by her husband, not being able to trust her husband. And meanwhile she has to fight her urges to drink (she's really into wine – she's a wino). She's forced to feel guilty about her past, to relive tragedies, to hit a child and act like a crazy person. The movie also pushes some pretty good discomfort buttons – they have the hero hitting a kid, the kid trying to seduce an adult, one of the good kids firing a gun!
It also plays a little bit with that old thriller device where one character (usually a kid) knows about the crazy thing that's happening, but nobody believes them. For alot of this movie the dad is the only member of the family who doesn't know. Mom knows but people think she's being crazy and abusive, sister knows but is afraid she'll be blamed because she was there when Esther murdered a nun, brother knows but doesn't want to have his throat slit during his sleep. And the kids end up running around trying to find evidence to prove to their parents that Esther is bad news, not knowing that mom doesn't need any evidence, she's already onboard.
They do use one of my pet peeve cliches, the scary-character-singing-old-song trope, but fortunately not that much. There's also a gimmick involving black light that is pretty ridiculous but sort of cool. But for the most part you'd have no idea this was made by the same company that brought us HOUSE ON HAUNTED HILL (remake) and HOUSE OF WAX (remake). As far as this type of movie goes it's almost classy.
If that's not gonna do it for you though I'll have to give away the SPOILER twist I guess, let's see if I can still do the invisible spoiler text thing:
it turns out Esther is not actually Russian. She's Estonian! She lied about her whole background! Ain't that a bitch? And she can play piano, but she pretended she couldn't!
Oh, also she's a 33-year old escaped mental patient who passes for a child because of a rare syndrome that causes proportional dwarfism.