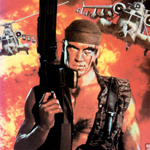 This year my summer review series will be a little different. I knew I had to write about the 30th anniversary of a certain culturally phenomenal event movie that gave the town of Hollywood an enema, taught us to keep bustin and set us on a path to pretty much our entire current era of entertainment. And when I looked at the other movies that came out that year it reminded me how different summer movies used to be, for better or worse. In those days they were less genre, less special effects, more straight ahead action. And it seems to me the summer of '89 was a transitional period bridging the prevailing action movements of its decade to those of the next. So I'm going to be taking a look at 1989: The Last Summer of '80s Action. (title pending)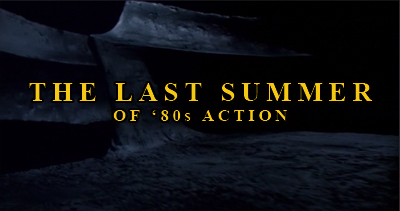 Note: To help remind you and myself what it was like back then I'll often be mentioning Billboard's #1 single for a particular week. For example, when RED SCORPION came out it was "She Drives Me Crazy" by Fine Young Cannibals.  But the truth is that's not what I was listening to at the time. To re-create my summer of '89 audio experience I'd have to get a portable radio with auto-reverse tape deck and listen to a dub of It Takes a Nation of Millions to Hold Us Back over and over all day every day.
PROLOGUE
The 1980s. A time of sweaty chests and bandoliers. Half a decade after the smash success of JAWS, summer was cemented as the go-to season for mainstream crowd-pleasing movies. For the purposes of this study I've chosen to define summer movies as anything released from the beginning of April to the end of August – the months when kids are out of school, with some leeway at the front for Spring releases intended to play well into the summer.
Throughout the decade, those months would always see the release of between 9 and 16 movies that could be loosely described as actiony. The influence of STAR WARS and CONAN THE BARBARIAN ensured that a bunch of those were sci-fi (TRON, SPACEHUNTER: ADVENTURES IN THE FORBIDDEN ZONE, METALSTORM: THE DESTRUCTION OF JARED-SYN) or fantasy (BEASTMASTER, CLASH OF THE TITANS, CONQUEST, FIRE AND ICE, HERCULES), but halfway through the decade those trends had faded, and the few that popped up (ALIENS, PREDATOR, ROBOCOP) were genuine classics in action terms alone.
In the summers of '80-'88 there were more westerns (THE LONG RIDERS, THE LEGEND OF THE LONE RANGER, PALE RIDER, SILVERADO, YOUNG GUNS) and ninja movies (THE OCTAGON, PRAY FOR DEATH, AMERICAN NINJA 1 and 2, NINE DEATHS OF THE NINJA) than there were super hero movies (just the three SUPERMAN sequels). We had the last Steve McQueen movie (THE HUNTER), a few by Charles Bronson (DEATH HUNT, MURPHY'S LAW), some Clint Eastwood (BRONCO BILLY, FIREFOX, TIGHTROPE, THE DEAD POOL), some Sylvester Stallone (NIGHTHAWKS, RAMBO: FIRST BLOOD PART II, COBRA, RAMBO III), a bunch of Arnold Schwarzenegger (CONAN THE BARBARIAN, CONAN THE DESTROYER, RED SONJA, RAW DEAL, PREDATOR, RED HEAT) and a whole bunch of Burt Reynolds (SMOKEY AND THE BANDIT II, CANNONBALL RUN, STROKER ACE, SMOKEY AND THE BANDIT III, CANNONBALL RUN II, STICK, MALONE) and Chuck Norris (THE OCTAGON, EYE FOR AN EYE, SILENT RAGE, FORCED VENGEANCE, LONE WOLF MCQUADE, CODE OF SILENCE, THE HERO AND THE TERROR). Of course there were big, expensive studio action-adventures, too, notably RAIDERS OF THE LOST ARK, INDIANA JONES AND THE TEMPLE OF DOOM and the 007 films FOR YOUR EYES ONLY, OCTOPUSSY, A VIEW TO A KILL and THE LIVING DAYLIGHTS.
1988 was a big one. You had some great chases in the fantasy epic WILLOW, but otherwise the only genre mixes were horror-action hybrids DEAD HEAT and MANIAC COP. DIE HARD introduced Bruce Willis as a vulnerable anti-Sly or Arnold, but did it so well it catapulted him to action icon status right alongside them. And ABOVE THE LAW introduced us to Steven Seagal.
Many of the movies mentioned above drew on Reagan era fantasy: macho militarism and vigilantism combating the spread of communism, the proliferation of urban crime, the humiliation of losing a war. But when 1989 rolled around the whole world was changing. In January, George H.W. Bush was sworn in as president – Reagan's leftovers, but a new guy, at least. In February the Soviet Union ended their decade-long military occupation of Afghanistan (inspiration for RED DAWN and RAMBO III). Also that month, South African president P.W. Botha resigned as leader of the National Party, paving the way for his successor F.W. de Klerk to become president, free Nelson Mandela and begin the dismantling of the apartheid system. In April, the student-led demonstrations started in Tiananmen Square. Also that month, a series of strikes began in Poland, kicking off the events known as "The Revolutions of 1989" that would lead to the end of communist rule in Central and Eastern Europe. Equally significant, Jean-Claude Van Damme released both CYBORG and KICKBOXER (in Europe – the American release was in September), proving that the previous year's BLOODSPORT hadn't been a fluke, and Seagal wouldn't be the only one taking on the Chuck Norris white martial artist mantle in the coming decade. Indeed, '89 was the beginning of some major movements in entertainment, including the first seasons of The Simpsons and Seinfeld (as well as COPS, Hard Copy, Saved By the Bell, Baywatch and America's Funniest Home Videos.)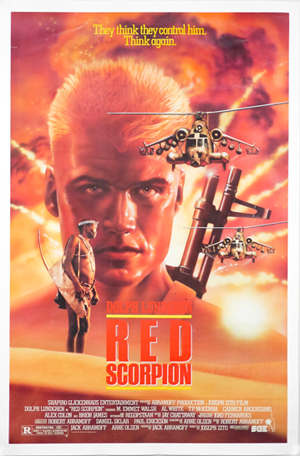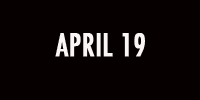 With all that in mind, RED SCORPION seems like a fitting kickoff to the denouement of this decade's action. Its star Dolph Lundgren was of course made iconic by one of the most 1980s movies ever made, ROCKY IV, and here he's playing Russian again, in a Cold War story about the evils of the Soviet empire spreading communism to Africa. This one wasn't just exploiting the popular themes of the time, it was dreamt up by true believers. Republican political operative Jack Abramoff was approached to produce a documentary about Soviet intervention in Africa, giving him the idea to do an action movie about it. He even gets a story credit (along with his brother Robert and the credited screenwriter, Arne Olsen [COP & 1/2, MIGHTY MORPHIN POWER RANGERS: THE MOVIE, ALL DOGS GO TO HEAVEN II]).
I do like the idea of expressing one's beliefs through b-action movies, even politics I disagree with, but I really can't get behind these guys. Two of the producers would be disgraced during later Republican administrations. Abramoff was at the center of an enormous George W. Bush-era scandal in which he, in his words, "happily and arrogantly engaged in a lifestyle of political corruption and business corruption and the rest," and was convicted along with 21 others. He was played by Kevin Spacey in the movie CASINO JACK (2010). Executive producer Paul Erickson was recently indicted for wire fraud and money laundering, and he's the guy who tried to set up a meeting between candidate Trump and Vladimir Putin at the NRA National Convention while he was the live-in boyfriend and co-conspirator of convicted Russian spy Maria Butina.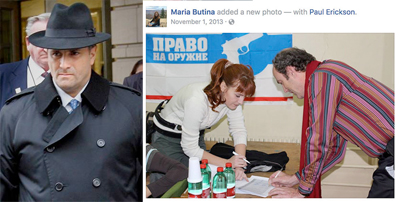 Whoops!
I've reviewed RED SCORPION before, and that review still stands, except for my ignorant statement that Dolph is lacking in charisma. Clearly I wrote that when I just remembered him playing meatheads and hadn't discovered BLACKJACK or many of his other films. I was an idiot.
Dolph plays Lieutenant Nikolai Petrovitch Rachenko, elite Soviet Special Forces motherfucker sent to some unnamed Val Verde of Africa to assassinate a rebel leader for opposing the Soviet, Czech and Cuban forces running the place. Rachenko infiltrates the rebel cell by starting a big bar fight, getting thrown in jail with rebel Kintash (Al White, one of the "Jive Dudes" in AIRPLANE!) and commie-hating American journalist Ferguson (M. Emmet Walsh, THE SCORPION KING 4: QUEST FOR POWER), and helping them bust out.
I guess I'm naive and too trusting of Dolph, because I was actually thinking Rachenko had had a change of heart and really was trying to help them. Nope, at this point he's back on his secret agent bullshit. Ferguson is like Vince in THE FAST AND THE FURIOUS – he's an asshole who hates and mistrusts the hero, and is completely correct! Walsh is always funny and interesting to watch, and he's a funny, ridiculous character because his way of representing America and Freedom and Mission Accomplished is through things like saying he misses bacon cheeseburgers, and using the term "fuckin-A," because Americans can swear "whenever they fuckin hell want." Also he likes to play Little Richard. It's such a powerful antidote to communism that his big contribution to a spectacular truck chase is to rig his tape deck to play, I believe, "Long Tall Sally," over a loudspeaker at the enemy. It's completely silly, but also kinda makes the movie. ("Jenny, Jenny," "All Around the World" and "Good Golly Miss Molly" are also in the movie, one on the end credits with added machine gun sound effects to represent the freedom spreading.)
Walsh's BLADE RUNNER castmate Brion James (STEEL DAWN) plays a Russian Sergeant who refers to Ferguson as "the American propagandist," and I don't know if that's an accurate description but I can tell you Ferguson seems to be an abysmal journalist. He just runs around during a battle and talks into a tape recorder about it being terrible what's going on. He's not, like, doing research or interviews or anything. Maybe it's supposed to be a gonzo journalism thing but I don't see who's gonna publish it.
Anyway the truck chase is cool and has some great stunts that are clearly performed by Dolph himself. But I think the most original section of the movie is after he fails at the assassination, escapes execution by his own people and ends up hanging out with some Bushmen who found him passed out in the desert. They laugh at him, teach him to hunt pigs, carve a picture of a scorpion into his skin, etc. (I wondered if this was at all inspired by the hit 1980 South African comedy THE GODS MUST BE CRAZY.)
Rachenko has a really good attitude about it because when they're sitting around the fire and they hand him a cup of scorpion venom he doesn't question it at all, he just gestures to make sure they're saying to drink it, then just does that without hesitation or complaint. He has chosen to trust his hosts. After his new friends are attacked by his old army he decides to lead the rebels in an attack on the Soviet camp and General Vortek (T.P. McKenna, STRAW DOGS).
One new development since the old review is that Lundgren has appeared briefly in a Coen Brothers film (HAIL, CAESAR!). Here he's co-starring with M. Emmet Walsh (BLOOD SIMPLE) and Brion James (CRIMEWAVE). So maybe Al White will be in their next one.
Another new thing is a nice special edition Blu-Ray with a Zito commentary and even an interview with Abramoff. Of course, they never call him "disgraced lobbyist," and he doesn't bring up the four years he served of his six year sentence. (It was minimum security. He taught a screenwriting class and ran a movie night.) I'm sure many people watch it without knowing his background, and just assume he's a regular producer. The only implication that he's not is when Zito (who says he was very nice) jokes that you might've heard of him from some news stories.
In the interview, Abramoff persuasively explains how hard it was to find a suitable country to film in after Swaziland changed their mind when they were already there. They ended up filming in South-West Africa (now Namibia), which was under the rule of South Africa. Abramoff defensively claims he'd been led to believe they were about to pull out. He doesn't mention the word "apartheid" or that the South African Defense Forces provided him with tanks, trucks, troops and mortars, prompting Sweden's Isolate South Africa Committee to call for a boycott of Dolph's movies. This is a familiar shame: the people who would fight communism, but be okay with racist oppression. (I don't blame Dolph for it, though. I don't think he could've known what he was getting into.)
Another funny Abramoff bit is that there's a scene where Dolph's character is imprisoned and a guard says "god damn." Zito says, "That blasphemy, I must've had 15 conversations with Jack Abramoff about that and of course he wanted to remove it, a blasphemous like that, and I didn't." The guy cared that much about showing somebody use the Lord's name in vain, but had no qualms about committing fraud and bilking millions of dollars from Native American tribes and shit. We all have different ideas of spirituality, I guess.
Director Joseph Zito had already done THE PROWLER, FRIDAY THE 13TH: THE FINAL CHAPTER, MISSING IN ACTION and INVASION U.S.A. The latter two are more blatantly jingoistic, but also funnier and faster paced. This isn't his best movie, but I bet it would've been worse in somebody else's hands.
LEGACY:
Abramoff would produce the Dolph-less RED SCORPION 2 (1994) and the former-Power-Rangers-starring KARATE MASTERS: BEGINNING MARTIAL ARTS FOR KIDS (also 1994) before turning to his life's passion of despicable fraud, corruption and treacherous scumbaggery on a massive scale that he would get off very easy for. Zito would only direct two more movies – DELTA FORCE ONE: THE LOST PATROL (2000) and POWER PLAY (2003). Lundgren, though,was just getting started in an action career that would soon include non-Russian roles in  THE PUNISHER, I COME IN PEACE, SHOWDOWN IN LITTLE TOKYO, UNIVERSAL SOLDIER, ARMY OF ONE, PENTATHLON, MEN OF WAR and many more.