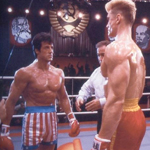 "Yo, can you turn your robot down?"
Which is stranger: that a legit, best-picture winning sports drama like ROCKY would eventually have a part IV that was this ridiculous, or that such a part IV could still stand apart from the series as a classic of a totally different kind? IV goes all in on the Reagan-and-MTV glitz of part III, crafting a preposterous Cold War face-off with so many song montages in the second half it almost qualifies as a rock musical. In fact, the whole sound of the movie is different because I-III composer Bill Conti and his inspirational brass section are replaced with a cool synth score by Vince DiCola (TRANSFORMERS: THE MOVIE) that was "one of the first to exploit the Fairlight CMI and Synclavier II computers' sequencing capabilities" according to DiCola's websight. I guess that's fitting for the ROCKY where the first new scene is about Rocky giving Paulie a robot for his birthday. The robot will occasionally pop up to force Apollo or Rocky's driver to barely suppress a "these crazy white people" look, or to be used as a boombox. So if you were hoping III was a fluke, and that this one will be gritty again, I got bad news.
It's tradition to replay part of the fight from the end of the previous movie. This one not only reminds us of the fight with Clubber Lang, but also the private, no witnesses rematch between Apollo and Rocky. Of course it was ambiguous like the Toretto-O'Connor rematch, or King Kong vs. Godzilla or Freddy vs. Jason, it froze just as they were swinging at each other. But now for the sequel they're replaying it, so we must be about to finally find out who– ah, never mind. Freeze frame again. I'm not sure why they had to replay that.
Some more things had changed in the world since part III came out. Most importantly, Stallone had released FIRST BLOOD and RAMBO: FIRST BLOOD PART II, movies that became a huge cultural phenomenon in part by (somewhat accidentally) tapping into an American thirst for national pride in an era confined between the shameful memory of Vietnam and the imagined near future of nuclear war. So like many things in our culture at the time, ROCKY IV channeled/acted as propaganda about animosity between the United States and the Soviet Union, capitalism and communism. At the beginning of the movie, Soviet World Amateur Champion and blond goliath Captain Ivan "The Siberian Express/The Siberian Bull" Drago (Dolph Lundgren) has come to the States "to compete as an international sportsman and ambassador of goodwill," according to his Olympic gold medalist swimmer wife Ludmilla (Brigitte Nielsen). It's too bad there wasn't a separate movie about Ludmilla's brutal swimming competition she must've had against the stars and stripes while she was there. Anyway, through a press conference with villainous Soviet trainers they request "an exhibition bout with your famous champion Rocky Balboa." Rocky's not interested, but his friend Apollo (a decadent capitalist who sees it on an outdoor TV while playing catch with his dogs in a swimming pool) gets worked up and insists (against Rocky's advice) on coming out of retirement to fight this Russian.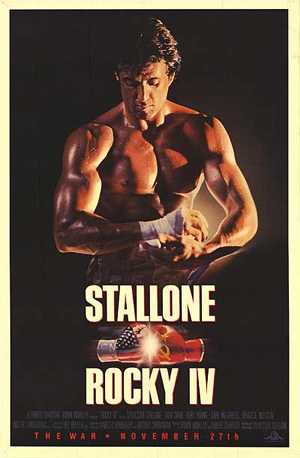 You know who's back this time? Rocky. This feels much more like the guy from I and II than the guy in III did. I love his debates with Apollo. First he tries to gently convince him that it might be better to try to come to terms with civilian life and aging than to take this dangerous fight. He can't convince him so he smiles and says "You're a great talker Apollo." He tries again right before the fight and we realize that he's too slow to see the political context of the fight, but that also means he's not gonna get swept up in some dumb Cold War nonsense. "This is not just some exhibition fight that doesn't mean anything," Apollo says. "This is us against them! What are you talking about? Come on."
Rocky lowers his eyes, defeated, doesn't try to argue it. His look says well, I can't really articulate why I'm right, so I'll let you win. He reminds me of people I know who don't follow politics or current events, and a conversation comes up that's totally over their head, and they know it shouldn't be. Or somebody who gets in an argument with someone who's very opinionated and has had t his argument alot and knows a bunch of catch phrases, and they know better than to get into it but they still feel strongly about their position. That's the look they get.
Rocky might be ignorant, but he's right. American-flag-shorts-wearing, Uncle-Sam-dressing-and-quoting Apollo Creed and the Russian trainer guy he calls "Comrade Bigmouth" are being babies. They get into an argument at the press conference about who started an argument at the press conference. The Russian whines "You are the aggressor!" Back in the '80s, seeing this as a double feature with RED DAWN, I definitely saw it as an anti-commie movie, but through the eyes of today it's clear that's not really what it is. Stallone might've been exploiting the Cold War to hype up the crowd, but he was also denouncing it.
Drago makes Clubber Lang seem down to earth. It's funny that Lundgren almost didn't get to audition because they weren't looking for a guy that big. He towers above everyone and looks sculpted from toe to hair to be the ultimate boxing machine. As a Soviet propaganda tool they chose Drago for his genetics, and he trains in a high tech lab with a team of scientists testing and injecting him for ultimate power. I mean, it's worth bragging about. All our robots can do is bring Paulie a beer.
This is the ROCKY sequel I'm most familiar with, having caught parts of it on cable over the years, but this might be the first time I've watched it beginning to end since the '80s. Of course I remembered Apollo's garish entrance with James Brown and his band (including Maceo!) doing a huge number for "Living in America" (which would be his last hit). What I forgot was that Drago is caught off guard by all this. He's alone in the ring in the dark when suddenly the ceiling opens up and he rises into this decadent Vegas performance complete with giant props and glittery showgirls. He looks kinda disgusted, kinda confused, like Bill Murray in Japan, or like Apollo when he sees the robot. The frantic shots of American flags and model warplanes flying overhead indicate a bit of panic.
I'm sure Drago's not in a mind state to analyze the lyrics, but if he was he'd find that the Godfather of Soul is bragging about America's "super highways coast to coast, easy to get anywhere," and says  "When there's no destination that's too far / and somewhere on the way, you might find out who you are." In other words, the American institution of self discovery via road trip. In other other words, fuck you Soviet Union and your vast, difficult to traverse terrain.
Adrian looks unhappy with this display, and though Rocky smiles at first he starts to look embarrassed, or at least like he thinks it's a bit much. A little too ROCKY III. So that's one way the Balboas and the Russians are on the same page.
Another thing about this scene: the crowd boos Drago like a WWF crowd booing Nikolai Volkoff or The Iron Sheik. But he hasn't done anything yet! I'm honestly not sure if we're supposed to be with the crowd or recognize them as rude and dishonorable. Same goes for the openly antagonistic American sports journalists at the press conference.
This fight is obviously set up as propaganda for the USSR, but watching it now I think the Dragos themselves are honestly in it for the sport. Yes, Ludmilla smiles at some bad times, and Ivan makes a few horrendously insensitive comments, but I think she's sincere when she tells Apollo's wife "They're sportsmen, not soldiers," and later when she worries about the safety of her husband. There's a way to read it that she's the one more dedicated to the cause, but it could be another case of being protective of the man she loves.
Unfortunately Ivan Drago's monstrous strength is fatal for Apollo. A tragic loss, but we can be consoled by the fact that he told Rocky he owed him one and Rocky said no, they were even. And also by the fact that he gave Rocky a cool hat to wear. Every time he wears that hat we know he's remembering Apollo.
I don't think Drago did it on purpose, but the dumb bastard defies the obnoxious press on the scene by failing to show any remorse. So, okay, fine, Rocky will take that exhibition bout. He's too stubborn not to, even though Adrian tells him "You can't win!" By the way, Adrian has now fully evolved from painfully shy pet shop girl to deliverer of emotional yelling monologues.
The way I remembered the training portion of the movie, it was some bullshit where the Soviets have all the technology and high tech equipment at their disposal, and the poor American has to run around in the snow carrying logs and stuff. But in fact that is Rocky's deliberate strategy. He asks to be flown out to some remote place so he can be isolated and concentrate on the fight. This is like his rural version of training in the streets of Philadelphia.
Allow me to list the musical montages:
1. At the very begining there's the recap of the Clubber Lang fight set to "Eye of the Tiger" by Survivor.
2. About halfway through, after Rocky has agreed to fight Drago in Russia, and has had an argument with Adrian about it, he goes for a drive in his Lamborghini and thinks about clips from all four ROCKY movies (yes, including this one) while the entire song "No Easy Way Out" by Robert Tepper plays. At first he's thinking about Apollo's death, then about training and fighting against Apollo over the years, then his argument with Adrian and his relationship with her, but then his mind wanders to other things including getting punched by Clubber, Mickey dying, back to Apollo dying, etc. And lots of shots from when he ran on the beach with Apollo.
I don't think Rocky is driving to a particular destination, but I think James Brown would argue that somewhere on the way he might find out who he is.
3. Part of "Burning Heart" by Survivor plays while Rocky, Paulie and Apollo's trainer Duke (Tony Burton, becoming more of a character in this one) land in Russia, drive to the farm and look at icicles. "Burning Heart" is notable for including the lyrics "In the warrior's code / There's no surrender
/ Though his body says stop / His spirit cries – never!"
You know what man, I've been looking over the warrior's code. I don't see the word surrender in here at all.
4. The training montage that's just set to Vince DiCola instrumental (a song fittingly called "Training Montage" on the soundtrack) rivals part III's "Eye of the Tiger" opening as one of the best montages of the series. Rocky trains in the snow while Drago trains in the lab. There are brilliant match cuts going from Drago on a machine to Rocky pulling a wagon, and from Rocky chopping down a tree to one of Drago's sparring partners falling.
Note: on Lundgren's 1987 fitness tape Maximum Potential he says to never run on hard surfaces, and it shows him jogging on a beach. But Rocky runs on hard surfaces! Not everybody has sand or Soviet-funded-treadmills to run on. Dolph needs to check his fitness privilege.
5. After a brief dialogue scene buffer there's another training montage cutting between Rocky and Drago. This one takes place later, because Rocky has a beard, and it's set to "Hearts on Fire" by John Cafferty. Rocky's part focuses largely on in-barn training such as extreme jump roping, lifting wagons and various resistance exercises with Paulie and Duke standing and watching. While Drago runs on an inclining treadmill, Rocky runs up an actual mountain. When he gets to the top the keyboards quote "Gonna Fly Now" and he raises his arms in victory. That shows you where this character has gone: from running up some stairs to conquering an actual mountain.
6. There's a montage that covers rounds 4-14 of the fight.
7. "Hearts On Fire" reprises for an end credits photo montage. (In the tradition of "You're the Best" being rejected for III, Peter Cetera's "Glory of Love" was rejected as the part IV end credits song before being picked up out of the garbage and used on KARATE KID II.)
James Symons is credited as "montage editor," and he must be a Stallone buddy because he also edited COBRA, OVER THE TOP and RAMBO III. More significantly he has a credit for the fight and training montages on ROCKY II, which were spectacular.
Like Rocky, Stallone has a knowingly dumb sense of humor, and one example is when he cuts from the ring introductions to Rocky Jr. (Rocky Krakoff, POLTERGEIST II) and his friends and the robot (in a Santa hat) watching the fight at home.
"That's my dad!"
"We know! What do you think we are, nerds?"
During the ninth round they cut to the kids again and they're bouncing up and down and shadowboxing in excitement. You gotta hand it to those kids, they really oughta be bored and exhausted by round 9 of a boxing match. Especially since this is what they're doing for Christmas! That really must be Rocky's kid. He can go the distance.
But for the most part the movie treats this all very seriously, which I'm grateful for. This type of ridiculousness is much better with less mugging, more flexing.
As much as I remember this as a jingoistic movie, it's nice to rewatch it and realize that its attitude really is above all that bullshit. If it really wanted to pump us up it would have Rocky trying to kill Drago to get even, or come close. It would have him cling bitterly to his dead friend's plea that "This is us against them!" Rocky doesn't do that. He just wins the fight, and more importantly wins over the Russian crowd, who start by booing him but are so impressed by his tenacity that they end up chanting his name. Then he uses his victory as an excuse to make a little speech against war and for the human capacity for change. This is not out of the blue; Rocky and Drago have been shown to be individuals, not the representations of ideologies that the promotion tried to mold them into. In III and now IV we've seen Rocky's need to shed his capitalistic materials in order to find the eye of the tiger. And we've seen Drago lift his overseer by the neck and yell at the premier "I fight to win for me! For me!" Both of them are more dedicated to The Warrior's Code than to any kind of nationalism. Despite the trunks.
I'd say the corniest moment in the movie is when "most of the politburo" who are at the fight are sort of shamed by the crowd into slow clapping for Rocky's speech. But oh well. Better than having them throw a comedic fit.
The swagger of ROCKY IV is pretty well summed up by the beautiful title sequence of sculpted chrome boxing gloves that rotate to reveal American and Soviet flag theming before they punch at each other, collide, and explode into a shower of sparks. And the movie never really lets up after that, even if it's ultimately about preventing such explosions. This is by far the dumbest of the series, but I mean that as a compliment. There's no other movie quite like it.