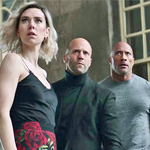 I've been enjoying all of the THE FAST AND THE FURIOUS movies since the early 2000s, so even though part four, FAST & FURIOUS, does not rank high in the series for me, when it decides to present a separate movie about characters introduced in parts 5 and 6, respectively, it gets my attention. And also I like ampersands. For these reasons, FAST & FURIOUS PRESENTS HOBBS & SHAW was one of my most anticipated movies of the summer.
Of course, you gotta have realistic expectations when it comes to presentations. There's a pretty big difference between, say, DJANGO UNCHAINED, A FILM BY QUENTIN TARANTINO and QUENTIN TARANTINO PRESENTS MY NAME IS MODESTY. I definitely don't think this spinoff is as good as the FAST series proper, but there's a part where a helicopter is hooked onto a truck that's chained to a line of several hot rods and they're all raised off the ground driving on two wheels along a cliff. So I enjoyed it.
Because the story is about former Diplomatic Security Service agent Luke Hobbs (Dwayne TheRock-Johnson, THE MUMMY RETURNS) and disavowed British-black-ops hero turned mass murdering brother avenger turned baby rescuer Deckard Shaw (Jason Statham, GHOSTS OF MARS), it's more of a spy movie type story. There's no street racing and no heist. The two are sent on a mission to recover a dangerous man-made virus before it falls into the hands of Brixton (Idris Elba, 28 WEEKS LATER), an agent Shaw killed 8 years ago who has been brought back by sci-fi technology, wears bullet proof armor, has superhuman strength, speed and fighting skills, sees in Terminator-vision and rides a robotic super-motorcycle that can skid, jump, spin, slide and digital-animation itself all over the place, whether or not Brixton is riding it. That kind of movie.
Hobbs & Shaw are sent to catch the rogue MI-6 agent who stole the virus, not know she was framed by Brixton after she injected it into herself to get it away from him (see also: Thandie Newton in MISSION: IMPOSSIBLE 2). So she has to convince them she's on their side and find a way to remove the virus before it spreads or is captured by Brixton on behalf of Etheon, the mysterious… technology cult (?) he works for. And one reason this concerns Shaw is that she's his little sister, Hattie Shaw (Vanessa Kirby, JUPITER ASCENDING).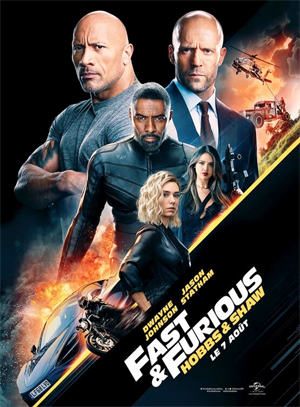 It's written by the usual guy, Chris Morgan (FASTs 3-9 so far) along with Drew Pearce (IRON MAN THREE). Unlike any FAST movie since part one it's directed by a white person, but it's a pretty good white person: David Leitch, the Brad Pitt and JCVD stunt double who co-directed JOHN WICK with Chad Stahelski and then did ATOMIC BLONDE and DEADPOOL 2 on his own. He uses the A FAST & FURIOUS STORY spinoff status as license to do a little bit of his own thing rather than completely mimicking the other ones. Particularly stylish is the split screen section at the beginning that contrasts the lifestyles of Hobbs & Shaw as they go through their morning routines, get recruited for the mission and then go to a place and fuck up a group of bad guys. Later there are some shots bathed in light of various primary colors that reminded me of ATOMIC BLONDE (which had the same cinematographer, Jonathan Sela). But they also throw in FAST staples like a gratuitous butt shot and (going back to the beginning of the series) a digital camera move that goes inside a machine and shows how it works.
The tone is more aggressively comedic than the FASTs. That's partly because the two title characters always have to be bickering, but also it breaks the usual template, adding childhood flashbacks and two guest appearances by unbilled celebrities just there for extended comical riffing. I laughed a bunch and also I thought "I hope they don't start doing this in the real FASTs."
It seems to me the first half or so is heavier on fights than the FAST movies, and they're generally well done. There's lots of uses of props and improvised weapons – for example Shaw bases an entire brawl around a champagne bottle. I particularly like the first encounter of Hattie & Hobbs. She's good at jumping up and head-scissoring people. After the recent hubbub about these actors not being willing to lose fights to each other it's funny to see a small woman beating The Rock for a while. (But the fight ends amusingly with him raising her above his head with one hand.)
I'd say there's more and better action than is standard for big budget Hollywood movies these days, with the aforementioned gloriously absurd helicopter set piece, lots of chases and battles and a more intimate final showdown with a clever solution to their problem. Fight/stunt coordinator Greg Rementer is Vin Diesel's FATE OF THE FURIOUS stunt double who coordinated fights for Agents of S.H.I.E.L.D., and Statham's personal martial arts trainer was the retired MMA fighter James Moontasri, who also did stunts in JOHN WICK CHAPTER 3.
It's probly fair to say much of it is about on the level of the great first fight between Hobbs & Shaw at the beginning of FURIOUS SEVEN. That said, I never felt like it was pushing the envelope for the genre, or the series, or matching the level of thrills you'd get just watching half a JOHN WICK or a recent MISSION: IMPOSSIBLE. And I think working with such an accomplished action director was an opportunity to do that.
What does it tell us that the two biggest action stars of the day can work with the same director as acclaimed actress Charlize Theron and come nowhere near matching the action spectacle she created on the lower budget ATOMIC BLONDE? They don't meet the same level of choreography, they mostly do a move or two per shot, and generally just from the waist up. Does it come down to the preferences of the producers, the pressure to focus more on vehicle/FX based mayhem, or what? I feel like this was a good opportunity for Johnson and/or Statham to say You know what, I always do layups. Let's work on some three-pointers.
Again I gotta point to fellow hulking WWE Superstar Dave Bautista's great fights in MASTER Z. The Rock talks in gym poster affirmations, but something – Hollywood standard practices, maybe? – has prevented him for reaching for that level of action excellence. I say clear your schedule for half a year and go work with Master Yuen Woo Ping. Then talk to me about chasing your greatness and moving mountains and shit.
I think the new character of Hattie is my favorite part of the movie. She's funny and cool, has the best fighting style, and honestly the sexual tension between her & Hobbs is pretty effective. But it's surprising they don't mine the FAST universe of characters at all. Other than the two leads I think the only returning characters are Hobbs's daughter Sam (recast with Eliana Su'a, I'd guess because they wanted the character to stay young) and Shaw's mom (Helen Mirren, SHADOWBOXER), now in prison, so she still doesn't get to drive a car. And they invent new backstory for the main characters that makes everything even more ludicrous. Ludicrous is good in this series, I admit, but I'm definitely scratching my head as to why both have to come from crime families but then go into military/law enforcement and become heroes and then go rogue in the eyes of the law but actually be heroic. I guess it's in keeping with the series theme of blurring the line between cops and robbers, good guys and bad guys.
Of course everybody knows the main theme of the series is "FAMILY" – it's become a punchline, but I think the movies' cornball sincerity about this topic is their biggest appeal. In a partly successful attempt to continue that emotional grounding, each of these characters ends up reconnecting with previously unmentioned estranged family members. In the case of Hobbs it's his family in Samoa, who he's avoided since a falling out with his brother Jonah (Cliff Curtis, COLOMBIANA). It's commendable that Johnson, as producer, wanted to (however cartoonishly) glorify his Samoan heritage in a giant summer movie. And it makes sense that Hobbs would have a huge family of giant muscleman brothers (I guess including the WWE wrestler Roman Reigns) who protect and obey a beloved mother (Lori Pelenise Tuisano, FUN SIZE). And hell, why not also run a high end auto customizing shop?
You also have Deckard making up with Hattie. It amused me that this is so much about Deckard Shaw and his mom and sister and they talk about their pasts and flashback to grifts they pulled as children but I don't remember them even mentioning the other brother, Owen, whose legitimate incarceration sent Deckard on a murderous revenge spree just two FASTs ago. If his name comes up it's not much.
I liked this family stuff, but it's not the same FAMILY that the FAST series talks about. Sure, Dom is protective of his sister Mia and his baby, but the reason the theme is so powerful is that it's talking about self made, non-biological families. The brotherhood between people from different worlds, in many cases enemies, who go through shit together and become bonded. Even if Hobbs never made up with Jonah he would have Dom to count on and, you know… weirdly pose with while not looking at each other. Because engine oil is thicker than blood, or something.
That's also just what buddy movies are supposed to be about, isn't it? I liked watching these two insult each other (there are some good ones) and then work together. Maybe the lack of seriousness in their characters makes it harder for their eventual teamwork to be moving. I should note that both were stronger characters in their initial FAST appearances. Hobbs the giant, sweaty, Under Armour compression shirt wearing, order-barking ultra-alpha was actually different from the Rock's standard character, and made for such a thrilling antagonist-turned-reluctant-ally. But once it was clear that he was a good guy and they wanted to show his soft side as a single dad and girl's soccer coach, he became standard issue sweetheart The Rock and anytime he turns into Hobbs again it plays like shtick. I believe the stuff with his daughter could be as cute and way funnier if he stuck to the original hardass character and clearly loved her but was too macho to know how to express it in normal ways. It's a better badass juxtaposition and bigger variation from his other movies.
Shaw was cool because he got to do the Statham moves but just be a mean, evil bastard, far more threatening than previous FAST villains. But I admit I wanted them to figure out a way to keep him in the movies, even if the murder of Han and everybody at the hospital seemed to make him irredeemable. And I suppose that necessitated sacrificing his original personality. Accepting the idea that that murdering motherfucker was just misunderstood is in the tradition of all the other nonsense we've happily gone along with in these movies. It's part of the fun. But I think the balance is a little off here. The stupider the better, but I prefer it with a little more substance (melodrama, really) weighing it down.
Despite all these misgivings, I had a fun time watching the silly bullshit that is THE FAST & FURIOUS SAGA: HOBBS & SHAW. Though I don't like it as much as I like the FASTs, I'd say it's much better than many of The Rock's movies (definitely last summer's SKYSCRAPER) and at least as good as Statham's last two leading roles, THE MEG and MECHANIC: RESURRECTION. And after all my grousing about it not being what it could be or what it's supposed to be or whatever I look at pictures from it and remember that Hobbs gets to pull a Dom and stick his arm out the driver's window to catch Hattie when she jumps to him. And he jumps off a skyscraper to fight in mid-air, does HERCULES style feats of strength, leads his family in a traditional Samoan war chant, and they pick up wooden spears and go BRAVEHEART on a high tech army. It's pretty good, I think. If it came out of nowhere, without these expectations, it could've been a delightful surprise.
Other people are being harder on it, and that's fine. In about a decade and a half I've gone from arguing with people who thought I was a moron for even watching these movies to everybody telling me this is an insult to the lofty standards of the series. I consider that progress.
P.S. SPOILER SERIES CONTINUITY STUFF
I was a little annoyed that they chose to leave the identity of the mysterious Etheon director as a cliffhanger instead of revealing it in the post-credits. I guess it can be kind of fun to theorize. An obvious suspect would be Cipher (Charlize Theron), since she's the evil technology person, but I don't know why she'd say "you don't remember me, do you?" to Hobbs (a problem with most possible candidates).
When the director's distorted voice started to change it sounded to me like Ryan Reynolds, but that could be a misdirect. If it's Locke, that's pretty dumb. We're supposed to feel betrayed by a new, purposely annoying comic relief character?
I guess there's a Han theory. Since Brixton was brought back from the dead evil, that could happen to Han, and then Shaw could be the one to somehow rehabilitate him, thus finding some redemption. I hope not, though. I don't want no sci-fi shit in the main series. I want it to turn out that Shaw rammed Han's car under orders from Cipher and doesn't know that he survived and is held prisoner but he'll find out and perform a daring rescue, preferably after learning new driving techniques from Han's student, Drift King Sean Boswell.
Speaking of dead characters, what about Gina Carano? She was The Rock's DSS partner who turned out to be Owen Shaw's girlfriend, I believe? I don't know why she'd do any of this. But she's Gina Carano. She should come back.
Or what about this: Sam's mother. We've never heard anything about her. Maybe she's evil! Maybe she loves technology! Maybe she thinks Hobbs forgot about her!
As always, I think it would be funny to bring back Leon (Johnny Strong) – the only surviving part 1 crew member who hasn't been in a sequel – and expect everybody to remember who he is. So that's my vote. It should be Leon.
I don't need Dom to fight cyborgs, so I hope this spinoff plot doesn't spill over too much into the main series. But if it does, the one character I'd most like to see redeemed and joining the Toretto crew is Brixton's motorcycle. We didn't really get into what that little dude is all about, but I bet he could be reformed, and he has plenty of skills that could come in handy. His name could be Wheelie. Or NOStradamus.
This entry was posted on Monday, August 5th, 2019 at 12:53 pm and is filed under
Action
,
Comedy/Laffs
,
Reviews
. You can follow any responses to this entry through the
RSS 2.0
feed. You can skip to the end and leave a response. Pinging is currently not allowed.