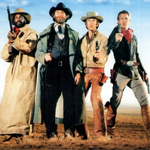 SILVERADO is Lawrence Kasdan's upbeat 1985 western about some cowboys and, you know… they meet up and ride together and there's guns and a jail and a saloon and a guy trying to steal land and all that. I don't know, it's a western.
This was Kasdan's third time directing, after BODY HEAT and THE BIG CHILL. But consider that in the half decade before this he co-wrote THE EMPIRE STRIKES BACK, RAIDERS OF THE LOST ARK and RETURN OF THE JEDI. This is his rare directing job that has some of the vibe of those George Lucas productions. He wrote SILVERADO with his brother Mark (CRIMINAL LAW) and all these decades later he wrote SOLO with his son Jonathan (who had a bit part in SILVERADO at the age of 14) so I thought it would be a good time to write about this one.
Our band of gunmen come together WIZARD OF OZ style. Emmett (Scott Glenn, MORE AMERICAN GRAFFITI) is a stoic sharpshooter headed for the town of Silverado when he finds Paden (Kevin Kline, RICKI AND THE FLASH) passed out in the desert in his undies (some motherfuckers stole everything from him, and he's most upset about the horse and the hat). Later they meet Mal (Danny Glover, BAD ASS 2: BAD ASSES) by witnessing his astute handling of a racial incident in a bar, and Jake (Kevin Costner, REVENGE) is Emmett's dumbass little brother. This is when Costner could still play the cocky, energetic guy that everybody calls "kid"!
Jeff Fahey (DARKMAN III: DIE DARKMAN DIE) and Jeff Goldblum (DEATH WISH) and Amanda Wyss (Tina from A NIGHTMARE ON ELM STREET) also show up for a bit.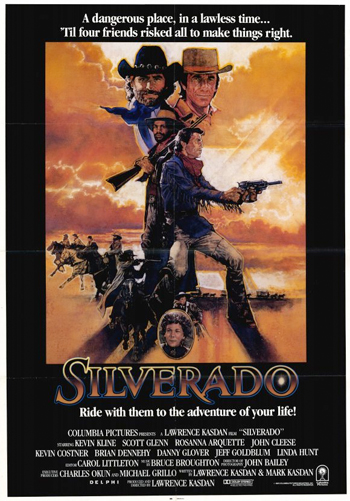 It's this group of characters who all have their own things, but also a chemistry. Most of them know either the coolest or funniest thing to say in most moments. And they're all so casual about it. They operate as a unit, trusting each other, staying calm, knowing what to do, communicating with few or no words, even if one of them is being an idiot. Well, let's be honest, even if Jake is being an idiot. Like when they're trying to sneak away from the jail and Paden watches Jake shoot one, two, three stairs out from under a gunman and then gives him a simple "shhh" gesture.
It feels like the script has been studied under a magnifying glass and finessed with watch repair tools. The first act is so perfect I restarted it 35 minutes in. Each character is introduced with bravado and humor. The Kasdan brothers use a precise style of writing that I love, where little details or phrases come up casually and later loop around to have greater significance and it feels so natural but I never saw it coming. As Emmett and Paden come into town to meet Jake they pass some guys setting up a noose in the town square. Later the nosey Sheriff Langston (John Cleese, MARY SHELLEY'S FRANKENSTEIN) asks them if they're in town for the hanging. No, they're here to meet this guy. Langston thinks he might know where their friend is – so he brings them to the jail, where the little goofball is staying after a drunken bar brawl last night. And as he tells Emmett his story Paden asks, "He's the one you're hanging tomorrow, isn't he?"
Yep.
Like later scenes in DJANGO UNCHAINED, Mal gets hassled by white people just for going into a saloon. He buys a bottle of whisky, pours a glass, and then has to fight racists. The two best moments in this bar confrontation:
1) The way he winces when an opponent breaks off a bottle to fight with him. Not because he might get cut – because he just bought that bottle!
2) When he has given in to the sheriff's demand to leave but then goes back and drinks the glass of whisky he already poured. He picks it up delicately and takes a moment to enjoy it. The obvious choice would be to slam it like a macho cowboy, but Glover conveys that he has earned this drink and he is damn well going to savor it.
Here's an example of the beauty of this script: Langston kicks Mal out of town, saying "I want you out of my jurisdiction!" Later the sheriff is hot on the tail of Emmett, Paden and Jake, and gets his hat shott off by an unseen gunman in the hills. He decides to give up his chase, saying "Today my jurisdiction ends here." And of course it turns out to be Mal doing the shooting, so by this cowardly gerrymandering he did indeed leave Langston's jurisdiction, as requested.
I also love Kline's character. Wasn't sure what to expect, having just seen him in WILD WILD WEST (which uses the same town set from this movie and has "KASDAN" painted on a building in tribute) and knowing he's not the rugged type you expect in a western. He spends several scenes in his long underwear after being clothes-jacked and just walks around town like he doesn't give a shit. His dry, sarcastic humor is a highlight of the film, and he proves himself in a THE-GETAWAY-esque scene where he sees a guy with his stolen horse and scrambles to quickly buy a gun and a bullets to shoot him with.
Even in this scene there are many great little details. As he stands opening the box of bullets to load the gun he seems to get shot, but he doesn't react other than to look down – it went right through the low-hanging crotch of his long johns. His arm is the only part of him that moves as he shoots the guy right off his horse.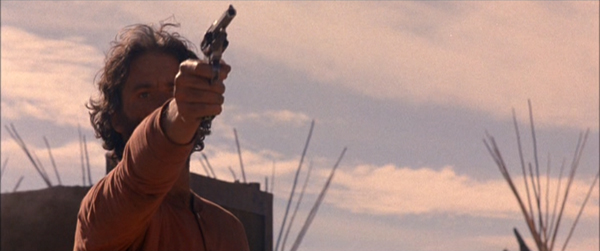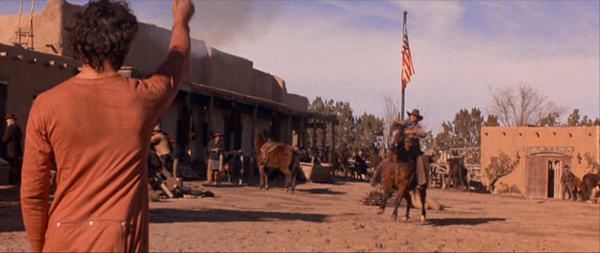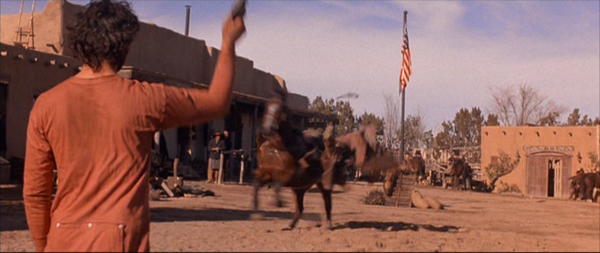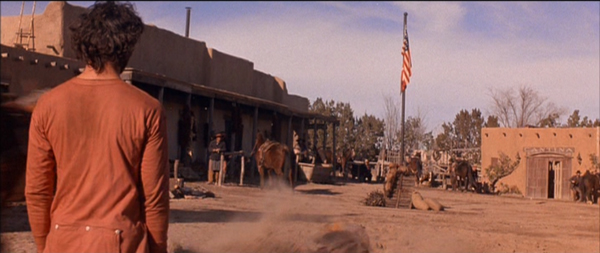 So many badass little lines, things that suggest past adventures without specifics. When he finds out Emmett plans to bust his brother out, Paden says, "You'll have to deal me out on that. I've had some experience with that sort of thing. I don't want any more." (But then he gets arrested and ends up in the same jail cell anyway.)
And so many visual things too. Like when the sheriff and a deputy are sitting down with a chess board and the sheriff contemplates his move, makes it, then spins the board around – he's playing against himself, the other guy is just watching.
On the way to town our boys come across a caravan who got robbed by an army of bandits. And these are the type of guys who will insist on going and tricking the bastards, who hugely outnumber them, and getting the money back. Paden exchanges some looks with Hannah (Roseanna Arquette, also in MORE AMERICAN GRAFFITI) and then her old man gets shot in the head. Today was a good day.
Here are the two weaknesses of the movie: first, the women don't get to do much. Hannah has a few scenes implying strength and independence, but never builds on them. Mal has a sister named Rae (Lynn Whitfield, JAWS: THE REVENGE) who's kinda cool but barely in it.
Second, it fizzles out a little. There's a stretch before the climax where everyone gets real serious and it gets kind of slow and less fun, and honestly the last act (despite having a stampede and lots of shooting and horse-chasing) is not as exciting as everything leading up to it. In fact my favorite part of the climax is the transition into it: Mal tells Emmett "they took the little boy with 'em" and Emmett doesn't say a word, doesn't even nod, he just thinks about it for a second and then yanks the bandage off his head, prompting the rousing theme music by Bruce Broughton (MOONWALKER) to rev up as he makes intense eye contact and then goes and puts on his gunbelt and bandolier and hat and Mal gets ready too and now we're talkin. It seems like.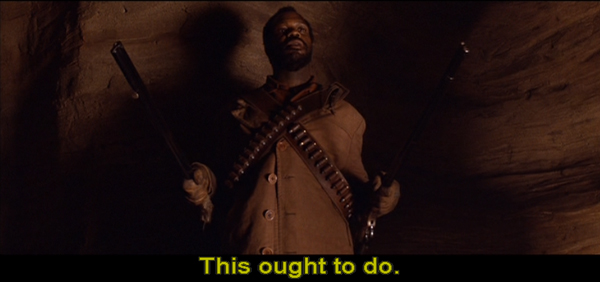 Also I like that before Paden and his old friend Cobb (oh, sorry, I forgot to mention that the villain is Brian Dennehy, BEST SELLER)  draw on each other they first offer sincere goodbyes.
But still, this is the rare western that successfully pulls off a popcorn blockbuster type of feel, and when they say "We'll be back!" at the end I wish it had meant they'd made a followup a couple years later. I guess maybe that would've happened if it hadn't opened a week after BACK TO THE FUTURE. You should be ashamed of yourself, Marty McFly. And then you have the nerve to make your part 3 a western. Shame.
Anyway, if SOLO ends up having any of the sense of fun of the first chunk of this thing then I'm gonna be happy. This is fuckin crazy but I think there's a connection to THE FORCE AWAKENS, which Kasdan wrote with J.J. Abrams. Linda Hunt (POCAHONTAS, also a voice in SOLO!) plays Miss Stella, and she's the Maz Kanata of SILVERADO – a tiny little woman who runs a bar where rough types come but they all respect her and are charmed by her and she can boss them around and stuff.
Paden is so impressed by the place he immediately gets a job there. "Now this is what I call a saloon!" he says.
"Thanks," Stella says. "That's what I call it too."
There's also a real good STAR WARS casting connection. "Cavalry Sergeant" is played by old school cowboy actor and "Purple People Eater" singer Sheb Wooley, who is believed to be the one who recorded the ADR of being eaten by an alligator in the 1951 film DISTANT DRUMS, which was used by sound designer Ben Burtt in all three original STAR WARS films (and the Holiday Special) and became known as "The Wilhelm Scream." Beat that one, other movies. You can't.
Hats off to SILVERADO.