With IRON MAN 2 in theaters and on Slurpee cups I'd say Summer Movie Season 2010 is officially underway. And I thought a good way to welcome the season would be by watching some movies I haven't seen before: the JAWS sequels. Only thing is, as much as I love it I never actually wrote a review of JAWS. And I'd feel like an asshole reviewing the (I'm gonna guess possibly crappy) sequels and ignoring the original masterpiece.
But wait! There may be an answer contained within the Outlaw Vault. I knew I had written something about it, I just hadn't posted it before. Back when I was considering a book about summer movies I wrote a rough draft for part of the '75 chapter. So even though I'm still alive I'm gonna clean it up a little and package it as new material, like a posthumous B.I.G. guest appearance.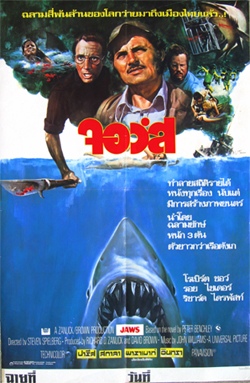 Jaws was the first Big Summer Event Movie. It was the first movie to make over $100 million at the American box office. It drastically changed the way studio movies are marketed and budgeted. It turned Steven Spielberg from promising new director to the very definition of A-list. It won three Oscars – best editing, original score and sound. But personally what I like about Jaws is that Jaws is a great fucking movie.
Spielberg will be showing up in this book a lot [note: no he won't, because there's no book – suckers!], having re-reinvented the blockbuster more times than anyone else over the years, and having directed even more popular and more celebrated movies than Jaws. And personally I think that between his trio of flawed but underrated sci-fi movies (A.I., Minority Report and War of the Worlds) and his brilliant, multi-layered thriller Munich he's still on his game all these years later. There's a reason why he's the most famous American movie director of all time. But if you ever forget what that reason is, all you have to do is go back and watch what 26 year old Spielberg was doing on Jaws.
It's a pretty simple story: huge fucking shark eats people in island resort community. Mayor won't shut down beaches because of tourist money. Police chief knows better. Chief, oceanologist and hunter go out on a boat and kill the huge fucking shark. Float off into the sunset. The best-selling book by Peter Benchley was a little more complicated – Hooper (Richard Dreyfuss's character) was having an affair with Ellen Brody (wife of Roy Scheider's character), for one thing. More ridiculously, the real reason why the mayor wouldn't close the beaches is because he owed money to the mafia! It's funny because why would you need that type of motivation? When the mayor waffles about closing the beach you think of course, it makes perfect sense that they would be more concerned about business than about "bathers," as they call those who enjoy water activities on Amity Island. Luckily, the producers and Spielberg wanted a more straightforward version, no backstories, no love triangles. There is something to be said for not being completely faithful to the source material. Spielberg figured Jaws was four letters like his evil truck movie Duel. He wanted this to be kind of a sequel. A simple, straight forward man-chased-by-giant-killing-machine tale.
Sometimes just the way a movie is directed makes you feel like all your senses are heightened, and Jaws is one of those cases. Spielberg makes you feel Amity Island all around you. As Chief Brody sits on the beach, watching the water, knowing in his gut that there really is a great white shark out there, you hear the overlapping sounds all around him, the conversations, the playful screams, the splashes, a radio playing somewhere. The threat has been established. We've not seen the shark, but we've seen his handiwork. We've seen what it looks like when a skinnydipper is jerked to and fro by an unseen underwater menace. And now we see the familiar sight of a crowded beach. Elderly sunbathers and energetic children "lining up to be a hot lunch." And all we can do is what Brody does – sit and wait and hope we're wrong.
The atmosphere is so authentic, so not-movie-like that at times it looks like a documentary about summer vacations. But the camera slowly, deliberately pans to Brody's tense face, letting slip that it's not just a crew haphazardly covering what's going on, it's a young director right in that zone who knows exactly what he's doing, what to make you look at, how long to make you watch kids innocently splashing in the water before giving you the underwater camera and John Williams music that tells you that yes, your greatest fears were true, there is a shark out there somewhere and he's gonna eat that dog and that kid and there is nothing anybody can do about it. Except blow him up later, but that won't bring back the kid or the dog. At least not in a physical state that would be very satisfying.
So it's a movie full of tension and suspense, but it also has momentum. Spielberg and friends cut directly from the death of the little boy on the beach to a crowded town meeting mobbed around a flyer advertising the boy's mother's bounty for killing the shark. Most of the important things are developed quickly and visually. We don't hear Brody talking about all he's learned about sharks, we see him reading books and being so involved that he jumps when his wife tries to embrace him.
But it also knows how to slow down and smell the roses. One of the most memorable scenes in the movie is not really about the shark or even the hunt for the shark, it's about the camaraderie between the three men as they sit together on the boat waiting to come across the shark. They drink, they loosen up, they start to share scars. Hooper seems to have proven his manliness to Quint (Robert Shaw), who had previously called him a "city boy" and a "college boy" and a "rich boy" and had cruelly called attention to the softness of his hands. Almost as an afterthought Hooper mentions Quint's tattoo, which leads him to reveal his military background: he was on the USS Indianapolis, the ship that broke down and left its crew stranded, surrounded by hungry sharks. He tells the tale like an old ghost story, but he gets credit for not ever bringing it up himself. He was content to show off his scars without pulling out the old USS Indianapolis card. Which is good – imagine going out on a boat with a dude who can't stop bragging about the old war-buddies-eaten-by-sharks incident! It would be a nightmare.
Hooper, of course, gains a new respect for Quint, but now everybody is bummed out and horrified, so Hooper slyly segues into a drunken group singalong. And it's now, when true drunken friendship has been achieved, that the shark starts munching on the boat like it's corn on the cob.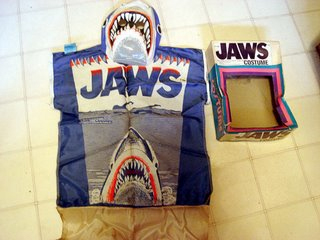 While the shark in the movie is scaring people away from summer resorts, in the real world he was luring them into movie theaters. In those days summer was considered a dead season, a dumping ground for movies that weren't expected to do well. In the twenty-first century we're used to crowded summer release schedules with expensive studio movies coming out one after the other, making it unlikely for any one of them to dominate. But nothing of note was released in the weeks preceding or following Jaws. The movies opening against it on June 20th, 1975 were a re-release of Walt Disney's Bambi, a limited release of the Gene Hackman western Bite the Bullet, Jacqueline Susann's Once Is Not Enough, a porno called Sex Fantasies, and the spaghetti western The Silent Stranger.
There were certainly other memorable movies made in 1975, but not of a type that would compete with Jaws. The second highest grossing movie that year was The Rocky Horror Picture Show, followed by One Flew Over the Cuckoo's Nest, Shampoo and Dog Day Afternoon (the last of which made less than a fifth of the $260 million Jaws piled up.)
Some claim that it was the first movie to advertise on television, but Tom Laughlin actually pioneered that with Billy Jack, the top grossing movie of 1971. At any rate, Universal used the then-new technique to turn Jaws into an event, and they released it on an unprecedented 465 screens. It was adapted from a book that was only a year old, and had been on the top of people's "summer reading" lists. I guess if you're supposed to read trashy but fun books during the summer then there might as well be a cinematic equivalent. But by today's standards there's nothing trashy about Jaws.
None of the handicapping that people give "summer popcorn movies" apply to the grandaddy of the genre. Jaws has great characters, a great story, great acting. It did win Oscars. Every technical aspect of the movie is superb except the special effects, because they couldn't get the damned thing to work. Now people will say that a movie like 2012 or Transformers is fun to watch only for the special effects, but here is a movie that is made all the stronger because of the total failure of the special effects and the creative ways they had of getting around that. It's hard to imagine the movie being quite as suspenseful if the shark kept swimming up instead of being represented by the floating barrels.
Okay, I never really finished this review, because I was gonna segue into that year's best picture winner, ONE FLEW OVER THE CUCKOO'S NEST. (This incarnation of the book was gonna compare each year's top grossing movie to its best picture winner [which was a problem when they started becoming one and the same]). But I think you get the point I was going for. I hope you do. I was happy to have Yippee Ki-Yay, Moviegoer mentioned in the New York Post's "required reading" column, but they wrote:
A chapter in which he ruminates on, among others, "The Terminator," "T2" and "Mission: Impossible 3," pretty much sums it up with the title "It's Not Supposed To Be Hamlet."
And I don't think they got that I was being sarcastic with that chapter title, I was trying to rebut the people who use that excuse all the time. My point is that those movies do strive to be as good as Hamlet within their own genres.
We all have a capacity to enjoy crappy movies. It is our right and perhaps our sacred duty. But I hate when people say or imply that that's all you can expect, or all you can even want, from a big summer studio movie.  It's simply not the case, and never was. JAWS started this shit, and JAWS is not lacking.
To enjoy GI JOE is not a sin (if it is I'm gonna roast in Hell). But to refuse to hope for more is just plain dumb. It's like when people now try to instill values in the U.S. that are not at all in the spirit of what the founding fathers intended. JAWS never intended for you to settle for any old crap that's not trying to be War and Peace.
No, JAWS invented the summer movie. And JAWS is a perfect overlap of artistic and commercial. It is a great movie that also happens to be a mainstream crowdpleaser. That's how the summer movie started and that's what you gotta aim for. This is not negotiable.