In honor of the historic first ever ACTIONFEST going on right now in Asheville, North Carolina, I thought I should watch a Chuck Norris picture. Mr. Norris is the recipient of the Actionfest Lifetime Achievement Award (and coincidentally brother of Actionfest co-founder Aaron Norris). For their retrospective they're showing CODE OF SILENCE (Seagalogy p. 13-14) and BRADDOCK: MISSING IN ACTION III. Since I'd already seen CODE and didn't have time to catch up with MIA 1-2 yet I followed your recommendations and went with INVASION U.S.A. I think the deciding factor was that Drew Barnhardt told me it was "Norris's DEATH WISH III." And Drew loves DEATH WISH III, I don't think he'd throw that comparison out there lightly. He would be completely aware of all its consequences and implications.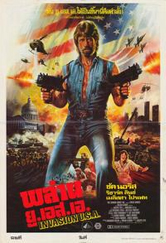 I think this was a good choice, probly pretty representative of Norris's body of work. It's basically RED DAWN vs. RAMBO: FIRST BLOOD PART II – down and dirty Golan and Globus ultra-violence with Norris playing the world's most deadly semi-retired CIA asset. It definitely reflects Norris's right-leaning politics as well as his reliance on every action trope besides the karate that made him famous (machine guns, bombs, bazookas, trucks). It treats him as regular folk, in this case a Florida gator wrangler. It even makes his beard look kind of cool, I guess. It's a good movie for fueling both the sincere Chuck Norris fans and the annoying ironic ones.
Hunter (Chuck Norris) is first seen grimacing with the wind in his face as he zooms around on one of those swamp boats. Little does he know his old arch-nemesis who "you should've let me kill him when I had the chance" is currently staging an invasion of the USA, starting right there in Florida. I don't really understand how this relatively small army intends to take over the whole country, but it involves making several Hispanic youths hate the police even more than usual, then blowing some shit up. They just find All-American places to target, like the beach where they execute some young people making out or the suburban neighborhood where they blow up the house where a family is decorating their Christmas tree. Luckily, Hunter starts going around to all these types of places and single-handedly interrupting the assaults. So he saves the church, the shopping mall, and the bus full of children singing "Row, Row, Row Your Boat." But not the merry-go-round.
Hunter says very little in the movie except the type of tough guy lines that inspire so many parodies, and we learn almost nothing about his character other than he knows how to go around killing bad guys real good. I guess about the only thing we know about his personality is that he likes old flying saucer movies, so he sits and smiles watching one in a hotel while waiting for a SWAT team to bust in on him. They bust him as part of his elaborate DARK KNIGHT style plan, but it's kind of weird that the public doesn't get mad that the authorities, who have openly admitted that they've completely lost control of the entire country and have no idea how to stop a massive wave of violent massacres on innocent civilians, are supposedly sending all their guys to stop one vigilante who has been killing terrorists. You know, because no one is above the law. That seems like something some people would get mad about, in my opinion.
Hunter's skills have gotta be either supernatural or ludicrously lucky. He seems to just appear out of nowhere at every single place where a terrorist attack is about to happen. He just smells terrorism and follows the scent. He not only happens to drive by the school bus that has a bomb attached to it, he is able to reach over, pull off the bomb, then weave through traffic to find the guys who put it there, attach it to their car and ask, "Lose this?" He also has Voorheesian stalking abilities, able to appear suddenly standing next to somebody without them hearing him or seeing him in their peripheral vision. In a rare karate moment he seems to even have Plastic Man powers. The villain is creeping through a seemingly empty office building when somehow a foot just swings in from off screen and kicks him in the face. The next shot is Hunter stepping out from behind a corner. He kicked him from behind a corner!
It seems like we should just use this guy in place of the entire military, but when he shows up where some children have been killed he acknowledges the problem with fighting terrorists, that for every one you kill there's gonna be a hundred more. In fact he's so frustrated he grabs a guy by his collar to tell him about it. He proposes a plan that makes the cop or agency guy or whoever say, "Are you crazy?! Do you know how much cooperation that would take?" He's worried about inter-agency politics, but not about convincing everybody to go along with a plan that hinges on the invaders being more concerned with Chuck Norris than with their invasion.
And in fact that is the case. The bad guy leader keeps risking everything to try to kill Hunter. Why? Because he still has nightmares about him. It's not some personal vendetta, like Hunter killed his son, brother, wife or partner. No, it's that Hunter is just so awesome that he scares the shit out of this guy and ruins his sleep. It's such a problem that his henchmen know about it – he's grumpy and they say, "The nightmare?" And Hunter even seems to know about it because he knows to keep saying, "It's time to die," because that's what he says in the dream. The recurring catch phrase.
Ironically if the dude would've just let it go it would've been fine. Hunter turned down the assignment to go after him. Only when his gator-capturing partner gets blown up does he decide to get involved.
One unexpected twist I noticed: there's a female reporter on the scene investigating the crimes before the police arrive. In most movies (UNIVERSAL SOLDIER, DARKMAN 2 or 3 or something, etc.) this would be the love interest. But in INVASION U.S.A. she's just some bitch that Hunter has to put up with. She immediately flips out on the cops, yells and swears at everybody, and maintains this tone through the rest of her scenes. She never turns nice. She also gives him probly his best moment in the movie. First she screams for him to do something, then he saves her life, and she starts yelling at him. He says, "I better leave before you get mad," and struts away. This will not stand so she screams "YOU STUPID SONOFABITCH!" at his back and tosses a garbage can lid at him. It glides like a frisbee, missing his head by inches, and he doesn't even flinch.
So that's a funny character, but I'm not sure if they're turning the cliche of the reporter love interest on its head or just showing their extreme hatred of journalists.
The director is Joseph Zito (THE PROWLER, FRIDAY THE 13TH: THE FINAL CHAPTER, RED SCORPION) but in some ways it's really well directed. I liked the use of sound in some of these scenes, you hear voices and sounds going on in the distance, making the world seem more populated than some of these crappy Cannon movies do. Like there's the laughably stupid scene where they bazooka the Christmas tree decorators, but then afterwards you hear the sounds of different survivors off in different directions, and it feels very real and horrifying.
But that's about the only way this movie feels real. This is the kind of movie where the hero and the villain have an old fashioned gun drawing contest, but with bazookas. That's what's good about it, and I really enjoyed this stupid fucking movie. I would definitely recommend it to everyone who enjoys this sort of crap, but I can't pretend it's a legitimately good action movie. It's just some funny shit.
Movies playing Actionfest that I've reviewed: